Far from a quaint Swiss village with the obligatory red gingham and rustic wood chalets, LAAX is a stylish, urban winter sports resort, leading the way in the growing freestyle movement.
LAAX is known as a snowboarders haven, boasting Europe's largest half pipe and four snow parks, but it's also a perfect destination for skiers.
Made up of the villages of Flims, Laax and Falera, LAAX is a concept resort designed by Weisse Arena Gruppe, centred around rocksresort – a cluster of minimalist sugar cube-shaped apartments with restaurants, cafes, bars and boutiques.
Despite its sleek image, LAAX is a well-balanced, inclusive resort that welcomes both families and groups of friends looking for the coolest après-ski.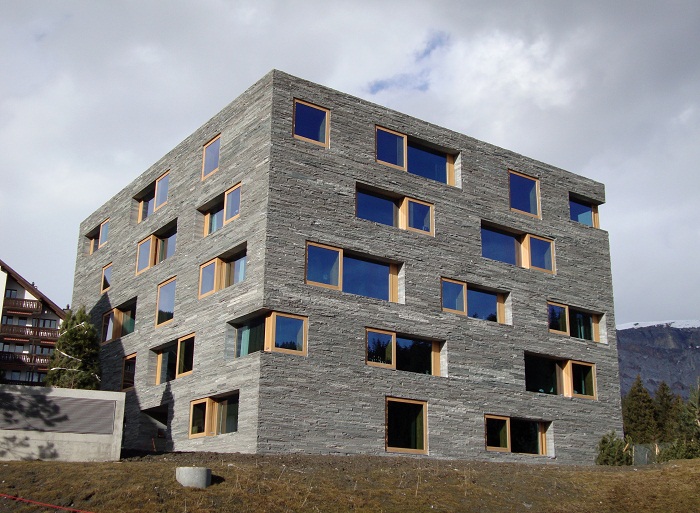 Breaking the ritual of spending our annual ski holiday in the French Alps, I brought my dad to experience this modern, forward-thinking resort.
We flew to Zurich and then it was a double train and bus journey to LAAX, planned with military precision.  Of course you can book a transfer directly from the airport, but in this case, using public transport is more affordable.
The journey was easy enough, once we worked out where to buy the tickets, and was so simple on the return that we overcompensated with time and got to spend an hour exploring and grabbing a bite to eat in Zurich (albeit with suitcases in tow).
rocksresort apartments cater for families and larger groups, but as there were only two of us, we stayed at the chic four star Signina Hotel.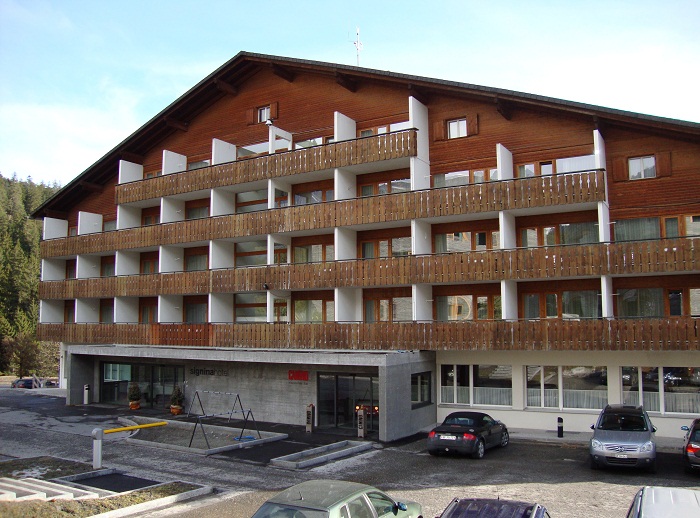 Signina Hotel is a design-led boutique hotel and has a warm, friendly and informal atmosphere.  Because of its extensive facilities and connection to rocksresort, the reception at Signina is usually a hub of activity.
Our rooms were stunning – modern, spacious and beautifully-designed with accents of polished wood, chrome and rough, textured walls.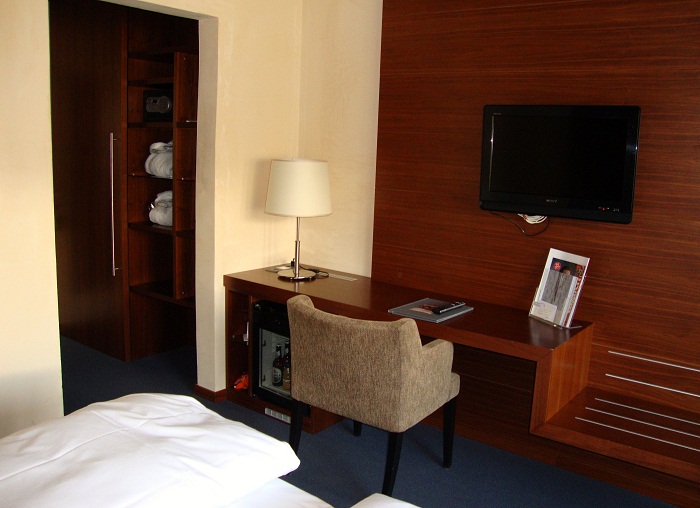 There was a desk to work at, generous wardrobe space, a comfy seating area and a large balcony overlooking the resort with beautiful mountain views.
Most importantly, the beds were very luxurious with a flat screen TV right in view – perfect for crashing out and resting weary limbs at the end of the day.
The bathroom was well-appointed and modern, with a charming mountain scene printed on the tiles, and was stocked with spa products and plenty towels.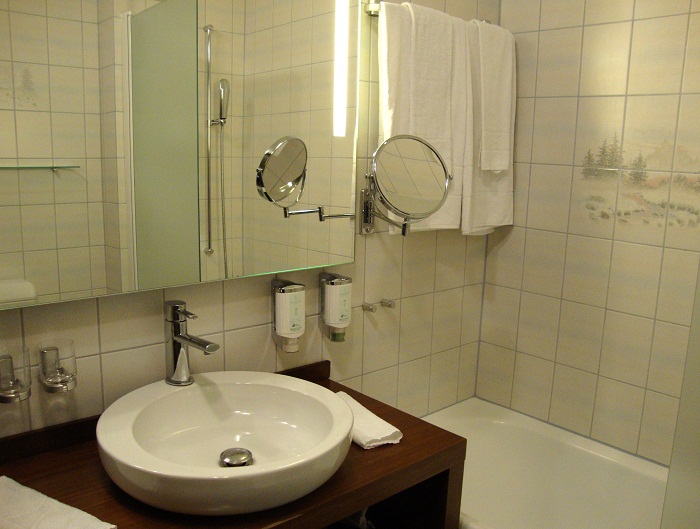 In the wardrobe was a bathrobe for using in the spa – and what a spa it was!
On the lower ground floor, the wellness area features a large and deep swimming pool with a range of different hydrotherapy jets, jacuzzi areas and waterfalls.  Aching legs can be soothed in the twin whirlpool tub and you can kick back on the lounging beds with a spectacular mountain view.
Downstairs is where the serious muscle therapy happens with a steamroom, foot baths and two huge saunas – a 90 degree Finnish sauna and a 50 degree bio-sauna.  Following a faux pas of wearing my swimsuit in the sauna, it became apparent that the Swiss just get naked and get on with it!  For the less liberally-minded, there are large cotton sauna sheets to get wrapped up in.
On the first night, we ate at the hotel restaurant, Camino.  We ordered a monstrously big speck and rocket pizza with buffalo mozzarella ball and a calzone – both excellent and authentically Italian.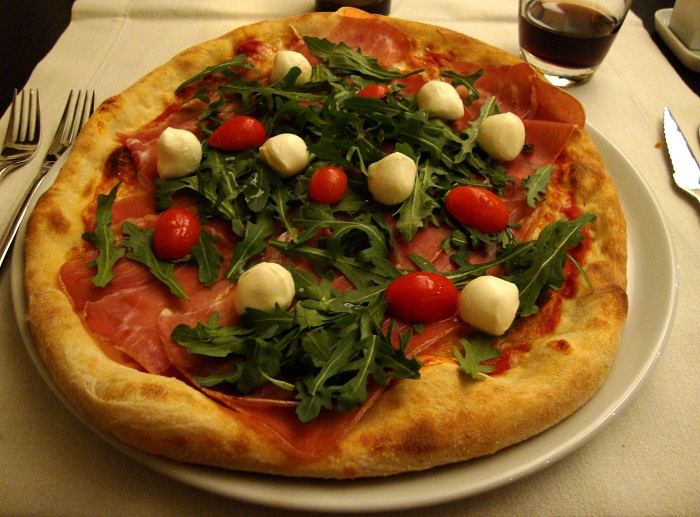 The next morning we went down to breakfast, again in the Camino Ristorante, and found everything you could possibly want to start the day.  There was a small hot buffet section, cooked meats and cheeses, cereal, pastries, breads, cake, yogurts and even individual panettones.
Fuelled and ready to go, the first stop was the ski rental shop F*** (pronounced free), to pick up our skis and lift pass.  Usually the most irritating part of the first day, the experience at LAAX was a breeze, due to their online check-in system.  Just type in all your contact info and vital stats, take the receipt and the assistant technicians sort out the rest.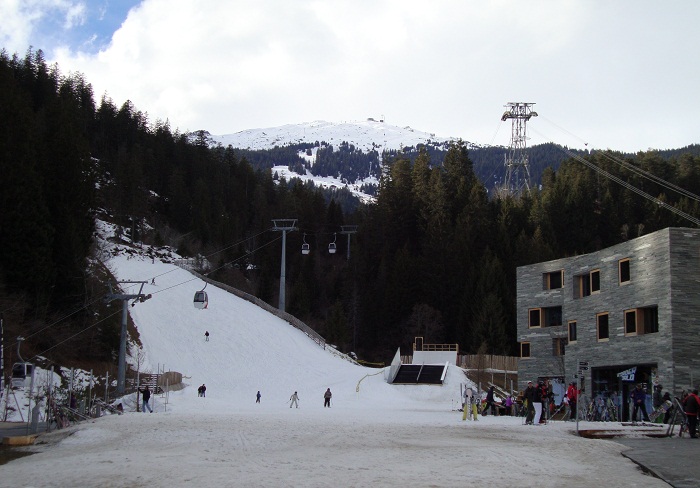 The Laax base station is literally a few steps away and the lifts takes you up to the main station where you can pick a route from over 220 kilometres of slopes.  There are plenty of blue and easy red slopes to get started if you're a bit rusty and our favourite run was blue 12 – a long, wide-open slope around Nagens.
There are plenty of challenging slopes for advanced skiers/boarders and the blue slopes at Flims are well-suited to beginners.  We didn't see many nursery slopes however, so if it's your first time skiing, make sure you join the ski school and the instructor will know where to take you.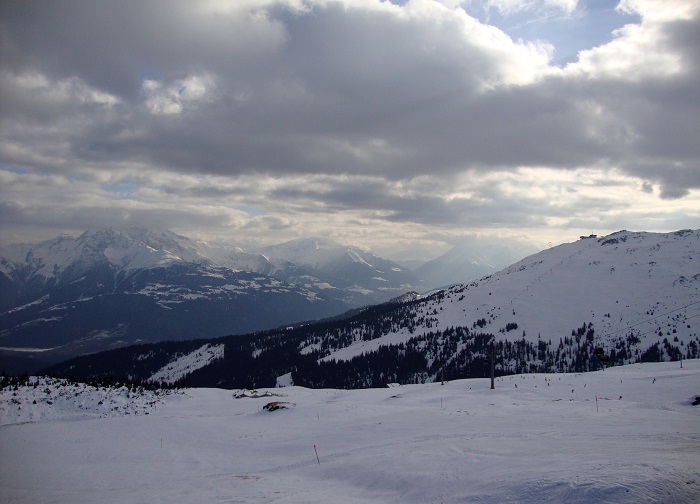 Every village in the LAAX area has a valley run, so you can ski right back to the apartment at the end of the day, as long as there is enough snow.
An attractive feature for families is the Snow Wonderland, where children can learn to ski and encounter mythical creatures of the mountains through storytelling.
The jewel in the crown of LAAX is the Freestyle Academy, Europe's first indoor freestyle hall, with facilities for skiers, snowboarders and bikers. Before hitting the slopes, you can train and build up jumping skills in a safe, padded environment (like falling into a sea of foam 'bricks').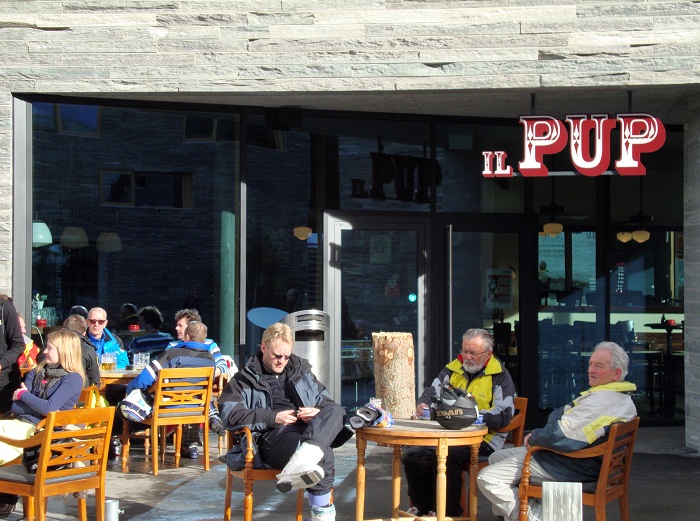 The après-ski scene in LAAX was low-key when we were there, but during The Brits snowboarding festival in April, there is supposed to be some major partying.  The Crap Bar ('crap' actually means 'rock' Swiss, not just ironic snowboarding terminology) is great for having a drink straight from the slopes, Il Pup has a cosy pub atmosphere and then there's Indy and Riders Palace Club for big name DJs, bands and club nights.
One of my favourite LAAX hangouts was Piazza, an Italian-style coffee bar with a cosy snug where you can read ski and fashion magazines and a sun-filled terrace.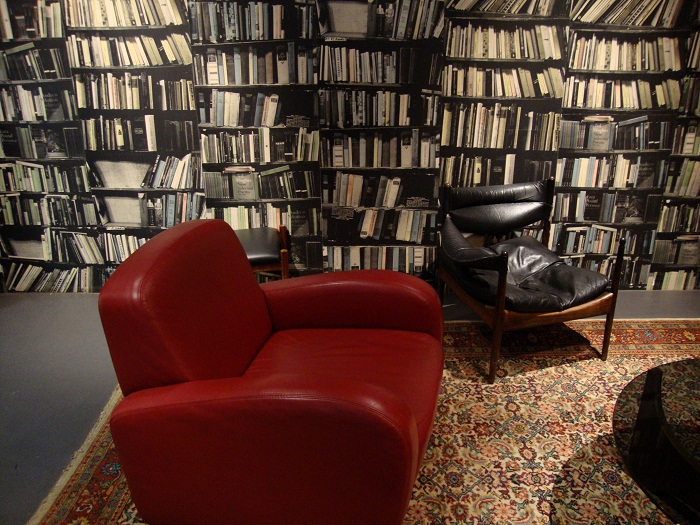 Most nights we would come back to the bar and relax over a drink or a pot of Sirocco Moroccan Mint Tea – a Swiss tea brand that I became slightly addicted to!
My only small criticism of Signina Hotel would be that wifi wasn't great and I couldn't access work emails for most of the stay.  However, the staff kindly allowed us to use their laptop at reception so I wouldn't get blogger withdrawal symptoms!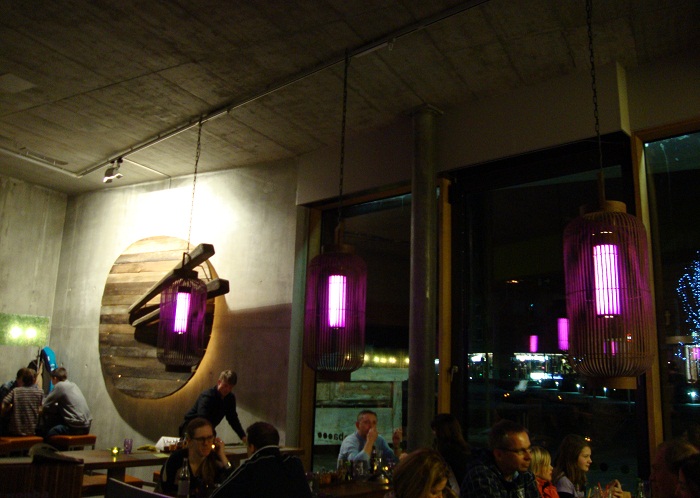 rocksresort apartments offer excellent self-catering option and food in LAAX is mostly of a very high standard.  Pizza at Camino Ristorante are a good bet, Pasternaria Bakery is the place for delicious cakes and baguettes and Pan-Asian restaurant Nooba is seriously addictive, so much so that we ate there three times!  The only eaterie that I found disappointing was posh take-out joint, Burgers – sorry LAAX, we just didn't get on!
LAAX is ideal for groups of friends and families who want a unique skiing/snowboarding experience with top quality facilities and everything right on the doorstep.  It is a resort centred around subtle luxury, but there are budget-friendly options such as Riders Palace, with all the design features that you'd expect.
Be adventurous and experience the freestyle movement at LAAX while it's still Switzerland's best kept secret.
Details on LAAX, including lift passes, equipment hire and guides can be booked online at www.laax.com/en.  The winter season runs from mid November to end April.  Rooms at the signinahotel (www.signinahotel.com, +41 81 927 99 99) are from €100 per night/night with breakfast.  Two bedroom apartments (sleep up to 5 people) at rocksresort start from €684 for a week stay (www.rocksresort.com)
Chérie City received complimentary nights, lift pass and ski hire and press rates for Papa Chéri.