Virgin Trains must have heard that Chérie City knows all the thrifty tricks in the book, as they set a special assignment, to plan a jam-packed city break to any of their UK route destinations with a budget of £250.
My first thought was Manchester and I was instantly sold.  It's a friendly, Northern, tremendously cool city that has so much to offer in the way of shopping, culture and as I was about to find out…food!
Monsieur Chéri and I booked two Advance Return tickets and used our Young Persons Railcards, so we got an excellent deal of just £53.40 for two.  A walk-in return ticket can cost up to £279 each, so it pays to plan with military precision.
Taking the train was quick and easy and took only two hours from London Euston station to Manchester Picadilly.  We took the tram (a ridiculously cheap £1.10 return) to our 5* luxury residence, Blue Rainbow Apartments, located in an up-and-coming quarter full of loft spaces and digital agencies – an ideal location for a blogger!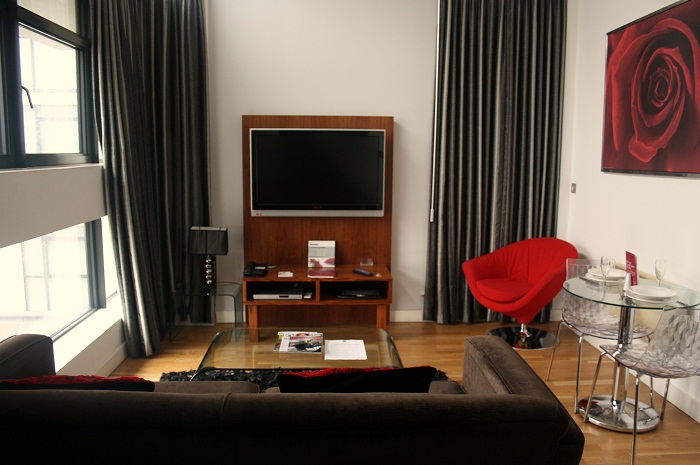 Our apartment was modern, spacious, spotlessly clean and well-appointed with brand new kitchen appliances and accessories.  It felt homely but luxurious and was a perfect base for exploring the city.
We booked in for one night at a special internet rate and as a subscriber the Hotels.com newsletter, I received an extra 10% off, making the cost of the stay a mere £57.60.
At reception, you can get a freshly-made Illy coffee to take out, which saved us at least £2 each on both days – a special perk of staying at Blue Rainbow Apartments!
After a quick rest, we headed into the centre of Manchester for lunch at Michael Caines at ABode.  We pre-booked the special offer Amazing Grazing Lunch Menu, at just £9.95 for 3 courses instead of £13.50.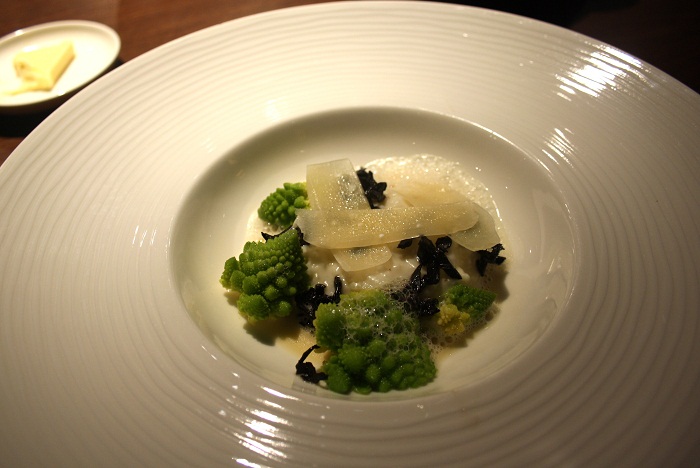 I started with a Cauliflower Risotto, followed by Fillet of Beef in red wine with a mini pot of garlic pomme purée and finished with a Peanut Parfait with almond milk icecream (like a luxurious frozen Snickers bar).  The atmosphere was mellow but cosmopolitan and I imagine it would be buzzing in the evening.
The portions were dainty, exquisitely presented and just right for lunch and if you were still hungry you can order up to five courses or wolf down the basket of artisan breads!
We walked off lunch with a shopping trip around Harvey Nichols, Selfridges and the most enormous Urban Outfitters, close to the Arndale Centre.  The department stores are petite versions of the London flagships but the designer selection is impressive and the stores are much quieter and easy to navigate.
Then it was a quick dash back to the apartment on the free city shuttle for a cuppa and a rest before heading to Manchester's arty Northern Quarter at Sweet Mandarin.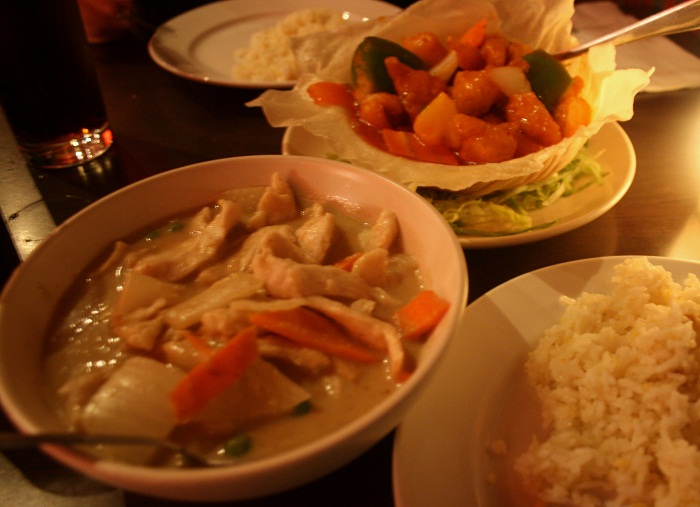 What looks like an unassuming Chinese restaurant actually boasts Gordon Ramsey's Best Local Chinese Restaurant in the UK award and its founding sisters Lisa and Helen triumphed on The F Word with a specially prepared menu.
We went for the Great Wall Banquet for £20 per person and we were impressed by the high quality and very generous portion sizes.  It was quite simply the best Chinese meal we've ever had!
By the end of the night, we'd chatted to owner Lisa, the next table along and participated in two birthday sing-alongs…Manchester is just friendly like that.
The next morning, it was back to the Northern Quarter to check out the independent boutiques, florists and street art.  As part of our 'Executive Room' package at the apartment, we were given a welcome basket full of cereal, butterscotch biscuits, bread to make toast, jams, butter, orange juice and milk, so we saved at least £10 on buying breakfast outside.
After last night's indulgence, lunch was a more modest affair at Soup Kitchen – a cool, informal cafe that dishes out home-made soups, casseroles, salads and cakes in what looks unsurprisingly like a church hall soup kitchen!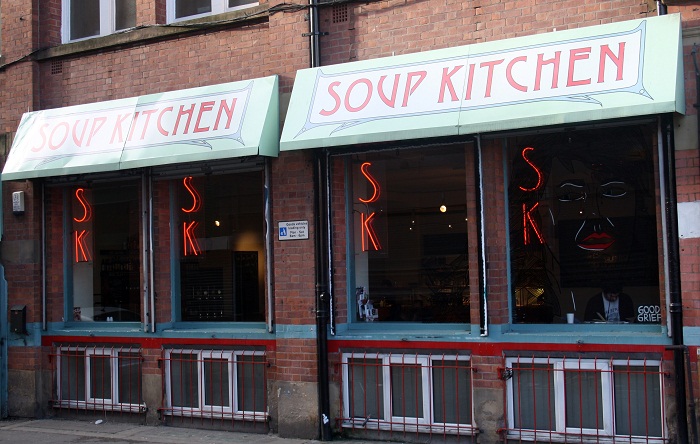 Our Chicken Barley Broth and Spiced Sweet Potato soups were comforting and good value for money (although slightly lacking in seasoning) and we shared a slice of deliciously gooey chocolate and beetroot cake.
Soup Kitchen has a friendly neighbourhood atmosphere and they have a huge selection of zines and self-published mags at the in-store shop run by Good Grief.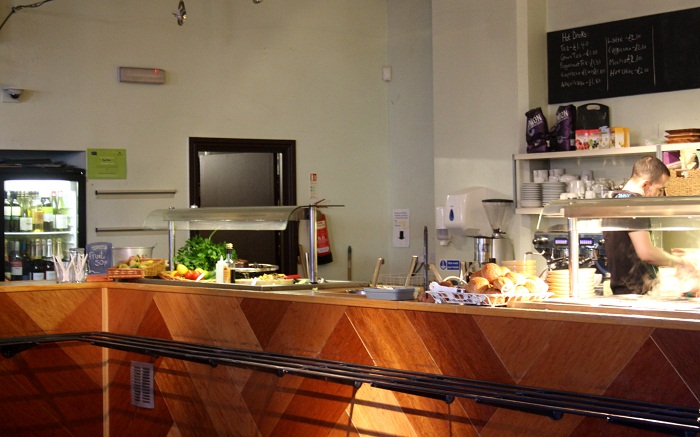 Our afternoon was dedicated to Manchester's more quirky shops – the first stop was Oldham Street for POP Boutique, Afflecks Palace, Oxfam Originals, Magma Books and Flannels Clearance Store.  Manchester girls just love their vintage and indie fashion mags!
After a good trek around town, we headed to Teacup on Thomas Street – a neighbourhood tea emporium owned by Mr Scruff (DJ and tea conoisseur).
The selection of delightful home-made cakes is overwhelming and it took us a good while to make a choice.  In the end, we went for giant monster scones with clotted cream and jam served with pots of rosebud tea and peppermint tea.
Teacup are dedicated to the perfect brew, presenting us with two teapots each, a brightly coloured hourglass and instructions of how long to leave them.  It's clearly a cafe made with love and is an absolute must for anyone who loves tea and cake!

Refuelled and happy, we had a whirlwind tour of the Grayson Perry exhibition at the Manchester Gallery, as it was just about to close for the day.
To fill in a couple of hours, we did a spot of shopping and then it was back to the Northern Quarter for pizza at Dough Pizza Kitchen.  The pizza wasn't really up to scratch, but our shared starter of Baked Half Camembert with a Dough Stick was delicious.
So, after a delightful foodie and shopping mini break it was time to head back to London and dream about our next trip back to Manchester.
City breaks can often be expensive, but there are so many ways of saving money and booking in advance is the key.
Look out online for restaurant deals and vouchers, check those hotel booking site emails that always flood your inbox for loyalty promo codes and read up on free arts and cultural events that you'd be interested in.
But the biggest savings came from booking through Virgin Trains online in advance.  There are certain tricks you can use such as using a Young Person's or Family Rail Card or travelling through the week and during off-peak hours.  To find the best fare online, use Virgin Trains' handy fare finder tool.
From being uber thrifty and planning ahead, we made a huge saving of over £535!
For more information on how to get cheaper rail fares and UK routes, visit: www.virgintrains.co.uk
Chérie City was given a budget of £250 by Virgin Trains to go and have a jolly old time in Manchester.