As a Northerner, I can't help feeling a bit smug when my hometown has something that London doesn't, but that's all about to change with Bistro du Vin Clerkenwell arriving in London's 'gastro quarter' St John Street.
The first offering from Hotel du Vin in London, the bistro will focus on classic dishes made using homegrown and local ingredients, with meat sourced from the nearby Smithfield meat market.
I was invited to an intimate dinner at The Brasserie at The London Mal (Hotel du Vin's sister hotel group) just around the corner on Charterhouse Square, to sample some of the delights that will feature on the Bistro du Vin menu.
I started with Ibérico Ham (obviously Spanish but locally sold) with mixed leaves and a balsamic reduction.  It was delicious and a light start to the meal and the chef gladly made it for me without beetroot.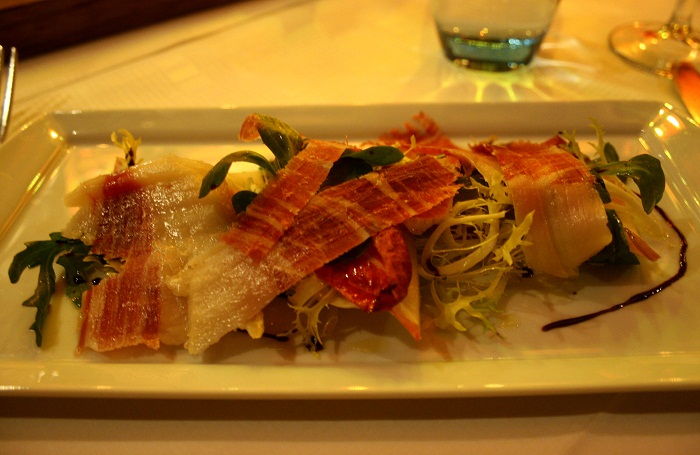 For the main course, I was tempted by the selection of massive steaks (it was the end of London Fashion Week after all), but I just had to try the famous Mal Burger.
A topic we discussed over dinner was "what is it with bloggers and their burgers?"  You can imagine which camp I belong to and the Mal Burger didn't disappoint – in fact, I'd go so far as to say that it's one of the best in London.
Firstly, it's so huge that it needs to be stuck together with a wooden stick and attacked with a steak knife.  The well-seasoned burger came with top quality bacon, local cheese, tomato relish and salad garnish.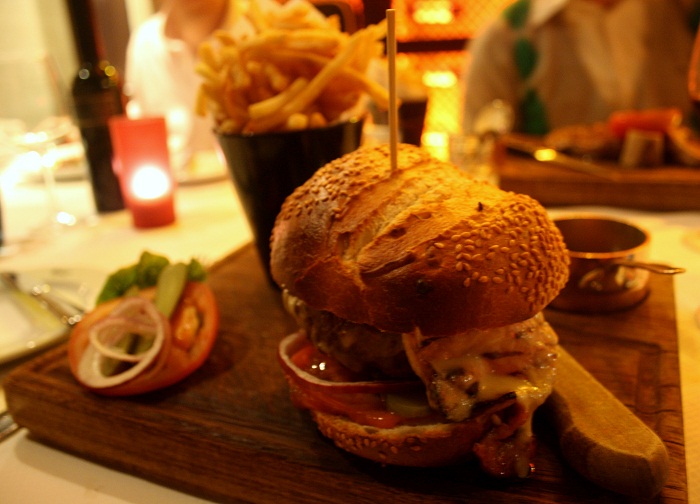 It also came with a mini copper saucepan of tomato relish and a cone stuffed with matchstick fries – the kind that you find in Paris bistros.
The Mal Burger was indeed a monster, but somehow I found room for the most indulgent, dense Valrhona Chocolate Pavé.
The portion size was once again huge, like a giant slab of velvety chocolate heaven, topped with a curl of mascarpone cream and crushed pistachios.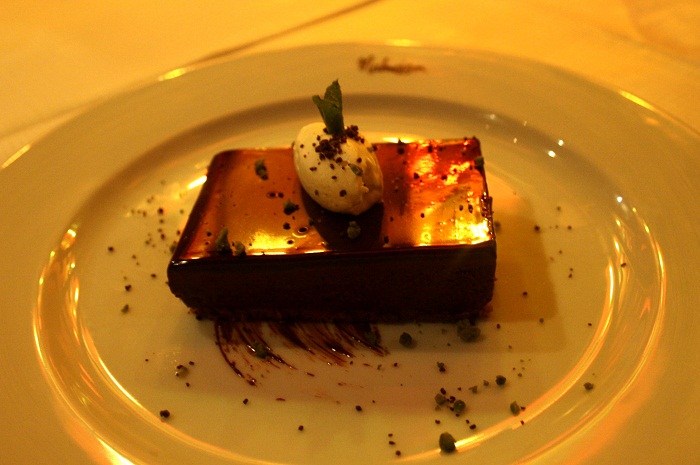 After such an outstanding meal at The London Mal, I have high expectations for Bistro du Vin.
At Bistro du Vin you can expect shop windows featuring live butchery and Hotel du Vin's signature wine tasting table, a pewter-topped bar for a more casual evening and a summer dining terrace.
Bistro du Vin Clerkenwell opens on St John Street in April.  For more info and booking, visit: www.hotelduvin.com and www.malmaison.com
Chérie City was a guest of Malmaison London.