Coralie Aude Grassin steps into the magical, illustrated world of Christian Lacroix at Hotel du Petit Moulin…
Hidden in le Marais, the beating heart of the city, hides a tiny but luxurious hotel called Le Petit Moulin, which has been redecorated by the famous fashion designer Christian Lacroix.
The artist was seduced by this most unusual space, which used to be one of the oldest Parisian bakeries (Victor Hugo used to buy his bread here). It does retain its gorgeous and romantic original 1900 facade – easy to still be mistaken and walk by…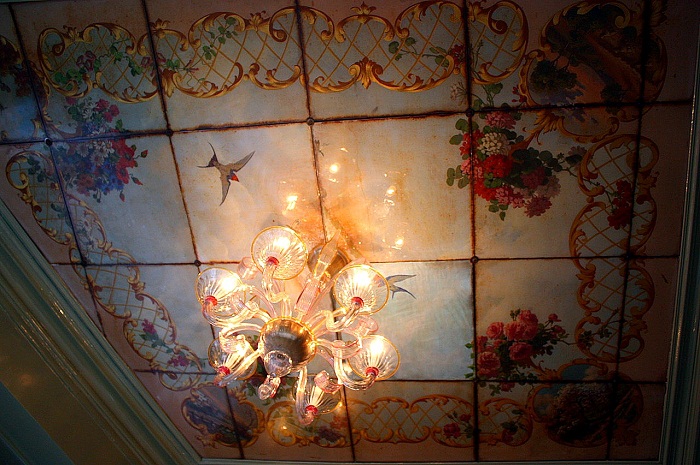 Step in the elegant lounge, reflecting the colours of the historical ceiling.  The decoration mixes styles, colours, patterns – very Lacroix indeed. Each of the 17 rooms offers a different atmosphere, all inspired by the neighbourhood.
It is quite a surprise to push one door – will it be pop, zen, colourful as a rainbow?  But wait, the journey starts from the lift…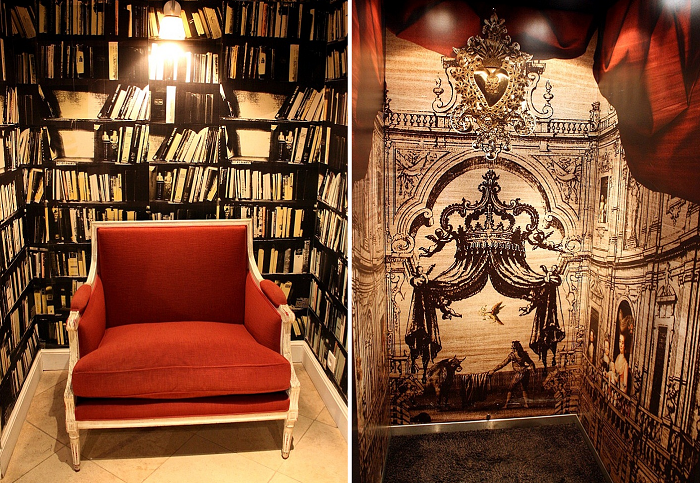 Ours was number 202 and was created with travels in mind. Look at that Indian style panel! The ceiling still shows the wooden beams, celadon painted pillars add a lovely twist.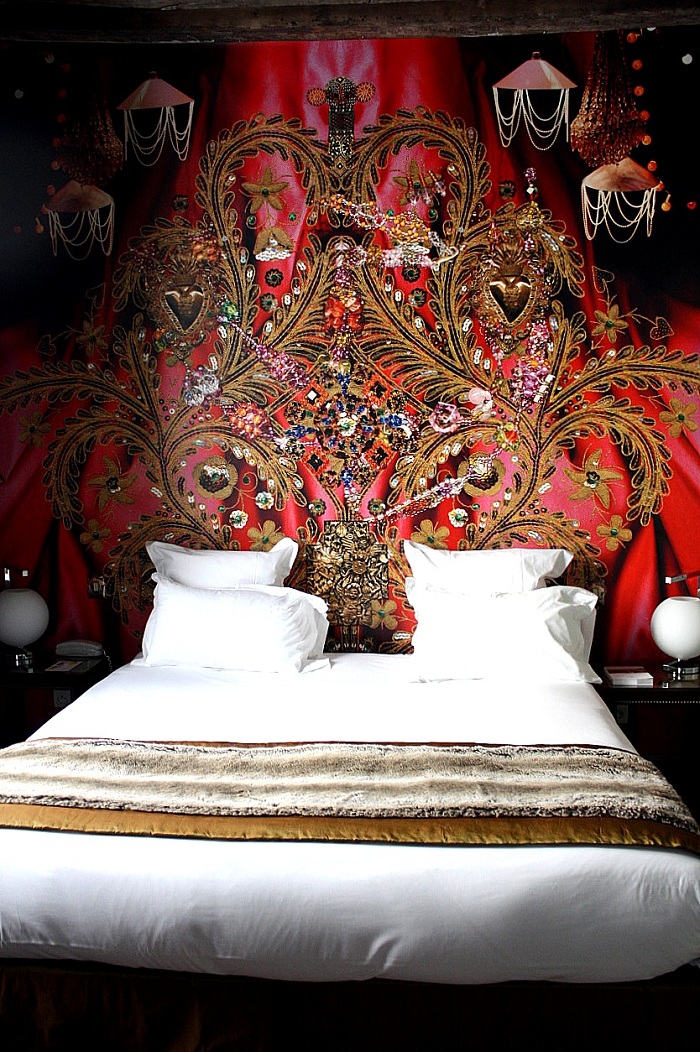 Every detail seems to have been thought of, even down to the the light switches!
The secret lies in the superposition of styles, collage, imitated stencil effects on the wall paper, collection of patterns and textures… The room was best enjoyed in the evening, the dimmed light playing elegant shadows, creating a rather magical effect.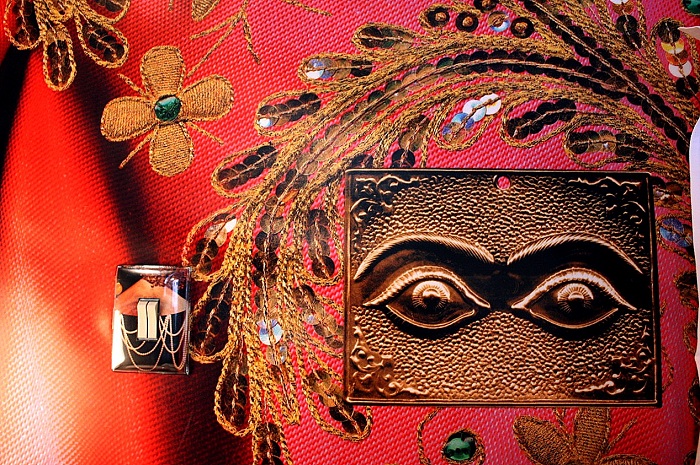 The bathroom was more classical and very white, though others in the hotel prove more original, some with gorgeous heart shaped mirrors. On the side are Anne Semonin sample products – wonderfully aromatic. The exotic verbena bath gel is pure heaven after a day walking and shopping – it takes all the tensions away and leaves a gorgeous fragrance on the skin.
I was lucky to get a glimpse of the nearby room too – with its energetic fuchsia theme, it is sure to put you in the mood for a party. How could you not feel elegant and glamorous in such a surrounding?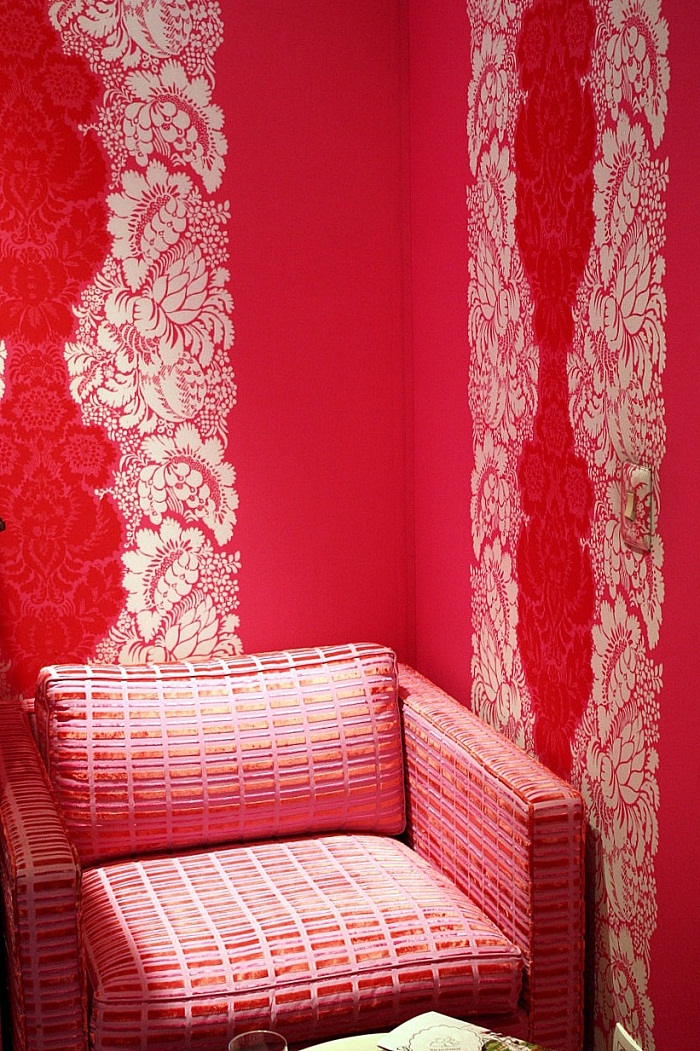 Breakfast is served in the bar area, in which decoration is clearly influenced by Mondrian on once side, while offering a Lacroix sketch book style on the other. You end up gazing around, lost in details and forgetting that your cup of French coffee is getting cold in your hand…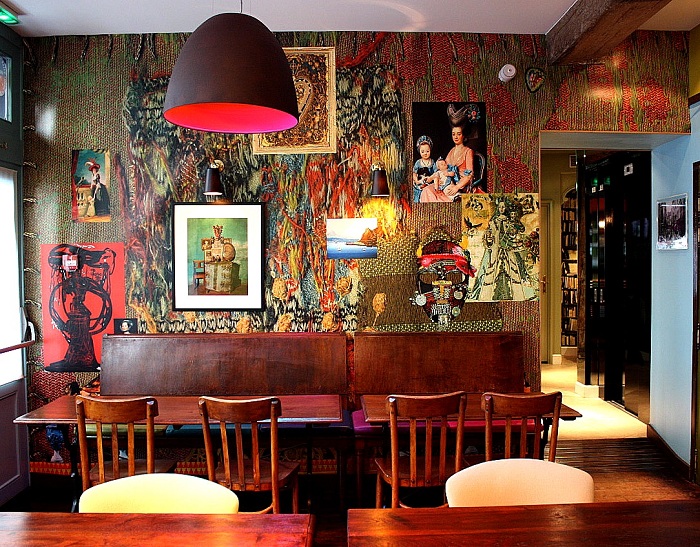 Hotel du Petit Moulin, 29-31 rue du Poitou 75003 Paris
Photos by Coralie Aude Grassin
Coralie writes the blog, Tea Time in Wonderland.