The launch of Amelia Gregory's second book, Amelia's Compendium of Fashion Illustration has been the most-talked about event of the new year, bringing a bit of loveliness back to a month filled with talk of detox and austerity (neither present at the launch).
So much was the excitement online that #ACOFI (that's tweet-speak, folks) may now be permanently lasered onto my eyes!
Illustrators, designers, bloggers and journos all got together for a right old knees-up at Scout Hut, behind the 123 Bethnal Green Road ethical clothing super store.
We drank Vodka O and Adnams beer, flicked through copies of ACOFI, made new pals and devoured the prettiest Lily Vanilli centre piece cake.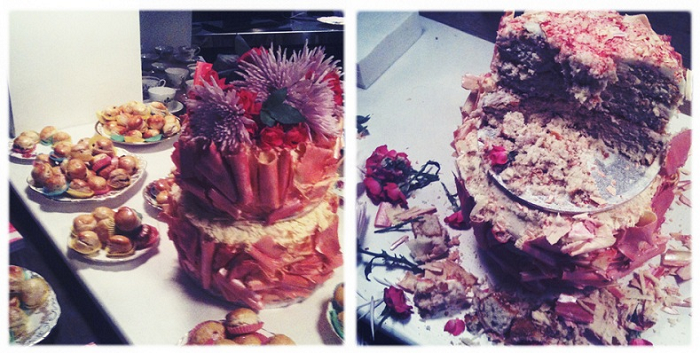 I missed the set by the wonderful 6 Day Riot, but head over to designer Lira Leirner's blog, The Portmanteau, and you can see her video of their performance.
A brilliant party soundtrack was spun by The Pipettes and we were even treated to a guest DJ appearance by the lovely Will of Mystery Jets.

Photos: Max Petrossi
The turn out for the party was immense with all sorts of creative people and a few familiar faces…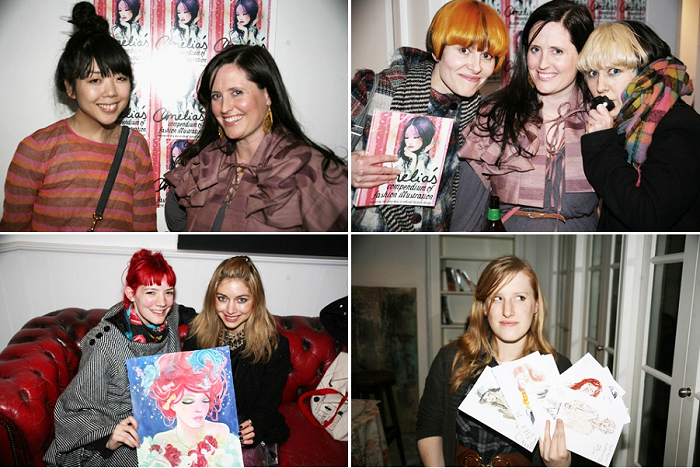 Photos: Matt Bramford
I caught up with Japanese fashion blogger Fuyume and met new bloggers Sarah Scribbles,  Nikki Nakki Lou and Koral of Lovely!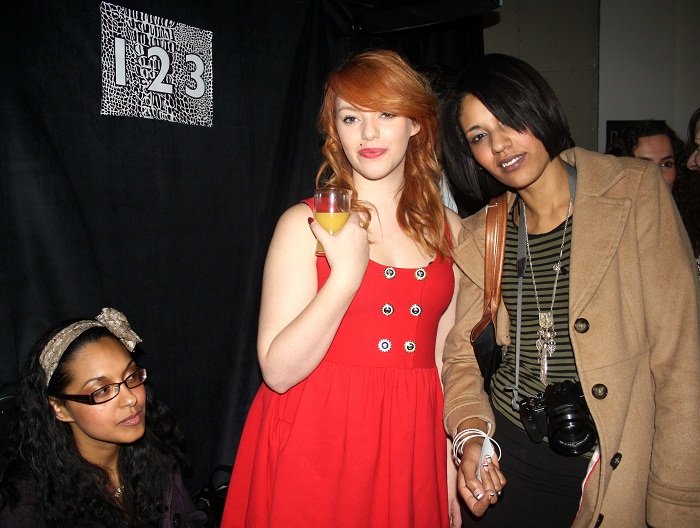 Now on to the serious stuff…the gift bag!  With the purchase of Amelia's Compendium of Fashion Illustration came a printed cotton tote bag packed full of treats:
– Limited edition Tatty Devine necklace made for Amelia's Magazine
– Limited edition Amelia's Magazine Moleskine notebook
– Dr Hauschka organic beauty products
– Back-issue of Amelia's Magazine
– Collection of Amelia's Magazine postcards and bookmarks
– Tatty Devine 10% store discount
– Dr Hauschka 15% online store discount
It was amazing to come down and meet all of the people involved with Amelia's Magazine and it's nights like these that make living in London so much fun.
Amelia's Compendium of Fashion Illustration is just so beautifully made and is a very relevant resource, as ethical fashion is moving forward so quickly.
There's a lot of content to get through, so it will take you a while to read from cover to cover and it's a real gem that you'll keep going back to.
Having made my own zine a few years ago, I know just how much work, time and money goes into producing an independent print publication – printing costs alone can drain the budget.
So if you still love words on paper and beautiful artwork (can you tell I'm not a Kindle fan?), it's so important to support Amelia and all of her brilliant print releases…especially so we can have more parties!
Buy Amelia's Compendium of Fashion Illustration online for a reduced price and receive 12 unique Amelia's Magazine postcards
You can also buy it with Amelia's Anthology of Illustration and save £10.
For more info and a preview of ACOFI, visit www.ameliasmagazine.com