As London Fashion Week approaches, the search is on for a luxurious, centrally-located hotel where fashion folk can change from Balmain to bathrobe, Stella to slippers and recharge.
The Radisson Edwardian Bloomsbury Street Hotel is at the heart of the London Fashion Week buzz, just close enough to stride down to Somerset House and the off-schedule venues in the morning and hobble back at night.
I was invited to stay for a night at The Bloomsbury Street Hotel and road-test its fashion week credentials…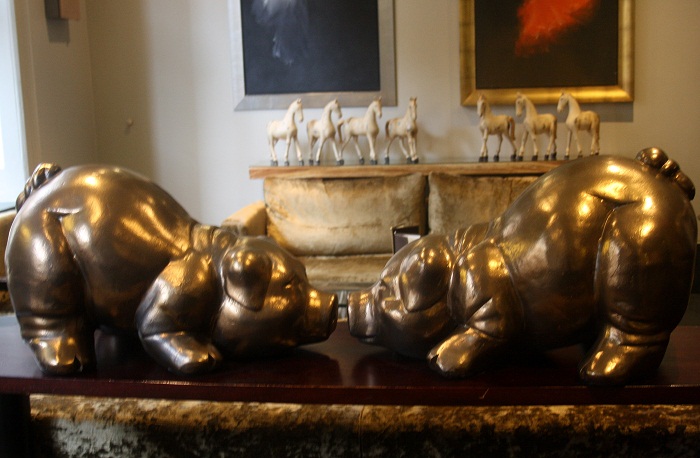 On arrival, we checked in at the stunning, art-covered reception and were met by the wonderful Manager Luke, who escorted us to our room and wouldn't allow 'the Princess' (that's me) to carry her own bags.
We had a good chat about the hotel and Luke mentioned that he'd personally selected our room – already I could see how warm, friendly and welcoming the Radisson Edwardian team would be.
Our King Deluxe was incredibly spacious, decorated in an opulent colour palette of pale gold, silver and damson with velvet and leather textures.
The bed was absolutely heavenly and there were extra pillow – duck feather or regular – just so we would feel at home.  I loved the purple and silver velvet throw at the end of the bed and the snake-effect padded wall.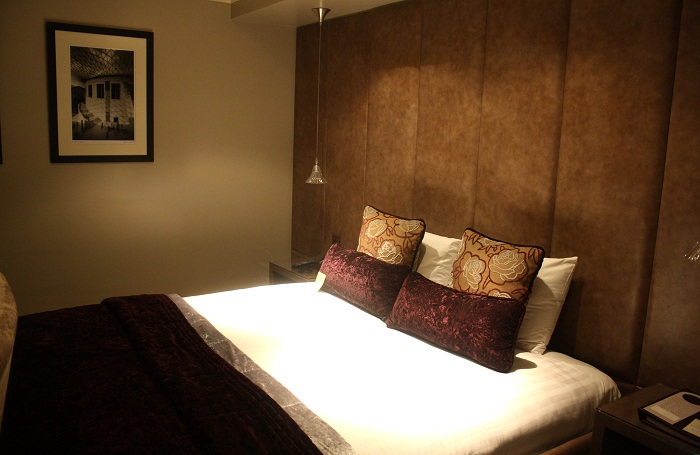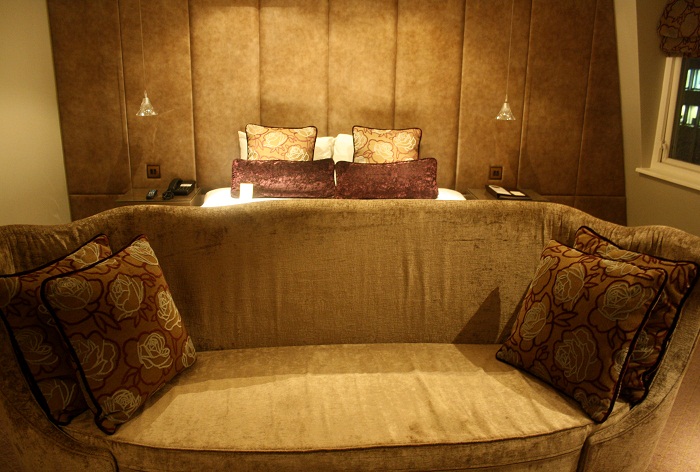 After exploring the whole room, we curled up on the velvet sofa and tucked into a complimentary platter of strawberries and chocolates – a perfect start to the stay.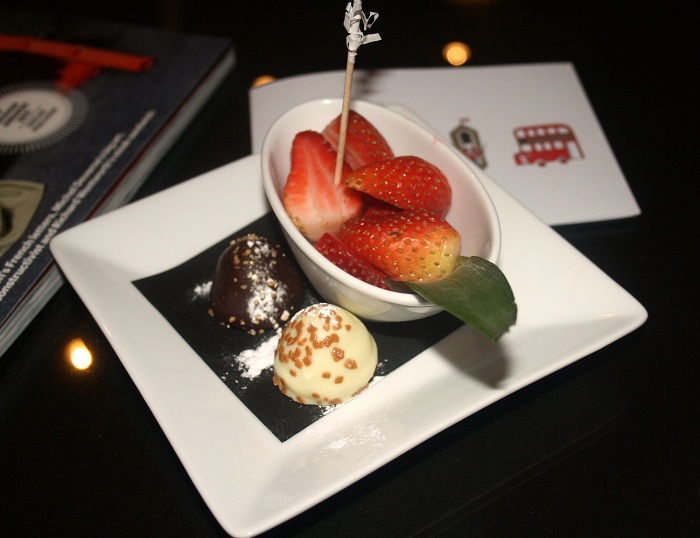 The living area was well-equipped and comfy with a large Philips flatscreen TV, free high-speed wifi, tea and coffee making facilities, a well-stocked minibar and new issues of Wallpaper* and Harper's Bazaar.
The bathroom is one of the largest I've ever experienced and had a separate bath and walk-in shower (with excellent water pressure).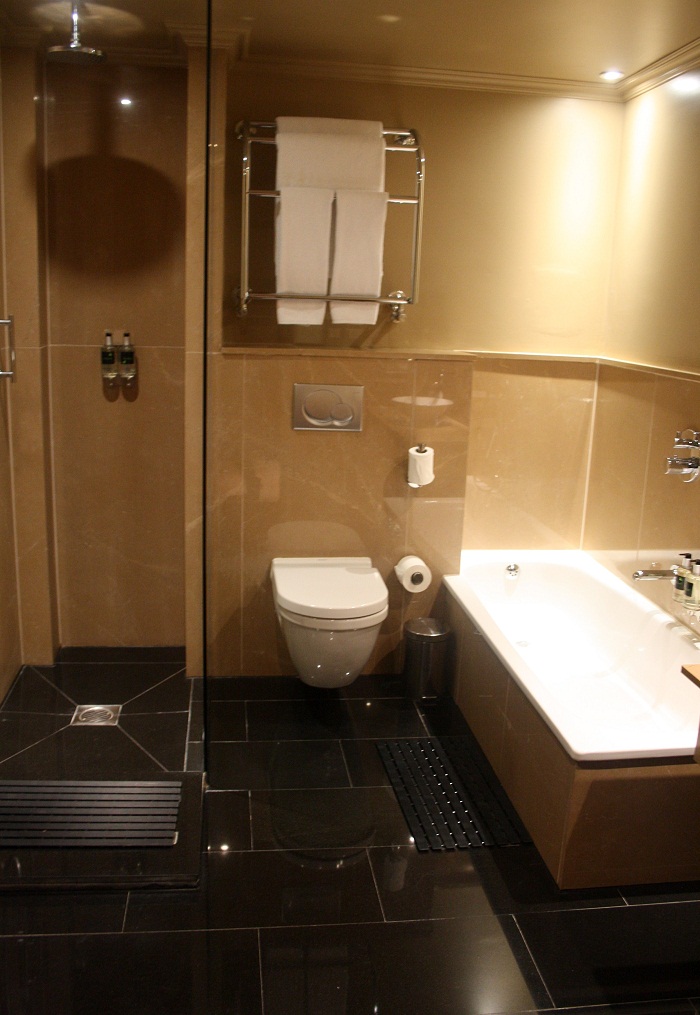 Every 'bathing station' has the most lovely wall-mounted Bee Kind toiletries by Gilchrist & Soames and is even a tray of travel-size sachets to take away.
The adorable Bee Kind range is free of all chemical nasties and are made with organic honey, chamomile and red clover extracts.
A percentage even goes towards research into sustainable pollination and the preservation of honeybees at the University of California.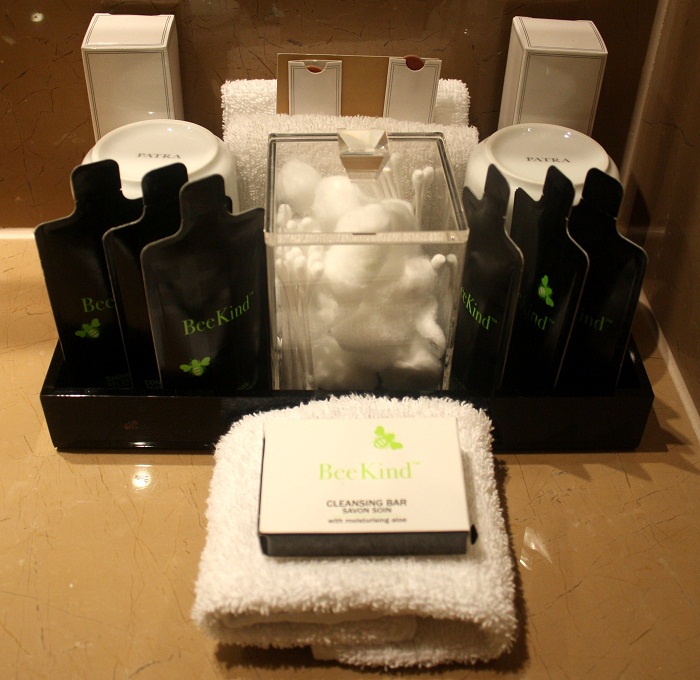 Once we had settled in, another member of staff from reception called to check that we were happy with our room and everything was ok.
There is a good room service menu so you can order comforting meals, club sandwiches and light snacks all through the night – perfect for arriving back starving after a day of shows followed by parties.
There's nothing more decadent than just making your way downstairs for a wonderful 3-course dinner.  The Bloomsbury Street Bar & Restaurant is dimly-lit and seductive with the kind of atmosphere that feels intimate yet buzzing.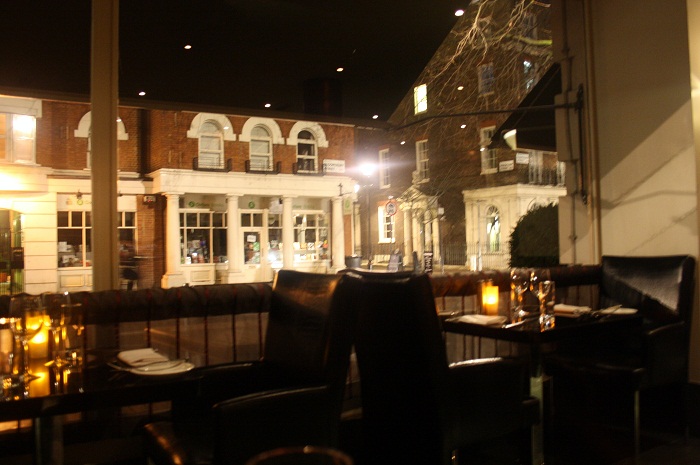 We spent a long, delightful evening sampling the seasonal, locally-sourced delights, but more about that later, as the exceptional dinner deserves a feature of its own!
In the morning, we rolled down to the Bloomsbury Street Bar & Restaurant for a good, hearty breakfast.
You can choose to have a full breakfast delivered to your room in the morning, but I quite like the ritual of getting ready and going down to start the day among the other guests.
The breakfast buffet has everything you could possibly want for breakfast, including different kinds of sausages, bacon and eggs, accompanied by beans, mushrooms, grilled tomatoes and seasoned potatoes.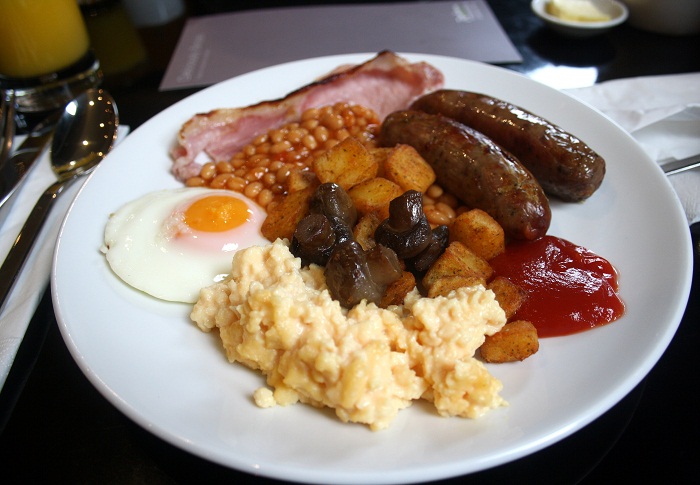 As well as the cooked breakfast, we could choose from mini pastries, cereal, toast, cheeses, yoghurt, fresh juices and fruit.  The lovely breakfast staff brought us a large pot of coffee and milk, which we took back to our room to finish.
When it came to leaving the Bloomsbury Street Hotel, we felt somewhat reluctant, as the stay was so relaxing and memorable.  The friendly, welcoming staff really make the difference and nothing was too much hassle for them.
The Bloomsbury Street Hotel is a perfect choice for London Fashion Week, as it's located just a taxi ride or brisk walk away from Somerset House and the Holborn off-schedule venues.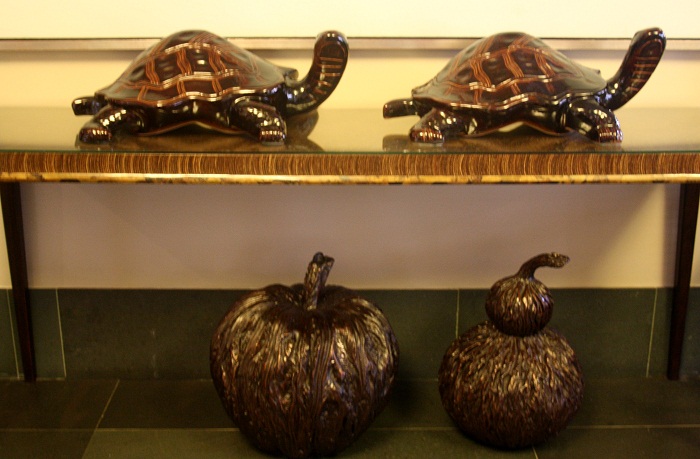 Sister hotel, the May Fair, is the official hotel of London Fashion Week and is the hub of all things fashion, while the Bloomsbury Street Hotel feels more like an intimate luxurious retreat.
It's close to the action during the day and in the evening you can get back quickly to change into a robe and slippers, grab some dinner, file copy and have a peaceful night's sleep.
The Bloomsbury Street Bar & Restaurant is also the ideal place to take a break from the shows and sit down for a proper lunch or for an end of the day cocktail.
I'm already planning for The Bloomsbury Street Bar to be my unofficial HQ for London Fashion Week, come and join me!
Stay at any central London Radisson Edwardian hotel during London Fashion Week and receive a complimentary £30 House of Fraser voucher, plus the following discounts…
10% off luxury accommodation
25% off breakfast
25% off dining at your hotel's restaurant
20% off spa treatments*
A House of Fraser gift card worth £30.00 (available for stays between 15th and 27th February 2011 only)
Complimentary Wi-Fi
For more information on the London Fashion Week package and booking, visit: www.radissonedwardian.com
Photos by Chérie City
* Chérie City was a guest of Bloomsbury Street Hotel.