Last night, I finally got round to trying Hummus Bros for a bloggers event at their Holborn restaurant.
I've always been tempted by the sight of people scooping up hummus with pitta bread at Hummus Bros on Wardour Street Soho, but each time Princi has drawn me in with its pizza al taglio.
Hummus Bros in Holborn has a modern, industrial, European look with concrete walls, exposed ceiling lighting and a metal spiral staircase leading to the mezzanine level, where they hosted the bloggers event.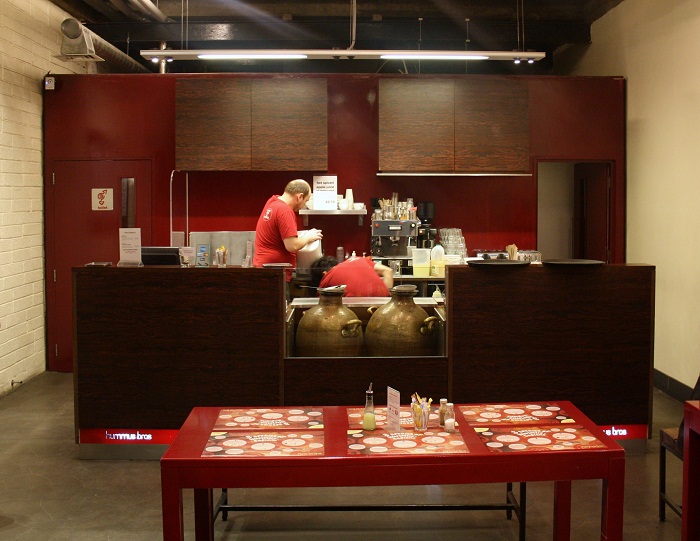 I was expecting the usual standing around drinking with every food blogger having one eagle eye on the canapes, ready to pounce and hoover down.
Instead, we were welcomed by the Hummus Bros themselves, Christian and Ronen (who aren't actually real-life brothers) and sat down to a proper dinner.
After an aperitif of Champagne, we ordered some Hot Spiced Apple Juice (£2.20), which was deliciously sweet and warming with lots of cinnamon. We were also brought a refreshing large glass of Fresh Mint and Ginger Lemonade (£1.70).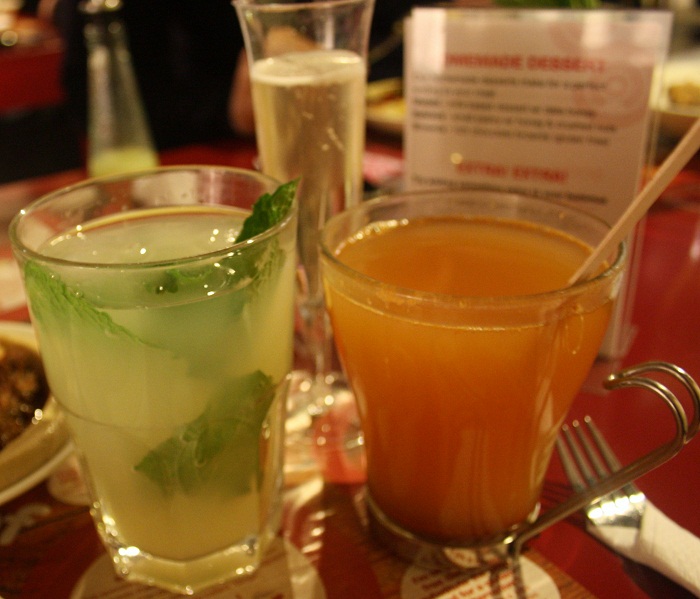 I went for the Hummus with Chicken (£4.75/£5.95) – a slow-cooked Moroccan-style stew with tender pieces of chicken thighs, a rich tomato sauce and lots of paprika.
The chicken was served around a moat of dense, smooth hummus with an extra blob of tahini at the side.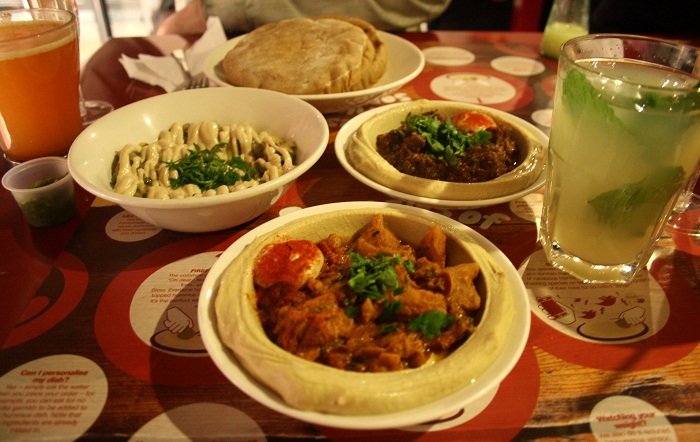 A million miles from the generic supermarket versions, the hummus had a rich, nutty and slightly bitter taste that comes from a good amount of tahini.
Christian also told us that they don't use garlic to make the hummus and that you can add it by taste, mixed with lemon juice.
The small dishes of hummus and toppings are filling generously sized and come with a fluffy toasted wholemeal pitta bread.
Steven went for the Hummus with Chunky Beef (£5.05/£6.25), a rich, juicy stew with succulent, lean pieces of meat.
On the side, we had Smoky Aubergine, cooked on an open flame and topped with tahini, lemon juice, garlic and parsley.  We were warned of the smokiness before ordering, but it really is quite strong.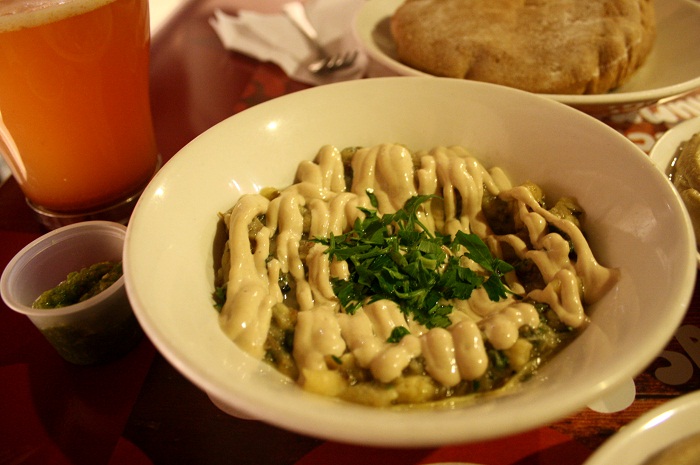 With the rich main dish, the aubergines proved a bit too flavoursome and the side of fresh Tabouleh (£2.50) worked better.
For dessert we were indecisive, so went half and half.  The Brownie (£2) was incredible and closer to a chocolate fondant, due to being flourless and gluten-free.  It was light, gooey and smooth on the inside with a firm crust and dusted with icing sugar.
The Baklava (£1.80) was another triumph – layers of thin and flaky pastry packed together with chunky walnuts and thick honey…just how baklava should be!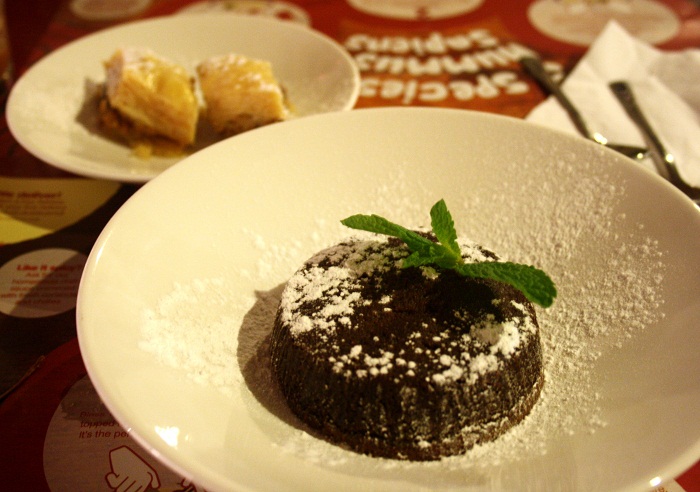 Hummus dishes are a great alternative to the usual lunchtime wraps and sandwiches, as the hot toppings make them feel more like a meal.
The small dishes, which we had, are quite substantial and good value for money and if you're really hungry the regular size is even bigger and includes two large pitta breads.
On the Hummus Bros website, you can see the nutritional content of all dishes and while hummus isn't exactly low fat, it's actually quite low in saturated fat and good for you.  You can also use a search to find dishes that are suitable for specific allergies and diets.
Hummus Bros desserts are absolutely delicious and reasonably priced, so I'll definitely be dropping by for a mid-shopping hot spiced apple juice and baklava.
Hummus Bros Holborn already attracts impoverished art students from nearby Central Saint Martins and you can see why when they offer coffee to students for just 50p!
The Holborn branch is also located at the top of Kingsway, so during London Fashion Week, I'm sure there'll be fashion folk queueing up for healthy meals in between shows.
For more info and menus, visit: www.hbros.co.uk
* Chérie City was a guest of Hummus Bros