Bistrotheque has been on my 'to do list' since moving to London three years ago.  I've had light meals and coffees from their pop-up restaurants at London Fashion Week, Zoo Art Fair and other 'happenings' but despite living just up the road, a visit has just never materialised…until last night!
I went with my Parisian pals during a birthday weekend stay in London, so I was after somewhere impressive but informal, where we could catch up properly over some good food and wine.
Bistrotheque is tucked away in a warehouse in Bethnal Green, parallel to Vyner Street's industrial unit art galleries.  You wouldn't know it was there until you see a glimmer of light and activity and a couple of tables and chairs in a tiny courtyard.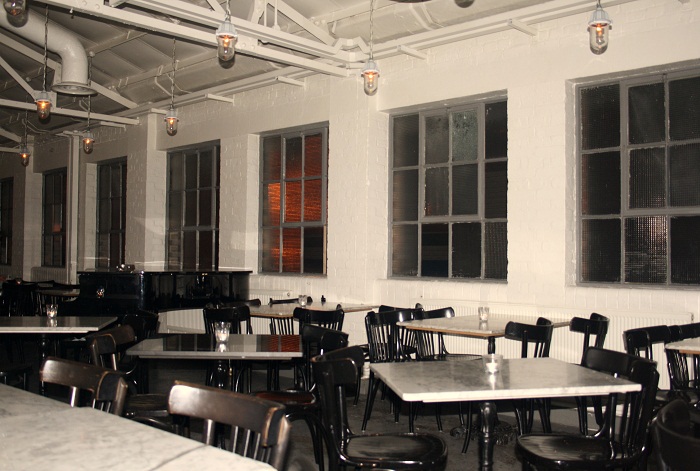 Going up the concrete stairs reminded me of being back at Glasgow School of Art on a messy Thursday night and coincidentally we were greeted by a very dapper Scottish maitre d'.
Bistrotheque is noisy, busy and a bit too warm but all of these things make it fun!
Our waitress was so warm and smiley and really looked after us, making sure our glasses were topped up.  She immediately offered us a jug of iced water and brought a basket of fresh roughly sliced sourdough bread with butter.
The wine list is interesting and well-selected, offering mostly French, Spanish and Italian wines, with the odd Argentinian and Australian bottle.
As it was a Frenchie evening, we went for a bottle of Vincent Bouquet 2009 Merlot, which was fruity, rounded and easy to drink.
Being a particularly nosy bunch, we did a little pass the parcel of each other's food, so we could all try it out.
The fish and chips (£12.50) were exceptional – crispy golden, seasoned batter and super fresh fish.  My fork didn't reach far enough to scoop up some pea purée or tartare sauce, but on all accounts, they were also delicious.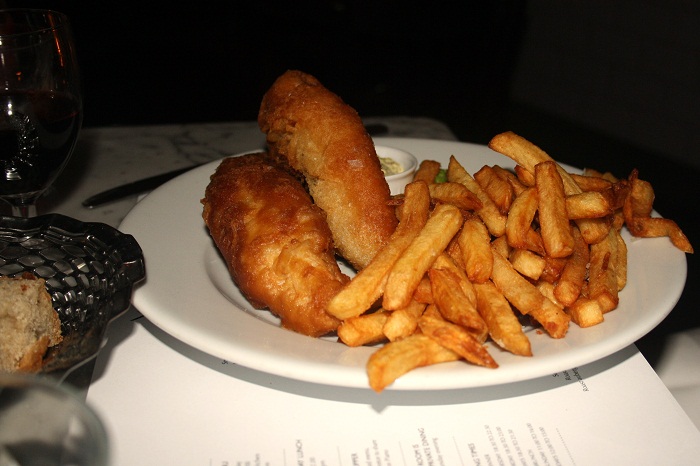 My half roast chicken with garlic and rocket (£14.50) was so tender and tasty and the caramelised garlic cloves really added to the flavours.  It only comes with a handful of rocket and could've done with fries as part of the dish – I had to order them as a side.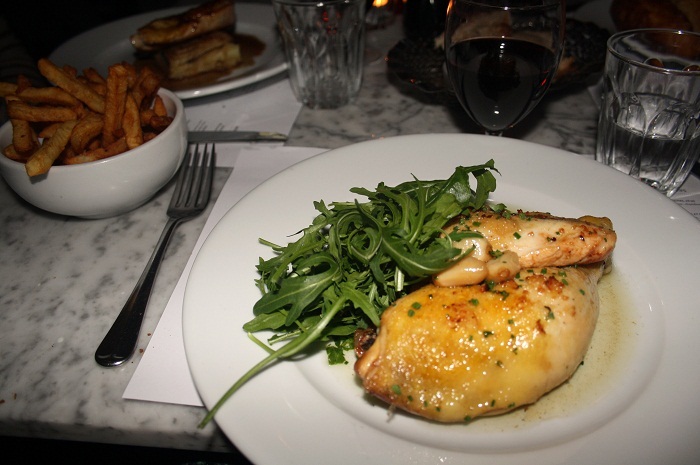 The birthday girl's grilled guinea fowl (£18.50) was the poshest meal on the table.  The guinea fowl was succulent and juicy and came with a celeriac dauphinoise, mushroom, fig and devil on horseback.
She loved the guinea fowl but had no idea what the 'devil on horseback' was. It took some googling today to identify said accompaniment.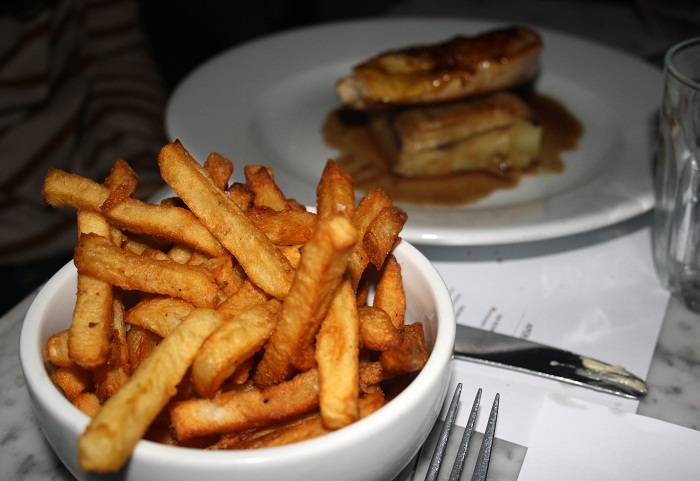 To finish it all off, we ordered the white chocolate cheesecake with griottines in Kirsch and three spoons.  This was absolute heaven – creamy, dense and smooth with a gritty biscuit base.
The only thing was, we all started coughing from the extra fine cocoa powder laden on top.  We found it pretty hilarious and laughed about it all evening…cheesecake with a kick!
The sign of a really great restaurant is if you're dying to go again the very next day!  I'm already planning next week's brunch…
The bill came to around £87 with wine and service for 3 people.  As this was £29 per person, next time I would arrive earlier and book the pre-cabaret 3 course dinner and show for £31.