Before Christmas, I went on a foodie and cultural girly press trip to Belfast and our stylish headquarters for the weekend was the Malmaison Belfast.
On the agenda was a whistle stop tour of some of Belfast's most popular restaurants, Saint George's Market, the Ulster Museum, a private cab tour of the murals and the Titanic and a spot of shopping.
A converted Victorian seed warehouse, Malmaison Belfast feels dramatic before you even step through the door, with its shaded Italian arched windows and elegant  black and gold features.
Inside the seduction continues with the reception area resembling purple and magenta chequered gothic wonderland.
We were welcomed warmly by the staff and were assigned our room keys instantly, despite arriving mid-morning.
Some of the rooms are decorated in a 'bordello' style, but I was even more pleased that my abode for the the evening was 'country eccentric' all the way.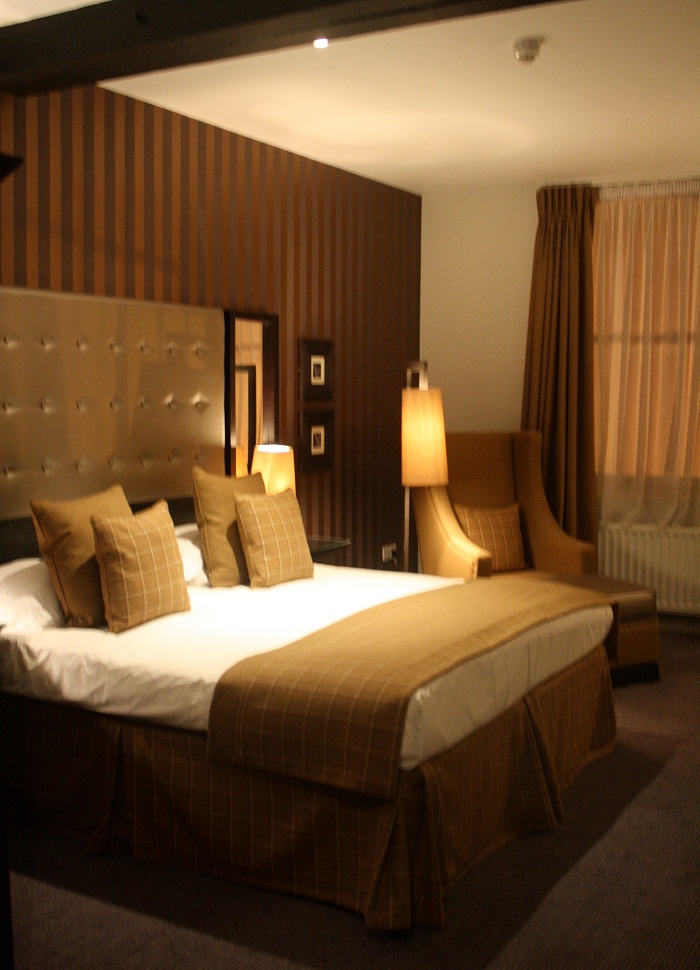 The spacious room felt homely and cosy with woollen tweed details and a colour scheme of biscuit, caramel and dark brown.
It had everything I needed for a comfortable stay – a plasma screen TV, kettle with premium tea and coffee, a mini bar with tempting snack and a sweet grandpa armchair with a foot stool.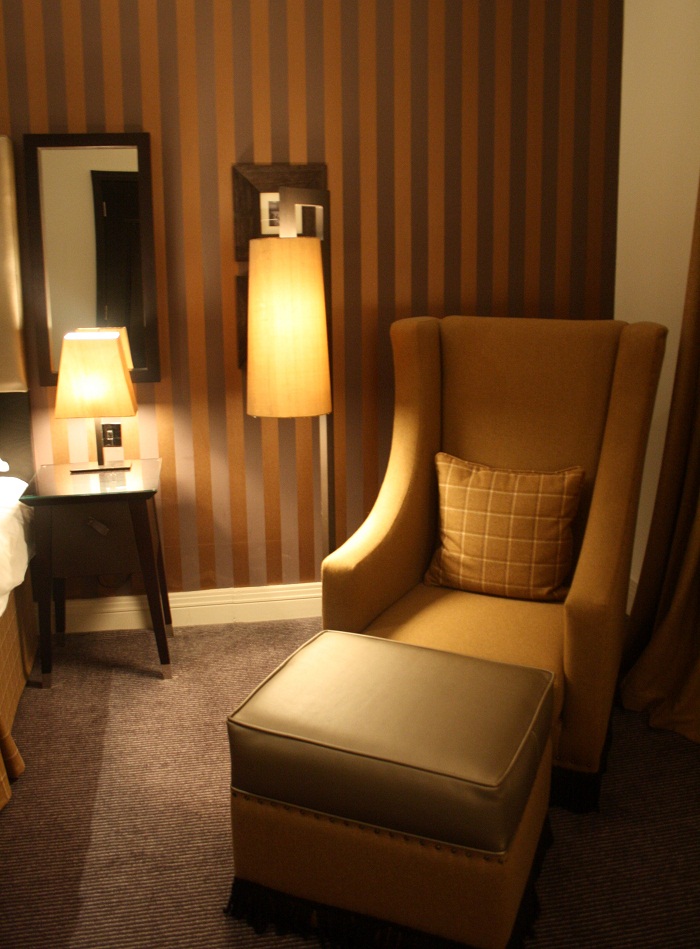 The well-sized bathroom felt modern and luxurious in monochrome with a powerful rainfall shower and bath.
Major points for the full-size toiletries made exclusively by Arran Aromatics for Malmaison.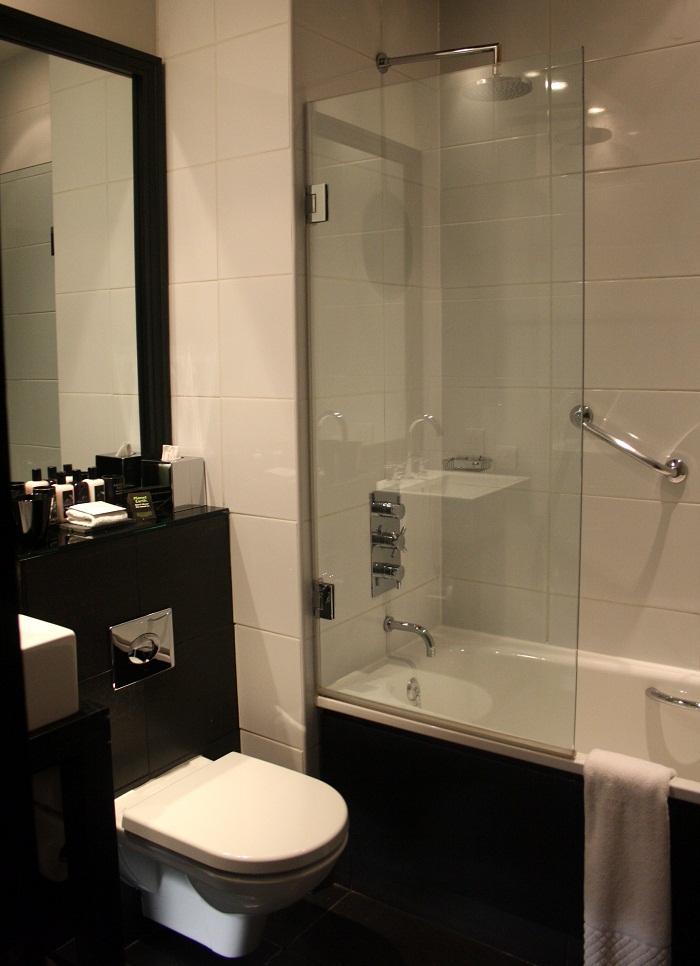 The fig and cedarwood toiletries are deliciously fragrant and Malmaison encourages you to take them away with you to use later.
The female traveller has really been considered, as there are also stacks of cotton pads and buds, flannels and facial tissues close at hand – perfect if you're getting ready for a night out.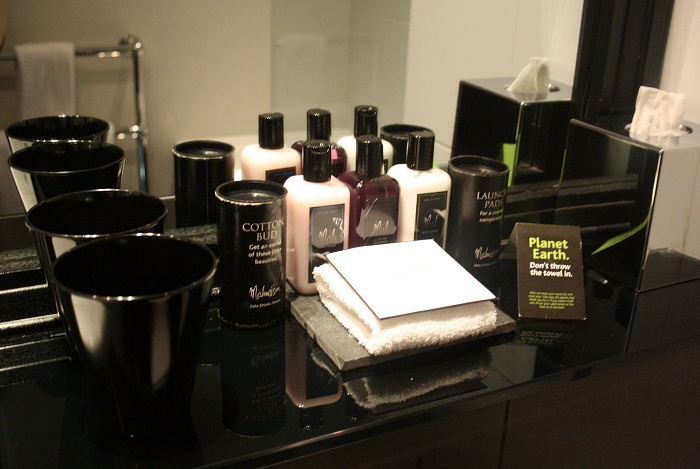 After checking into our rooms and having a quick nose around, we came down to the bar where we were presented with a magnificent spread of hot bacon sandwiches and a bottle of Veuve Clicquot – a combination that I'd happily see more of!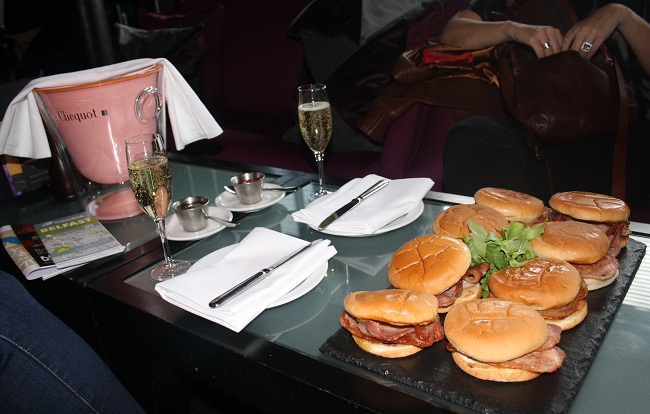 The bar has a relaxed feel during the day where you can have afternoon tea among the sumptuous velvet seats.  At night it moves from an elegant cocktail venue to a buzzing, sociable bar that attract Belfast's well-heeled crowd.
The Bar Manager is a real gem and she really looked after us, recommending cocktails and asking us the tales of our day.
The Brasserie waiters were equally lovely – professional yet informal.  One of the guys even promised to help me finish my gigantic crème brûlée if I couldn't finish it.
Where can you ever find staff so charming and unpretentious?  Even though Malmaison is a luxury boutique chain, it really had the spirit of a family-run hotel.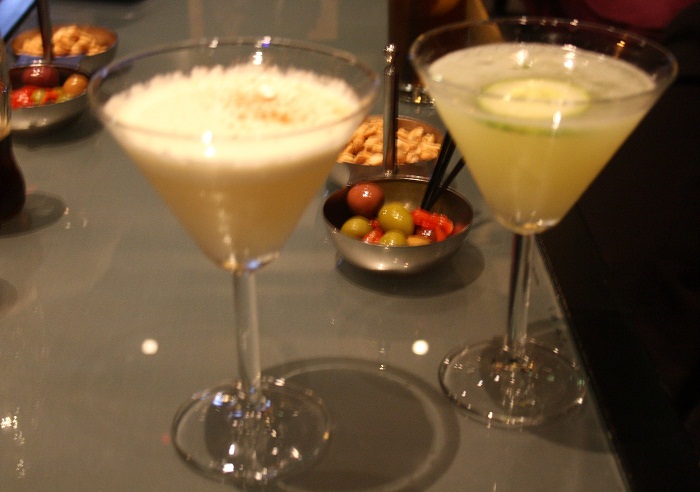 After a most luxurious sleep, we met downstairs for a long, leisurely breakfast in The Brasserie.
There was a delicious continental buffet table with everything you could want for breakfast – pastries, cereal, yogurts, granola, mini flapjacks, toast and fruit juices.
You can then order a full cooked breakfast or any style of eggs from the menu. I went for Eggs Benedict – two poached eggs and lots of bacon, stacked up on a toasted muffin and smothered in creamy hollandaise.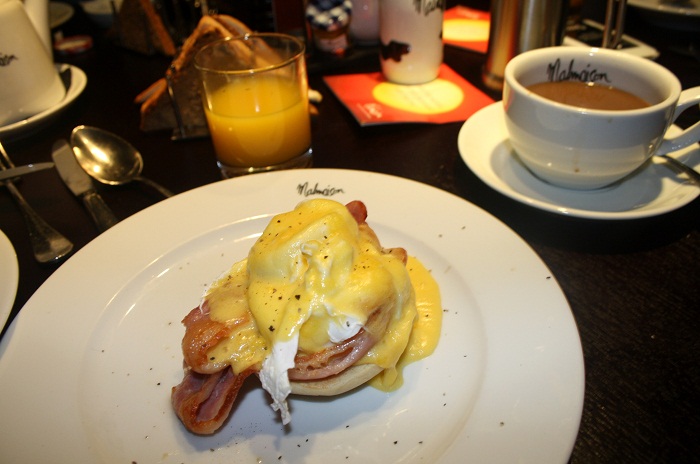 Malmaison Belfast really is a hotel out to impress, from the plush décor to the warm, vibrant staff and it's an ideal base for exploring the city.
The only improvement I might suggest as a guest is complimentary wifi, as it often comes as standard in most contemporary design hotels.
The best thing about Belfast for a weekend break is that it's easy to get to from most UK airports (we flew with Fly Be from London Gatwick) and the journey into the centre of town is around 10 minutes by bus or cab.
For more information and booking, visit the Malmaison Belfast website.
Malmaison Belfast, 34-38 Victoria Street, Belfast, BT1 3GH
UPDATE: Malmaison now offers complimentary wifi across all of its hotels.
All photos by Chérie City.
* Cherie City was a guest of Malmaison Belfast