Parisians love a good food revolution (just see the neo-bistro revolution at Le Fooding) and Pink Flamingo have certainly revolutionised the humble pizza!
Jamie Young and Marie Ravel opened a tiny pizza parlour just off the Canal Saint-Martin and since Pink Flamingo has brought gourmet oddball pizza to Paris' hip neighbourhoods – the Marais, Aligre, Montmartre and downtown Berlin.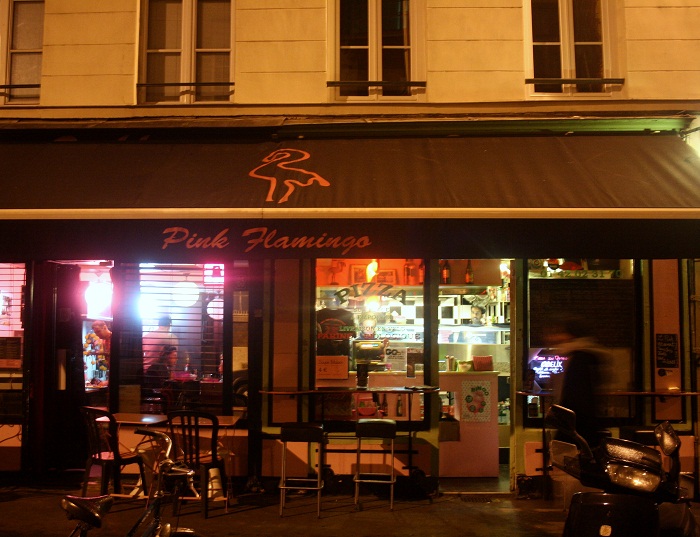 In the summer, you can try out the Pink Flamingo 'pink-nik'.  Just order your pizza at the counter, take a pink balloon and find a spot on the canal, then they'll bring it over on a bicycle.
But what's so unusual about the pizza?  Rather than the tired old 'Cappriciosa' and 'Quatre-Saisons', Pink Flamingo pizzas are named presumably in homage of the owners' favourite folk.
There's 'La Bjork' with smoked salmon and crème fraiche, a paella pizza hybrid named 'L'Almodovar' and the pizza of the moment, the 'Obama'  topped with grilled bacon and pineapple chutney.
We visited the original rue Bichat joint, just a block from the Canal Saint-Martin and conveniently, Le Citizen Hotel, where we were staying.  After ordering two pizza at the take-out counter, we went back out into the restaurant, armed with cutlery and a pizza cutter – god help any potential muggers outside Pink Flamingo!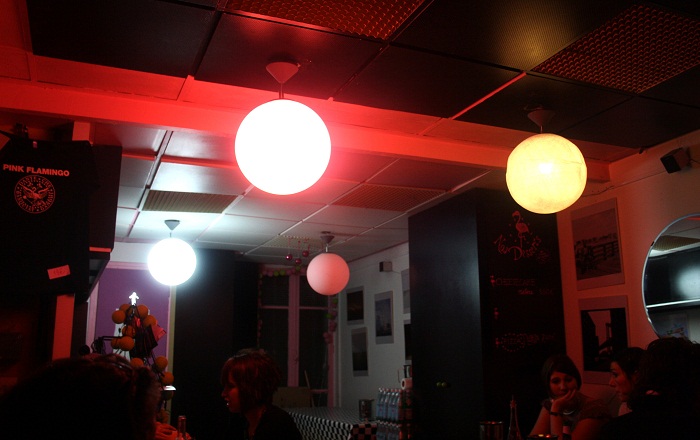 With checkered table cloths and neon pink lighting and lack of central heating, Pink Flamingo feels like an underground bunker diner, where munching on oddball pizza feels slightly illicit.
Staff are friendly and laid-back and our conversation was a schizophrenic mix of French and English words – the easiest way to get by in Paris.  They were dressed for the winter chill with woolly jumpers and bobble hats, as it seems their chosen method of delivery is by bicycle.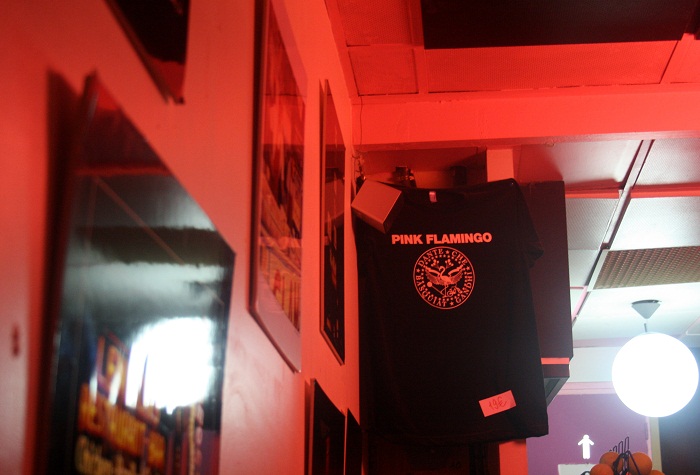 Everything is chilled out and simple at Pink Flamingo and you're left to chat and eat your pizzas in peace while the pizza chefs dash around next door.
I noticed that Pink Flamingo also offer their own beer with the Pink Flamingo logo, which would make a pretty cool souvenir.  Also spotted was the super cool spray can 'fire extinguisher', only to be used by graffiti artists!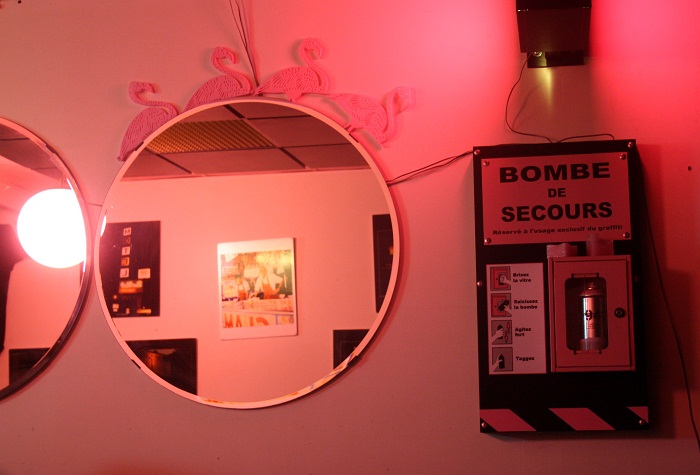 Our pizzas arrived quickly and we ordered La Che (14,5 Euros) and La Macias (15,5 Euros), then split the two.
'La Che' is topped with Cuban pork (marinated in garlic, lime, coriander and spring onion for 24 hours) and banana plantain chips.  The pork was juicy and succulent and the banana plantain chips were more roasted than deep fried and added a lovely sweet flavour to the pizza.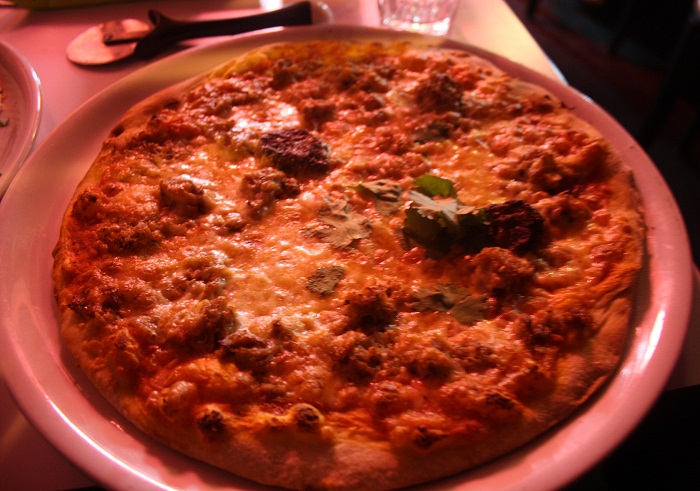 'La Macias' was my favourite, covered in tagine-style marinated chicken and preserved lemon, finished off with green and violet olives.  It worked surprisingly well with regular mozzarella and tomato sauce and the base was thin and crispy – made using organic dough.
Both pizzas were subtly flavoured, generously adorned with toppings and quite not as wacky as they sound.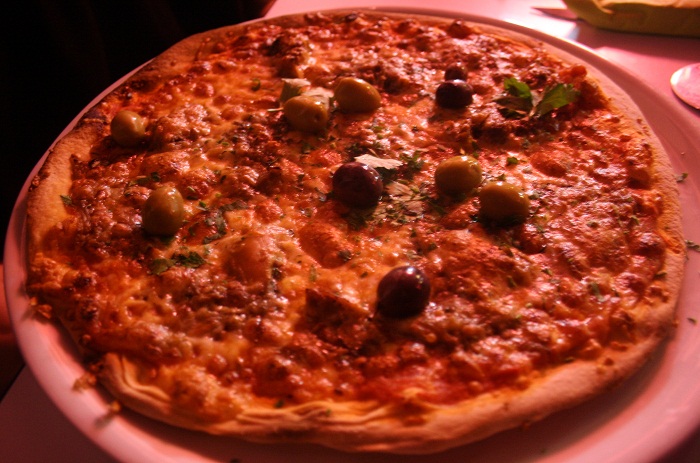 Pink Flamingo is perfect for grabbing a quick pizza with friends and I've already picked my spot next to the canal for my summer 'pink-nik'.
Pink Flamingo, 67 rue Bichat, Canal St-Martin, 75010 Paris.