I've been lucky to stay in most Paris neighbourhoods on the numerous trips to my spiritual home, but the Canal Saint-Martin has long been neglected due to the lack of decent hotels in the 10th….that is, until now!
The Canal Saint-Martin is known as the bobo heart of Paris and was the whimsical location in Amélie where she skims stones across the water and as a little girl, frees 'le Cachalot', her suicidal goldfish.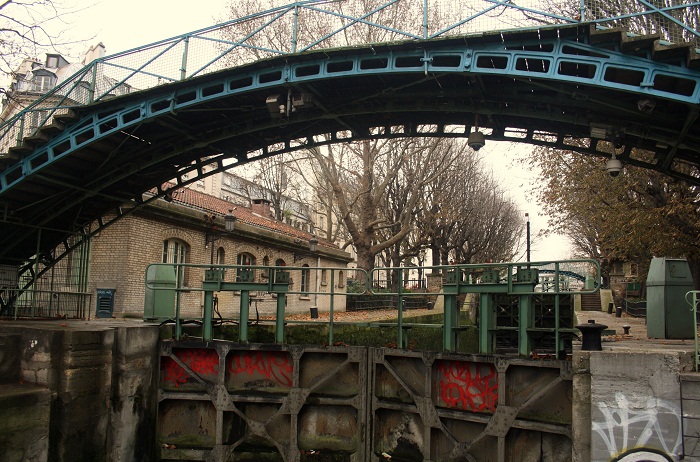 Le Citizen Hotel is a stylish, minimalist-luxe new abode on the Quai de Jemmapes, right at the centre of the 'canal scène'.  As the name suggests, it takes a functional, democratic approach to travel and is affordable with luxury touches.
The hotel is discreet and unmarked, accessed by pressing the buzzer on the door.  Once inside, it is warm, intimate and calming, with a canteen-style lounge filled with art and design books.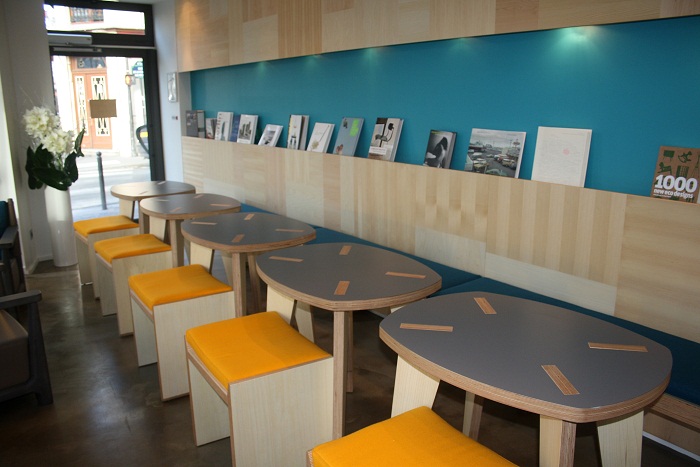 We stayed the Zen Suite on the top floor – a bright, airy open-plan room in soft muted colours with pale wood features, dark wood floors and some interesting design touches.
The most telling mark of an exceptional hotel is the bed, and our double bed was cloudlike, with sumptuous linen and simply divine. A testament to the bed's superiority was that on arrival, we fell asleep for a good three hours (also helped by a 5.30am Eurostar train).
Add to that a flat screen 26″ TV mounted on the wall, a selection of hand picked art and design books and you'll find it hard to actually leave your bed!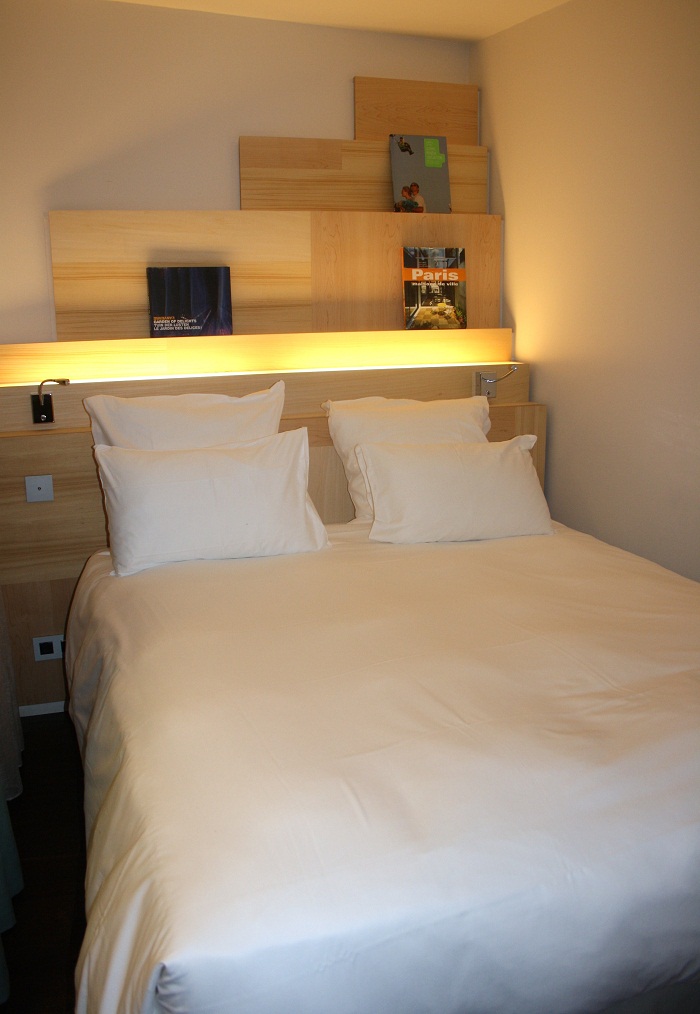 I fell in love with the landscape of structured wool cushions that made up a graduated sitting area next to the window, framing an enviable view of the Canal Saint-Martin.
I've made a mental note add such seating arrangements to my future 'dream apartment', which currently looks like a psychotic melange of my favourite hotel rooms.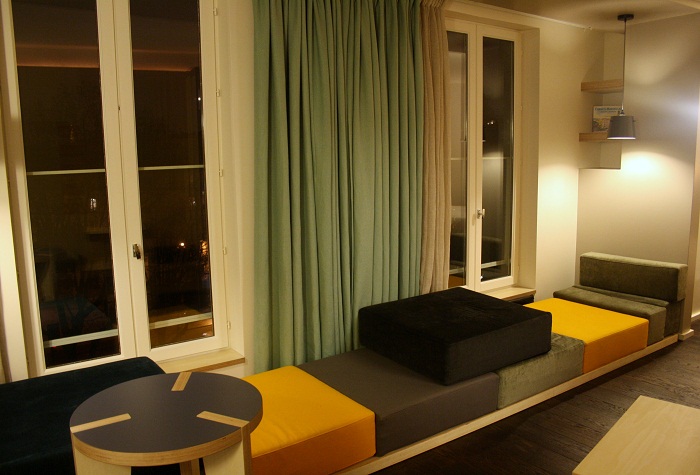 The blue-tiled bathroom was perfectly sized and came with plenty fluffy towels, soft bathrobes and spa toiletries by Omnisense Paris, mounted on the shower wall.
The water pressure in the shower was just right and another cool design touch was the flat disc shower head.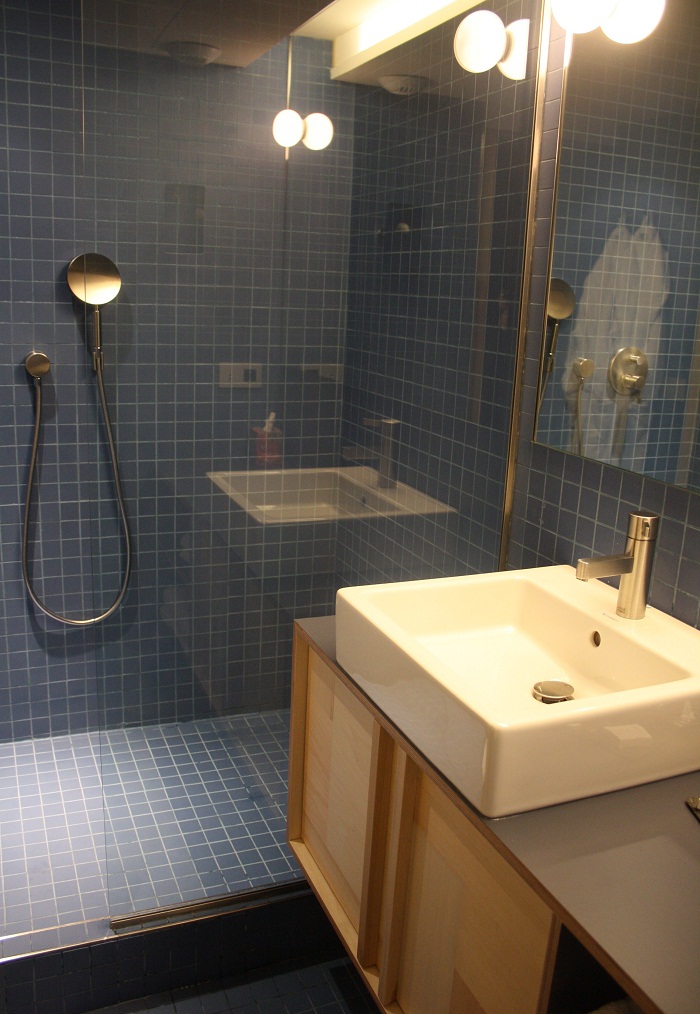 All the toiletries we could possibly need for our stay were presented on a slate and my favourite thing was the bottle of Omnisense Paris body oil, which had a warm vanilla scent.
A fun feature was the magic tablets, which grew into a disposable face cloth when dampened – very Japanese and fitting the to 'zen' outlook.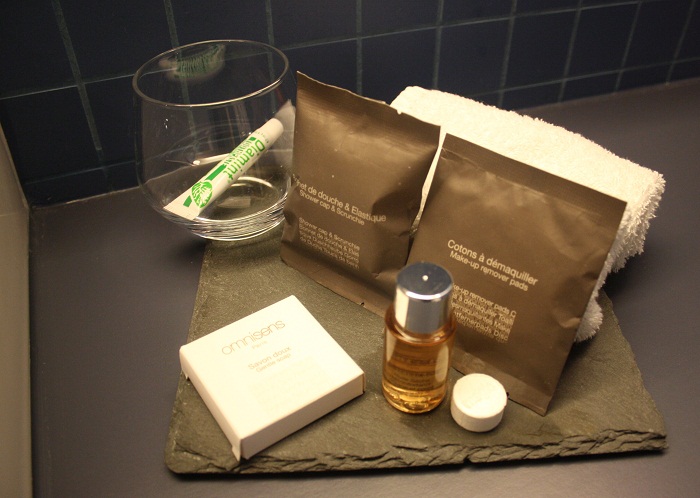 We were given an iPad to use during our stay, although we could also get complimentary WIFI access on my laptop with a log-in code.
Le Citizen have really thought about how to use the iPads as a self-concierge service and have added homepage shortcuts to information about the breakfast, minibar and hotel facility information.
To help us visitors get the best out of our stay in Paris, they have loaded the iPads with apps from 'in the know' travel sites, including French food bible, Le Fooding.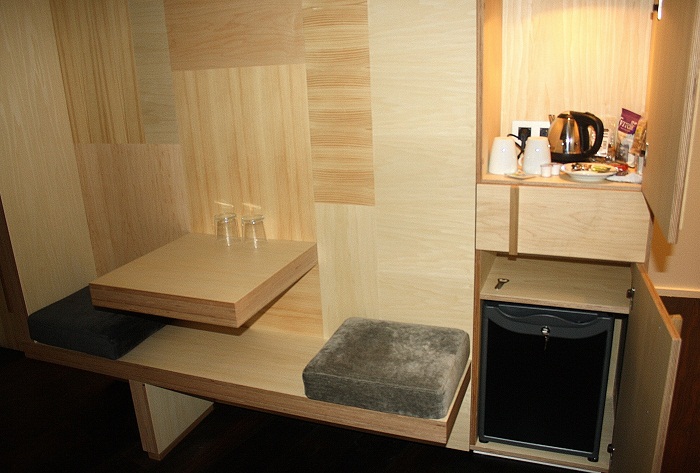 The mini bar and cupboard were filled with a combination of delicious healthy or indulgent snacks at a reasonable price.  A rarity in Paris hotels, there are also tea and coffee making facilities.
The only aspect that could be improved was that housekeeping was slightly relaxed and there was no coffee or filtered water that is usually offered.  As the hotel is so new, this will no doubt be brought up to speed and I'm sure the friendly staff would have obliged with replacements had we requested.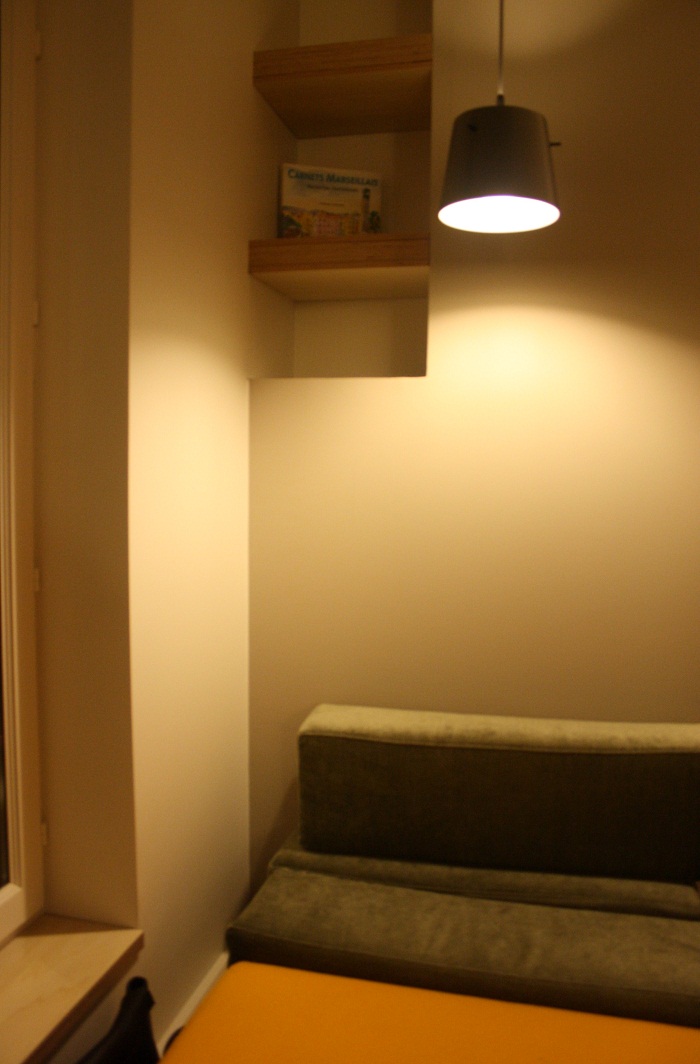 In the morning, Le Citizen offers a Cafe-Croissant for 5 Euros or a full continental breakfast for 12 Euros, a selection of Japanese tea and cake in the afternoon and a choice of fresh bento boxes throughout the day.
Le Citizen Hotel has been thought out to the last detail to suit the luxury budget traveller and the Zen Suite offers more value than the average Paris hotel room at the same price.
The location is perfect for experiencing the charm of the Canal Saint-Martin and the buzzing bars and restaurants of the 10e arrondissement.  By the end of your stay, you'll feel like you belong to a petit village that you'll never want to leave…
Double rooms start from 169 Euros and the Zen Suite is priced at 249 Euros per night.
Le Citizen Hotel, 96 Quai de Jemmapes, 75010 Paris.
Must Eats in the 10e: Hotel du Nord, La Fidélité, Pink Flamingo, La Tête dans les Olives.
* Cherie City received press rates for Le Citizen Hotel.