Coralie Aude Grassin samples fresh fish from southern Italy at Notting Hill's first fish boutique…
Oh, wintery, cold, rainy days. It's already dark when you step out of work. Coat, scarf and gloves are on…brrrr.  Come along, I know just what you need: a little escape from the routine, a little place full of sun.
Walk down Portobello Road, pass the Electric Cinema, turn left and step in Pescheria Mattiucci.  Impossible to place a single label on it – an Italian atmosphere, a fish shop, an eaterie a deli, a holiday from the real life…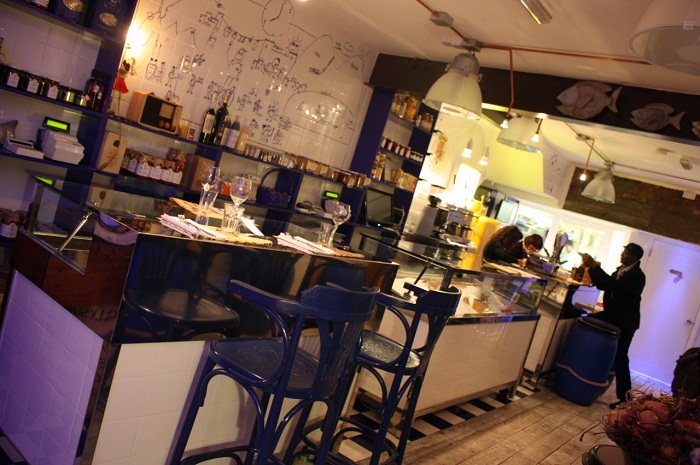 On the walls, white tiles have been decorated with the team's blue drawings – a personal touch that always bring a smile to the customers' lips and sets a relaxed atmosphere.  There is even a foosball table on one side.
Counters are set up against the walls with blue upturned barrels as chairs – this is an ideal place for couples or a cheerful chat with a friend.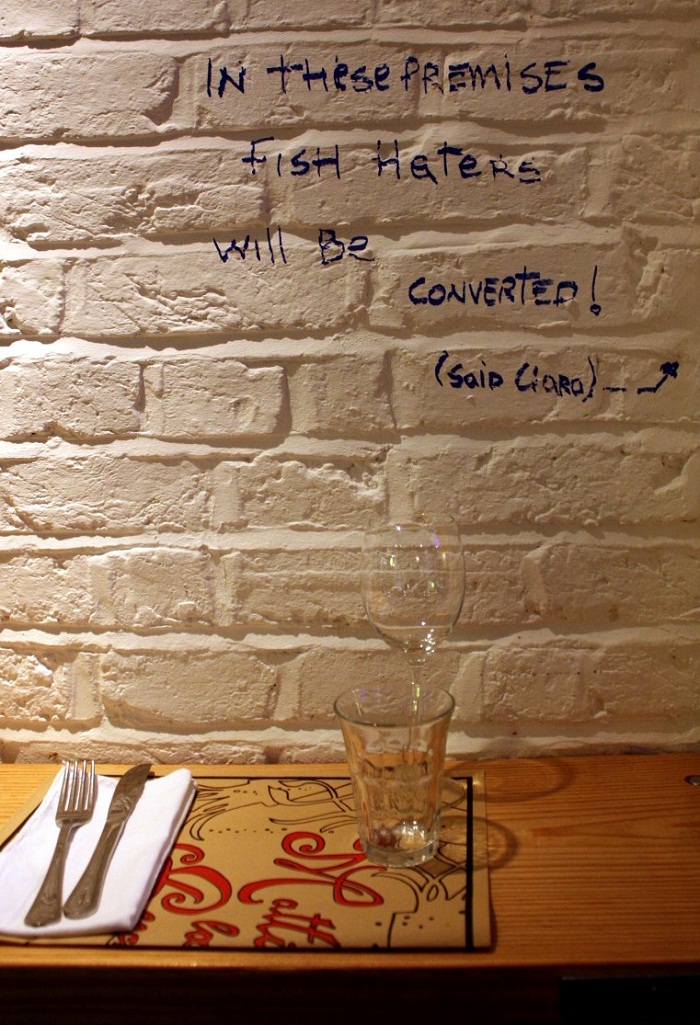 Christina welcomed us with her singing accent, showing us around.  The Mattiucci family has been into fishing for generations, focusing on quality rather than quantity, making sure they were not bruising the flesh, taking pride in the freshness of their products.
With branches in Naples, Milan, Capri, they can provide a wide selection of fish.  This London location opened last April and the team is eager to share their passion – do start a conversation with them and you will learn simple ways of preparing a prawn, the story of a wine, discover amazing anecdotes…
Everything here is cooked in a simple way, grilled whenever possible, to enhance the original taste rather than cover it with sauce. This probably sounds like Jamie Oliver talk but you just have to try the anchovies to be completely gobsmacked – slices of olive bread topped with cheese, halved anchovies, a leaf of rocket, a sliced cherry tomato.  Divine!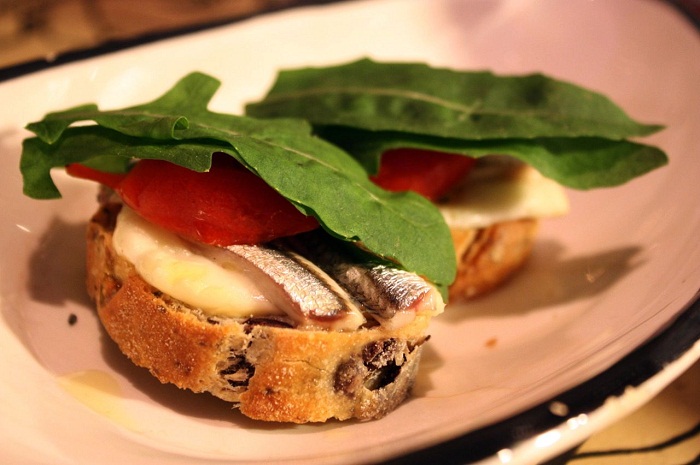 We learnt that the latter actually are grown without water, hence concentrating the taste in the juice.  Even better, to protect them organically from insects they have been smoked, which gives them an extra flavour.
Next arrived a dish of crudo.  If you are a sashimi fan, you will probably cross half the town for that one.  Raw prawns were a first for me but proved amazingly rich and juicy.  We loved the selection of swordfish, red tuna, belly and sea bass – a feast for the taste buds.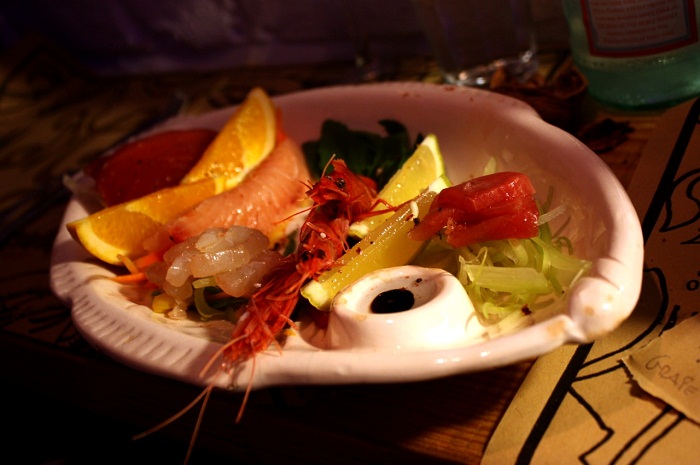 We tried all the possible combinations: with celery, grated carrots, roasted pepper, a mix of white and red balsamic vinegar.
Each was seasoned differently: aromatic pink pepper, black Hawaiian or pink Himalayan salt… and even orange quarters as an alternative to the traditional lemon…
However, do keep a little space for the swordfish – rolled Sicilian style, it was stuffed with pistachios, almonds, pine nuts, provola cheese, rocket, basil… difficult to decide which texture you like best.
The yellow peppers on the side were cooked to perfection, bringing an almost apricot note.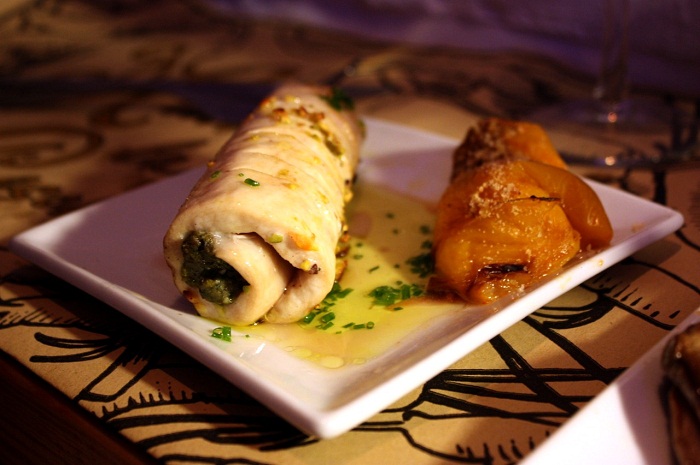 We finished with the pesce bandiera.  We thought it had been cooked with stock to almost melt in the mouth but no, it has simply been grilled – the provola, tomatoes and courgettes just flavoured it with juices.
On the side is served a little aubergine cake layered alternately with cheese.   At that point, we had given up on any effort of conversation, focusing on 'aaaaah' and 'mmmmmh' instead – anything else seemed pointless.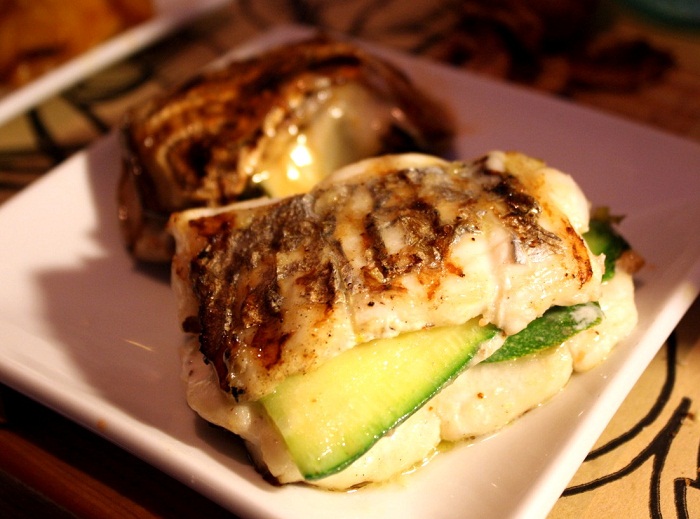 Add a glass of Lacryma Christi wine for a touch of heaven…literally!  The legend says that when Satan left paradise as a fallen angel, Jesus' tears fell on Mount Vesuvius, creating the vines from which this drink is made.  Crispy, lemony with apple notes, it brings out each dish flavour wonderfully.
£15 a dish may sound expensive but the experience is worth every penny.  Like tapas, it is great to share them and the recipes are so authentic and exotic at the same time that you are entirely satisfied with a couple.
You will not even feel like desert (and this is a sugar-holic talking) – but you can settle for a seasonal fruit instead. It can be as nice to just have a couple of fresh walnuts as a final touch.
Most of what you will taste can be bought in the shop – fish (better come in the morning though), pasta, salt, pepper, vinegar, oil, tomato sauce… Everything is imported straight from Italy three times a week and is organic whenever possible.
There is a negative note: the return to normal life.  Your mind has switched to holiday mode for a couple of hours and you half expect to see a fishermen's village when passing the door, only to find a chilly mist and remember you have left you umbrella at home.
But wait!  Hadn't they mentioned they served a coffee to die for?  It is not too late to turn back…
Pescheria Mattiucci, 8 Blenheim Crescent London W11 1NN
* Coralie was a guest of Pescheria Mattiucci