Upper Saint Martin's Lane seems to be going through a food renaissance at the moment, with a number of new restaurants opening this year.  Dishoom holds court as the most talked-about one of them all, and with good reason too!
Dishoom fills a void in the London restaurant scene – a Bombay cafe.  Moti Mahal covers fine dining cuisine (one of my favourites) and most of us have our own favourite local Indian restaurant, but London has definitely been lacking an all-day, central cafe for Indian snacks, light curries and chai.
I brought my half-Indian friend Emily to samples the delights of Dishoom, as she's a fellow curry connoisseur and straight-talking as they come.  A below-par roti would not pass her scorn.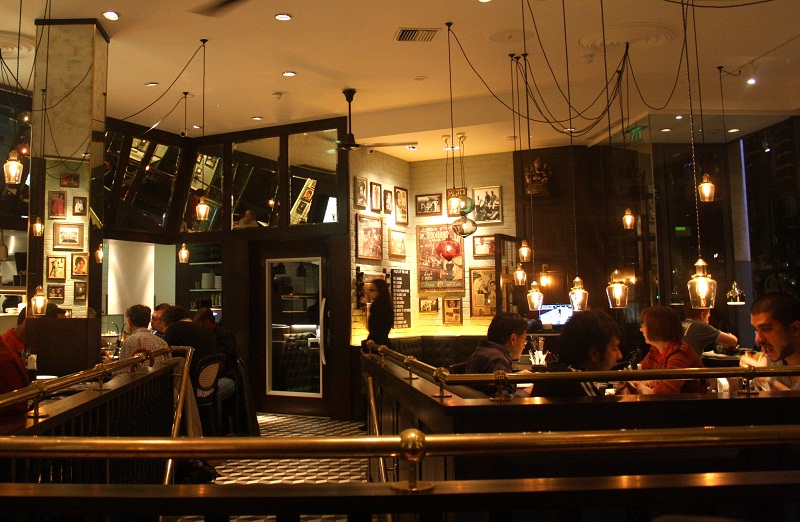 Dishoom has a bright, airy feel and the interior is designed like an old Bombay railway cafe with brass rails, low lighting and a chequered floor.
The cafe is full of personal touches such as original photographs of the owner's close family and relatives on the walls.  It feels like a real labour of love  – warm and totally unpretentious.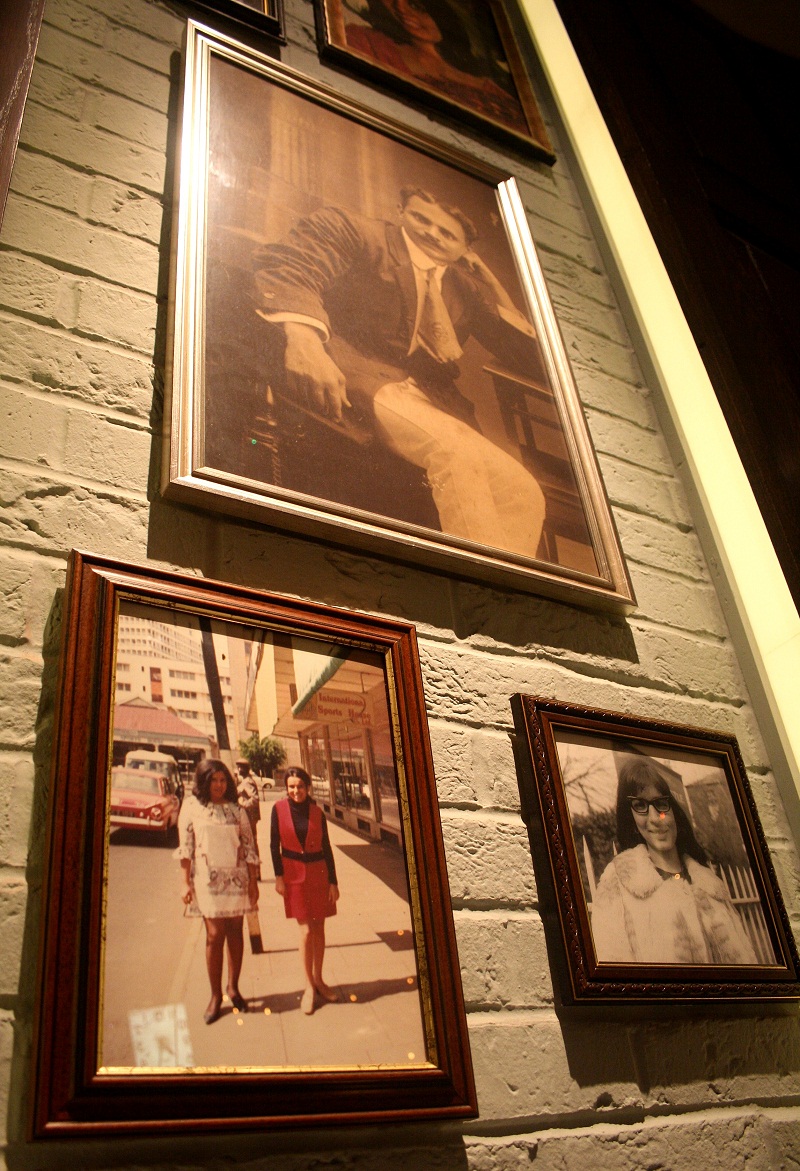 Our waitress was super friendly and helpful, recommending dishes that complimented each other and telling us the specials of the day.
We started by sharing a plate of Vegetable Samosas (£2.90), which were nicely spiced with a dense, satisfying filling and not at all greasy.  They cames with three glass ramekins of chutneys and minted yogurt.
After a hard day's work, we couldn't resist a couple of cocktails and started with a Bollybellini (£5.70) – a rose, lychee and raspberry bellini.  They were sweet, fragrant and not overly strong, with the fruit perfectly balancing the champagne.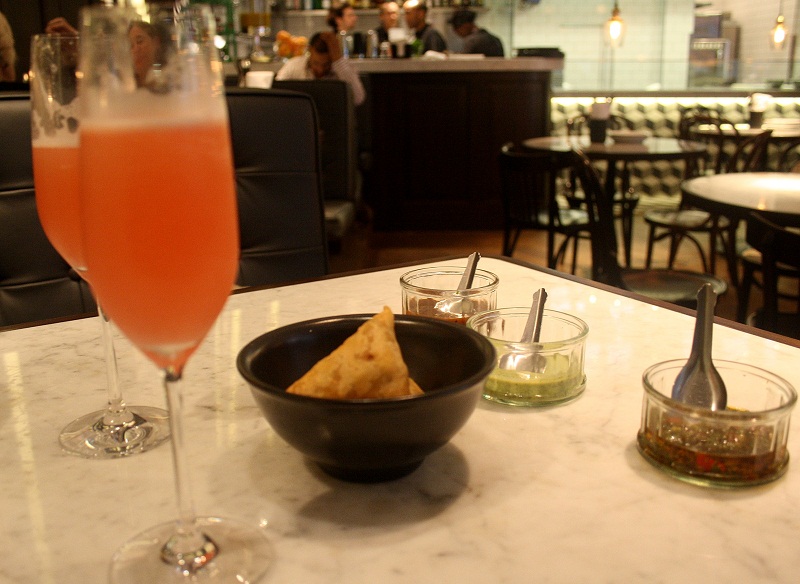 For our next course, we ordered the Murgh Malai (£6.50), the chicken curry special of the day (I forget the name) and a bowl of House Black Daal (£4.50).  These were accompanied by a selection of sides – Plain Naan (£1.70) Steamed Basmati Rice (£1.90) Roomali Roti (£1.70).
The Murgh Malai was skewered pieces of chicken breast chargrilled in the tandoor and served with lime and coriander.  It was tender and delicious and came sizzling hot and generously sized.
The chicken special was a delicately flavoured  tomato and onion based curry that was light and non-greasy.  The black daal was worth ordering and came with lots of sauce and tiny, dense black lentils.
Emily gave her Rotis the seal of approval and I loved the soft, chewy naan bread with melted butter (you can have it without) served in a bread tin.  The Basmati rice was as light and fluffy as it should be.
For our second cocktail, we ordered a St. Martini (£5.50) – pomegranate and home-made chili syrup shaken with gin – and House Punch (£4.90) – a blend of exotic fruit juices, coconut and rum with a dash of Darjeeling tea.  Both were slightly stronger and less sweet than the Bollybellini but it's pretty hard to decide a favourite.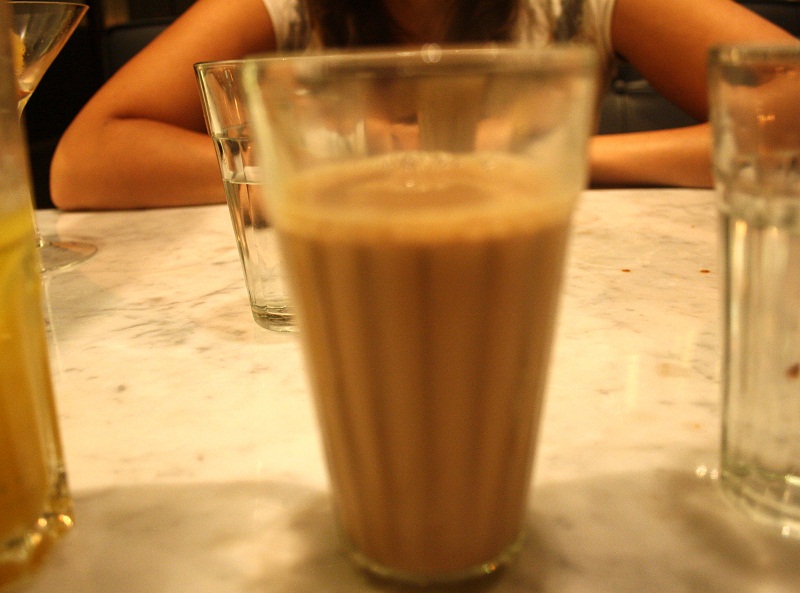 We then ordered a House Chai (£1.90) to let everything go down.  The chai tasted fragrant and slightly malted, as though it contained condensed milk.  Our waitress told us that they make the chai base fresh in the morning and keep batches of it simmering away during the day.
After the curries, we were too full to try a heavier dessert, although Chocolate Fondant and Seasonal Fruit Crumble with a glass of Chai would make a scrumptious afternoon treat, getting away from the winter chill.
Instead, we went for Kulfi on a Stick (£2.50) in chocolate and pistachio.  The pistachio was subtle and creamy while the chocolate was deliciously sticky, caramelised and rich.  The perfect way to finish the meal.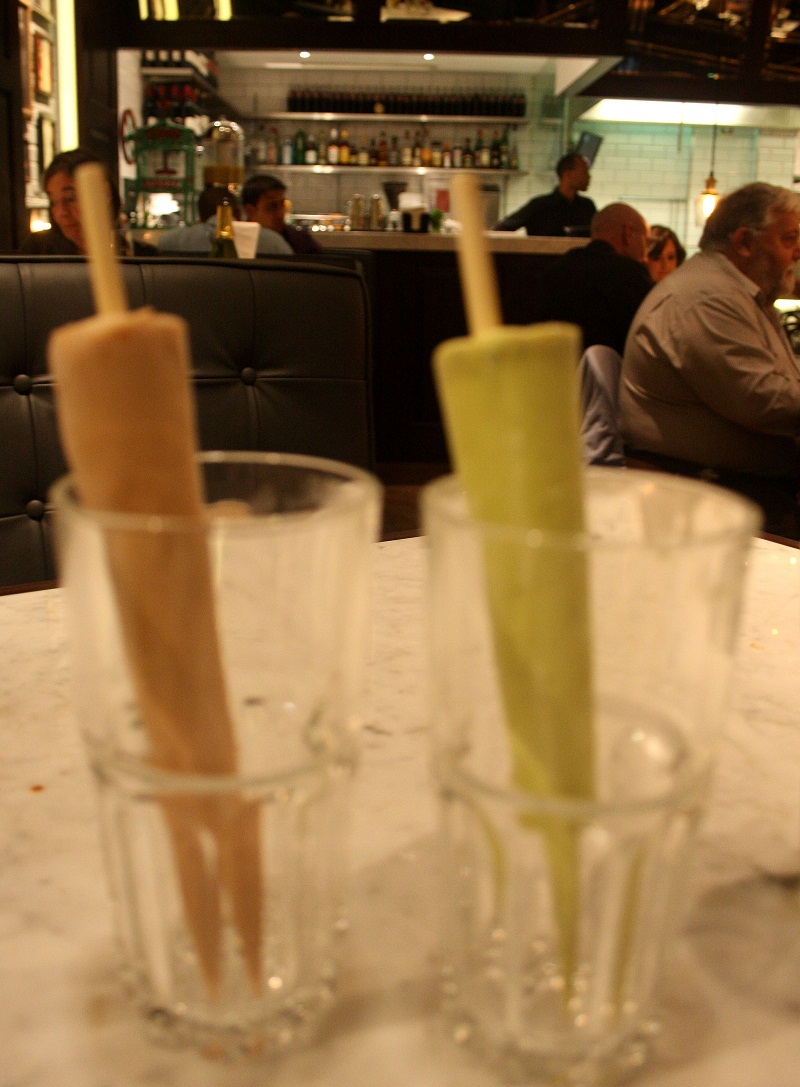 Dishoom's concept of small plates and lighter curries makes it a must for those who like a bit of everything with their meal.  For the quality and of the food, g0od portion size and the prestigious location, the dishes and the cocktails especially are well priced.  The only thing is, you could be tempted to try almost everything on the menu, so approach with restraint.
For breakfasts, Dishoom offers classic breakfasts with a spicy or fragrant twist such as Breakfast Lassi, House Porridge with dates and bananas, Granola with cinnamon, fresh fruits and Madagascan vanilla, spiced Bombay Omelette or a Sausage Naan Roll.
At lunchtime you can order roti wraps filled with tandoor grilled chicken, lamb and paneer, or a selection of small dishes such as Chilli Cheese Toast, Bombay Sausages and Desi Fish Fingers.
While some central London restaurants can leave you feeling detached or apathetic, Dishoom has the kind of warm, inviting atmosphere that makes you want to come back.  Every meal of the day is taken care of at Dishoom and you can even have a glass or a bottle of Moët with your dinner.
While the original cafes of Bombay may be rapidly disappearing, at least in London we can get a piece of the legacy on our doorstep.
* Chérie City was a guest of Dishoom