Last night, I finished off a hard day of work at the Metropolitan Hotel on Park Lane for a special bloggers preview of the Met Bar's new Day of the Dead De-Light afternoon tea.
The first to introduce a reduced calorie afternoon tea to London, the Met Bar recreates its De-Light tea with a seasonal twist – this summer's tea was all boho and festival-inspired.
Rather than the usual Halloween, gore-fest afternoon tea, the Met Bar channels the colourful, party spirit of the 'Dia de los Muertos', Mexico's uplifting day of remembrance and honouring family and friends that have passed.
The Day of the Dead De-Light afternoon tea comes beautifully presented on a tiered stand and is a flurry of vibrant sugar skulls, marigolds, coffins and oozing 'blood'.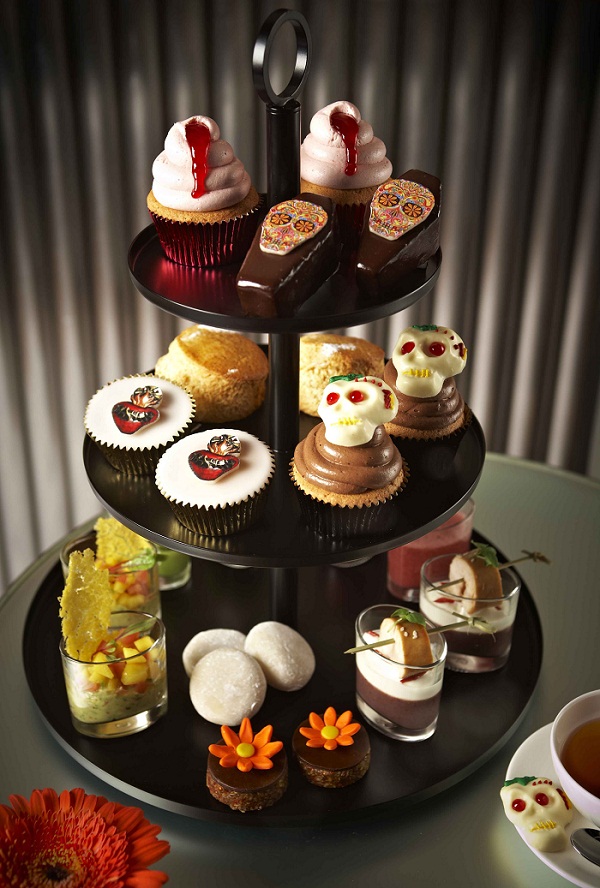 I loved the vanilla cupcake with a white chocolate and jam skull on a bed of cocoa nibs.  But of course, my favourite was the most morbid of cakes – a dense coffin-shaped, chili chocolate mud pie with dark chocolate ganache and an ornate sugar icing skull.
It's hard to be believe that such an indulgent, rich cake would be reduced fat, but the clever pastry chefs at the Met Bar substitute flour with ground almonds.
The Met also forsakes dull, traditional, triangle-cut sandwiches for its famous no-bread sandwich pots containing Mexican fillings such as a jalapeno foam, crayfish and tequila jelly, and chicken fajita with sour cream and refried bean mousse.
Unlike many miniature afternoon teas in London, the cakes at the Met are generously sized and the tea really is a feast worthy of the Dia de los Muertos.
The 'healthier' concept for the afternoon tea works by using a number of calorie-reducing tricks, such as substituting regular flour for rice flour, avoiding heavy carbs like bread, using fruit purées, creme fraiche instead of clotted cream, olive oil instead of butter and a lighter, whipped frosting for the cupcakes.
The chefs also pay attention to sourcing local produce and using organic ingredients where possible.
The result is an afternoon tea that doesn't cut corners on flavour or even size, but leaves you to get on with the rest of your day feeling content and not swearing off sugar for a week!
If you're looking for a Halloween night out that doesn't involve the usual devils and black cats, the Met Bar is hosting a fabulous Day of the Dead party on Saturday 30th October.
The Met Bar will be transformed with giant sugar skulls and festive decorations.  Guests can also expect complimentary Tequila cocktails on arrival and amazing in-house make-up artists for a Los Muertos make-over!
Fancy dress is not essential but certainly encouraged.  Email alex.carle@metropolitan.como.bz to put you and your friends on the guestlist.
Day of the Dead De-Light will be running for a limited time from 26th October – 2nd November 2010 at the Met Bar.  For reservations, call (020) 7447 4757.
* Chérie City was a guest of the Met Bar.