French restaurant guide Le Fooding has been leading the revolution against Michelin Guide snobbery for a monumental 1o years and to celebrate a decade of defiance, they hosted a 72-hour cook-off in a pop up restaurant in Montmartre with a stellar line-up of Paris' most respected chefs.
I was invited by Air France to come to Paris and attend a sitting of the cook-off and to experience the cutting-edge cooking of Le Fooding's top recommended restaurants.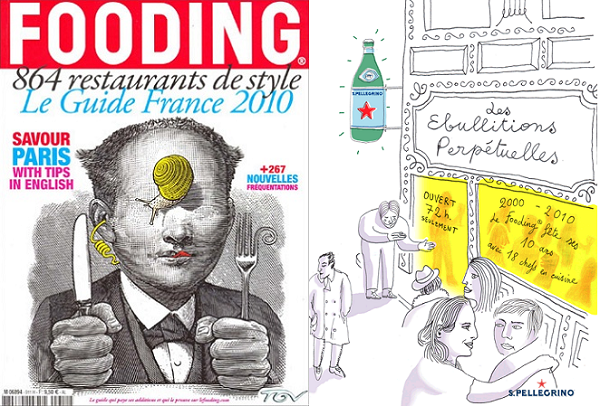 Founded by French journalist Alexandre Cammas, the name 'Le Fooding' is derived from 'food' and 'feeling', a philosophy that French food can be full of passion and emotion when it isn't restricted by convention or the Michelin Guide.
Yves Camdeborde, former chef at palace hotel, Le Crillon, shocked Paris society by handing back his Michelin stars and setting up his own, unpretentious neo-bistro, La Régalade and most recently, Le Relais de Saint Germain.  With Alexandre's support and uncompromising vision, many of France's top chefs have broken away from the most prestigious and have set up restaurants on their own terms.
On arrival in Paris, we checked in to the Pavillon Nation, a luxury budget hotel in eastern Paris that was well-located, near some of our chosen restaurants.
The morning after an indulgent night at tiny, 'in the know' bistro L'Ami Jean, we went to Galerie W in Montmartre for the much-anticipated breakfast session of Le Fooding's 72-hour cook-off.
Renowned chef Christian Etchebest took to the stove for the four hour slot and prepared a four-course breakfast for a communal table of foodie guests and us, the UK press.  Etchebest is at the helm of La Cantine du Troquet, an informal Basque restaurant in Montparnasse that is a regular favourite of Fooding.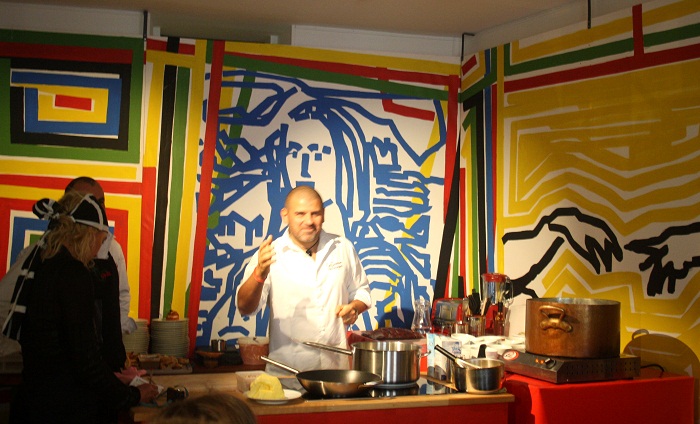 We were joined by Le Fooding founder Alexandre Cammas, who gave us some background on the revolutionary guide, and the lovely Constance Jouven, our host who accompanied us to the best Fooding restaurants.
A surprise guest was Jalouse founder Alexandra Senes, who took a break from her manic Paris Fashion Week schedule, while being followed around by a film crew, to come to the cook off.  I was completely enthralled to meet the woman behind my long-time favourite French magazine, who not only predicts but creates major trends in fashion and lifestyle.
She explained to me that she was there because fashion is not just at the shows, it is everywhere.  This is a testament to the influence that Le Fooding has both in France and internationally.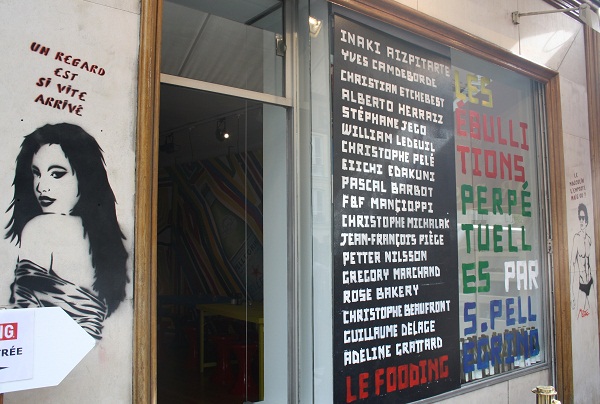 We started with a soup of onions, smoked eel and cubed apple, served with fresh baguette – a nice light start to the meal, although I couldn't quite handle the chunks of eel at 9am.
All courses were matched with a wine and a short demonstration from a petite, eccentric wine buff representing wines from the Côtes du Rhône…what a formidable woman she was!  She told us to swish the wine around our mouths before tasting the food, to release the full strength and flavour of the wine.
The next course was a typical Parisian breakfast – a slice of grilled baguette covered in dulce de leche, on top of a glass of chocolate milk.  The dish was simple, delicious and perfect for breakfast – I could have easily polished this off twice!
Over the course of the trip, we discovered that these small glass tumblers are the way to serve anything from water to beer and wine in the Paris bistros.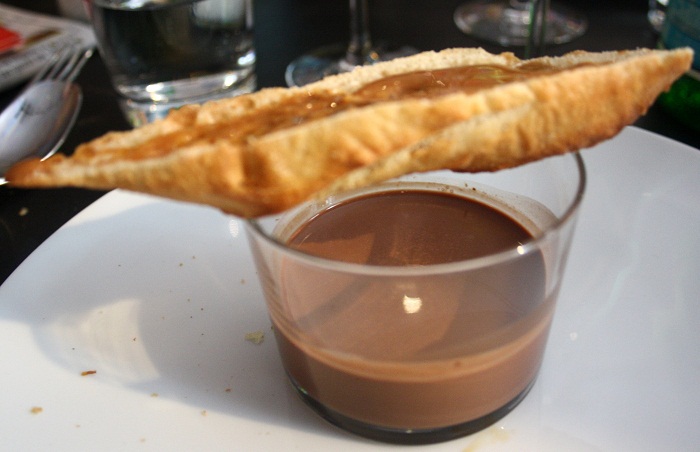 The main breakfast meal was a deconstructed piperade of scrambled egg with pig's ear, a tomato and onion compote, a slice of cooked ham, a jalapeño pepper topped with a piece of crispy bacon.
Those well-versed in cooking (thank goodness Janine of Olive magazine was in our group) will know that a piperade is a kind of hash of all of these components, but being something of a food separatist, I enjoyed the more DIY approach.
Everything went exceptionally well together and the flavours were extraordinary, although I wasn't so sure on the cartilage-like texture of the pig's ear mixed up in the scrambled eggs, but hey, at least I've now tried oreille de cochon.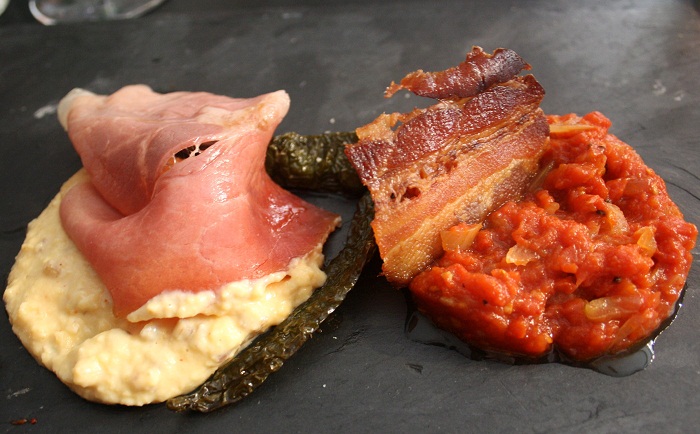 The dessert was a Chèvre Brebis – a fluffy brioche filled with sweet whipped goat's cheese, slices of sheep's cheese, topped with Coco Pops and a fig coulis.  This was an interesting mix of sweet and savoury flavours and the fig coulis was a real highlight, but the cheese filling saturated the brioche.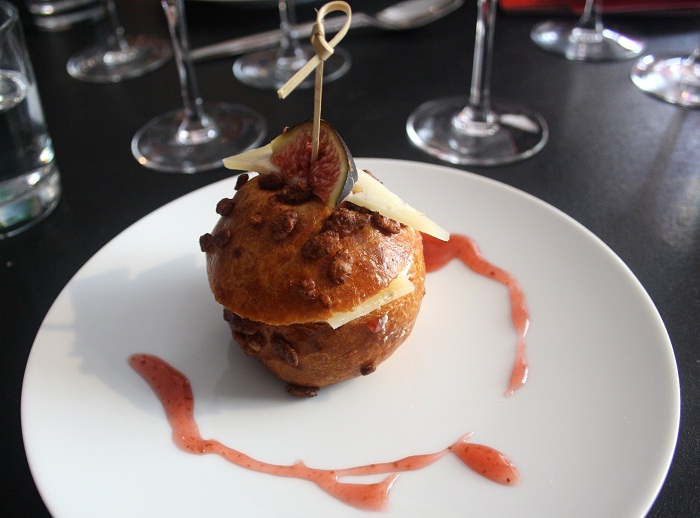 After our indulgent breakfast, we had a chance to look around Galerie W – a wonderful space with a well-curated exhibition of eye-catching and intriguing pieces.
The purpose of the trip was to gain an insight into the unique food movement and to experience the magic of Le Fooding's events first hand.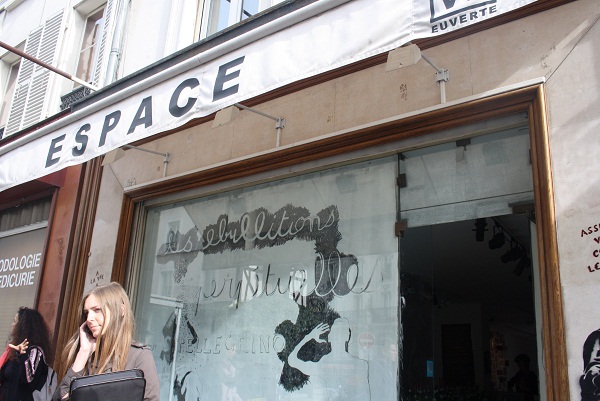 Air France have teamed up with collaborated with Le Fooding on The Definitive Food Guide – a little black book full of insider tips on the city's most exciting restaurants, artisan food markets and recommended hotels.
This can be found on the Air France website and is a 'must read' for anyone wanting a change from the traditional soupe à l'oignon, steak frites and crème caramel set menu of regular Paris bistros.
My experience with Air France was incredibly breezy and enjoyable, from the check-in at Heathrow to touching down in Paris.  It's easy to be put off flying such a short distance with all the airport restrictions, but the terminals at each end are so calm and zen.
The Charles de Gaulle Air France departure lounge even has a Ladurée boutique selling the whole collection of macarons, perfumes, candles, stationery and bags.  It's worth the visit just for that!
Also, with Air France there are no worries about mercenary luggage restrictions, over-zealous in-flight advertising, over-priced drinks and snacks or a rugby scrum to board the plane (Air France offers seat reservations).
After an indulgent weekend of innovative taster menus in unpretentious surroundings, I found that my preconceptions of what makes an outstanding restaurant were truly altered.  Le Fooding has enabled chefs to cook with pride and passion and its influence goes far beyond a year guide book…it's a movement, a way of life.
Have you been to Le Fooding favourites Le Chateaubriand, L'Ami Jean or Yves Camdeborde's Le Relais Saint Germain?  Is Le Fooding your Paris dining bible?  Please comments and share your French food experiences…
AIR FRANCE flies up to eight times daily to Paris Charles de Gaulle (CDG) from London Heathrow airport and return fares start from as little as £119*.
* Prices are per person including all taxes and online booking fees. Fares quoted are based on return flights in economy class departing from London Heathrow. See www.airfrance.co.uk for more details.
* Cherie City was a guest of Air France & Le Fooding.