Last week, London's 'in the know' food bloggers and journos boarded the Thames Clipper 'Sherry Ferry' on a boozy expedition to authentic tapas bar/restaurant Camino's new opening, Camino Puerto Del Canario in Westferry.  I say 'in the know' because anyone who has tried Camino's simply incredible food will be hitting Canary Wharf quicker than you can say 'Pedro Ximénez'!
Before the sister restaurant opened, Cherie City was invited to the original Camino at Regent's Quarter to taste the menu, wines and sherry and to observe the thorough staff training session.  So of course, I was dying to see the results of such hard work and preparation and to see if it would live up to the high expectations confirmed at the training session.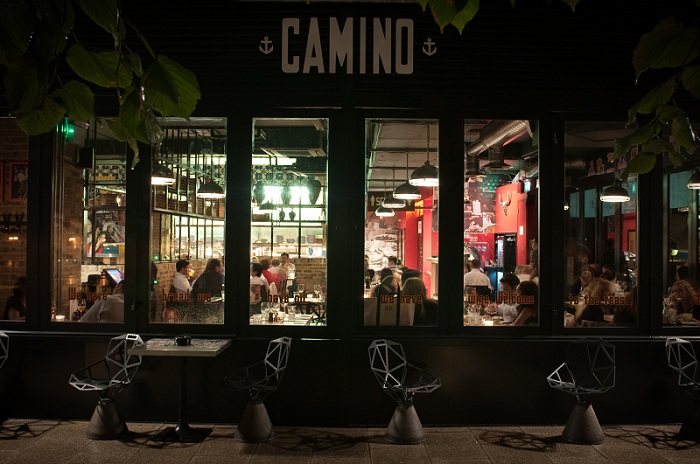 Camino Puerto Del Canario certainly didn't disappoint and the restaurant's formula of beautifully cooked authentic Spanish food served in a cool, sociable surrounding has clearly travelled well to the stunning, waterside location.
We started off the evening with a glass of dry and nutty Amontillado fino sherry at the bar, followed by an tour of the kitchen.  Head chef Nacho del Campo gave a brief talk about where the high quality ingredients are sourced from – fish from Cornwall, steak from Scotland and cured meats from different local regions in Spain.
After some more sherry quaffing and tortilla canapés, we sat down to a set dinner of delicious tapas – sociable and sharing, just the way it should be.
As my previous article on the staff training event at Camino Regent's Quarter detailed the full menu in almost encyclopaedic detail, I won't overwhelm you with the multitude of dishes that we tried from the Sherry Ferry Set Menu.
There were subtle differences between the way that some dishes were cooked at each restaurant, but this is a good thing and shows how fresh and unique each dish is.  Everyone will have their own favourite Camino dishes, but after two separate visits, I've come to the conclusion that their steaks and meat from the parrilla grill are definitely their forte.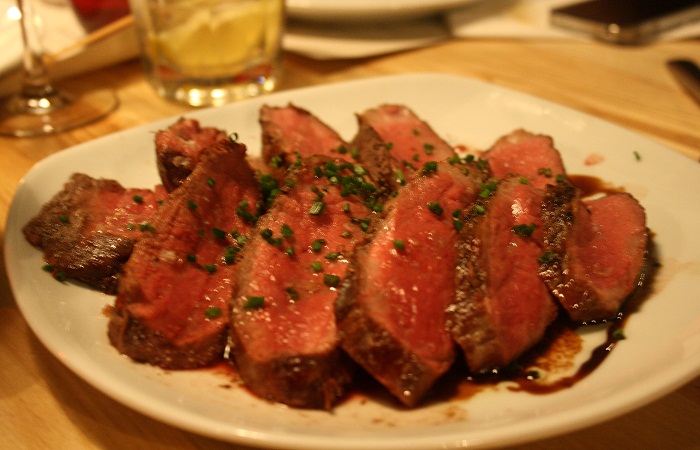 The Chuletón a la parrilla (Scottish rib-eye steak, matured 28 days, served Basque style) is beautifully tender and presented in easy to share slices and the Presa Ibérica (Ibérico black pig shoulder blade cooked medium-rare) had the whole table talking about how surprisingly tasty pork could be.
Other top dishes included crispy Croquetas de jamón (Serrano ham croquettes), Pinchitos de pollo (herb marinated free-range chicken skewers) and Chipirones a la andaluza (crisp-fried baby squid with alioli and lemon), which were beautifully coated and far from being rubbery.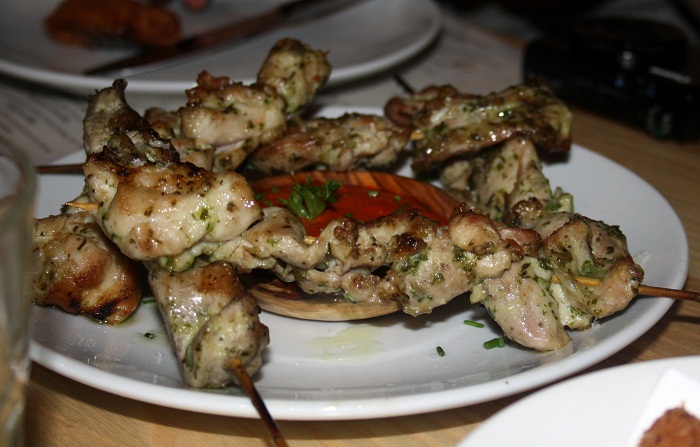 With each course, we tried a different wine – Godello followed by Pinot Noir, Torre Silo and finishing with a delicious dessert wine, Moscatel Solera 1847.
Our wonderful host Krista also introduced us to a new beer called Inedit by Estrella.  This light, smooth and easy to drink beer was created by the people behind top Michelin Star restaurant El Bulli as a beer that can be successfully matched with food.  Inedit is exclusive to Spain, but both Camino restaurants are one of the only UK stockist.
It's £9 for a litre bottle but it's very much worth it.  It is light, mellow and a pleasure to drink, with crisp, dense bubbles and a pleasing matte golden colour.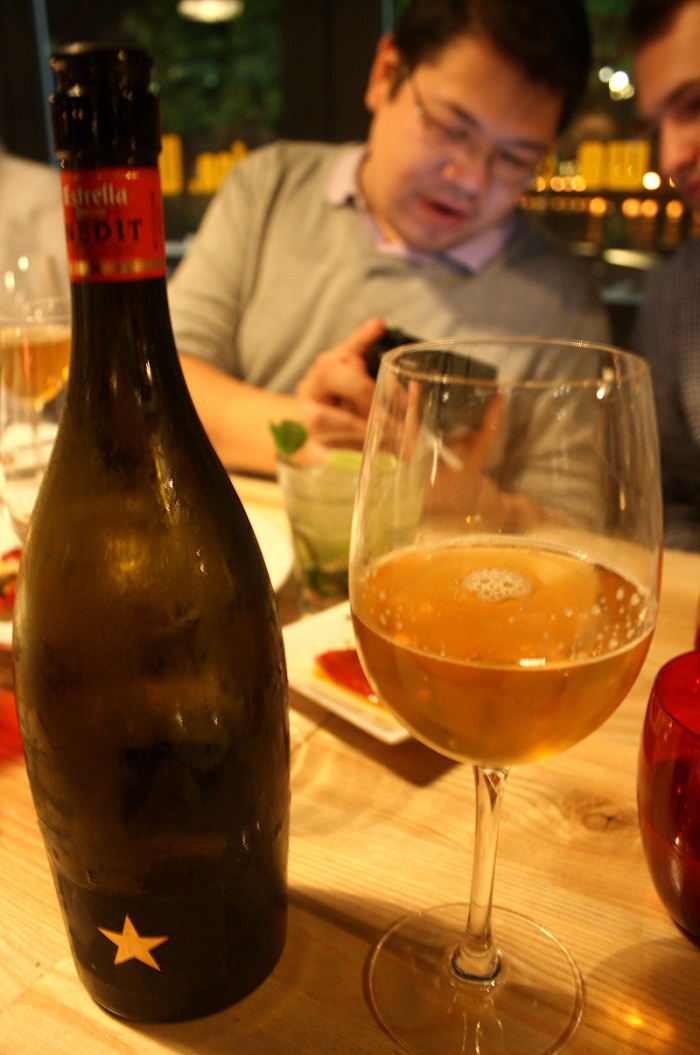 The Sherry Ferry Set Menu was less of a full on tapas avalanche than the staff training session, so there was room for some Spanish desserts.  We were presented with a plate of miniature desserts such as Tarta de Santiago (almond tart from Galicia), Bombitas de crema (cream-filled profiteroles topped with chocolate) and Crema Catalana; all delicious, of course.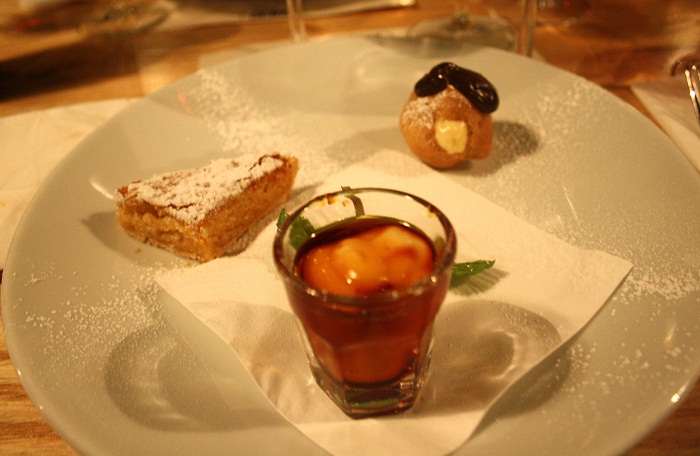 This was followed by Helado con Pedro Ximénez (bourbon vanilla ice cream served with PX), which came topped with chopped nuts. Never have I tried fino sherry on top of ice cream before and it really is even more decadent and indulgent than it sounds.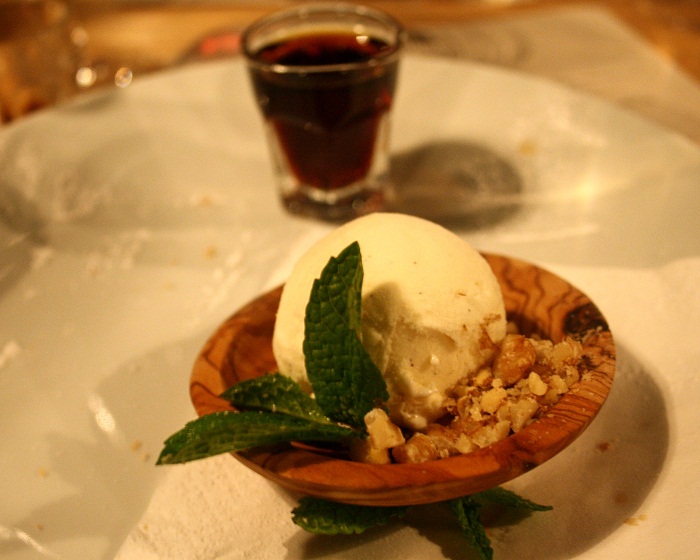 Camino is sure to make a huge impact on the Canary Wharf dining scene, which is gradually moving away from high-end chain restaurant blandness.  While the Regent's Quarter restaurant has more of a laid-back, daytime venue atmosphere, Camino Puerto del Canario has a more buzzing, night time feel, with a slick bar and low-lit warehouse style restaurant.
A ride on the Thames Clipper sherry ferry makes it feel like you're dining out of London, especially with the stunning waterside location.  Get ahead of the bankers and financial folk and book a table before they make it their local.