On the eve of London Fashion Week, while the fashion industry were catching some beauty sleep, Team Galliano were dashing around London at the witching hour to cover the city with 'fashion graffiti' in celebration of ELLE's 25th anniversary.
Galliano's stunning graffiti reflects London's quintessentially cool style and pays tribute to a long, supportive relationship with magazine.
To avoid the wrath of Boris, Galliano has used 'reversed graffiti', an effect achieved by creating a stencil, then pressure washing the surface beneath it.  The graffiti will soon fade away with the London grime and weather, so to catch a glimpse of this unique 'fashion moment', you'll have to act quick.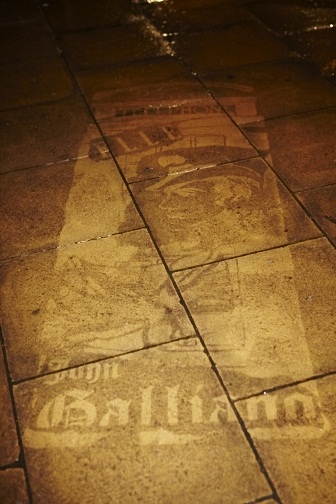 ELLE challenges readers to hunt down all 10 graffiti venues and clues can be found on the ELLE website, www.elleuk.com/25thbirthday.  The first person to spot all of the graffiti will win a once in a lifetime prize – a handmade piece of artwork made by Galliano himself, which was the inspiration for an ELLE cover in 2009.
The extremely covetable artwork is typically flamboyant and uses feather, leather and more fabulous textures.
Here is a list of clues to help you discover the graffiti locations and get closer to the unique Galliano gift…
Contemporary art locale and address of ELLE's exclusive 25th birthday party

The hottest street in London to head for a curry

The home of London Fashion Week and a place to get your skates on in winter

Where Napoleon did surrender (and catch a train to Portsmouth)

London

's riverside cultural mecca

Dedicated followers of fashion still flock to this birthplace of 1960s chic

A street performer-packed piazza in the heart of theatre land

Escape the pandemonium of Oxford Street in this quiet boutique-filled oasis

Where Jimmy Choo and Harold Tillman cut their teeth

ELLE lives here
If you're the lucky winner, take a snap of your Galliano artwork and send it to cheriecity@hotmail.com