I first discovered Maria Lau's exquisite jewellery at the Fashion & Textiles Museum and was astonished at how pairs of tights could be manipulated into something so beautiful.
Maria launches an extremely covetable and bold, nu-tribal, warrior-inspired collection for Autumn/Winter 10-11. Cherie City headed down to Kabiri in Marylebone (the temple of emerging jewellery designers) to meet Maria and talk about the collection…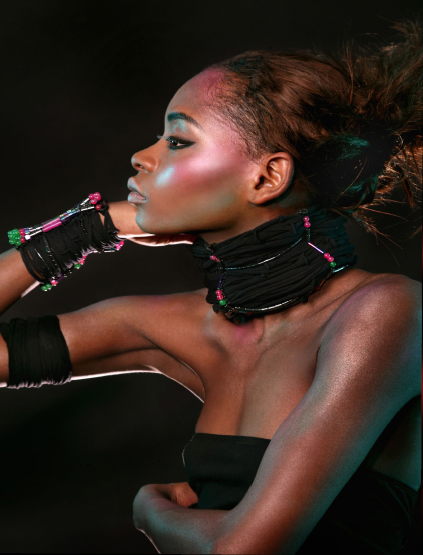 How would you describe your Autumn/Winter 10-11 collection?
Maria Lau: Inspired by an imaginary war followed by a harmony between the Amazonian 'Matis' and the Ethiopian 'Nyangatom', 'Tribal Clish-Clash' mixes influences from the two to fuse with underground club cultures to create a fun, dramatic high-fashion yet wearable collection infused with high-energy coloI see people who are confident with their own look as well those who like to have fun with their style wearing my pieces. Those who like 'Eclectic Minimalism' – young or old!
When designing, do you have in mind a specific 'Maria Lau girl'?
I always have a muse in mind but to be honest she is an imaginary one – but always a heroine. I guess my real 'Maria Lau' girl would also be strong and independent, with creativity and a good sense of fun.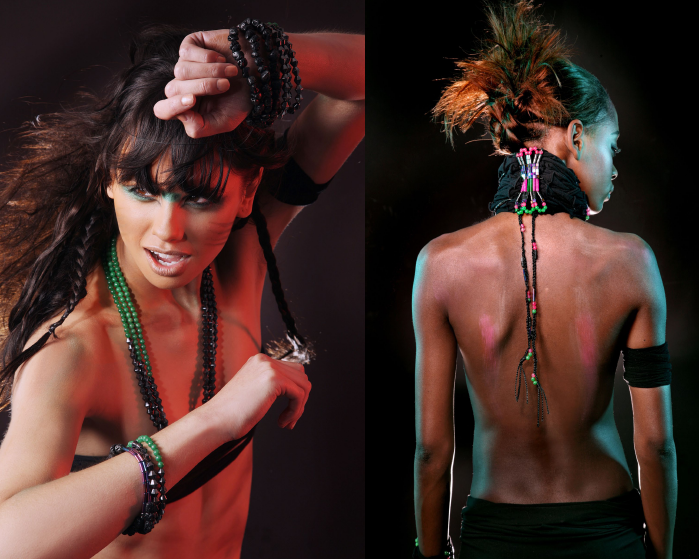 Where do you find inspiration for your pieces?
Oooh my inspirations are so varied! As a designer maker, some of the pieces I create can simply evolve from the making process as I experiment with soft materials and relate them to the body. Fantasy also plays an important part as I imagine jewellery adorning my muse or symbolising a particular emotion or part of a story. I'm also inspired by how people can interact with my jewellery, which is why I like use a lot of tactile and changeable elements such as fringing, magnetic beads and multi-style pieces.
What is it about tights that make them one of your preferred materials?
Coming from a mixed-media textile background, I love to use unusual materials which you wouldn't expect to find in jewellery. My concept is to blur the boundary between jewellery and clothing, and to luxify such ordinary materials. I'm still having my moment with tights, for their ironic 'skin' like properties and am pushing it as much as possible – it's a very strong and versatile material which is perfect for teaming with gems whilst being comfortable on the skin.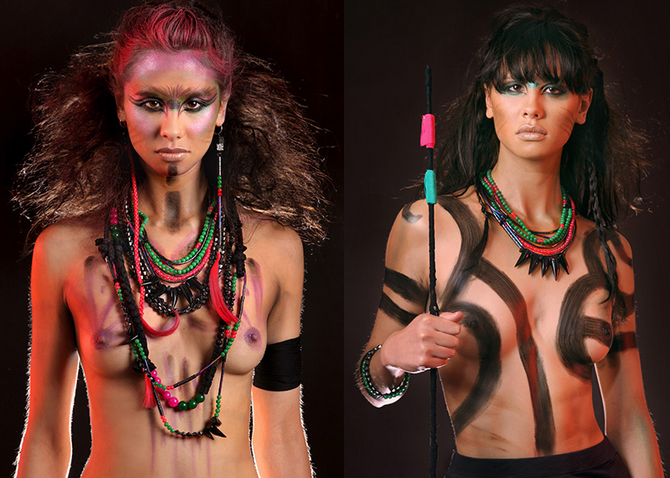 Where do you source your materials from?
Nothing glamourous like from my travels (although I used to!) All my materials are new and mainly sourced from the UK. I did however start with Woolworths once for their rock-bottom sale prices, and challenged myself to create something desirable from 'American Tan' tights – perfect for my concept of irony and low-fi meets luxe.
Has your family's Hong Kong heritage influenced your work?
I think it would be the 'hand's-on approach' that the previous generation had in my family that has helped me foster my making skills. Also my mixed cultural upbringing in the UK gives me a wacky approach to mixing things people wouldn't normally dare to!
Which direction will you be taking for your next collection?
The next collection will be cooler and calmer, centred around an outerspace tribe from the future. You'll see the use of nude tights again with more monochrome minerals and stones such as pyrite and lava, with a flash of neon yellow hair for a dose of eclecticism.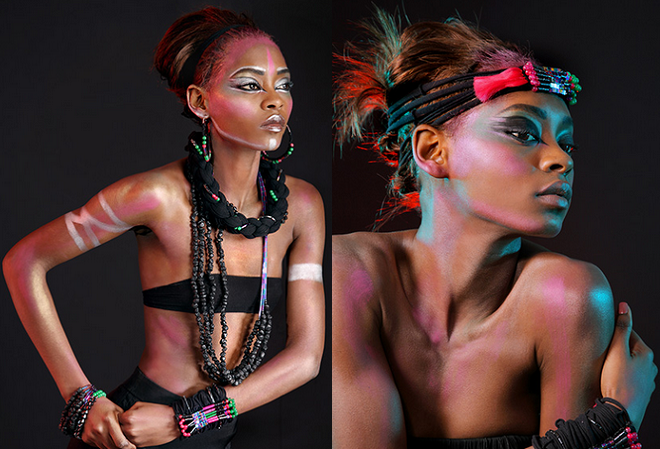 Which jewellery designers do you most admire?
Contemporary designers Yazbukey and Bless for their fun element and Sonja Bischur for her focused minimalism.
Who would you most like to design a piece of jewellery for?
Oooh, hard to choose! My favourites are Bjork, Roisin Murphy and Bat for Lashes.
Maria Lau will be showing her new collection at LABB Emerge at London Fashion Week.  Her 'Tribal Clish-Clash' collection is available now at Kabiri.  Discover Jewellery, Discover Kabiri