Every arrondissement in Paris tells a different story, but the most exclusive and desirable is the 8th, with its grandiose embassies, sweeping Haussman avenues and global fashion houses.
So far my Paris hotel adventures have led me to a diverse range of quartiers; the literary Left Bank, hip eastern Paris, BCBG Saint-Augustin, the bustling fashion haunts of the rue Saint-Honoré  and even the less appealing end of Rue Lafayette.
Staying in Paris' most elegant, refined neighbourhood for the first time certainly added a spring to my step and I couldn't help wearing those rose-tinted glasses while dashing around the city.
Set within a 19th century Haussman townhouse, Hotel La Trémoille stands proudly at the centre of the 'golden triangle' between the prestigious Champs-Élysées and the impossibly stylish Avenue Montaigne.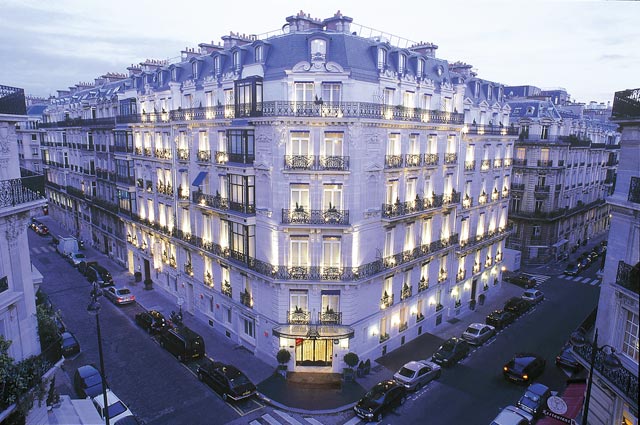 La Trémoille is a chic, contemporary boutique hotel that offers all the bespoke luxuries of the nearby palace hotels but in a more hushed, intimate environment.  It has a strong jazz heritage, dating back to the 1960s, when Louis Armstrong and Duke Ellington performed a legendary impromptu concert from their adjoining balconies with their orchestra below.
Today, La Trémoille's illustrious history and hushed luxury have attracted guests such as Rihanna and the notoriously media shy Johnny Depp and Vanessa Paradis.
It was surprisingly easy to find Hotel la Trémoille and it is just a short stroll from either Franklin D.Roosevelt or Alma Marceau metro stations.  On arrival, I was immediately relieved of my heavy bags and greeted by the warm, courteous staff at the reception.
I was shown to my room, on the second floor, and had the various room features explained to me, which cut back on time spent searching for the air conditioning switch.  My bags followed a few moments later.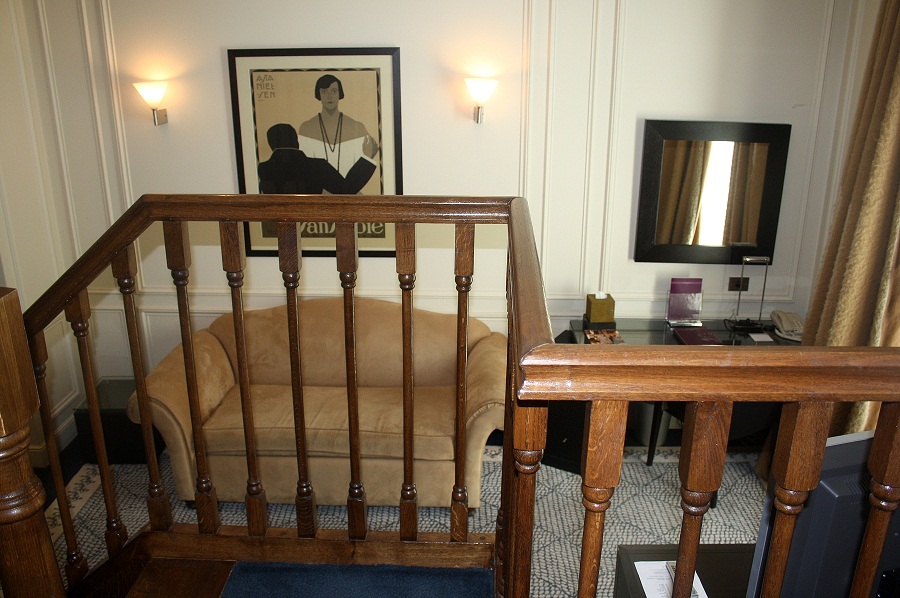 To call my new abode a mere 'room' is an understatement, as it was more like a mini apartment, with the bedroom and bathroom on the mezzanine level and a separate living room. The charming dark wood stairs and railings show the hotel's sympathetic approach to maintaining the building's original features and gives it a more homely feel.
The living area features white Haussman style panelled walls with Art Deco lighting and is decorated in elegant camel shades (appropriate for the Autumn/Winter 10-11 trends).  It also boasts a traditional wrought iron Haussman balcony overlooking the incredibly chic streets – perfect for a spot of people watching.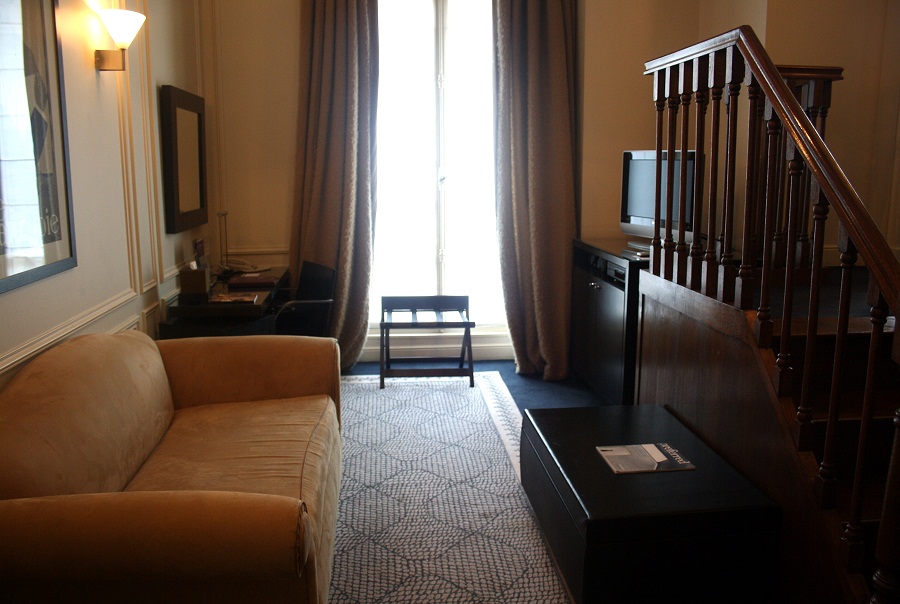 Every home comfort is taken care of, as the room is technologically wired up with complimentary high-speed wifi, two flatscreen TVs, a radio DVD player and an iPod base.
Having easy access to the internet in your hotel room is such a blessing, as you can just look up all the fabulous addresses you researched and forgot to jot down, although the Clés d'Or Concierge at La Trémoille would be happy to make any reservations for you.
For the ultimate hideaway stay, the living room has a built-in hatch, so you can have your breakfast, room service or laundry silently delivered while still lounging in your bathrobe.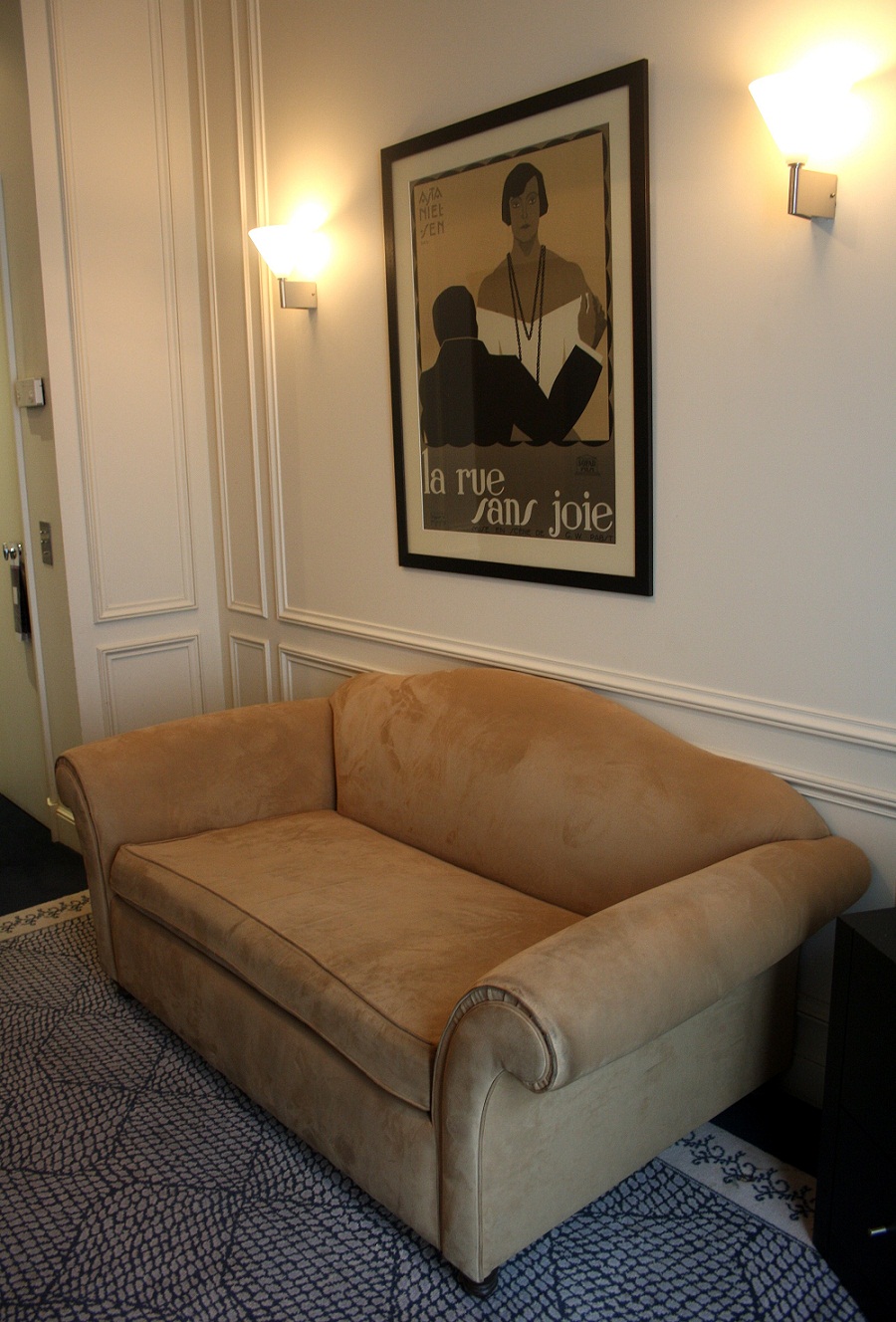 The bedroom was simply stunning and beautifully designed.  Opulent silk drapes frame the tactile flocked velvet wall and are accented with a statement leopard print headboard.
The Queen-size bed was incredibly luxurious, with fine quality linen and a stylish throw – needless to say I slept extremely well that night!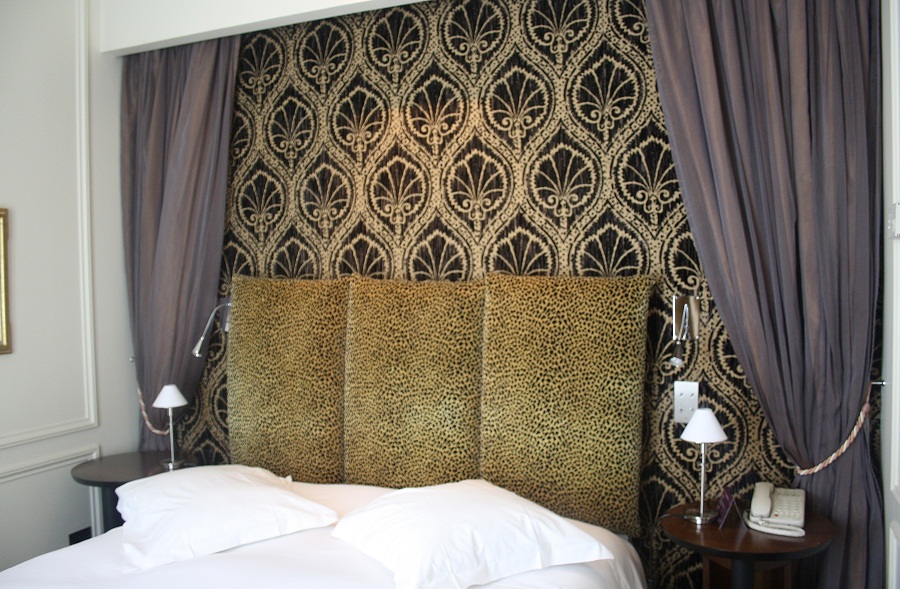 The bedroom also had a flatscreen TV and it own balcony, although the street view could be shaded a night by the heavy mohair curtains.  There is also a telephone next to the bed, so you won't have to stumble down the stairs to answer your wake-up call.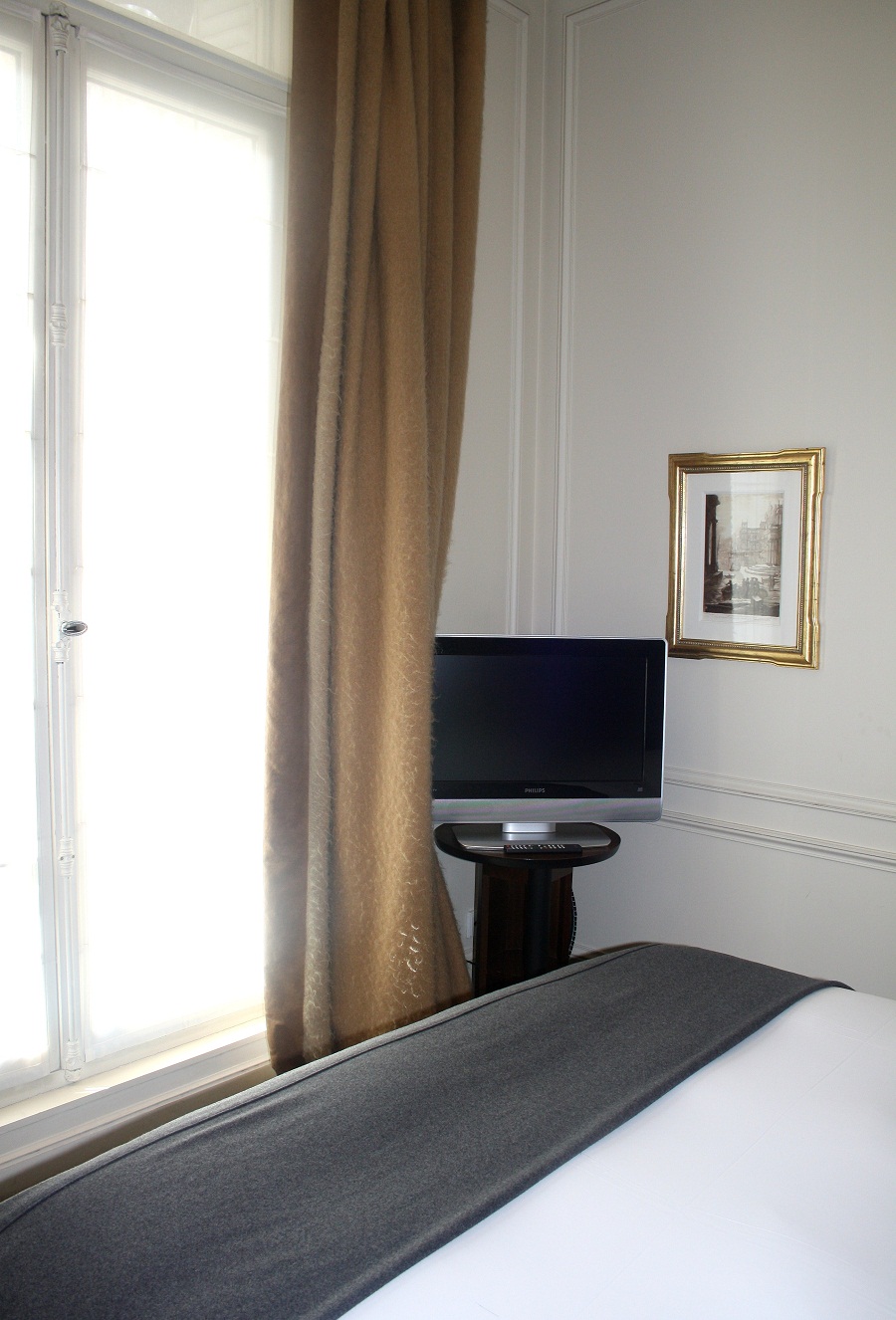 The bathroom was also suitably elegant and carefully considered, with the utmost attention to detail.  A stylish mix of wood and marble, the bathroom features a large bath with a powerful shower and an impressive collection of wall-mounted Molton Brown toiletries.
This is the first hotel I've stayed in that offers a choice of no less than four bath and shower gels, varying from relaxing to invigorating, and two different types of shampoo.  There are also small bottles of Molton Brown conditioner and body lotion to use and take away with you.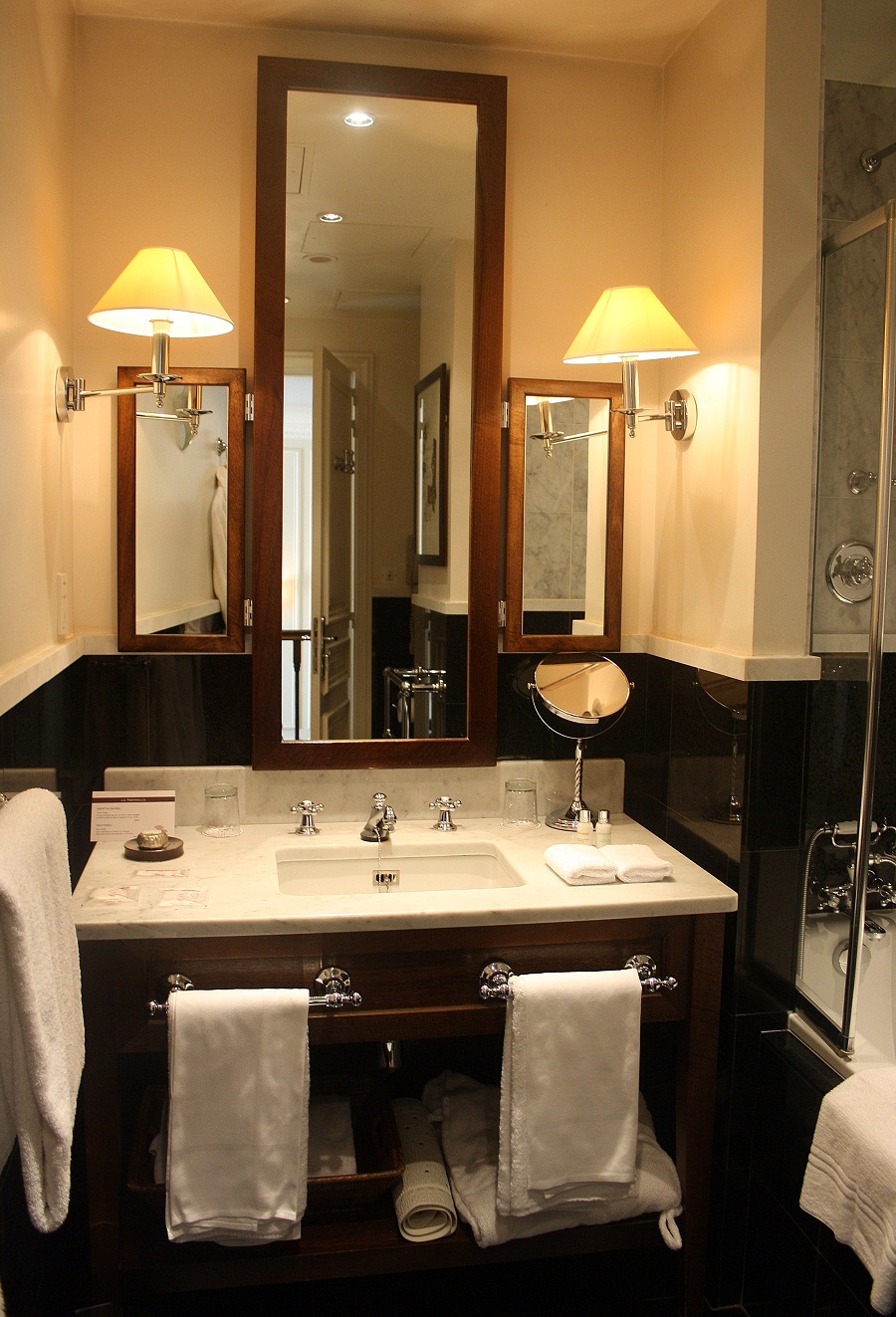 Also provided are packets of cosmetic cotton wool, face cloths, a full range of fluffy towels and luxurious embroidered bathrobes. For single travellers, it's reassuring that there is a telephone in the bathroom, just in case of any emergencies.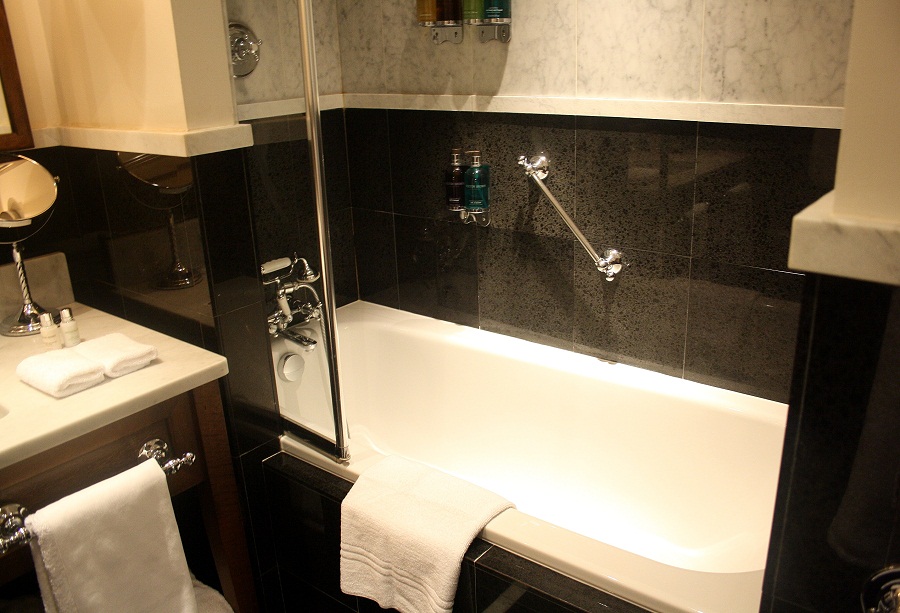 When I came back at night after dinner and cocktails at Hotel Amour, my room had been given the full turn-down service.  The lights were dimmed, soft French chansons played on the radio, my bed had been made ready to slip into and a cotton mat was placed down next to my bed.
Best of all, waiting for me on the table was a handwritten note from the General Manager Olivier welcoming me to the hotel and the most perfect lilac box containing four exquisite Ladurée macaroons.  A long, relaxing shower followed by a macaroon in bed was the blissful end to a perfect day, catching up with my best friend and my favourite city.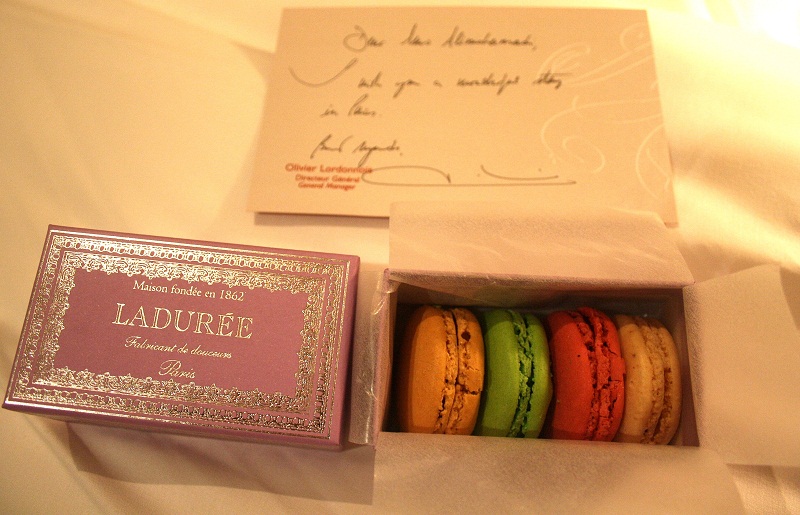 Waking at 8am from a prompt call wishing me a 'good morning', I really could have done with a few extra hours in that heavenly bed, but Yves Saint Laurent was waiting and fashion waits for no gal, however tired she may be.
The thought of an indulgent breakfast is motivation enough to get ready and start the day.  I headed down to Le Louis², the hotel's bar and restaurant and I had the entire room to myself.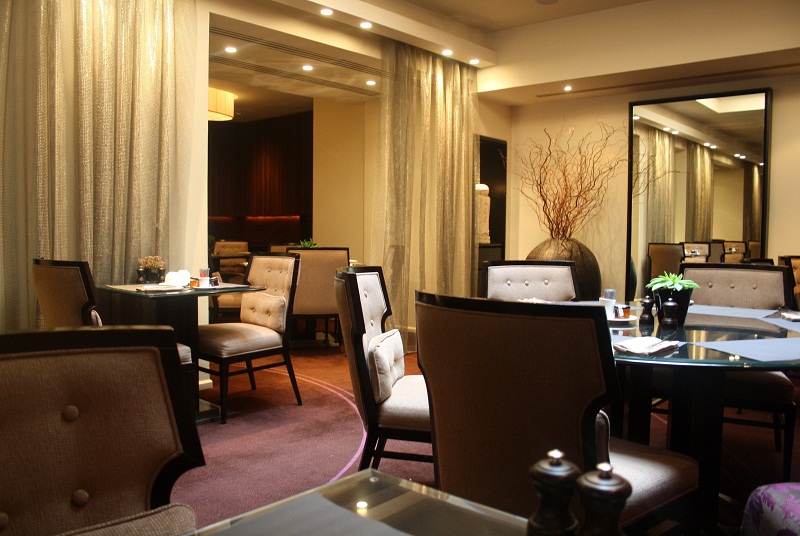 The breakfast was presented as a buffet and offered a hot tray of scrambled eggs, bacon, sausages and mushrooms and a good continental selection of patisserie, petite baguettes, pancakes and maple syrup, cereal, yoghurt and juices.
American-style hot breakfasts in Paris hotels can be a bit hit or miss, but everything was well-cooked and the scrambled eggs were buttery and delicious.  I was also given a generous pot of freshly brewed coffee and a jug of hot milk, which I was able to take up to my room to finish, as I was pressed for time.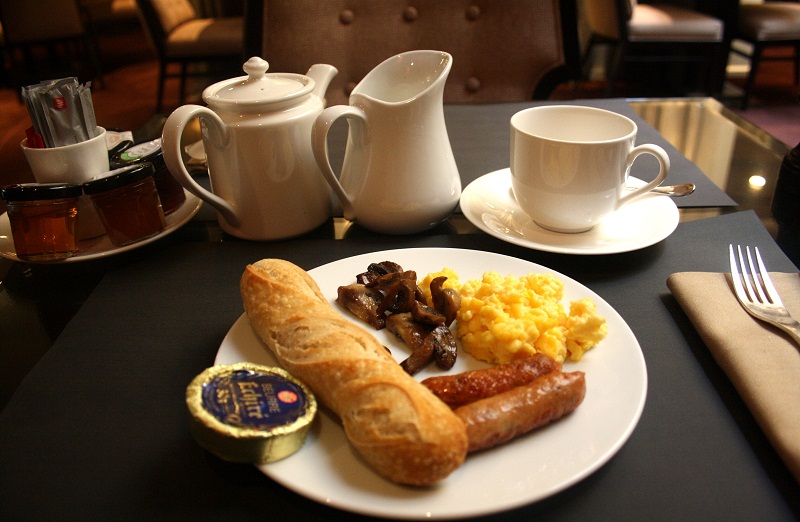 At 35 Euros per person, the breakfast will set you back the cost of a dinner, so you'd have to be particularly hungry with enough time to relax and enjoy it to make it worth splashing out.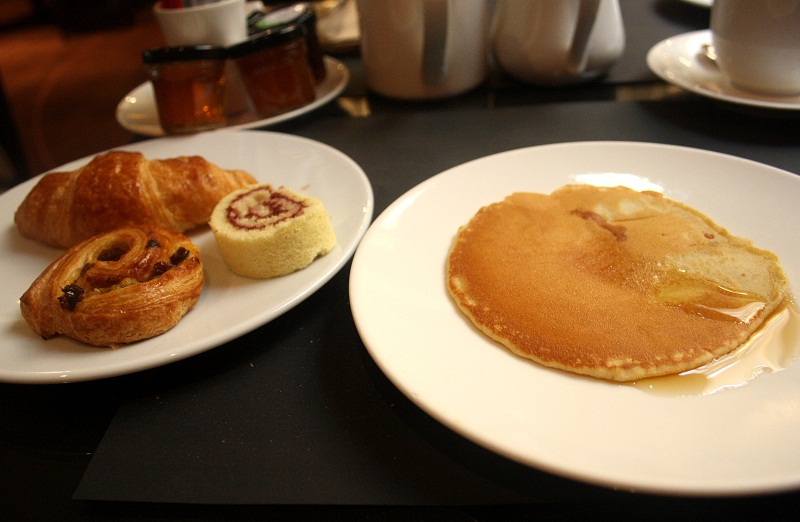 If I'd stayed longer at La Trémoille, I would have love to try the inventive cuisine and cocktails at Le Louis² bar and restaurant and unwind at the spa, with its sauna and multi-jet shower.
Head Chef Yann Frohn (previously from Alain Ducasse au Plaza Athénée) has created a seasonal market menu of contemporary French dishes and comfort food with an artistic flourish.  Le Louis² also offers lunch and dinner set menus and is a lunchtime haunt for the well-heeled Avenue Montaigne set.
La Trémoille's forte is the fine attention to detail and those extra touches that make your stay so memorable.  Staying in such a refined, classic hotel is an exclusive neighbourhood really is an indulgent experience.  Its exceptional facilities and luxurious bedrooms make it much more of an urban retreat than just a base for exploring the city.
More  images of Hotel la Trémoille here.
* Chérie City was a guest of Hotel la Trémoille