The Cookbook Cafe at the InterContinental London Park Lane has been on my wish list since visiting for a Greek cookery demonstration earlier in the year.  Their abundant Weekend Brunch (including a roast on Sundays) with unlimited Champagne are legendary, but I had my sights set on the more modest Market Lunch Table.
Included in the lunch deal (£15 per person) is a bowl of soup, unlimited trips to the self-service Market and dessert table and a choice of tea or coffee.
The Cookbook Cafe is refreshingly bright, airy and relaxing with a calm atmosphere and zen soundtrack.  It's almost like being in a spa retreat in the Med and most of the diners adopted a suitably subdued attitude (thank goodness, no one like a buffet hog).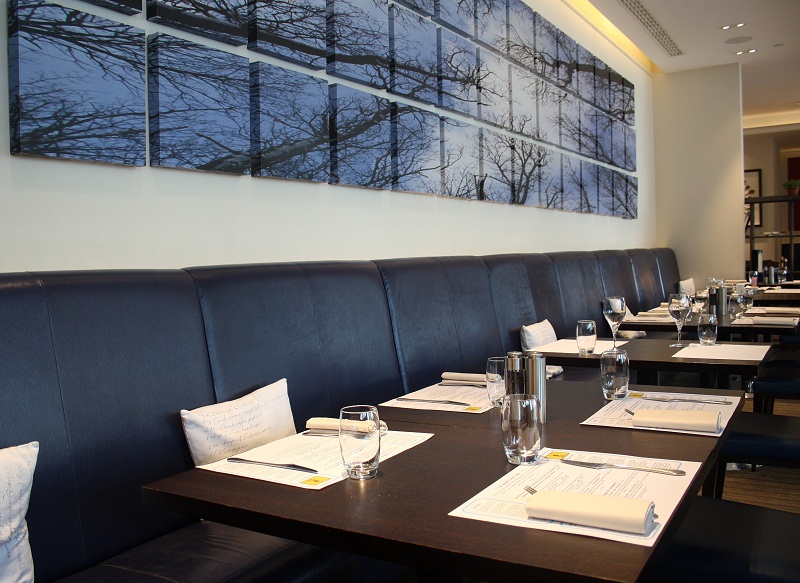 The Market Lunch table is a foodie's dream with an abundance of charcuterie, artisan cheeses, specially prepared salads, pasta, fresh seafood and a decadent dessert section.
We were shown to our table by the waiter who took our drinks order and explained the contents of the market table and that it was self-service.  So of course, we took our plates and got stuck in.
I started with a plate of Spanish Lomo cured ham, roast turkey, Wiltshire ham and a selection of cheeses including Emmenthal, Caerphilly and a type of red wine cheese.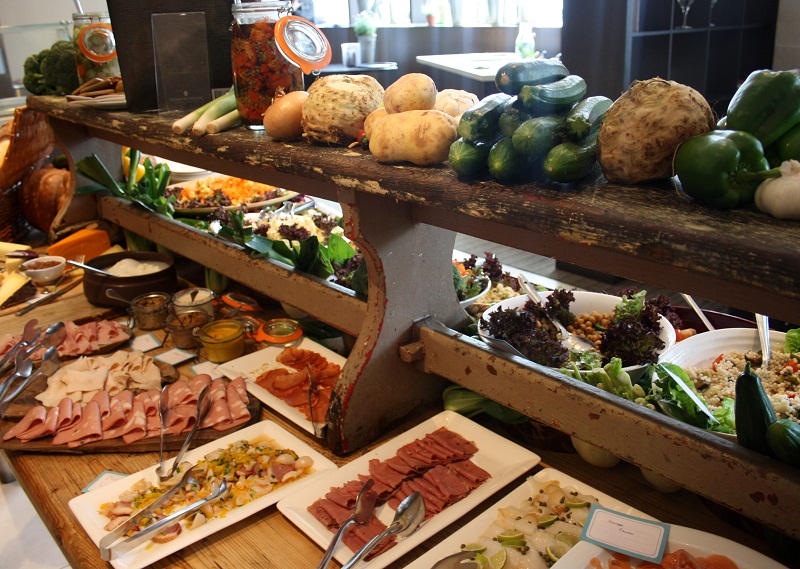 For the next helping, I hit the salad bowls and tried roasted pumpkin, tandoori chicken pasta, new potatoes with pine nuts and red onion, carrot and cauliflower salad and mixed leaves with a bit French and Caesar dressing with croutons and shaved Parmesan.
There was also a good selection of seafood; marinated and fresh king prawns, anchovies and smoked salmon.  Accompanying the dishes was a variety of chutneys, sauces, dressings and savoury jams.  There really was everything you could possibly desire for a filling, wholesome lunch.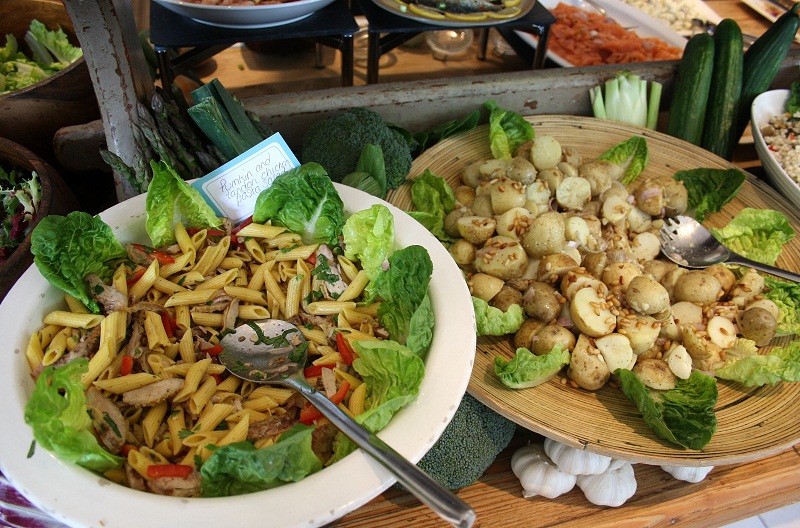 After arriving back at our table, our waiter offered us a bowl of the daily soup special, carrot and orange.  The soup came piping hot and served in a petite bowl topped with large croutons.  We filled a plate with crusty white bread and a side of French butter to accompany the soup.
Each time we got up to sample more of the Market Table delights, the waiters discreetly removed our used plates from the table ready for us to start again.  They also anticipated when we were finished with our savoury courses and prepared our dessert cutlery.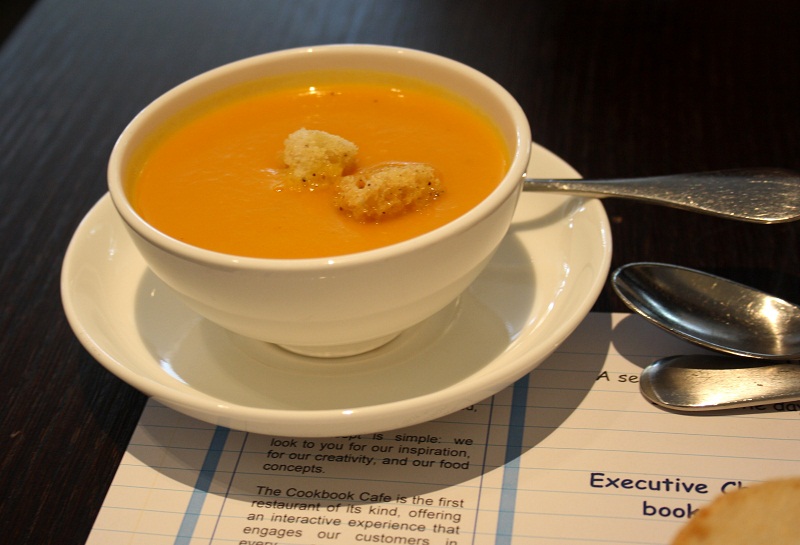 As we were sipping our soup, we spotted ex-boxer Chris Eubank arrive fully suited and booted and carrying a Louis Vuitton folder – ever the dashing gentleman about town.  Needless to say his plate was stacked high and full of salad and couldn't resist a double helping of desserts, like the rest of us.
The greatest thing about a healthy lunch of soup and salads is being able to indulge at the dessert table!  The selection of tapas size cakes, brownies, mousses and tarts was impressive and ranged from light and fruity to downright decadent.
I don't dare admit to how many I actually sampled, but I absolutely loved the almond chocolate brownies, Valrhona chocolate mousse shots, blackberry cheesecake slice and mini meringue with cream, topped with a strawberry and a hidden centre of white chocolate.
The desserts are just the right size, so you can sample a few mouthfuls of each and enjoy a variety of flavours.  We ended our meal with a delicious, rich roast cappuccino and another cheeky trip to the dessert table.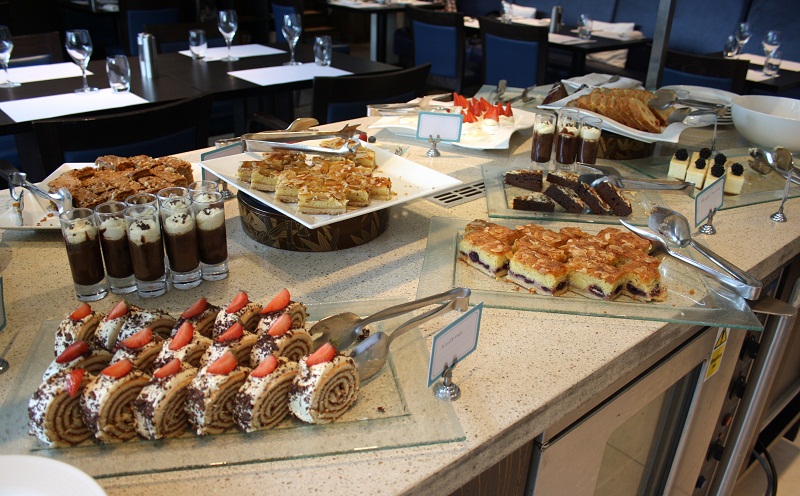 The Cookbook Cafe is a wonderful urban retreat and a refreshing change from the bustle of Soho's packed eateries or the more stiff, conservative Mayfair haunts.  The market table lunch is of a superior standard and it is a world away from the usual connotations of a buffet or salad bar.
Perfect for a business lunch or a refuelling after a morning of shopping, The Cookbook Cafe offers versatility, relaxation and impeccable service at a reasonable price.  It's like having lunch and afternoon tea in one go and you can choose to go healthy or really treat yourself.
The Cookbook Cafe will be hosting Colombia Gourmet (from 23 September to 3 October), a fortnight dedicated to the cuisine, music, art and culture of Colombia.
Two guest chefs from InterContinental Medellin will be joining Executive Chef Paul Bates and native Colombian pastry chef Luis Meza, to create an authentic Colombian menu, bringing some Latin heat to the Cookbook Cafe.
The festival will also include live acoustic from Colombian music groups, Colombian art from artists such as Nena Geigner, Enrique Ruiz and Maria Peragan, and an exhibition of pre-Colombian gold jewellery from Galeria Cano.
Some of the Colombian specialities will include Ajiaco Santafereno (chicken and potato soup), Bandeja Paisa (ground beef, fried egg, chorizo, pork belly, corn cake and plaintain), fried snapper a la Cartagena (pieces of deep fried red snapper), seabass and coconut sauce and caramel pudding with farmhouse cheese.
During the Colombia Gourmet festival, the Market Lunch Table will be £18 per person and includes a glass of wine.  A regional hot dish can be added for a total of £30 per person.
To book a table, call 020 7318 8563 or visit www.cookbookcafe.co.uk
* Cherie City was a guest of Cookbook Cafe.