My first experience with London B&Bs (The Wishing Well in Peckham, just in case you want to avoid it) was like an episode of EastEnders.  I slept with one eye open for three long nights after the barman breezily told me that the recently fired cook had threatened to burn down the pub in revenge.
Through the horrors of shared bathrooms and potential death, I still managed to get through my first ever internship at a glossy monthly and eventually move in to my next flat, with my new friends oblivious to my traumatic adventures.  I figured my opinion of London B&Bs could only go up.
What I wasn't prepared for was just how incredible my stay at the Fox & Anchor in Clerkenwell would really be!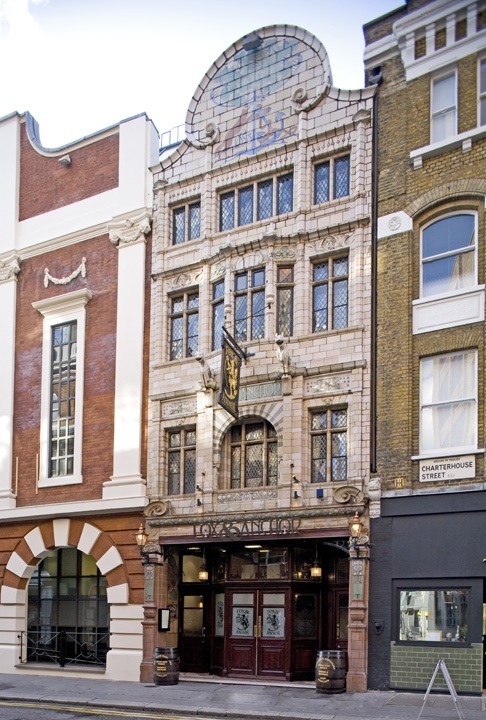 When you hear the words 'boutique B&B', one immediately conjures up images of country boltholes in The Cotswolds or The Lake District, but London's luxury bed and breakfast scene is gradually on the up.
Nestled on a side street opposite the traditional Smithfield Meat Market, the Fox & Anchor may seem like an unassuming, traditional London boozer from the outside, but it quietly boasts six incredibly stylish rooms and a buzzing, English Eccentric restaurant.
When we arrived, we checked in at the bar and met the charming, unpretentious staff who showed us up to our room through the separate front entrance.
All rooms are named after the London location that inspired their design and we stayed in the Saint Paul (see the silkscreen print above the bed).
Our room was one of the largest I've ever stayed in and was more like a mini apartment, with a reception area leading to the bathroom or open-plan bedroom and sitting area.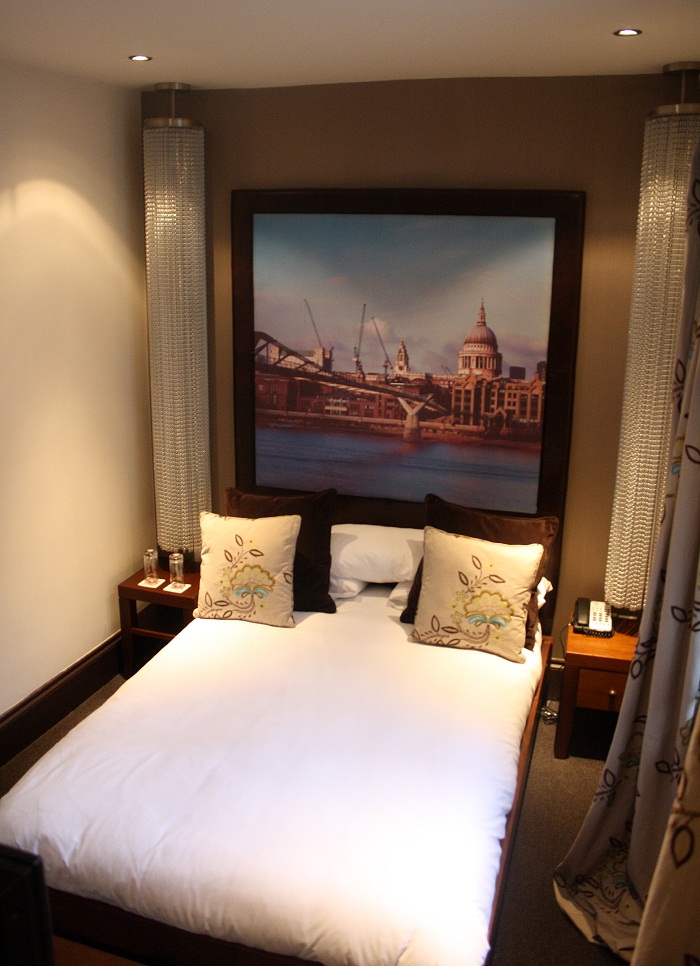 The bedroom had a contemporary but homely atmosphere and was decorated in neutral mink and cream shades with accents of lime green, turquoise and chocolate brown.
There were interesting design features such a duo of hanging chain lamps, which provided much amusement, and exquisite, heavy embroidered curtains and statement cushions.
Comfort features included a large LCD plasma screen TV with Bose soundsystem and Sky channels, a DVD player, a mini bar stocked with complimentary still and sparkling water and a tea and coffee making station.  We were even greeted to the sounds of David Bowie on entering the room and the Fox & Anchor supplied us with a stack of classic CDs – a thoughtful, personal touch.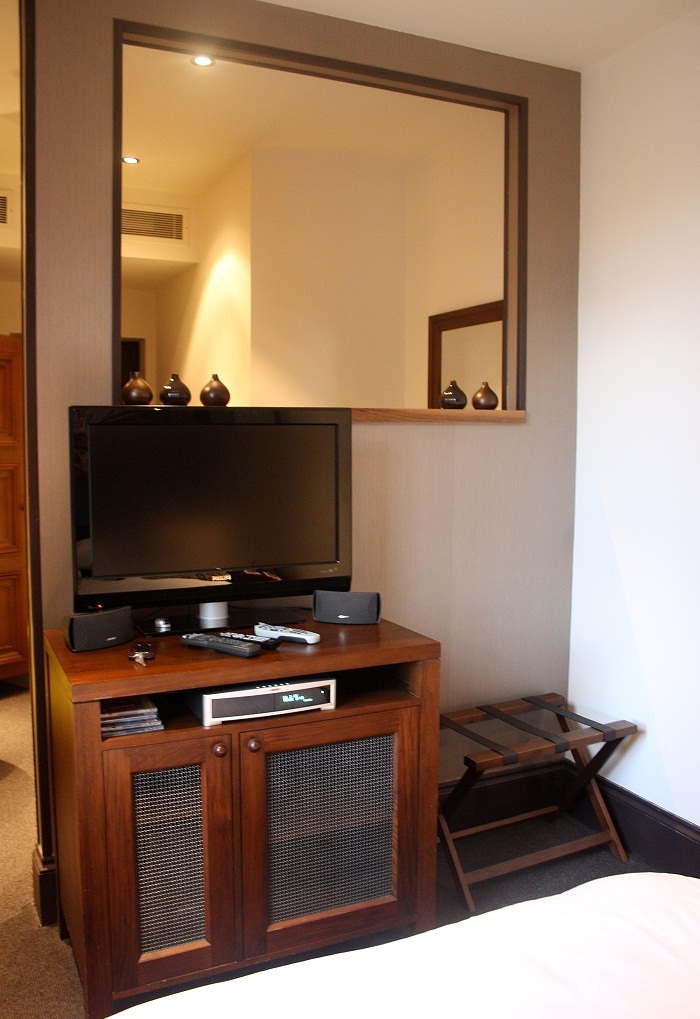 The wood-panelled, New England-style bathroom was the real pièce de résistance and reminded me of those that grace the Soho House Group rooms.
The design of the bathroom is an absolute dream, with a hand-stencilled black and gold claw foot bath, a copper tub sink, a vintage-style toilet and a powerful rainfall shower.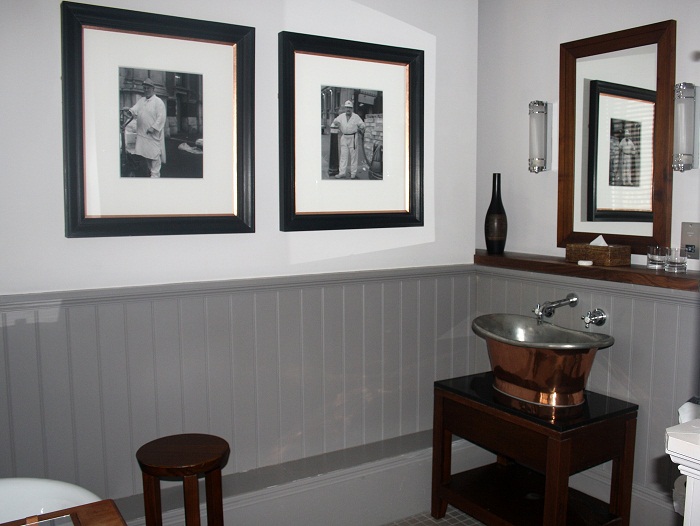 The attention to detail is impressive, as the bathroom is filled with vases, a wooden stool for your towel, a wooden tray for over the bath and even a bronze sculpture in the corner.  Adorning the walls are black and white photographs of butchers from Smithfield Market, reflecting the area's proud, untouched heritage.
REN toiletries were stocked in abundance and best of all, The Fox & Anchor provides conditioner!  It may seem trivial, but most hotels only anticipate the basic bathroom requirements of the average business traveller and it is a joy when you find one that understands and caters to the needs of girls and guys who appreciate silky hair on holiday.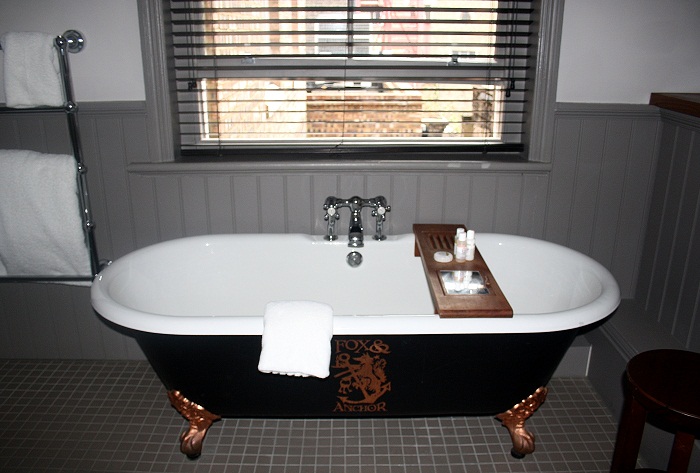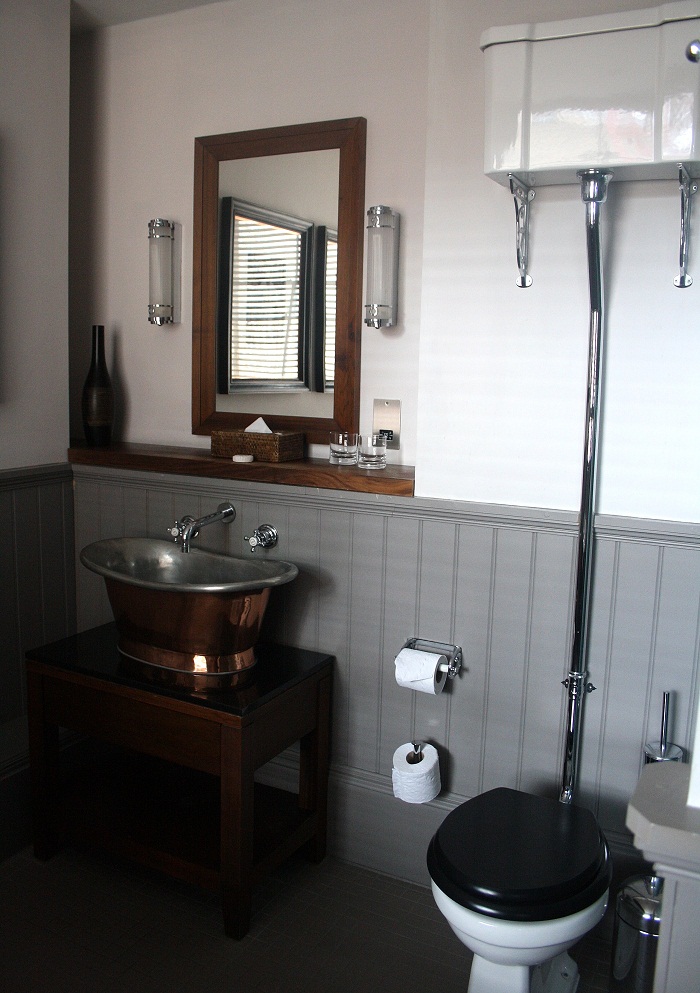 At night, the pub is bustling with an after-work crowd and locals, but there is also a separate dining room with cosy nooks and a private alcove called The Foxes Lair.  We were shown to one of the corner snugs, perfect for tucking into your dinner with wild abandon, or for a romantic, intimate dinner.
Our waitress was utterly charming and made jokes and recommendations throughout the meal.  I asked her which wine she recommended from the extensive list and she suggested the Fleurrie Beaujolais, which was light, fruity and zingy – a perfect choice.
The Fox's reputation for giant portion sizes precedes it, so we passed on starters and went straight for the meat.  I ordered the Fox & Anchor burger (£9) with duck fat chips and Steven went for Gammon, Pineapple and Chips (£11.50).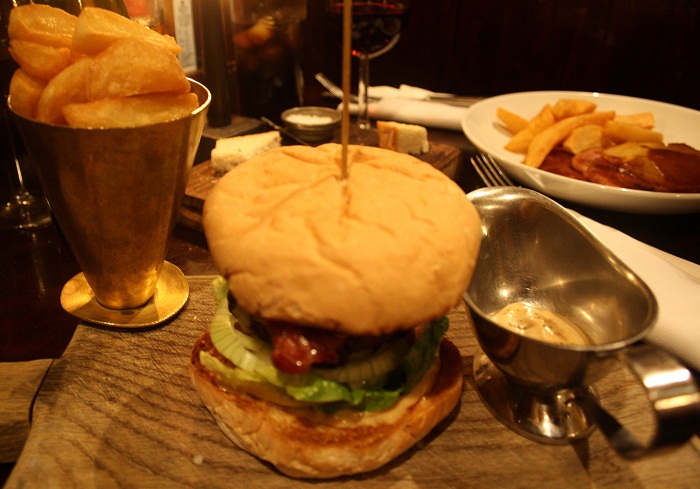 When my burger came, it needed an actual wooden kebab stick to hold it in place, rather than the usual cocktail stick.  It was a leaning tower of beef and toasted bun, oozing with cheese, bacon, seasoned mayo, lettuce, onion and tomato.
It was so huge that I had to slice it in two and eat it with a knife and fork to avoid everything spilling out.  The meat was excellent quality, well seasoned and cooked to medium perfection.  The accompaniments were also of a high standard, although the humongous slice of extra mature cheese could have been slimmed down, as the burger became very rich and a real Everest.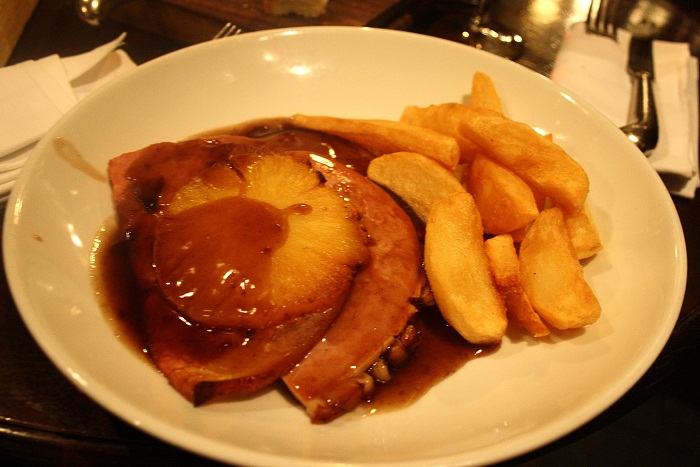 The goose-fat chips in a copper bucket were a triumph – crispy, full of flavour and not too greasy.  Steven was presented with three giant slices of roasted gammon, topped with fresh pineapple rings and chips on the side.
The menu at the Fox & Anchor is full of gourmet comfort food – robust, generously-sized British classics with locally sourced ingredients.  It is also reasonably priced for the sheer amount of food, excellent quality and attention to detail.
For dessert, I went for the Blueberry Tart (£5) with vanilla ice cream and strawberry coulis.  It was a cross between a dense frangipani tart and a home-made cake with gooey blueberries and a delicious thick crust.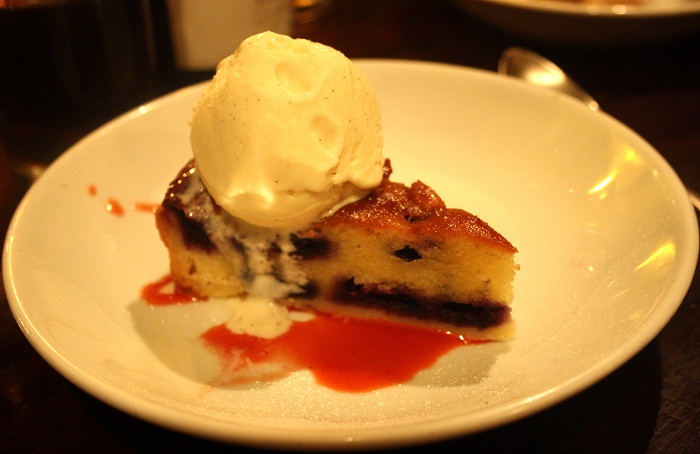 Steven went for the Strawberry Shortcake (£5), which was a tower of Eton Mess sandwiched between two home-made shortcake biscuits, topped with vanilla ice cream, fresh stawberries and coulis.
The Blueberry Tart was delicious, but the Strawberry Shortcake was the real stand-out dessert and was a super indulgent treat.
After a long, leisurely dinner, we still hadn't finished our bottle of wine, so our waitress offered us two wineglasses and a large bottle of chilled mineral water to take up to our room.  The staff are incredibly accommodating and nothing is too much trouble for them.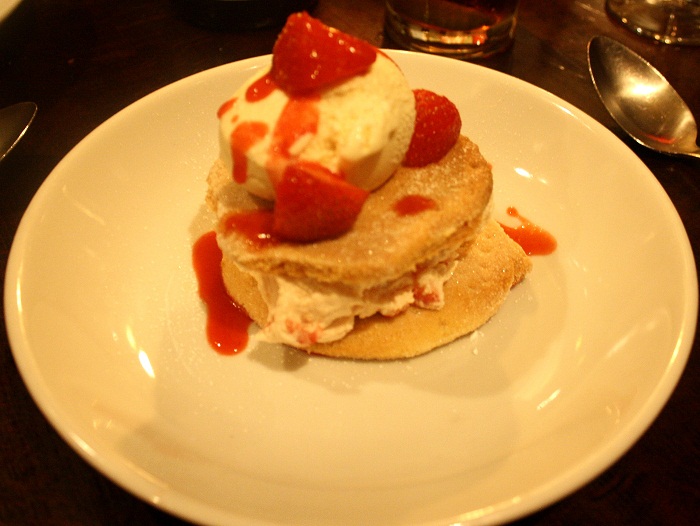 Following a wonderful, deep sleep (thanks to the luxurious king-size bed), we went downstairs to the pub for a late breakfast of Eggs Benedict and a Latte.  The hollandaise sauce was a little heavy on the vinegar, but the bacon and eggs were exceptionally good.
Coffee was strong, rich roasted and a generous size – just what you need in the morning.  Unlike most London accommodation, breakfast here is reasonably priced, with Eggs Benedict for £5 and a Smithfield Market-sourced Full English Breakfast for not much more.
The Fox & Anchor really is a hidden gem and its luxurious rooms far exceed the quality of London's more famed hotels. Its boutique, intimate atmosphere is part of its charm and you'll leave feeling more than a little bit pleased to have found somewhere in the city that really is a 'home away from home'.
All rooms at Fox & Anchor are priced the same and start from £95 for weekends.  For more information and booking, visit Foxandanchor.com
* Chérie City was a guest of Fox & Anchor