One of London's favourite tapas restaurants, Camino is set to bring a laid-back Spanish vibe to financial district with new opening, Camino 'Puerto del Canario' in Westferry.
Opening a new restaurant in London can be terrifying, as jaded metropolitans diners can have extremely high expectations and mistakes made in those first few weeks are rarely just met with a shrug.
Yes, Londoners are demanding, so Camino have made a point of guiding staff through a series of in-depth training sessions to make the transition as painless as possible for both customers and staff.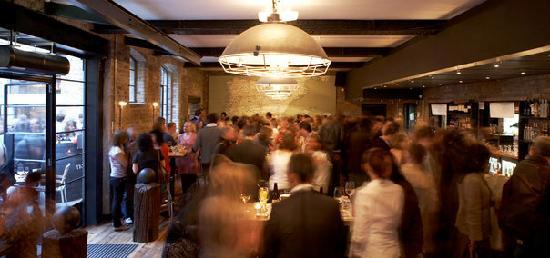 I was invited along with a small group of food bloggers to the menu tasting training session to see the dedicated training experince first hand and to give my verdict on the proposed menu for the new restaurant.  There was also a sherry and wine tasting session, so staff could learn about the different wines and make recommendations.
Head Chef Nacho del Campo presented each of the dishes and spoke about the ingredients, where they are sourced from and how the dishes are cooked.  He also welcomed feedback and asked for our favourite dishes and dislikes after each round of sampling.
First up, we tasted the full selection of cured meats (£5-£7.25) from Cordoba, which included Serrano, Chorizo, Ibérico, Fuet, Lomo and Salchichón.  They were all of exceptionally high quality, as the pigs are free to roam and fed on maize and acorns, and my favourite was the Serrano ham from Teruel, which had been cured for 18 months.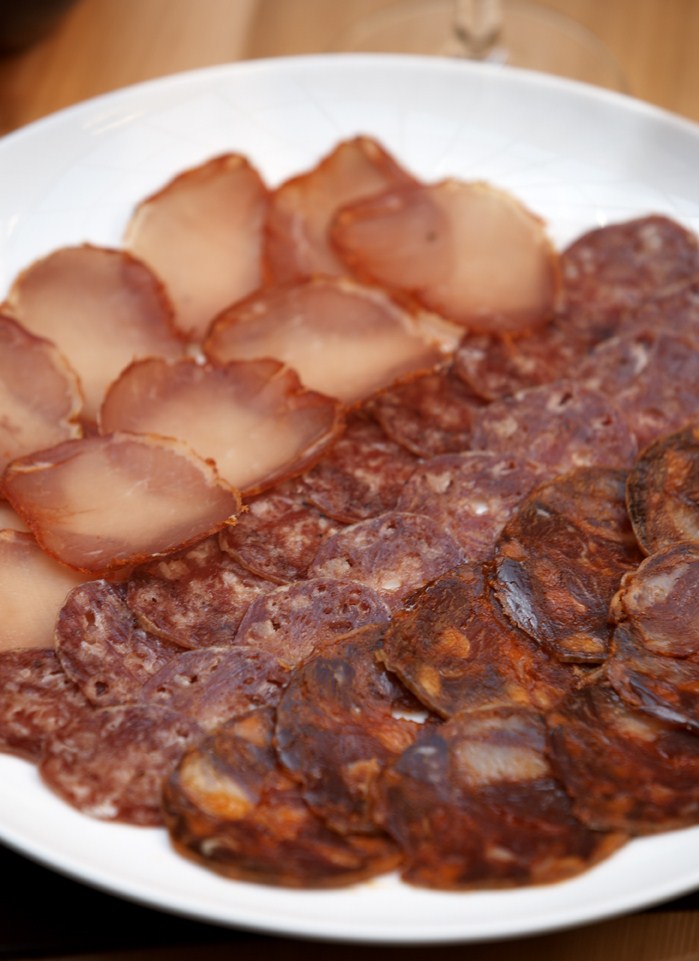 Then the cheeses (£4.75) arrived with a portion of quince jelly and included a selection of goats, sheep and cow's milk cheese such as Boffard, Mahon, Tetilla, Ibores and the most well-known, Manchego.  Although all cheese were flavoursome and interesting, I prefer cow's milk cheese and was impressed with the soft, mild and creamy Tetilla.
Cheese was followed by a selection of salads and the stand-out dishes for me were the grilled artichoke and cracked wheat salad, as it was very fresh with flavours of orange, and the most delicious salad of grilled figs covered in Mahon cheese and wrapped in ham with little gem lettuce, grilled red pepper, shallots and a Pedro Ximinez reduction.
At this point, we went through a bit of a wine journey and started with a glass of Tio Pepe fino, a light, pale sherry.  The Spanish sherry that I've tried in the past has always been red and slightly sweet, so this dry, white sherry was a new experience.
We then went for a crisp, fruity white wine called Vendimia Especial and Patalos red wine, which I found a bit heavy and sharp, but then again I wasn't in charge of the ordering.  The quick succession of dishes and speed tasting was too much to also make an informed wine decision.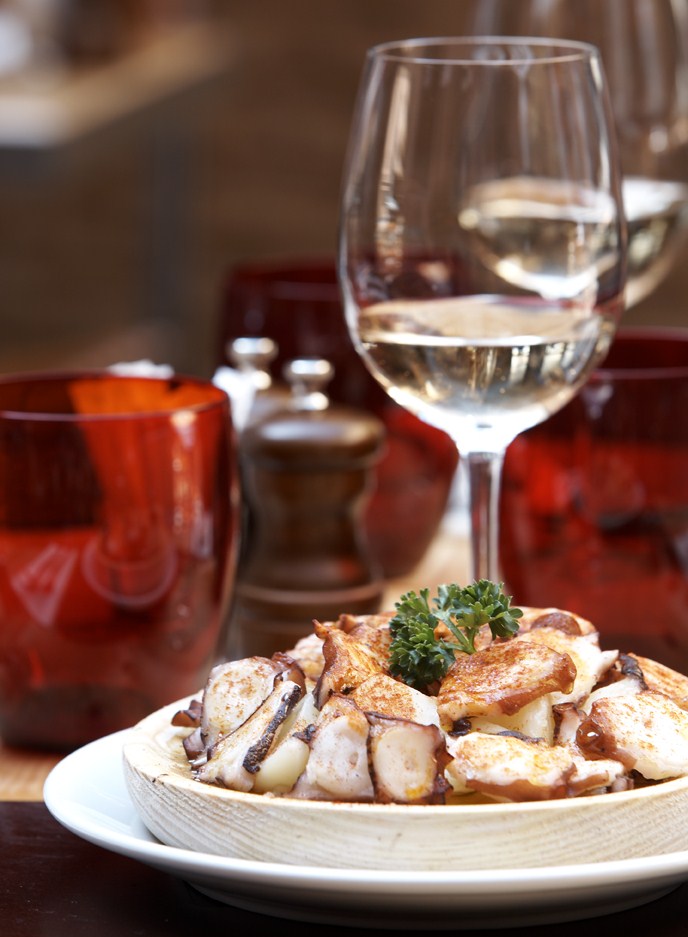 Back to the food, we next tried out the seafood and fish. We were offered an impressive array of chilled king prawns, crisp-fried baby squid, black rice with baby squid and alioli, gambas with chilli, garlic and white wine and pan-fried mackerel.  I loved the gambas king prawns, as they had a good chilli kick and the garlic was subtle.
Another first for me was the 'arroz negro' black rice made from cuttlefish and squid ink.  It was pleasingly gooey with firm Spanish rice and had a strong fish taste.
Next up was the selection of tapas that I would usually go straight for on the menu.  We were brought a selection of meat 'de la parrilla' (from the charcoal grill).  We sampled marinated Andalucian style lamb skewers, herb-marinated chicken skewers, sliced Iberico black pig shoulder blade, British lamb cutlets, Scottish rib-eye, 28 days matured steak served Basque style and a large octopus tentacle on a bed of olive oil mash.
Although being served more dishes than I would ever dream of ordering and my sense of proportion being slightly off-centre, the portion size of each dish was generous and good value, given the quality and flavour.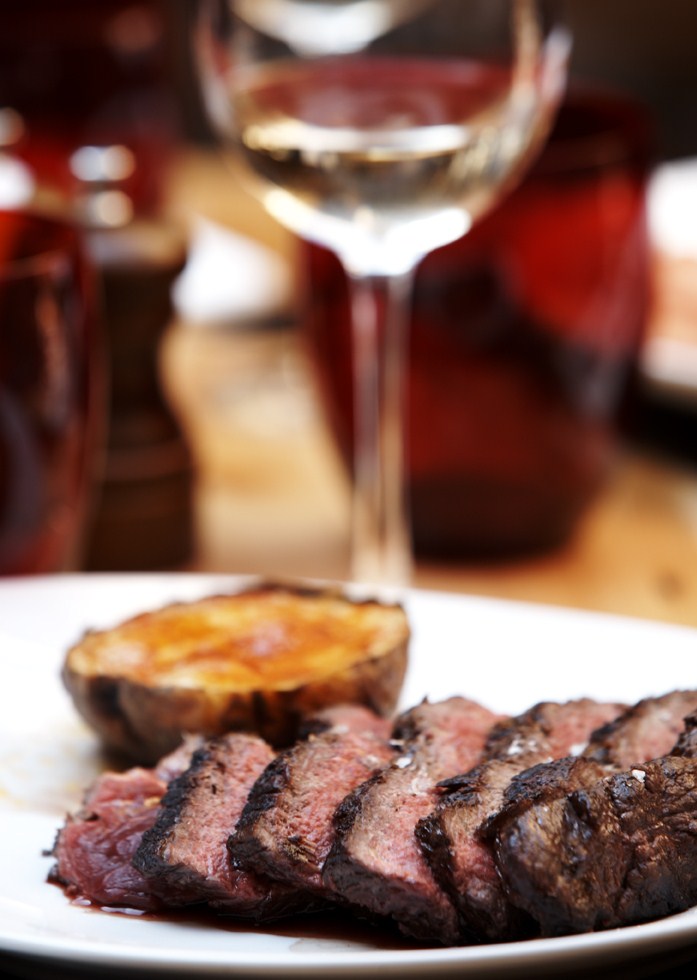 The chicken, pork and steak really stood out, but the lamb was a little bit tough.  During the feedback session, I mentioned this and Nacho said they would take this on board, so don't be put off ordering the lamb.
The veggie and side dishes also hit the mark and somes of the best dishes were the Tortilla de Patatas (served cold), the sautéed potatoes with a spicy mojo picón and Sartén de Patatas – Pandera sliced potatoes cooked with onion and green pepper and topped with a free-range fried egg.  If I list all of the tapas dishes offered up, we'll be here all day – if it's on the menu, I tried it!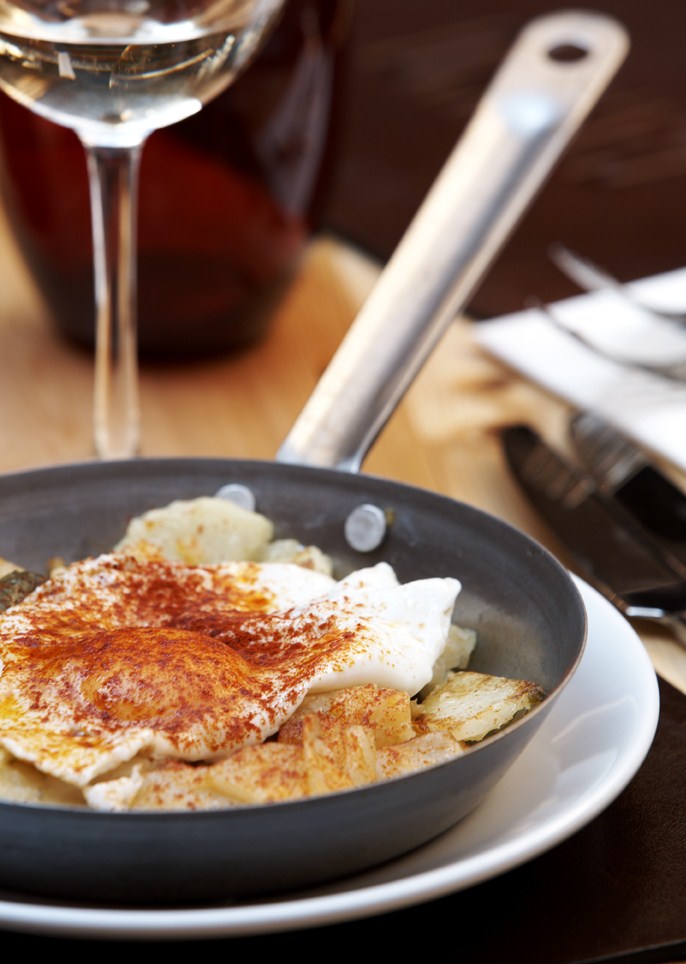 We didn't sample the desserts, but they're mostly Spanish classics – Crema Catalana, Helado con Pedro Ximénez sherry, Tarta Santiago, Pastel Chocolate and sorbets.
I had a Cafe Cortado, which was strong and rich roasted and Camino even does my other favourite coffee, Bomboncita – a glass of espresso with condensed milk.
Camino at Regent's Quarter was originally a piano varnishers workshop and the large, open-plan restaurant centres around the renovated hole in the roof, where they used to lift out the pianos.  It feels more like a venue than just restaurant, as there is also a buzzing and vibrant bar, a quieter cafe area where you can use their free WIFI and a fabulous terrace with tables and parasols.
I am planning to head down to Camino to work on my laptop and snack on some churros and coffee.  Camino is open for breakfast, serving Madalenas and mini bocadillos and offers a £5 lunch menu of charcuterie combos and daily special, including Paella Mixta and marinated pork skewers.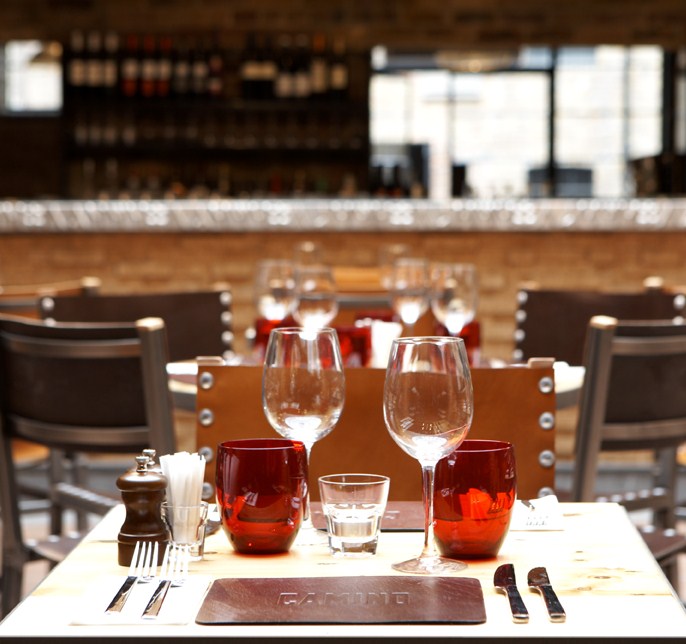 Like the original restaurant, the new Camino outpost will feature a terrace, shaded by a canopy of trees and parasols with large black sherry barrels.  Guests can also forsake the snail-paced DLR and arrive in style on the Thames Clipper ferry, due to its Thames bank location.
Camino are inviting customers to come along to Camino Puerto del Canario during their training period to sample the new menu and drinks, experience the service and provide feedback, good or bad.
The training period will run from 25th – 31st August (50% off total bill) and from 1st to 14th September (25% off total bill) and there will be feedback forms with staff and management on hand to discuss your suggestions, or you can just hand it in when you leave.
It's a great chance to try out exceptional, authentic dishes and tell the staff exactly what you think.  Camino are dedicated to providing the best possible service, so come along and help them make it an instant success.
For more information on Camino Puerto del Canario and directions, visit Camino.uk.com
* Chérie City was a guest of Camino.