This autumn, No 7 goes tribal with its Colour Rebellion limited edition collection.  It's all about making a bold statement with matte, highly pigmented colours and standing out from the beige crowd.
No 7 Creative Director and renowned make-up artist Lisa Eldridge says: "The autumn collection is all about powerful colour.  Strong pigments are the basis for bold, vivid eye and lip shades that encourage adventurous experimentation."
The Eye Palette (£13) reflects the bright, rich colours and patterns seen on the catwalk and you can get that graphic, fierce look by using all colours together.
This look is complemented with a Soft Matte Lipstick (£10.25) in Nude or Deep Plum.  The limited edition have rich pigments and a creamy formula to make the colour last longer and to hydrate lips.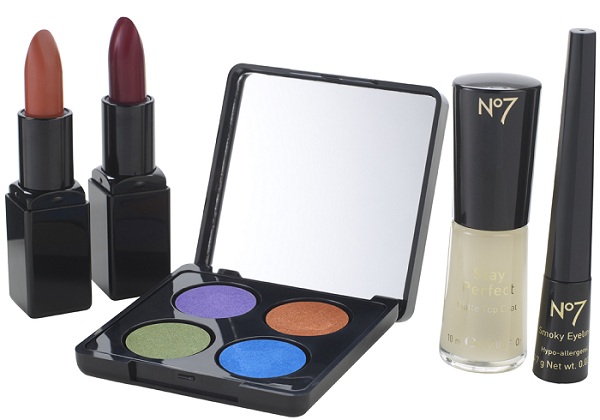 Also new for autumn is No 7 Limited Edition Eyeliner (£10), which uses powder to get that sulty, smoky look.  I find this much easier to use than liquid liner, as it can be blended and is easier to apply.  It reminds me of Guerlain's kohl liner pots, but without the ornate packaging.
No 7 are also getting in on the matte nail trend with their new Stay Perfect Matte Top Coat (£7.25).  The textured nail has been on the scene for a while now, but this trend doesn't seem to be going anywhere in a hurry.  The No 7 Matte Top Coat has a smooth, satin feel but you have to apply it carefully so its doesn't make the colour look patchy.
Finish off the look with No 7 Exceptional Definition Mascara (£12.50) in Black and Brown/Black.  I reckon No 7 have got it just right with this mascara, as it lengthened and volumised my lashes without being clumpy or too light.  The curved brush acts as a comb and efficiently uses just enough mascara to coat the lashes.
These rich, jewel-like colours may be a bit too bold for some, but on their own, they're actually quite autumnal.  The lip shades are perfect for autumn and the Deep Plum colour is great for working a 'bitten' look to compliment the 'no mascara' trend.
The No 7 Colour Rebellion collection will be available at Boots store from 11 August – 5 October 2010.