How many times I've strolled past the Hoxton Hotel while out and about in Shoreditch and have always wondered what it would be like to stay at this 'luxury budget urban lodge'.
The Hoxton Hotel has enlisted three designers to each give one of the rooms a cool new East End-inspired make-over and I was invited to come down and try out one of the rooms for myself.
Launched in 2006, the Hoxton Hotel is known for its young, buzzing atmosphere and its 'anti-hotel' philosophy.  The Hoxton has a no-bull approach that offers guests the most comfortable and affordable stay – no hidden extras, overpriced mini bar or extortionate late check-out fee.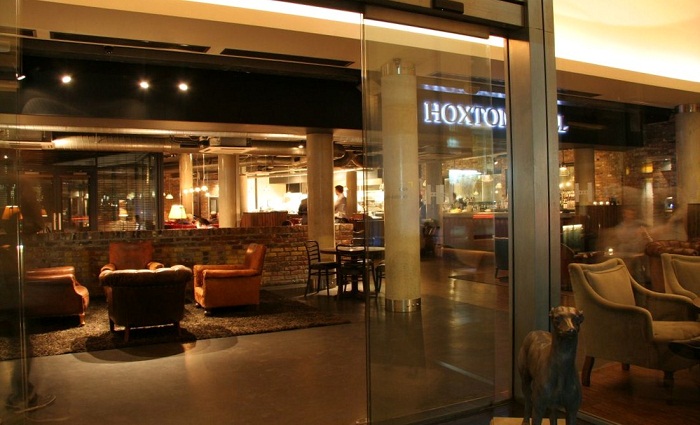 As a guest, you will be treated to a litre of mineral water, half a pint of milk, one hour for free phone calls to most countries, free super-fast WIFI and a complimentary lite Pret breakfast consisting of  Pret orange juice, a Pret granola yogurt pot and a banana.  Why Pret, you ask?  Well, the man behind the Hoxton Hotel is the hospitality savvy co-founder of Pret, Sinclair Beecham.
Inspired by his own frustrating hotel experiences and a distaste for being exploited while travelling, Mr Beecham has considered every possible way to help guests save money on the small things so they can enjoy their stay.  That's arguably great business sense, as guests are more likely to treat themselves to a night-cap at the bar and leave with a good memory of the hotel.
On arrival, I found the open-plan reception area buzzing with a mixture of hotel guests coming and going, business people having meetings and locals having an afternoon drink at the Hoxton Grill bar.  The check-in was easy and unpretentious and overseen by friendly European staff in cool, laid back Lee plaid shirts and jeans.
My room was on the sixth floor and was designed by Adrian Kilby, the Hoxton's original brand consultant.  It really was an explosion of colour and street style with illustrated murals, lime green furnishing, exposed brickwork, an image of Grace Jones etched on the window and the coolest bed I've ever seen!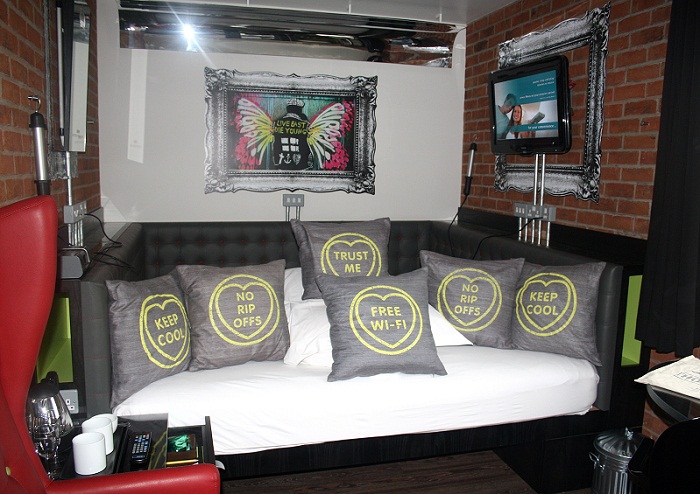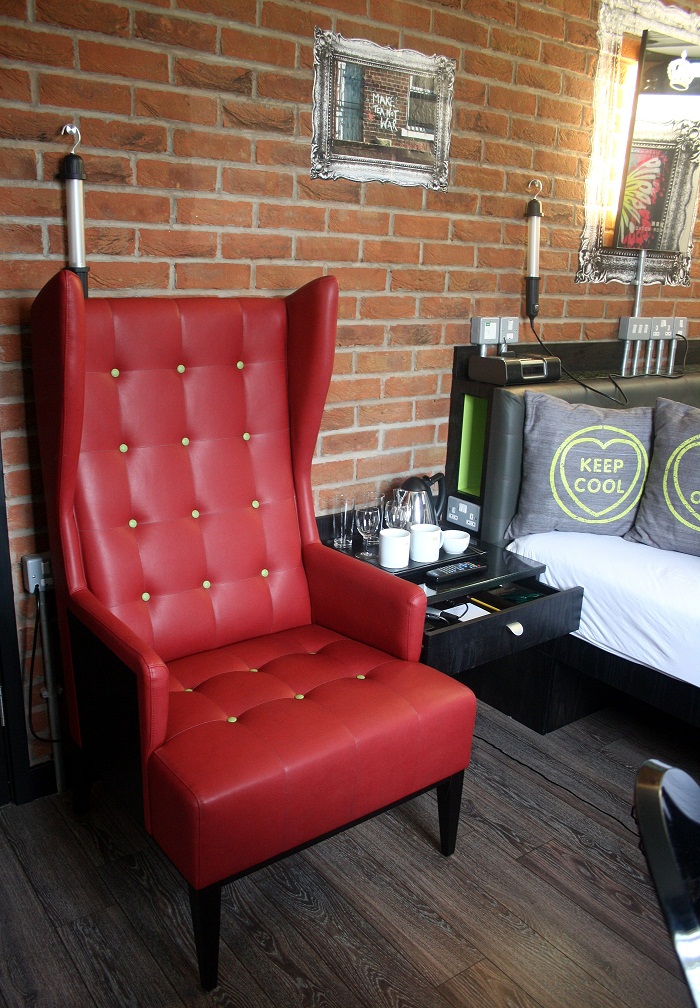 The modern Chesterfield-style bed with luxurious Frette linen and duck down pillows allows you to sleep in either direction, so you can watch the large wall-mounted LCD TV in bed and then switch sides to change the 'energy' of the room.
There were so many discoveries to make, such as hidden cupboards, a complex lighting system and quirky design motifs dotted around the room.  It seemed like quite a small room as compared to the standard Hoxton room, which I viewed during a tour of the hotel, but as I discovered later, this was due to the unusually enormous bed.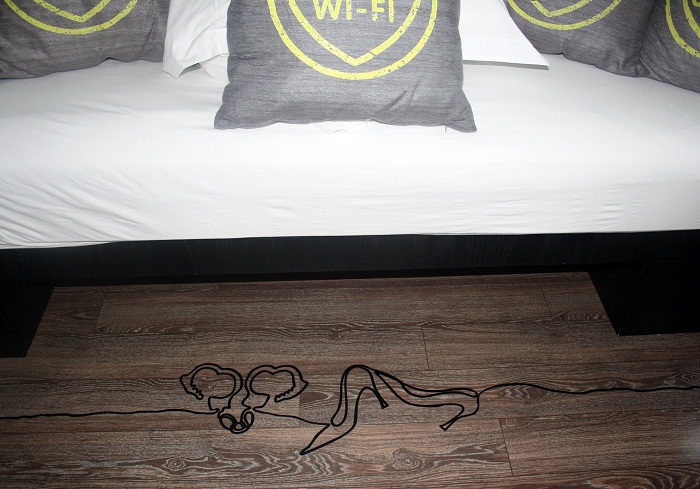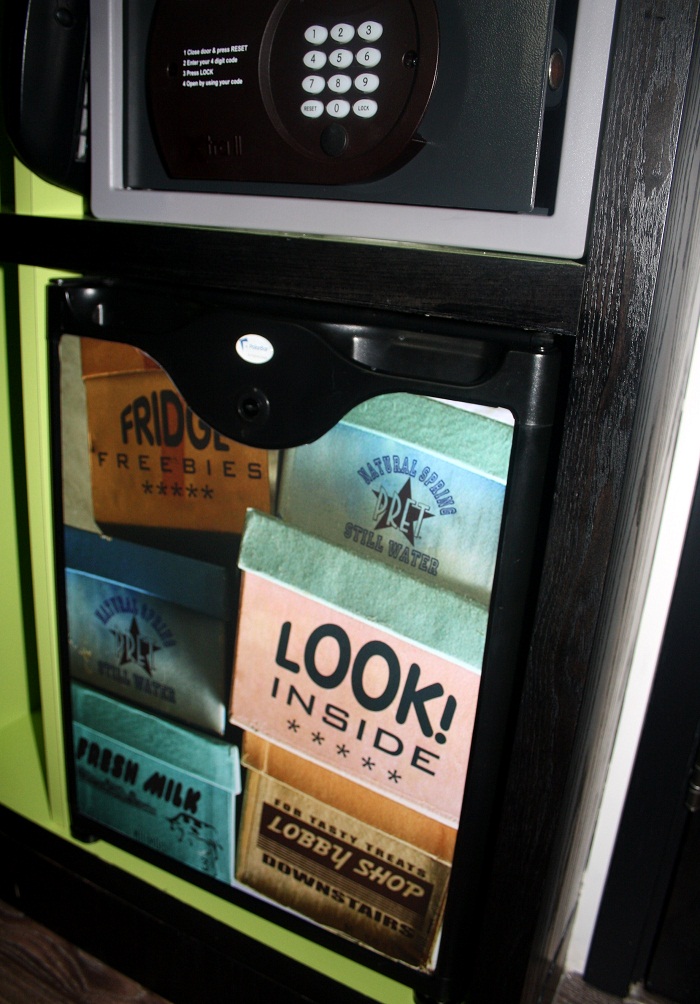 Best of all, the room is fully functional – there are a number of electrical sockets, three mirrors, a proper hairdryer, lighting that you can customise and an iHome alarm clock with an iPod dock.
There is also a well-stocked drinks area, where you can use wine glasses or long glasses and make a cup of Twinings breakfast or peppermint tea and fresh Lyons coffee.  The minibar is empty but you can stock it with your own treats from the affordable shop at reception.
The Hoxton even takes a bit of inspiration from American hotels with a retro ironing room with an ice dispenser and sink on every floor.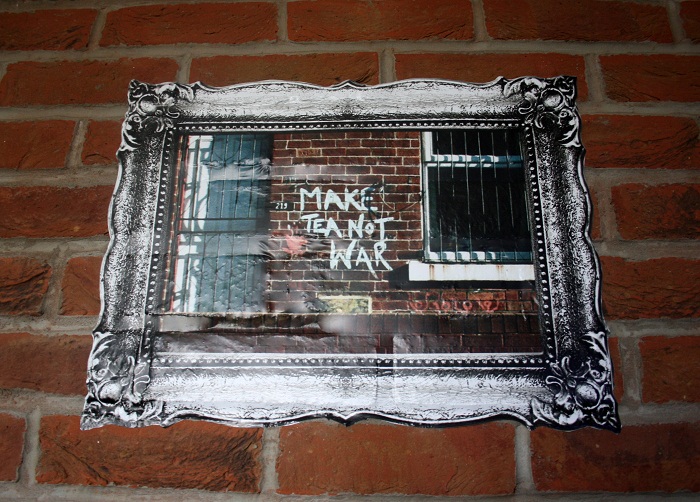 The only thing lacking was enough hanging space, as the wardrobe was awkwardly shaped and I had to strategically place my dresses halfway outside the wardrobe to avoid creasing, especially my jersey maxi dress.
The bathroom was incredibly stylish, with deep red tiles, a walk-in shower with rainfall head and slate floors that gave an irridescent shimmer when lit.  Toiletries were supplied by Aveda and there was a large bar of Pears soap, which the hotel encourages guests to box up and take home.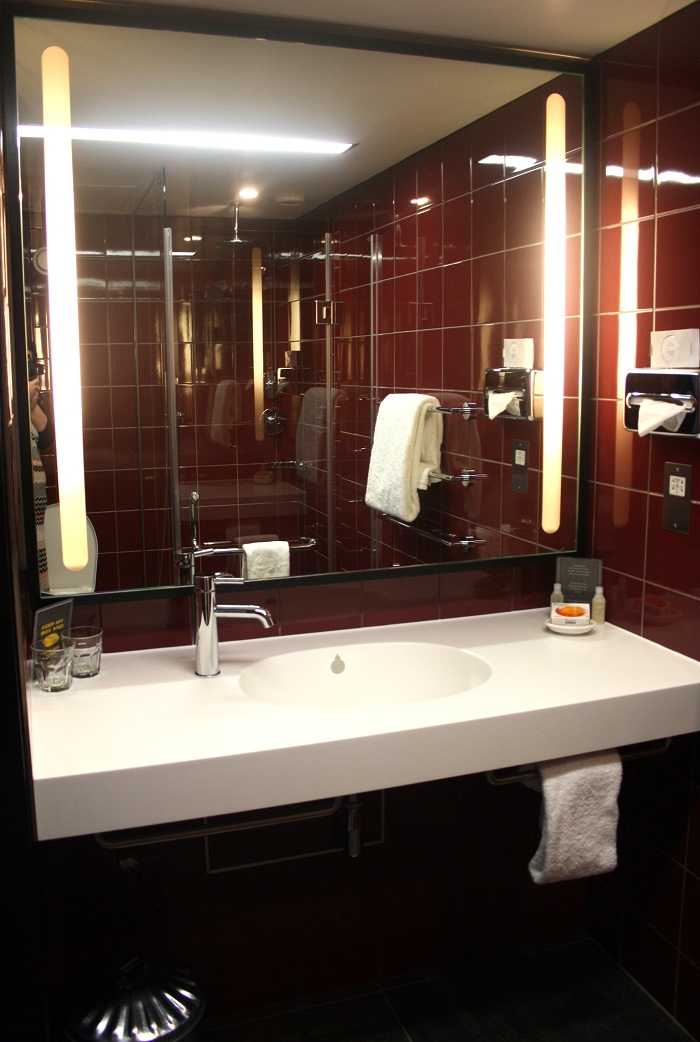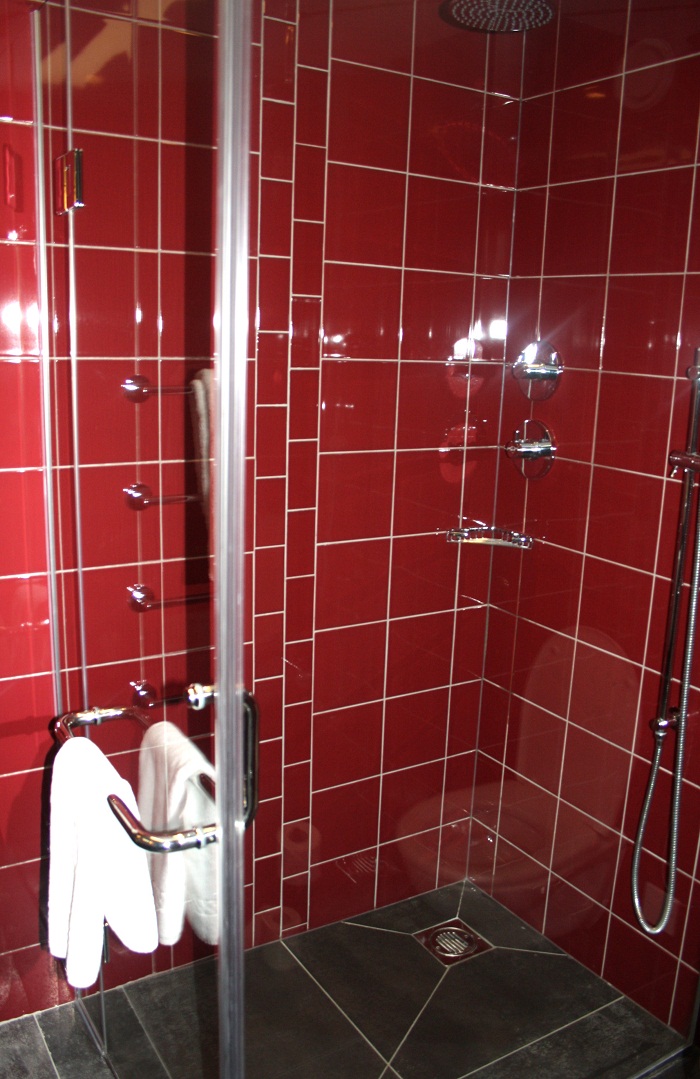 Throughout the room and bathroom, there are frank signs from the hotel reminding guests to make themselves feel completely at home.  Free WIFI, Keep Cool and No Rip Offs slogans are emblazoned on the cushions like Love Hearts, which could potentially irk some guests, but the Hoxton Hotel is clearly just playing to its strengths.
In the other new designer rooms, Project Orange brings a New England homeliness with a patchwork quilt, distressed furniture and autumnal colours, while Suzy Hoodless goes minimal with a geometric statement wall, an illustrated little black dress and signature orange cushions and lamps.
The Hoxton Hotel also has an impressive business suite, with a range of comfortable meetings rooms and a larder, which delegates can raid all day.  At night, the Hoxton really comes alive, as locals and hotel guests flock to the Hoxton Grill for dinner or meet for drinks in the stylish garden.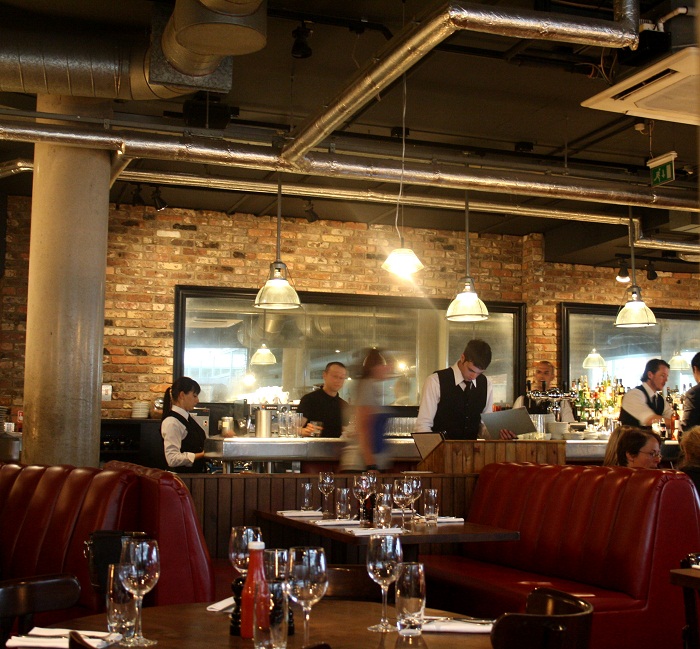 Hoxton Grill is a part of the Soho House Group and the menu includes its signature dishes and their 3 small plates for £15 deal.  We ordered Steak and chips (£10 from 12-7pm), which was succulent, juicy and excellent quality. It came with a pot of béarnaise sauce and yummy skin-on thin chips and fresh sourdough bread with French butter.
Service was friendly and polite, everything you'd expect from a Soho House outpost.  Hoxton grill room service is also available, at a reasonable price, if you're having a lazy night or have to grab food on the go.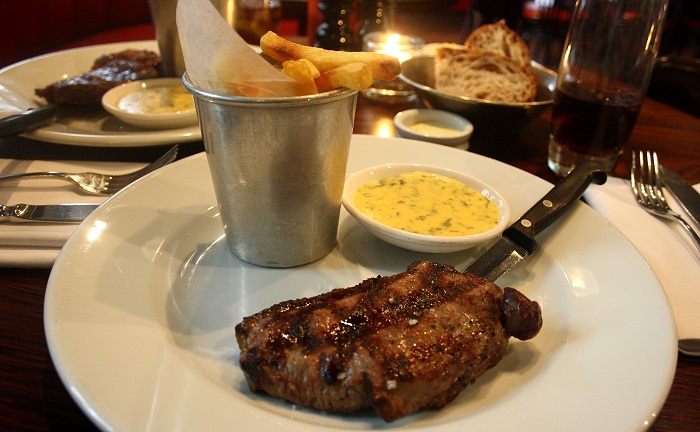 I really had no idea just how sociable and vibrant the Hoxton Hotel really is and the room really exceeded my expectations.  I enj0yed a relaxed dinner, wonderful night's sleep (it was so quiet), a healthy breakfast and refreshing, energising shower, all in the city's most exciting neighbourhood.  What more could you ask for in a hotel?
The Hoxton Hotel has an average nightly price of anything from £49 to £199 per night, with Sunday night stays being the most affordable.  You can scoop a bargain if you book on a weekend or far in advance, but the higher price band takes the hotel out of the luxury budget category.
The Hoxton Hotel also offer their legendary £1 sale on rooms at selected times of the year, so join the Hox Fan Club to hear the news first.
The three designers rooms are available to book online from September 2010.
You might also like: Mama Shelter, Paris
More pictures of the Hoxton Hotel, here.
* Chérie City was a guest of The Hoxton Hotel.