Marylebone High Street is London's unofficial 'petit Paris', where a leisurely afternoon shop around Agnès B, Comptoir des Cottonniers and Gerard Darrel is usually followed by tartines at the Orrery Epicerie.
So of course, there couldn't be a better place for the newly opened Cafe Luc to serve up its modern, French and Mediterranean brasserie classics to appreciative Francophiles.
Cafe Luc is the new venture of Belgian restauranteur Luc van Oostende and his daughter Julie – a graduate of an elite hotel management school – who have already set up the highly esteemed Cafe Theatre in Ghent.
I know you shouldn't pre-judge a restaurant solely by it appearance, but on arrival at Cafe Luc, I was already hooked.
The decor is a subtle, understated mix of pea green and espresso, with leather banquettes, soft lighting, side mirrors and a traditional brass rail.  It echoes the elegance of Europe's grand cafés but with a fiercely contemporary edge.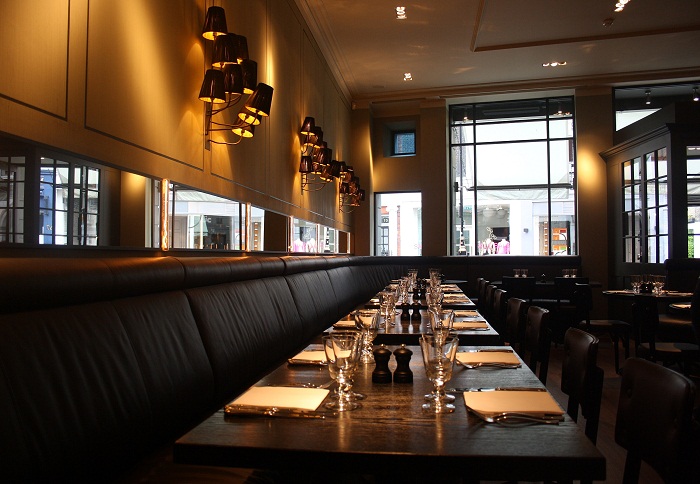 We were immediately greeted and shown to our table – an intimate booth with an oval-shaped table where we sat informally side by side, nestled in a corner, free to observe the restaurant.
Here begins the incredible level of service, as each member of staff came over to our table within a few minutes of each other.  There were just three other tables of diners when we arrived just after 7pm and around 10 members of staff attentively waiting, although the crowd increased at a swift rate.
I asked the Maitre d' which wine was closest to my favourite French wine, Brouilly, and he recommended the Sancerre, so we ordered a glass each.  It was a delightfully fruity, light and uplifting wine that goes very well with red meat and is easy to drink.
We bypassed starters, due to a week of over-indulgence, but before our main meal we enjoyed some fresh, crusty baguette and honey rye bread that came with a pot of slightly salted beurre d'Isigny.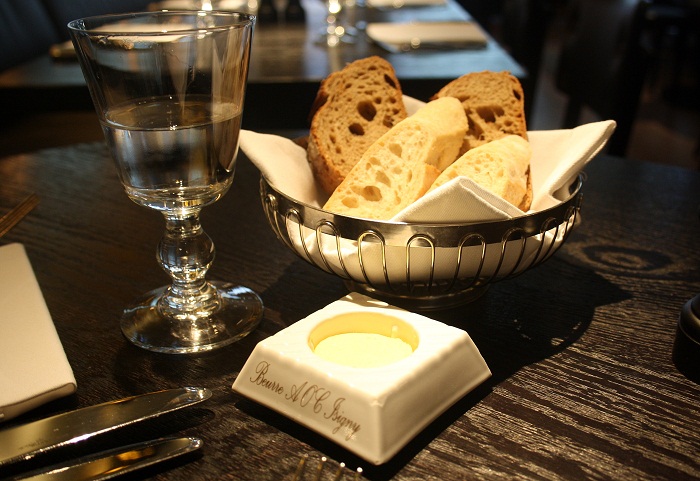 I couldn't resist ordering the Confit Duck des Landes with summer cabbage and a spiced jus (£14.50), as it is my usual dish of choice when in France.
The duck came beautifully presented on a bed of cabbage and a generous drizzling of rich jus.  The meat was tender and cooked to perfection, effortlessly sliding from the bone.  All of the flavours complimented each other and although this is a classic combination, it really was one of the best I've ever tasted.
When the duck arrived, I felt that it needed something else, so I ordered a side dish of new potatoes (£3.50), which came smothered in scrumptious olive oil and butter and were garnished with chives and the most delicious rock salt.
Many of the mains already come with pomme frites or pappardelle, so it would really elevate the dish if Cafe Luc could included some kind of potato accompaniment.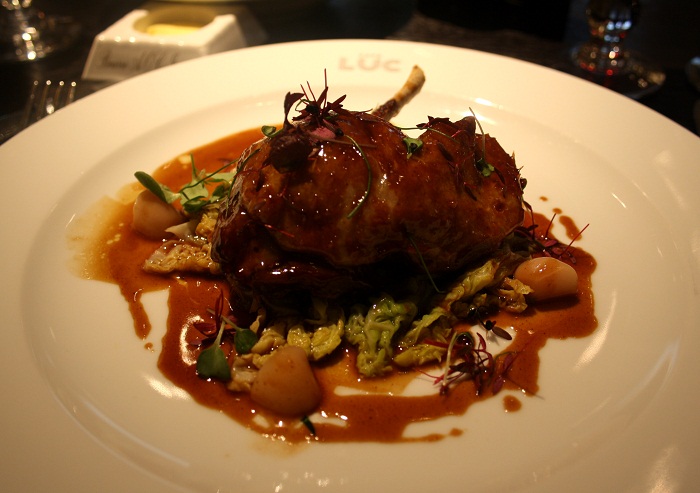 Steven chose the Braised Lamb Shoulder with borlotti beans, young fennel and rosemary jus (£17.75).  The meat looked very succulent and everything had a delicious slow-roasted flavour; he even said it was possibly the most tasty lamb he's ever tried.
We also shared a crisp green salad (£3.50) that was lightly covered in a well-seasoned dressing of red wine vinegar, olive oil, rock salt and black pepper.
Cafe Luc tends to focus on traditional brasserie staples done really well, but there are some more unusual dishes on the menu to pique the interest of die-hard foodies, such as fillet of red mullet with saffron potatoes, courgette flower and bouillabaisse vinaigrette.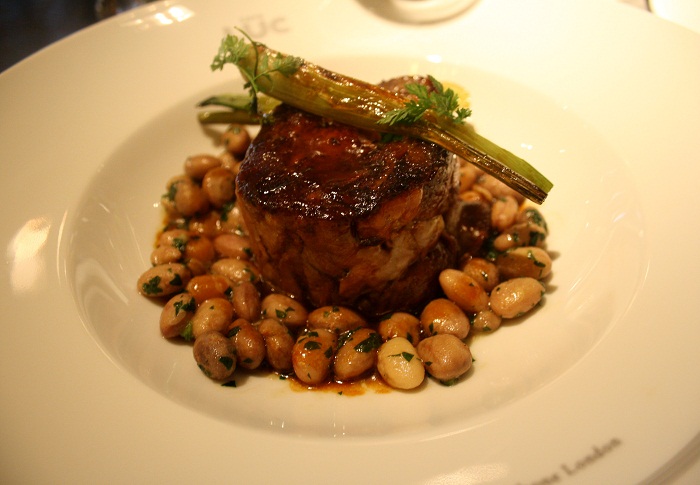 Top marks for the main courses and so on to dessert.  This is where our tastes meet and Steven apparently staked his claim on the apple tart at the beginning of the evening, so wouldn't budge…even for the sake of the review!
I was swayed by the pot au chocolat, but I stood my ground and also ordered the Apple Tart (£6.50), as I was warned that I wouldn't even get a look in if I ordered something disappointing.
You'll see by the picture that it was lucky that we double ordered, as there would've been some fatal food envy going on if I missed out on this one.
Calling this dessert an 'apple tart' is a serious understatement; the pastry base was almost as big as the plate and boasted caramel-stewed apples under a dome of spun sugar that concealed a scoop of real vanilla ice cream.  To top it all off, it came with a mini gravy boat of hot Gran Marnier sauce.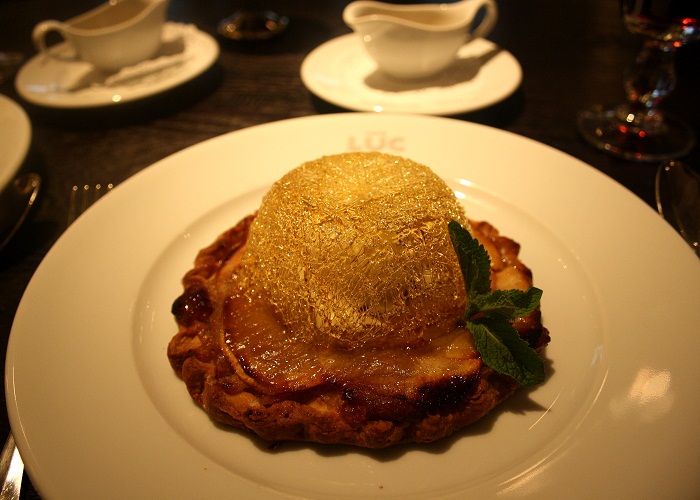 Not just a product of showmanship, the dessert really was exceptionally tasty, with the slightly savoury pastry counter-balancing the caramelised apples and chewy sugar adornment.
It is just the right size to share, as we were struggling to get through one each, although it was so intoxicating we couldn't stop!
After an Everest of a dessert, we needed a cappuccino, which was small, rich roasted and reassuringly strong, just like the coffee in Europe.
We ordered from the à la carte menu, but Cafe Luc offers a very popular 3-course Set Menu for £15.50, which most customers appeared to try.  There are three options per course and the highlights seemed to be the Nutella Crème Brûlée and the plump, juicy steak frites with peppercorn or béarnaise sauce.
The appeal of Cafe Luc lies in its versatility; it provides a perfectly balanced menu for breakfast, brunch, lunch, afternoon tea, through to dinner.  It is sophisticated without being too formal and the set menu makes it accessible whatever your budget.
Cafe Luc is a restaurant out to impress – from the quality and presentation of the food to the attentive service that all customers clearly received and the polished decor.  The clientele ranges from groups of friends, to couples and older kids dining with parents (the yummy mummy brigade probably rule the late morning sitting).
With such fine attention to detail, exceptional food and a great dining philosophy, Cafe Luc is set to make a huge impact on the London restaurant scene,
* Chérie City was a guest of Cafe Luc.
Cafe Luc is offering its Set Menu for an incredible £1 for lunch and dinner from the period of 7 August – 7 September 2010.  There are 10 Set Menu offers per day, so visit www.cafeluc.com for more details and booking.