During London Fashion Week, the daily jaunt past Moti Mahal proved torturous, as there was simply no time to give in to the heady aromas of fine spices and grilled tandoor meat.  That's before I even mention carbs…
So you can imagine my delight at being invited to come and experience Moti Mahal's Grand Trunk Road menu.  What differentiates Moti Mahal from other high end Indian restaurants is Delhi-born chef Anirudh Arora's dedication to recreating India's most defining, rare and indulgent dishes.
Long forgotten recipes from rural India, along the 2500km Grand Trunk Road, feature alongside traditional favourites, celebratory cuisine and the original Moti Mahal speciality, Murgh Makhani (butter chicken).
Moti Mahal first opened in Delhi in 1959 and the five year-old Covent Garden outpost has been setting the trend in Indian gastronomic restaurants ever since.
On arrival, I was offered a cocktail and although there were some delicious concoctions on the menu, I was made a personalised cocktail based on green apples.  My cocktail looked stunning and was carefully blended with squeezed apple juice, apple puree, vodka, cardamon, cinnamon and crushed ice, finished with a delicate sliced apple fan.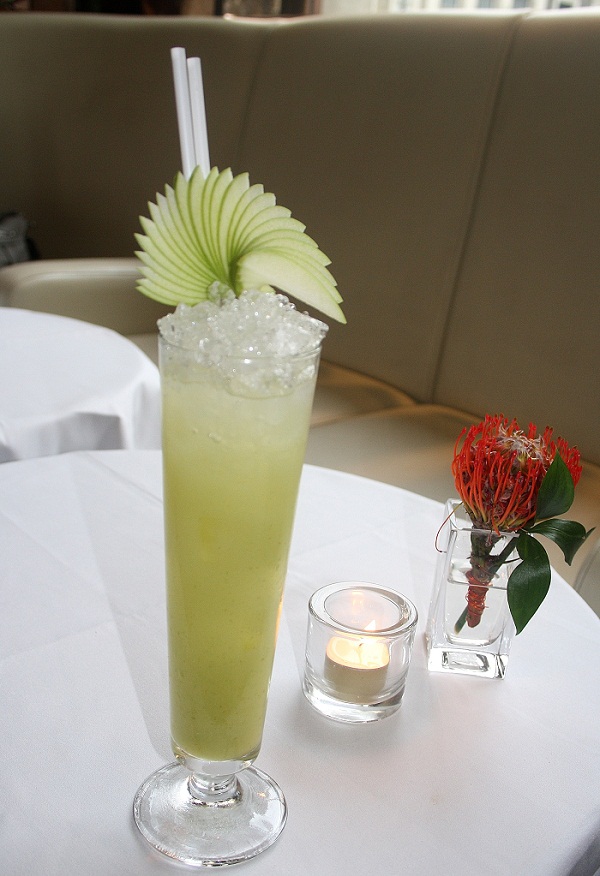 It was certainly a bold drink and the strength of the vodka was matched with a sweet tartness and aromatic edge.  All of Moti Mahal's cocktails are made to reflect the spices and flavours of India and are reassuringly strong and intense.
Moti Mahal attracts a well-heeled, food-savvy crowed and has a relaxed, airy atmosphere with contemporary decor intriguing Asian artwork.
At Moti Mahal you can choose from a range of carefully selected taster menus, but for my first visit, chef Anirudh Arora prepared dishes for us based on our personal preferences.
First up was a beautifully presented board of fresh vegetables to chop up and make our own Indian salad, dressed with freshly squeezed lemon and a medium hot blend of spices – a refreshing start to the meal.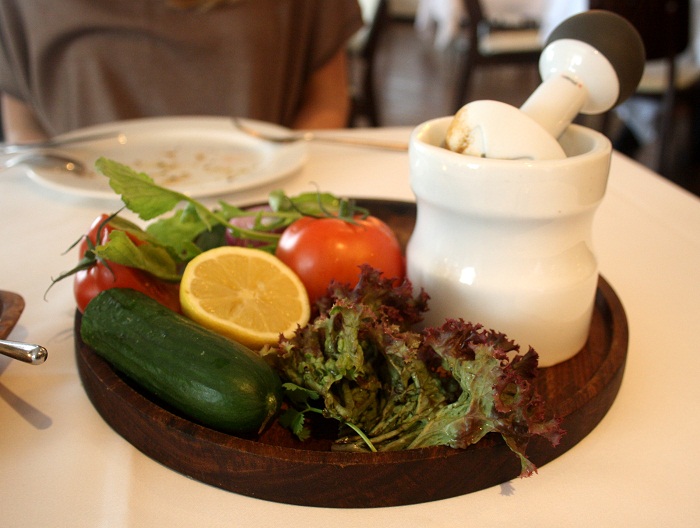 Our first started was Bhalla Papdi Chaat (£9), an unusual dish from Old Delhi, consisting of crisp fried pastry and chick pea drizzled with yogurt, mint and chutney.  The pastry had a dense, moist texture, as it was covered in cooling yogurt and the chutney and pomegranate seeds added a sweetness to the spice.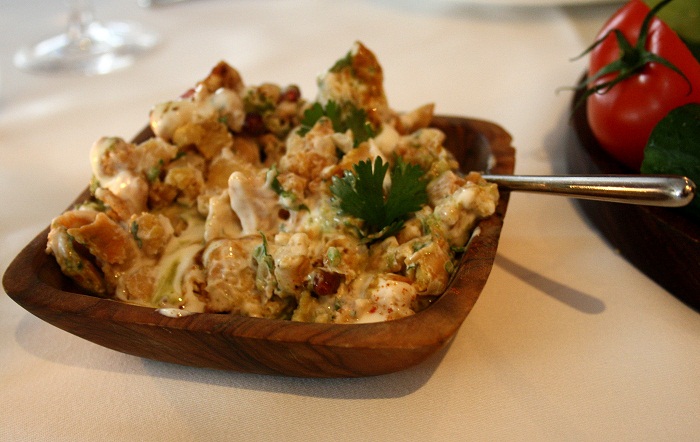 My favourite of the two starters was Qabali Seviyan (£11) – masala chicken, vermicelli, tossed with pine nuts and baked in an egg custard. Originating from Kabul, Qabali Seviyan is an indulgent celebration dish, often served during Eid to mark the end of Ramadan.  The marinated chicken is set in a spiced egg custard on top of a bed of vermicelli noodles and all the flavours blend together perfectly.
It is a rich and moreish dish that I would have happily polished off had there not been another two course to get through.  The generous portion size makes it a great starter to share and it really reflects Moti Mahal's commitment to sourcing the most rare, traditional dishes.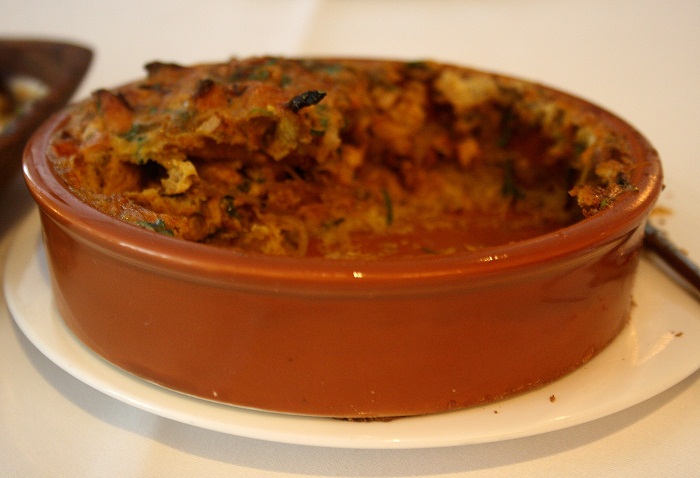 A banquet of main courses was presented to us and the lovely, chatty Maitre'd served us a bite of everything.  One of the dishes was my all-time favourite curry, Murgh Makhani (£20) – chicken tikka in a creamy tomato sauce.
There really is no better place to eat Murgh Makhani, as the butter chicken recipe was created by a chef at the first Moti Mahal restaurant in New Delhi.  The chicken was tender and infused with delicate spices and had a rich, deep flavour that wasn't overly sweet.  Once again, the portion size was plentiful with at least six large pieces of chicken smothered in sauce.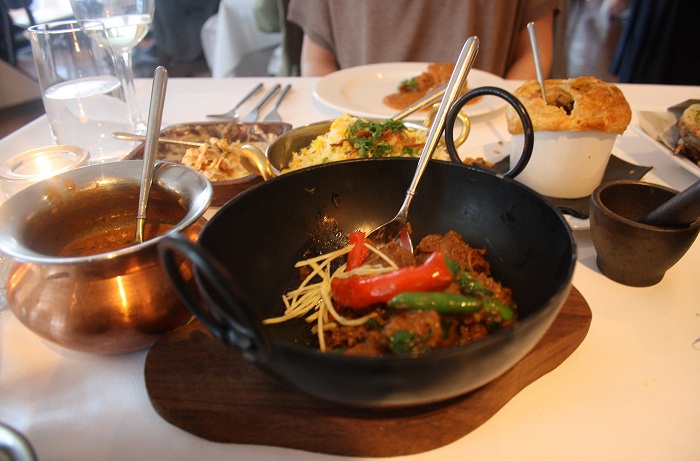 The greatest challenge for Moti Mahal was to make me enjoy a lamb curry.  I usually hate lamb because of its strong, animal taste, but as I had to pass of the seafood dishes, I felt that I just had to be adventurous and try something other than chicken.
This really is a testament to the Moti Mahal chefs, as I couldn't get enough of the Khadey Masaley Ka Gosht (£23) –  lamb stir fried with fresh chillies, shallots and freshly ground spices, from the Punjab region.  There was no overly meaty aroma, as the lamb was so well marinated and the texture was so soft and tender, I actually added more to my plate.
Another surprising dish was the Parda Khumb (£10), a dish from Lucknow, consisting of baked mushrooms baked in a pot with a pastry top and fennel and ginger powder.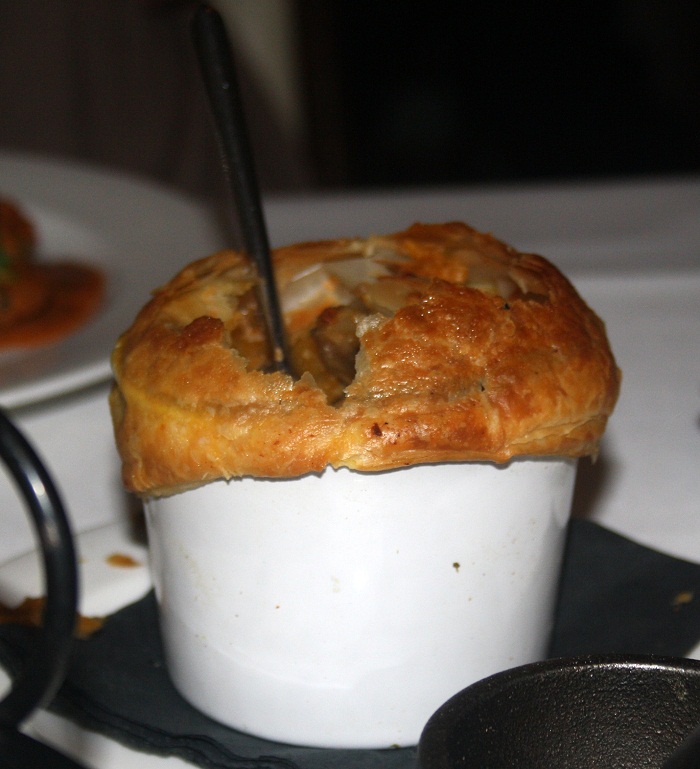 Never before have I tried an Indian pot pie and it was an interesting, flavoursome dish.  On a menu like this, however, it was somewhat overshadowed by the excellent meat curries.  It would be a great option for vegetarians and a welcome change from spiced potato or spinach dishes.
Being part Iranian, I'm a bit of a rice fanatic and Moti Mahal's light, fragrant basmati Pulao (£5.50) with saffron definitely made the grade.  Of course, the meal wouldn't be complete with a naan bread side order and we mopped up our sauce with Tokri (£7.50) –  a selection of three delicious tandoor baked breads that were closer to dense paratha than bubbled naan bread.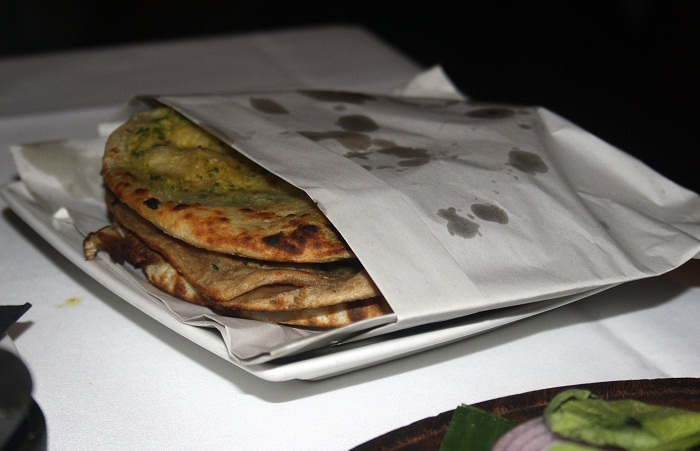 At this point, dessert seemed impossible, but in the name of research, I found some space to try the Kulfi Selection (£10) – five mini Indian milk ice lollies, including Gulukand and honey, milk chocolate and raisins, blackberry, pistachio and mango.
The lollies were beautifully presented in a cluster and surrounded by exquisite rose petals.  Each flavour was absolutely delicious and they were the perfect end to the meal, once again great for sharing (to avoid the brain freeze).
We finished with a pot 0f Chai Masala (£4) – Indian spiced tea that comes with a treasure chest full of three different types of sugar and honey.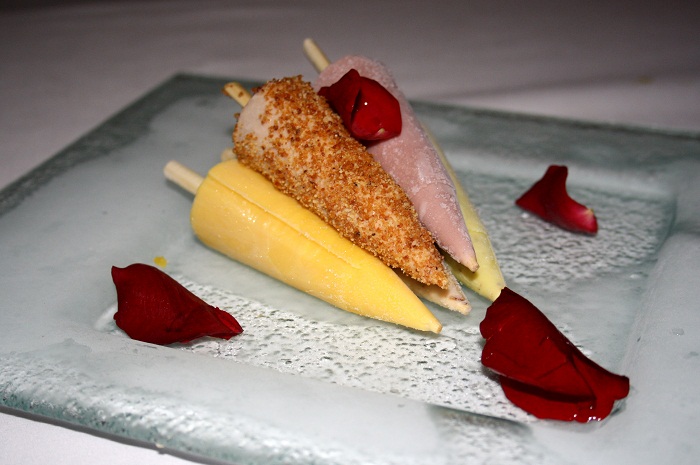 Moti Mahal's charm lies in its impeccable service, matching fine dining protocol with traditional Indian hospitality.  The Maitre'd and each of the waiters came to top up our drinks every time they passed and gave us a brief history about each dish as its region as they brought it to the table.
Might I also add, this wasn't a result of special blogger treatment, as I watched the other tables being served and can report that they also experienced sublime service and attention.
The Moti Mahal experience really is quite spectacular and the prices reflect this attention to detail, so it's perfect for an occasional indulgent treat.
* Chérie City was a guest of Moti Mahal.