Wander off onto the side streets in Valencia's old town and you'll find a maze of incredible street art, from anarchist scrawlings to detailed fantasy murals in the most vibrant colours.
Barrio El Carmen is know for its bohemian bars and cafes, edgy boutiques and the IVAM (Valencian Institute of Modern Art), but like all up-and-coming areas, there's more behind its popularity than just the leafy main street, Calle de Caballeros.
El Carmen is home to a number of creative, political squatters, who take over the disused stone buildings and bring their own outsider energy to the area, with graffiti art, their own set of rules and loud techno.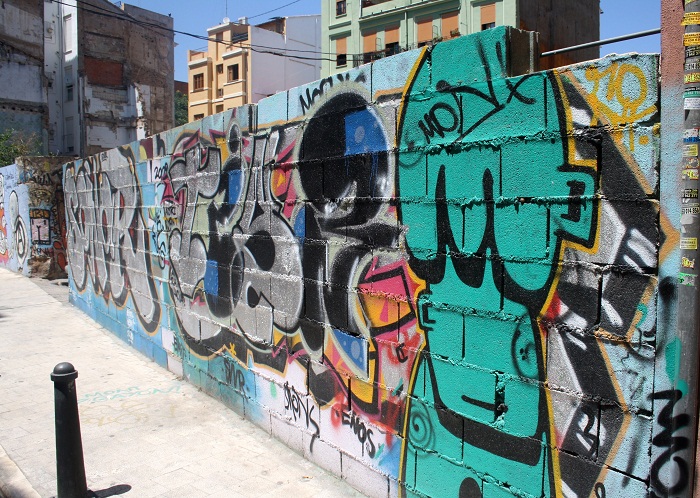 The back streets of El Carmen remind me of Ljubljana's autonomous state, Metelkova, with its creative squat buildings, politically-charged atmosphere and fantastical artwork, albeit a much less radical version.  To get an idea of this unique squat community, read about when Chérie City went to Metelkova.
After a few days, you'll start to recognise the styles and tags of certain artists and find out just what their street art is all about.  One of my favourites is a graffiti artist called Julieta (of the XLF crew), who produces the most whimsical, colourful Japanese-inspired public art.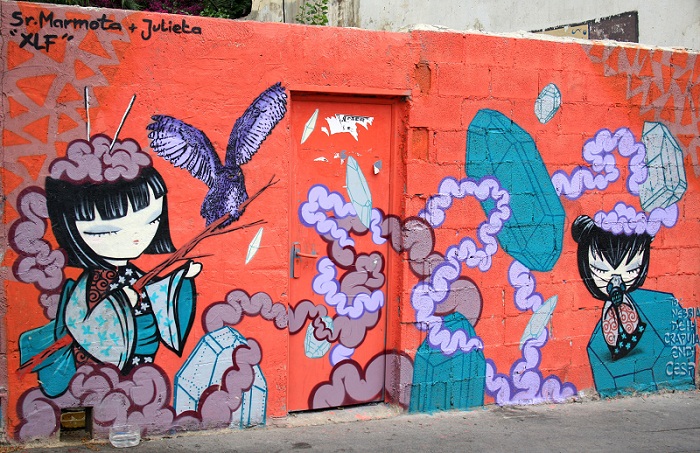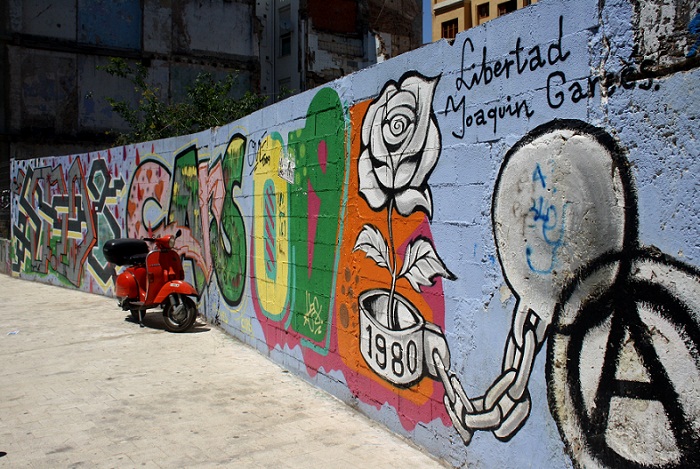 Valencia has a long-standing history of street art and it has been often linked to the seasonal festival of Las Fallas.  The urban landscape of the old town is a perfect canvas for graff art, with its crumbling stone walls, weathered buildings, narrow passages and alleyways.
The best resource for discovering more about the city's graffiti scene is Textura: Valencia Street Art
, by local Photographer Luz A. Martin, who has uncovered the best public artwork and most prominent artists.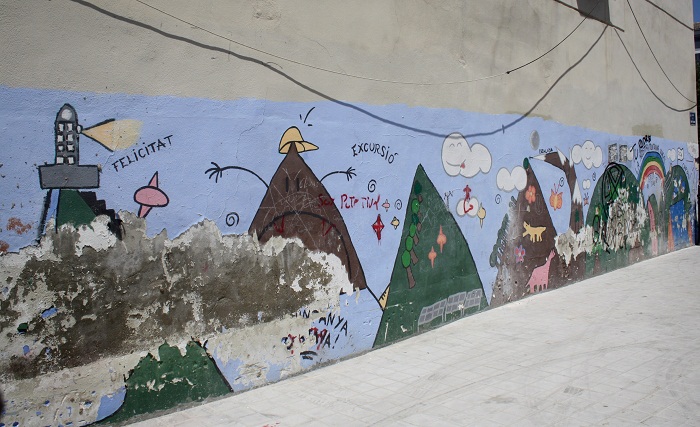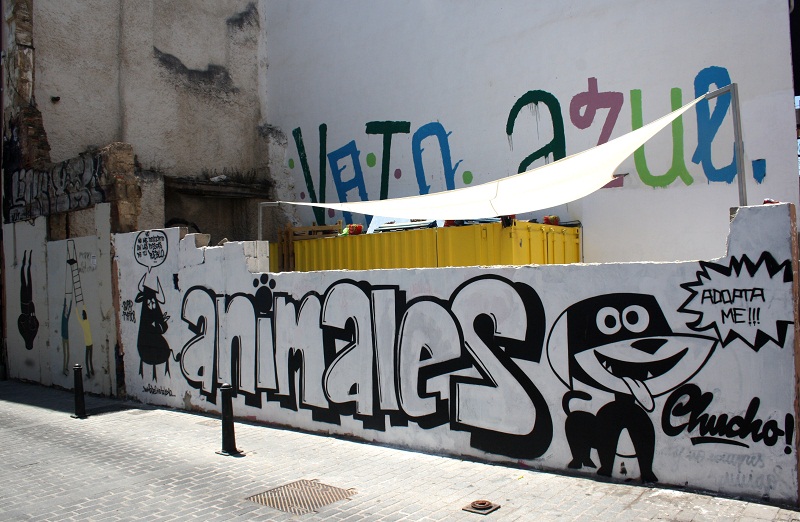 I came across this stunning book in a side street graphic design and skateboard shop in El Carmen called Minor Media (Calle de Roteros, 13).  It features images of Valencia's best street artist and rare interviews with the city's most prolific street artists such as Julieta, End, Escif, Graffilia, Nero, On_ly and Sam3.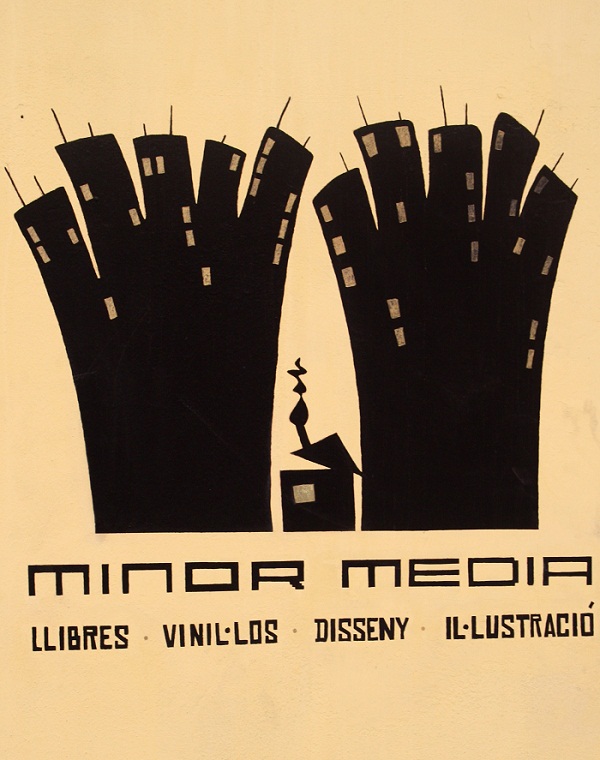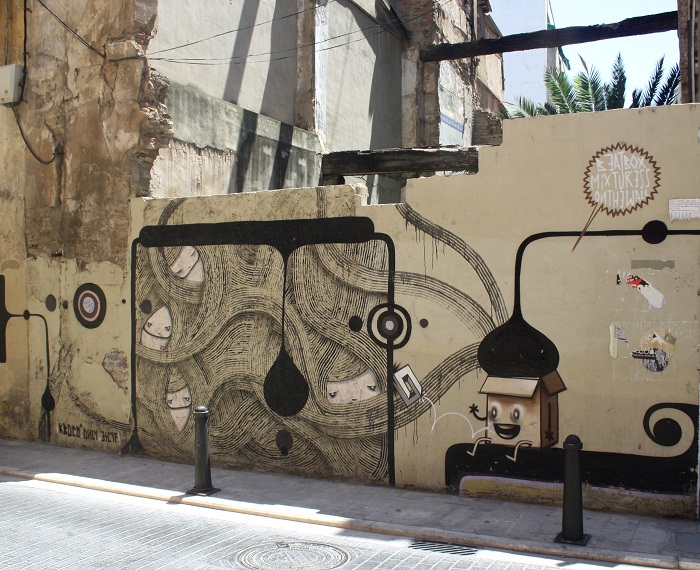 Textura: Valencia Street Art
also acts as a pattern book, allowing you to download photographs as royalty-free images via download from the MBP website (only if you've purchased the book).
El Carmen is a such an intriguing part of Valencia, you'll wish that you'd found it right away, so put it top of your Valencia 'must sees' list.
All photos by Cherie City.