Working freelance can be a gift from the gods, working at home and not having to deal with the politics and neuroses of an office.  That would be all great if said home doesn't morph into an oversized sauna as soon as the sun dares to come out!
I've just about reconciled the fact that I'm not living in Barcelona, Paris or Berlin where most flats sensibly have built in air con, but I still feel uncontrollable rage when people moan about the British weather, while I stand next to the freezer for comfort.
So, I've figured that the solution is the pretend that I don't have lightspeed broadband and go join the masses of east London creatives in a cafe/workspace with air con and a ready-made soundtrack.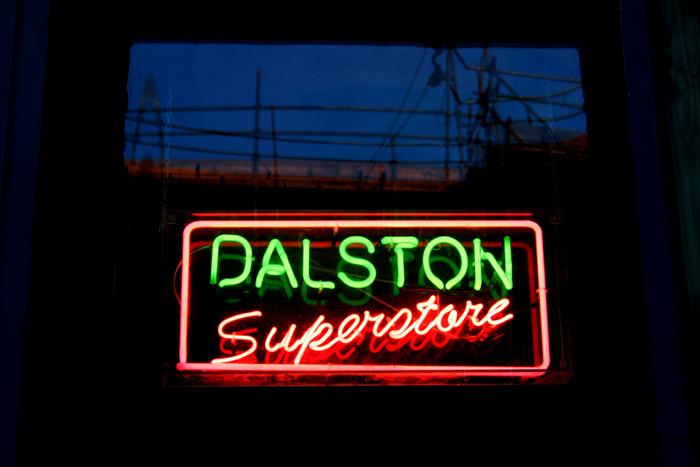 My first stop in Dalston Superstore, primarily because it's close to my flat, reasonably priced for coffee and there are always folk typing away on their iMac laptops so I won't feel guilty about hogging the space for a few hours.
I arrive at around 2.30pm and managed to grab the last 'banquette' table with a power socket.  I order a latte (£1.60) and a chocolate and cranberry brownie (£2.50) that has been cut away from a huge baked slab.
The latte is medium strong and served in a short glass tumbler and I manage to scoff half the brownie, which is soft, slightly gooey and filled with nuts and cranberries – big enough for two to share, really.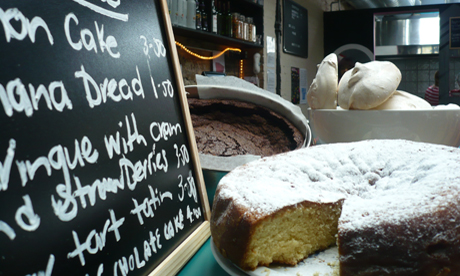 Broadband is accessed with a security key code and is admittedly a bit glitchy.  There are at least six other people on the net, so this might explain the slowness (unless someone is downloading porn or something).
If you don't like disco, you're stuffed, because cowbells and kitsch are on the agenda.  The soundtrack is a fab mix of rare disco, retro soul, a bit of funky Motown and even the Austin Powers theme song.  Perfectly uplifting, cool and considerate for us laptop workers.
The inhabitants are mostly local creatives and freelancers just getting on with work over a coffee and glasses of free tap water with lemon.  As always, there was one person who modulated her voice for everyone to hear the more 'impressive' parts of her conversation – you know the kind.  But hey, it's Dalston, it comes with the territory.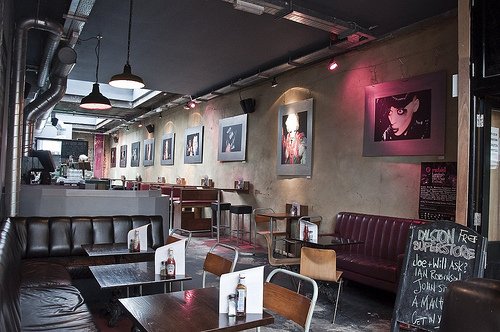 The one thing that puts me off working at The Diner in Shoreditch is the aroma of chargrilled burgers and waffles that would leave me too tempted to say no, but luckily at Dalston Superstore, hardly anyone was eating.  Obviously the mid-afternoon period is the time to come.
Productivity-wise, I got through one blog post and a number of emails in just over two hours.  My internet connection went down a few times, but this is the price to pay with shared broadband.
So the verdict is, Dalston Superstore is an agreeable place to go and work for the afternoon, as long as you have enough patience with the internet connection.  Even better would be to come with friends for laptop faffing and coffee, as you might need more peace and quiet for heavy-duty work.
Ups: Free jugs of tap water with lemon, powerful air con, great music.
Downs: Internet connection could be better, the odd annoying person.
Food: 5/5 Delicious home-made choc brownie with added healthiness of cranberries.
Coffee: 4.5/5  Good strong latte in a glass tumbler.
Net connection: Not exactly snail-paced, but a bit patchy.