After a long delayed flight, a coach trip from Girona and trudging around trying to find the hotel, there was only one place I wanted to be… Bar Kasparo.
An institution of Upper Raval, Bar Kasparo is tucked away under the arches in a leafy, relaxing square, just a short walk away from the bustle of La Ramblas and the MACBA.  Throughout the day, people flock to its buzzy outdoor terrace for an early Catalan breakfast, a cold beer and tapas at lunchtime, or dinner and drinks in the evening.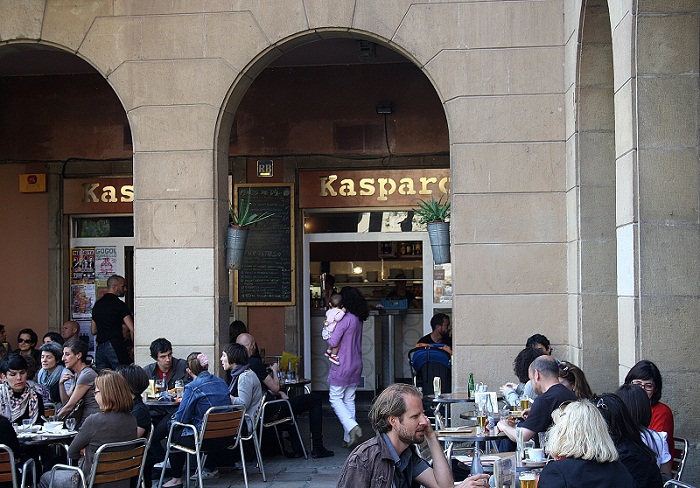 I've been to Bar Kasparo a few times for drinks and one time had some delicious pasta there in the evening.  This time we hadn't eaten since having some scrambled eggs on buttered toast at the airport, so we ordered a late lunch of four tapas dishes and drinks.
We went for Patatas Bravas wedges, a fried ricotta cheese ball with tomato salsa, a beef filo pastry empanada and a slice of tortilla. Everything arrived pretty quickly – the portion sizes were generous and everything was well presented with paprika and chives garnish.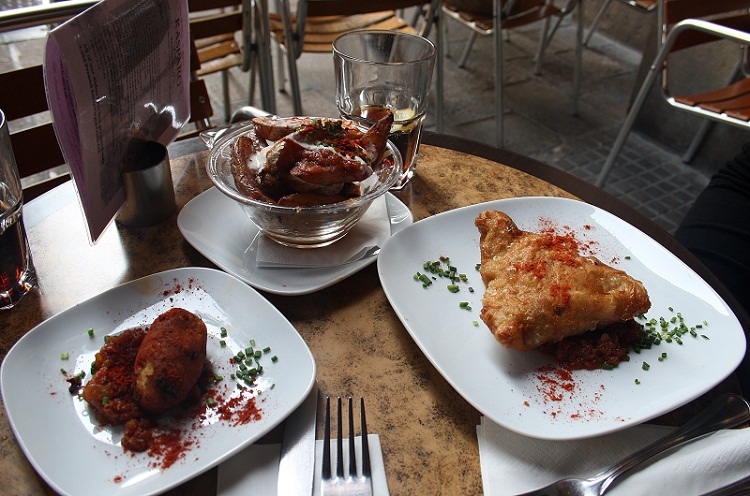 The wedges came with a spicy tomato sauce and sour cream and were soft and not too greasy.  The beef filo pastry was mince cooked in a light curry sauce, wrapped in bubbly crispy pastry that was a cross between a samosa and a McDonald's apple pie.  It sounds a bit weird, but tasted pretty good, after you got used to it.
The ricotta cheese ball had very light breadcrumbs and although the cheese can be a bit bland, it went well with the warm tomato salsa.  The tortilla arrived less than five minutes after the other dishes, so it's not photographed here, but it was thick, slow cooked and full of soft potato.
Our bill came to around 21 Euros including service.  It's not the cheapest place for lunch, as just across the street you can get a quick foccacia or panini at Buenas Migas for less, but at Bar Kasparo you know that you can get good food and friendly service in a relaxed atmosphere.
Bar Kasparo, Plaza Vincenç Martorell, 4, Barcelona