Hearing about Sophie's Steakhouse, I was expecting a romantic down town New York grill restaurant and the cool decor didn't disappoint, with cool exposed brickwork, clusters of tiny low lamps and banquettes.  Little did I know how eventful our late lunch would be, but more about that later…
I stumbled upon their website last week and by joining their mailing list, I was rewarded with a free two course express lunch, with a minimum of two diners (£12.50).  When we arrived, we were taken to a pretty rubbish table next to a big concrete pillar on one side, hidden from the rest of the room, so we asked to sit by the window.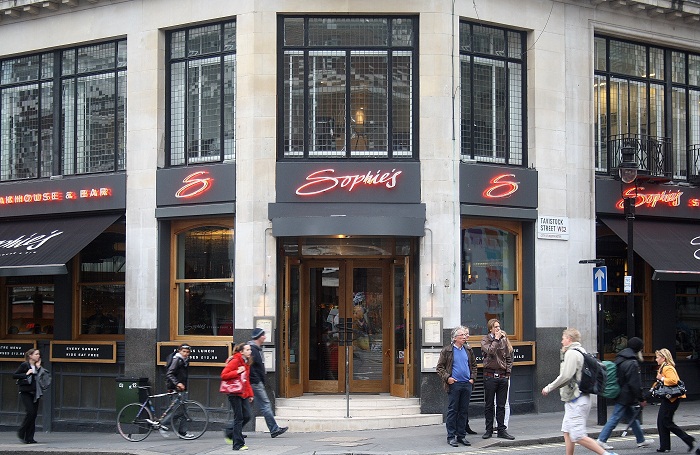 Our super cheerful waiter from Yorkshire came over and brought us a complimentary platter of thick-cut salami, which set the meal off to a good start.  We ordered the rib eye steak with chips and béarnaise sauce, the other choices being blackened salmon or chicken escalope, followed by dessert, as the salami acted as a mini starter.
When the steak arrived, it looked juicy and nicely charred, but seriously fatty.  Concerned by the tiny 'medallion' of lean meat that I was left with, I politely asked the waiter if the steaks are supposed to come with so much fat.  A pretty awkward moment followed and he assured me that a ribeye cut is very different to a fillet and that the layers of fat make the meat more tender and flavoursome.
Silly me, of course he's right, but surely the steak could have been a bit bigger to make up for that – I know it's on the Express Lunch menu, but come on!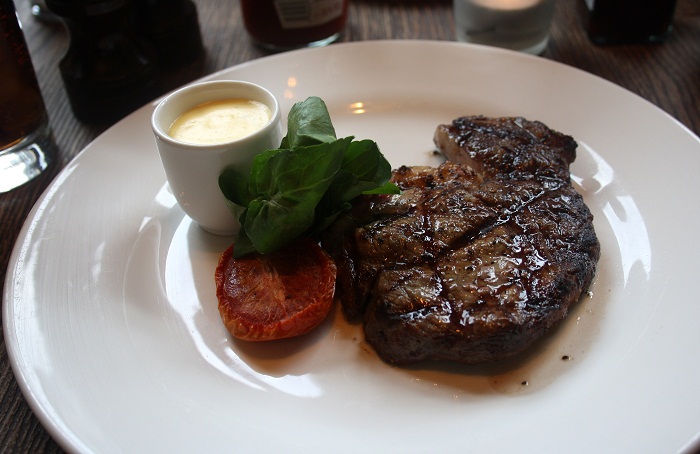 I was happy to leave it at 'oh, my mistake' (with an apologetic smile), but the waiter then sent the manager over, who relayed the same information leading to another awkward moment.  Just as I wanted the lovely stripped floor boards to swallow me up, the waiter came back to check that everything was ok after the conversation with the manager.  It's nice to be listened to, but this was verging on overkill.
So back to the steak – it was indeed soft, tender and there were some delicious pink sections in between the fat.  The grilled tomato and limp leaf garnish look like they'd seen better days and I don't mean to pick, but someone should tell Sophie that her béarnaise sauce was actually hollandaise.
There were a few obligatory green herbs present, but what makes a béarnaise sauce is shallots, chervil and taragon – all of which seemed to be missing from this buttery but tasty enough sauce.
The real highlight of the meal was the generous bowl of thin chips with their skins on, that were perhaps cooked in nut oil, giving them a more unusual flavour.  Sophie's famous house sauce didn't disappoint and was a tangy tomato, barbecue sauce with a hint of balsamic vinegar and I couldn't help smothering it all over the chips like a true philistine.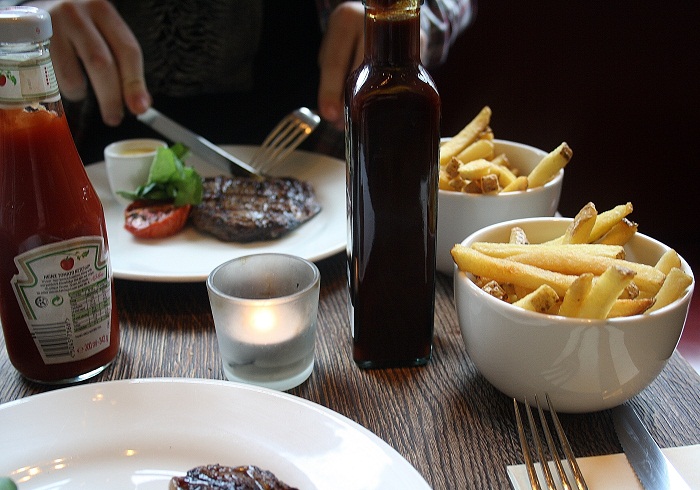 Next up, the only way to follow steak is with cheesecake, so we both indulged in a slice.  The raspberry cheesecake was light and refreshing with more of a mousse consistency than the usual dense New York style filling and the base was fine, biscuity and just the right combination of moist and gritty.
Then, the craziness started!  A suited and booted 'gentleman' moved from one side of the restaurant to the table next to us.  Presuming that he just preferred a window seat, we were surprised when the waiter came to our table and advised us to keep an eye on our bags.  My satchel was on the floor closest to the man sitting next to me, so I moved in onto my lap.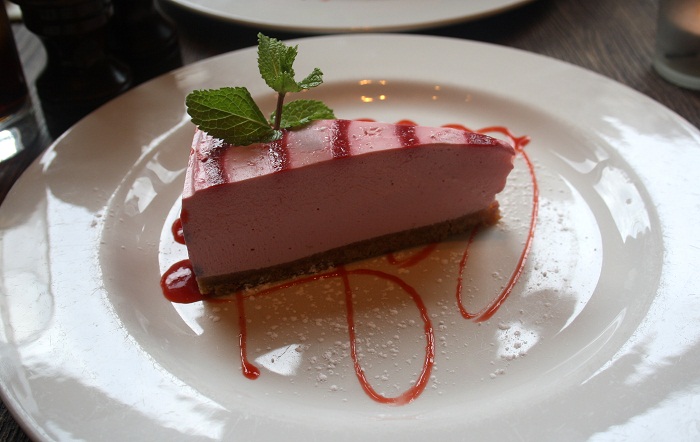 The waiter then tried to serve the man, who was acting pretty sketchy by this point, and said that he couldn't have possibly already ordered, as this was his section.  The man then threw the menu at the waiter and walked out – clearly he'd been rumbled.
Apparently this has happened before in the restaurant, so the waiter knew the tell-tale signs to look out for, and told us that one of their tricks is to come in wearing suits to deflect attention.  We rarely eat out in Covent Garden, so were pretty much caught off-guard and forgot that it's a big tourist trap.
On the whole, Sophie's Steakhouse is a good place to come for a satisfying quick lunch and if you're used to humongous Parisian-style steaks, try the dinner menu, as we spotted some monster steak and ribs on other tables.
The service was excellent and the waiter saved the day, but even still, there was something a bit soulless about the restaurant. Perhaps it's the theatreland location, or the branded sauce bottles even though there are are only two Sophie's Steakhouse restaurants.  If  you get your hands on one of these vouchers, try the Fulham branch and report back.