After experiencing the monumental Sunday Lunch at Belle Vue in Clapham, the previously vital quest for the perfect London Sunday Roast lost momentum (partly due to drained finances and Steven turning our kitchen into a carvery).
The Old Queen's Head is a great multi-purpose pub, it has amazing gig and club night line-ups, serves souped-up hot chocolate in front of the fire in winter and as I've now discovered, does the most incredible Sunday Lunch (a claim that shouldn't be taken lightly).
There's a choice of four roasts that come with seasonal veg, duck fat roast potatoes, homemade yorkshire puds and red wine gravy.  I went for the half roast Goosnargh chicken (£11) and Steven tried the roast rib of Bowland beef (£13.50).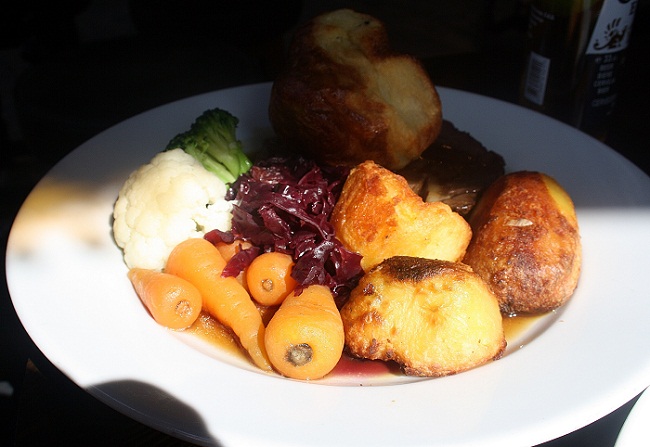 The generously-sized lunches came piping hot within less than 15 minutes and we were offered some horseradish to go with them. The chef had obviously put some thought into the balance of the meal, with a colourful vegetable selection of carrots, cauliflower, broccoli and red cabbage stewed in red wine with sultanas.
The meats were excellent quality and well seasoned, although the chicken could have been a bit more tender – nothing that a bit of yummy red wine gravy couldn't solve.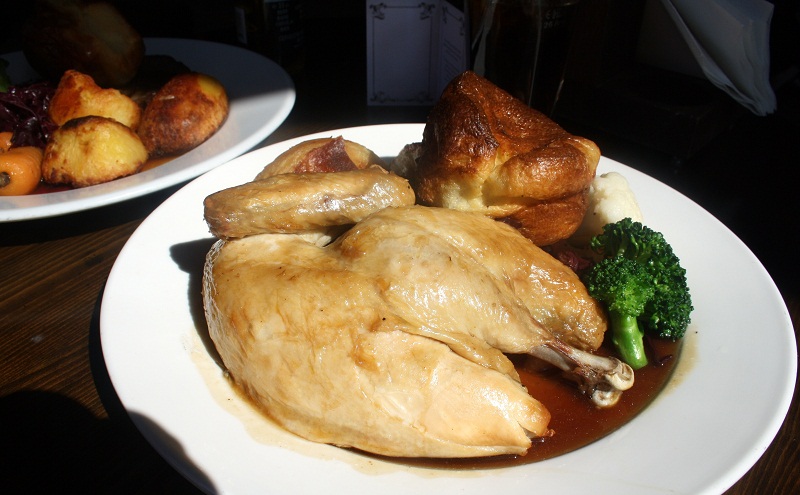 The highlights were the home-made Yorkshire puddings and those out-of-this-world duck fat roast potatoes, which were quite possibly the best I've ever tasted – extra crispy and soft on the inside.
The Old Queen's Head have a good selection of beers, wines and interesting cocktails, but avoid the draught Diet Coke, as I had to send the first one back (not in an arsey way, mind) and even the second wasn't much of an improvement.
The staff here are so friendly and chatty and the service is relaxed but everything seemed to run on time.  It's best to book a table, as it can get ridiculously busy at times, and when we arrived, our table was already set with my name chalked on a black board.
The price of the Sunday Lunch is typical of most gastro pubs in the area, but the quality and 'lazy Sunday at the lodge' atmosphere really makes the Old Queen's Head stand out.  So watch out Belle Vue, it seems you have some fierce competition up north!