The name Albion hold so much promise and conjures up images of a noble emporium of fine British produce, upholding tradition and quality, and really, this posh caff-bakery on Shoreditch's Redchurch Street doesn't disappoint.
I've wandered past Albion many times since it opened last summer without venturing inside, and after visiting a few weeks ago, I've spent almost every Sunday morning there, blowing off the weekend cobwebs on a stroll down from Hackney and rewarding my motivated self with coffee and bakery goods.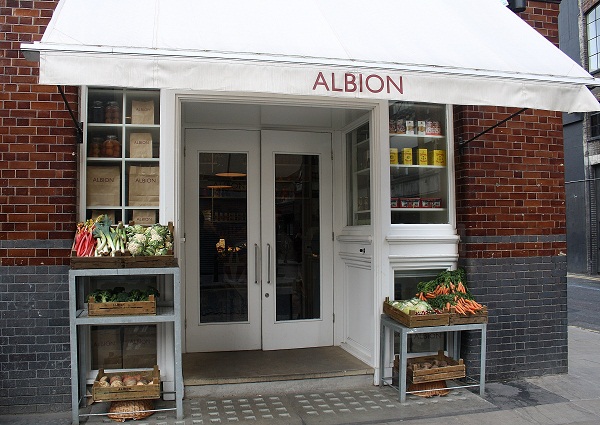 Albion is the joint venture of Terence and Vicki Conran and is part of Boundary, a concept project housed in a converted Victorian warehouse, including a restaurant and bar, a rooftop restaurant, 12 individually designed guest rooms rooms and 5 design-led suites.
Like that other great bakery-cafe-restaurant, Princi in Soho, Albion has a democratic approach to dining.  At the restaurant, you can grab a quick breakfast sandwich (£6), enjoy a lazy Sunday over a gourmet chicken and ham pie (£12), or just go for coffee and cake.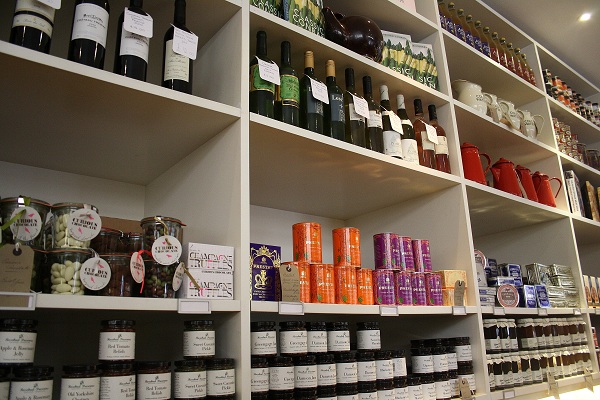 But, the greatest thing is that if you're on a tighter budget (or live a life of freelance financial extremes like me), you can fill a basket full of generously-sized and insanely affordable bakery goods fresh from the oven.
Albion's old-style French baguette is so authentic, it's hard to believe that it originated in east London.  There are shelves full of bloomers, sourdough, baguettes and traditional bridge rolls, and you can pick up a large loaf for around £1.50.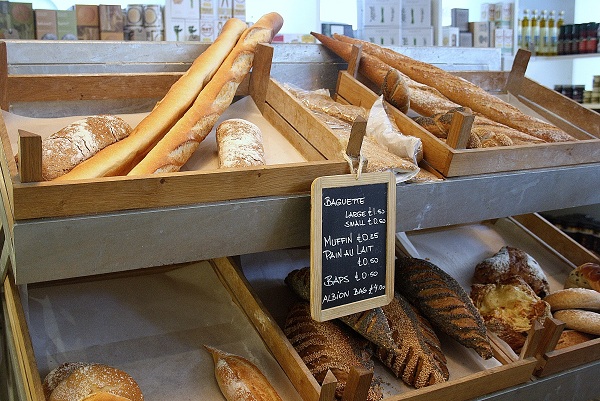 The first time Steven and I visited, we shared an oval-shaped ham and Gruyère pizza (£5) that was heated and cut in half for us.  It was rich, generously-filled and very fresh – perfect for lunch and more than enough for two hungry people.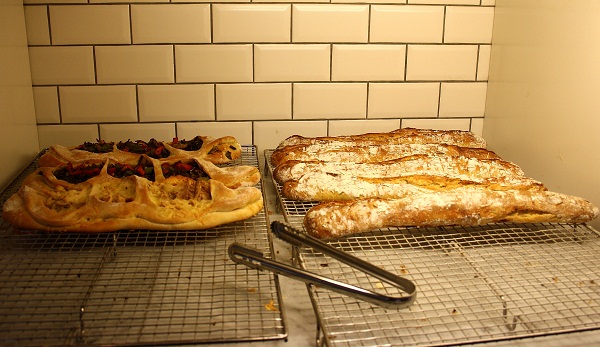 The croissants (£1) are also worth raving about and the picture doesn't quite do justice to the size of these beasts!  Flaky and crispy on the outside with a light, doughy centre, they are a cut above most pastries and are very filling.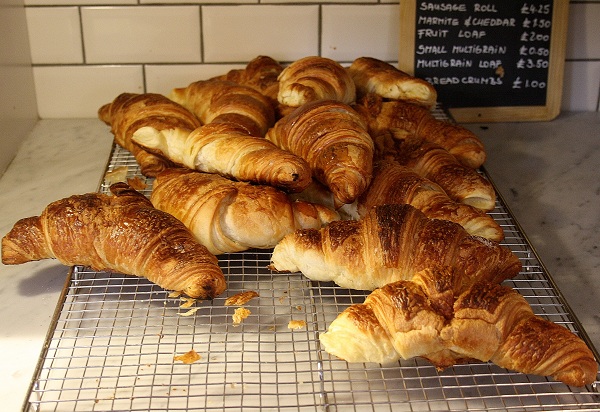 The centre table of features a Madhatter's tea party full of sweet delights including cupcakes, flapjacks, jam tarts, home made bourbon biscuits, Victoria sponge cake, scones, biscuits, apple pies and slab cakes.
The take-away coffee at Albion is is rich roasted and delicious, but I think they might only use one shot of espresso in the lattes (£1.70), so if you're used to Fernandez & Wells-style, speed substitute strength, go for a cappuccino.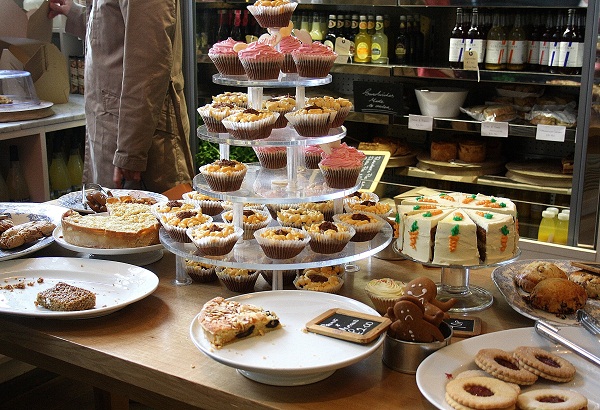 Every time I've been to Albion, there's been a massive queue, and as they don't take reservations, I haven't yet tried out the caff.  With free wifi and a buzzy but relaxed atmosphere, Albion caff seems like the perfect place to have Sunday brunch.
The menu is full of comforting British classics like Cottage Pie, Welsh Rarebit, sausage and mash, steak and kidney pie, and some lovely, stodgy puds like bread and butter pudding, rhubarb crumble and treacle tart.  Hopefully I'll make it to the caff one of these weeks and will report back!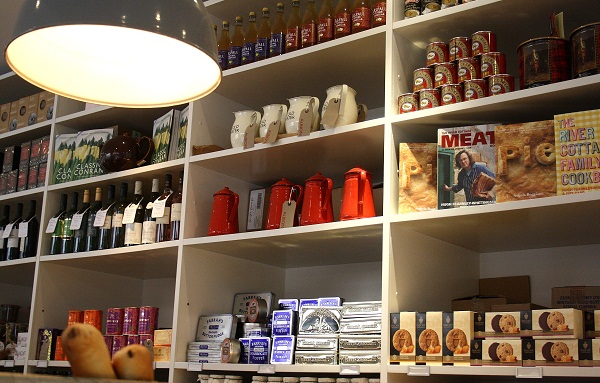 Another thing that caught my eye was First Thursday at Albion, a post gallery supper of battered fish and chips and half a bottle of wine (£17.50 per person).  It's available from 9.30pm-11.30pm on First Thursday only (minimum two people) and is great if you've come straight from work to the private views around the Redchurch Street galleries and need something to soak up all the free booze.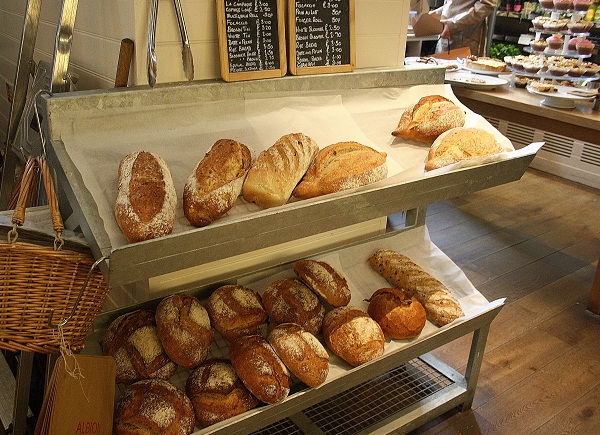 At the food store, you can buy gourmet groceries such as Daylesford Organics biscuits, Neal's Yard Dairy cheeses and Prestast chocolates, as well as British kitchen cupboard heroes like HP Sauce, Maldon Sea Salt, Aspinall's vinegar and Tate & Lyle Treacle.
You can also pick up organic vegetables that look like they've been freshly plucked out of the ground and put straight into the rustic wooden boxes.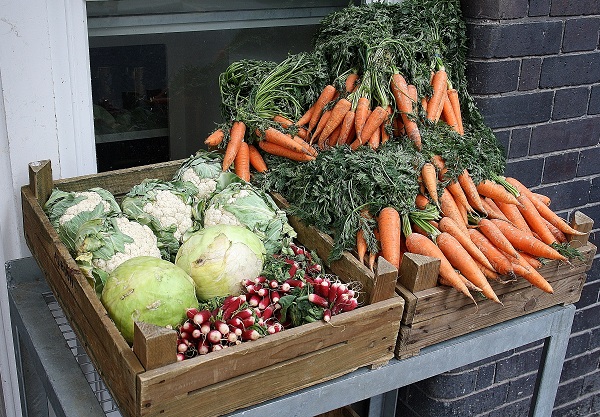 Follow Albion on Twitter to find out what's fresh out of the oven and then head down there to see just how massive the croissants are in real life!