Net-a-Porter embrace their romantic side with their amazing new Wedding Boutique, featuring dresses and accessories from Lanvin, Temperley London, Notte by Marchesa, Alberta Ferretti, Ashish, Preen, Fendi, Stella McCartney and more…
Net-a-Porter seem to have the dress dilema covered with an impressive range of designs to suit all budgets and styles.  Whether the look you're going for is 60s minimal, jazz age romantic, beach bohemian, English garden party or  just off the catwalk, there is a gorgeous dress to fit the bill.
There are a good range of alternative bridal dresses that you could easily wear again and don't cut too much into your wedding budget. Tibi's asymmetric, flower-appliquéd (£290) is perfect for hot climate weddings, while this 3.1 Phillip Lim sequin and ivory silk dress (£620) suits unconventional brides who want a fresh, directional look and Alexander Wang's ruched jersey dress (£535) is fit for a grecian goddess.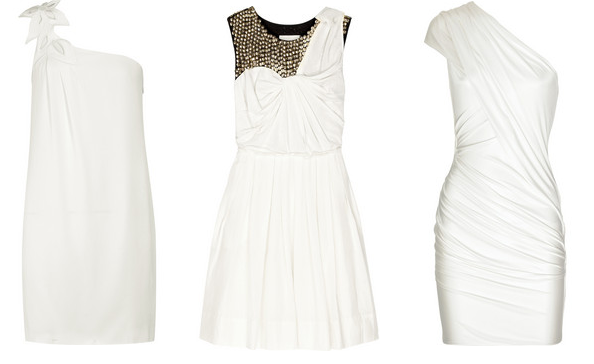 I asked my friend Maeve at W[r]ite Noise who got married last summer just how much is appropriate to spend on a bridal gown without going into narcissistic territory.  She came up with a ball park figure of between £600-£1000, which has made me question my notions of Lanvin's £4000 dresses being total bargains!
I've had my eye on Temperley London's Long Jean dress (£2500), available on Net-a-Porter, for my dream wedding, as I love its delicate embellishment and Great Gatsby, old Hollywood glamour style.  But, that was before I spotted the most incredible Lanvin Blanche dresses – who wouldn't want to walk down the aisle in a dress designed by Alber Elbaz!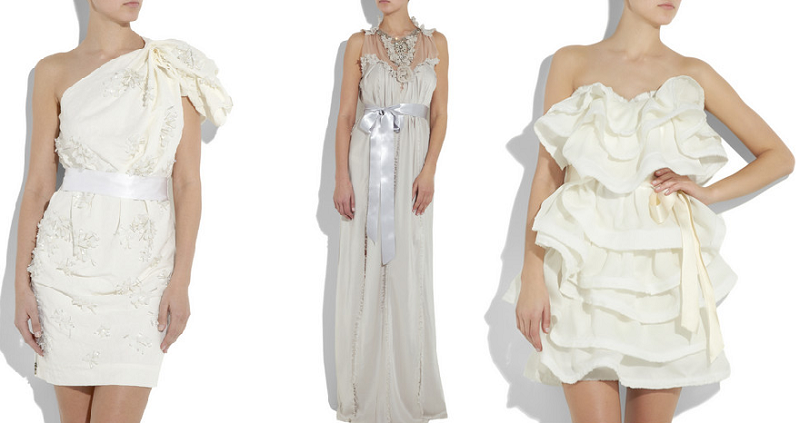 If you can't stretch to a Lanvin gown (which is perfectly believeable), you can still add splashes of the label with a chiffon and grosgrain ribbon clutch bag, a pearl and pom pom necklace or leather ballerina flats for dancing.
There is also a range of delicate veils and hairbands and head pieces by Maison Michel, Deepa Gurnani, Eugenia Kim and Louis Mariette.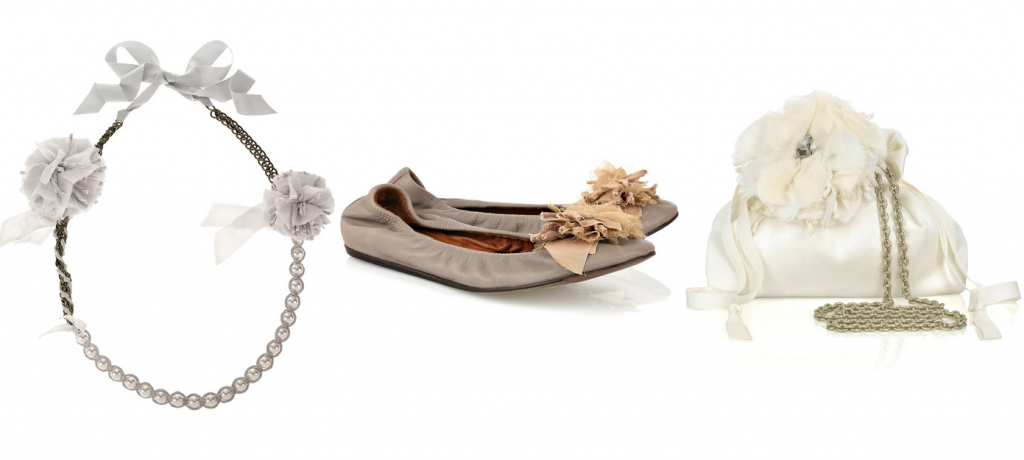 Net-a-Porter also suggest outfits for the bridesmaids (although some choices are a bit vampy), mother 0f the bride, wedding lingerie and the honeymoon wardrobe.  If you're planning on getting your dress custom-made, Net-a-Porter is still a great site to get ideas and actually see garments laid out in an intelligent way with prices, rather than designers' purely creative websites trying to 'sell the dream'.  It almost makes you want to get married just for one special day of prettiness!