Steven's psycho-geography walks for his Fine Art course have proved to be pretty useful, when he came home with tales of a new Dickensian-style coffee house under the bridge on Shoreditch High Street.
So, after our lunch at Monsieur M. and a gander down to Start London, in the hope of seeing Brix and her lovely pugs (no luck, but two pugs spotted playing in Hoxton Square), we headed to The Bridge for coffee and cake.
The coffee house has been painted in a murky maroon colour and like many Shoreditch establishments, has a grate over the window, so you could quite easily miss it.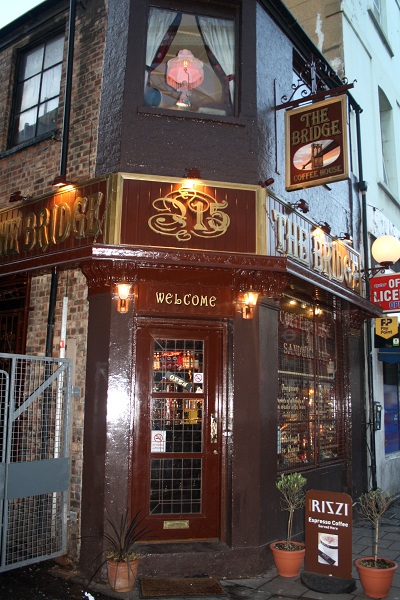 Inside, it's like stepping back in time to a Victorian coffee house, with an almost obsessive collection of old photographs, vintage Coca Cola adverts, tiny trinkets, Tiffany lamps and gilt mirrors.  They even have a handful of the most gorgeous copper Elektra coffee machines and an old fashioned cash register (so it's cash only at the moment).
The coffee house also looks like it might have been inspired by traditional northern Italian local caffes, with shelves and shelves of Italian coffee, syrups, panettone and home coffee machines.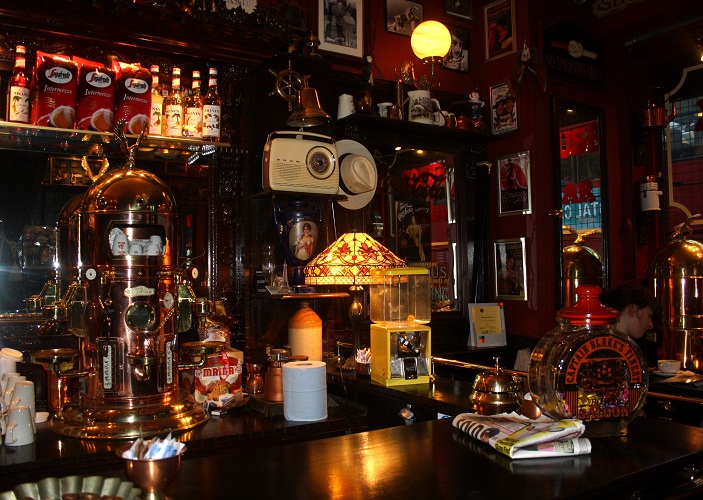 The Cypriot owner and his Italian staff are really friendly and welcoming and you can tell how proud they are of the new venture. We ordered a latte, hot chocolate and a huge slice of cherry cheesecake to share.  We were ready to take a seat at the bar, but the owner told us that if it was our first time there, we might like to sit upstairs.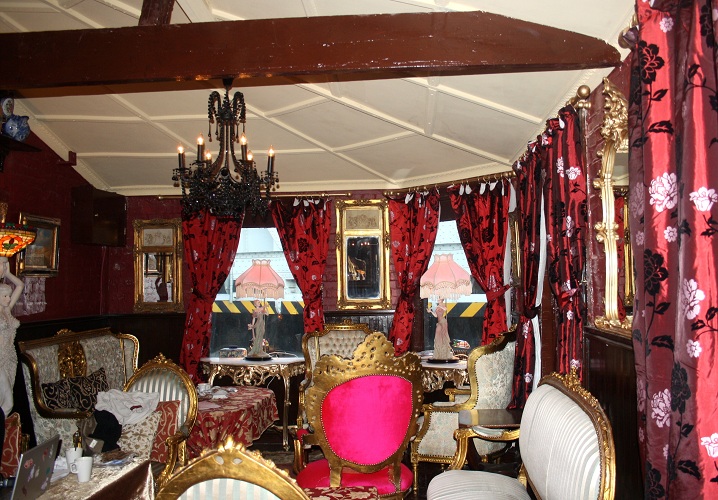 We went up into what can only be described as a Proustian/Miss Havisham salon crossed with an antique shop, with beautiful Marie Antoinette-style furniture.  The loft area has high wooden beams, creaky wooden flooring and is literally on a level with the bridge.  It has a relaxed, sociable atmosphere, helped by a soundtrack of classical music, and the tables are arranged almost likes booths, so you can have some privacy for gossiping.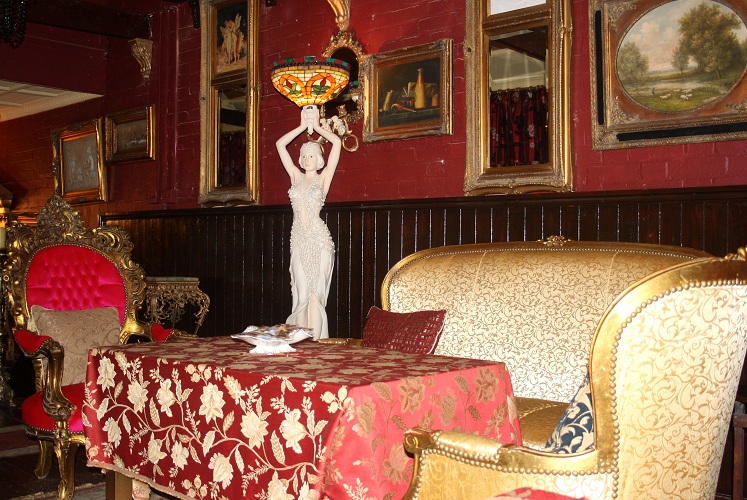 The coffee was just as delicious as you'd expect, although the hot chocolate was rather forgettable powder and milk combo – I'll be ordering a cappuccino next time.  The cherry cheesecake was pretty good – a generous but light and lemony filling with a soft sponge base and sweet cherry compote on top.  I'm not sure if the sponge base made it more authentically Italian, but it nonetheless, it was a nice treat.
There's a good selection of comfort desserts like apple strudel, Portugese custard tarts and mountainous cream cakes, which the owner told me are delivered fresh in the morning (although that didn't win me over, as I still hate cream cakes).  Most of the people around us were ordering giant paninis to share, so maybe the sandwiches could be worth a try next time.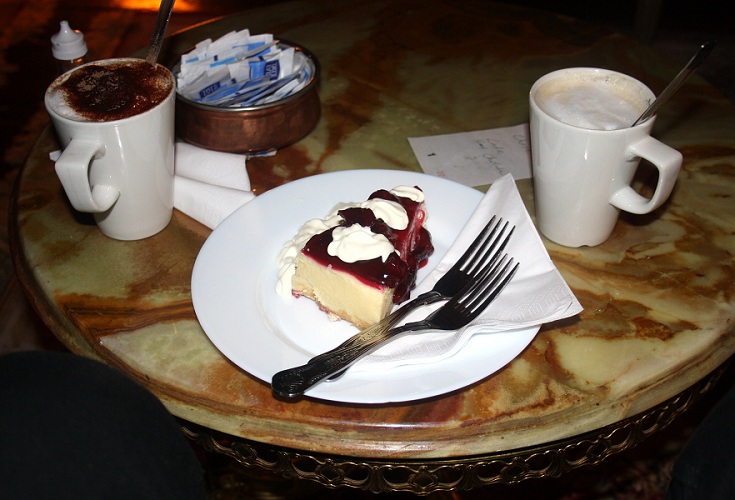 The best thing about The Bridge is the warm, familiar service that makes you feel like a local, even on the first visit.  The waitress gave us cake recommendations and told us that most of the trinkets and coffee equipment came from Cyprus and Italy.  Apparently, the downstairs area took a mighty eight months to complete, while the upstairs salon fell into place within two weeks.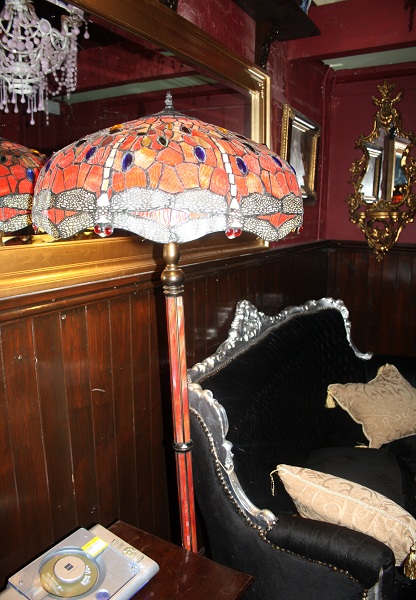 Despite being open for just 17 days, already there's a steady stream of Shoreditch hipsters using the cafe as their second home, having long, afternoon meet-ups and snuggling in the corners.  The waitress told me that a number of people have fallen asleep on the sofas upstairs, and I can just imagine it, as it has such a louche, soporific atmosphere.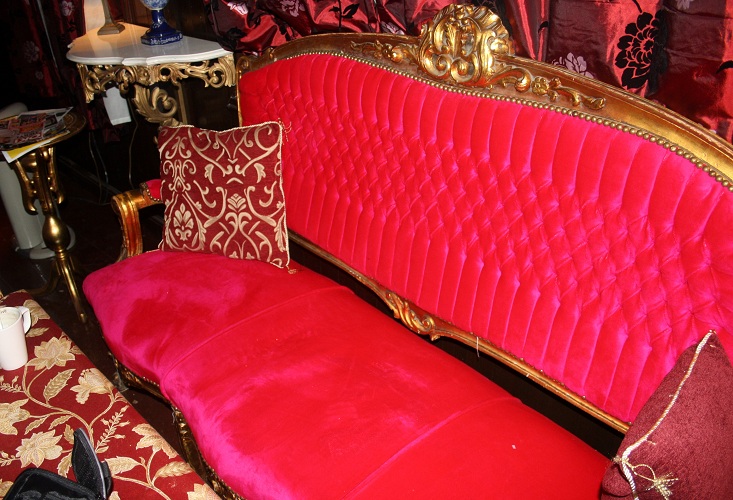 We paid £8.50 for two hot drinks and a slice of cheesecake, which seems average for this part of town, although the hot chocolate was overpriced at £3 (go for a coffee instead).
The Bridge isn't like any other place in London, let alone Shoreditch, so go now and find your regular sofa while it's still peaceful and bookish – lets hope the media loud mouths don't invade with their Blackberrys!
The Bridge Coffee House, 15 Kingsland Road, Shoreditch, London, E2 8AA.