The Kingsland Road canteens are the usual go-to place for Vietnamese food, but newcomer Monsieur M. has set in up a much grander spot, inside Shoreditch Town Hall.
There's not much in the way of signage outside and the menu board doesn't offer any kind of descriptions, so you'll have to venture up the crypt-like steps to see what's cooking.
The rooms is light and airy despite the colour-block red walls and it's minimally decorated with Bonsai trees and some over-head lamps.  The bamboo tables are spread out enough so you're not huddled next to the other diners and the window tables are great for Shoreditch people watching (we saw Erdem Moralioglu pass by).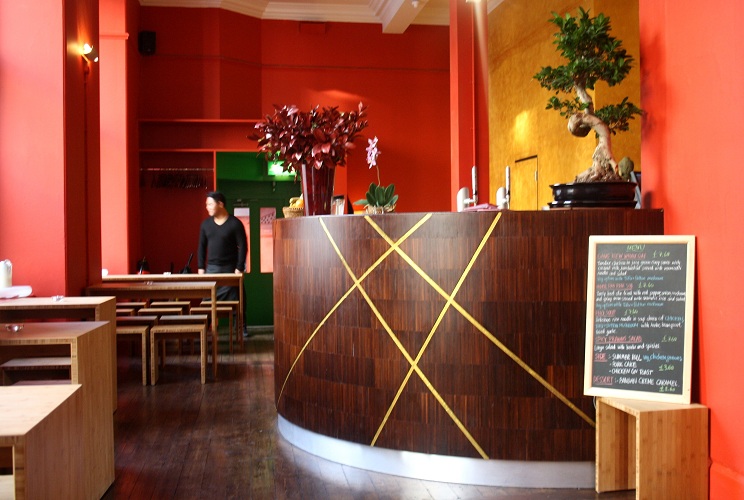 At Monsieur M, everything is prepared fresh to order and the menu changes daily , offering a choice of around four main dishes, three sides and a dessert. Today's offerings were chicken in a green curry sauce with bamboo shoots and vermicelli noodles, beef stir-fried with red pepper and onion served with aromatic rice, Pho soup with either chicken or tofu or a spicy prawn salad.
After checking with the waiter if it would blow my head off, I went for the Gang Kiew Whan Gai – chicken green curry and noodles, and Steven ordered the beef stir fry and rice (I can't remember the Vietnamese name for the dish).  We also ordered a pot of Jasmine tea (£1.80) and a Diet Coke (£1.80).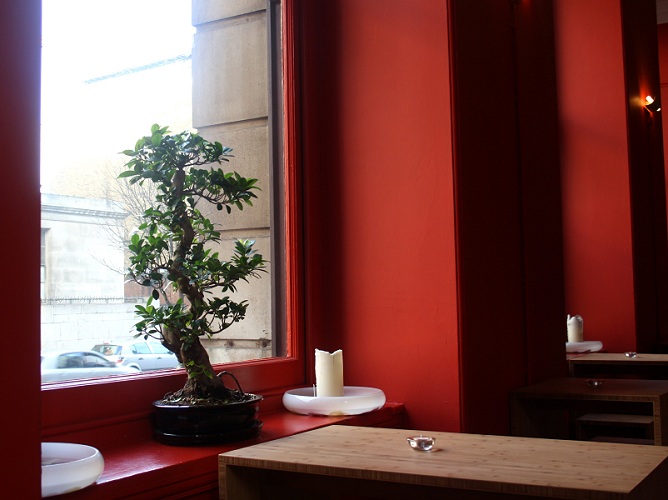 We arrived at around 1.30pm and there were only a handful of diners, so the service was super quick and efficient.  Our food came within about 10 minutes and was piping hot and fresh. The waiter must be able to eat fire because after a few mouthfuls of the green curry, my mouth was burning – the giant floating slices of red chilli didn't help matters. We ended up swapping dishes, as Steven has a higher heat tolerance than me and even he turned a slight shade of red!
Despite the intense heat, the curry was well-seasoned with plenty of tender chicken and crispy fried onions on top, and there seemed to be a bottomless bowl full of noodles.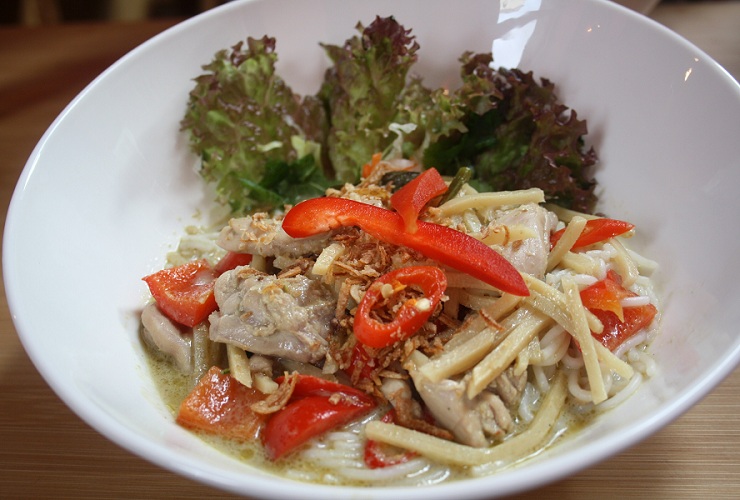 The stir fried beef was much easier to eat and while the seasoning wasn't as prominent as in the chicken green curry, a few splashes of soy sauce did the trick.  The beef was well-cooked in a light sauce of garlic, ginger, chilli and soy and the aromatic rice was steamed and slightly firm.
Both dishes came with a leaf salad and grated carrot, although they would be better as a mini side dish, as the leaves tend to go all limp and wilted when they've been smothered in the boiling hot sauce.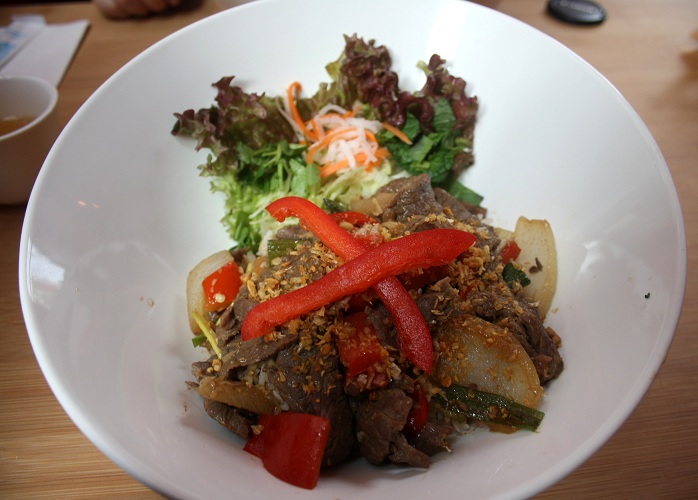 The main dishes at Monsieur M. usually cost around £7.60 for dinner, but at lunchtime all meals are £5.60, which is amazing value given the quality and portion size.  Service was generally excellent and the waiter was hilarious, cracking jokes and offering to take a picture of us.  Monsieur M. is still pretty new, but I reckon once word gets out, the masses could filter away from Kingsland Road pretty sharpish!