I've wanted to spread the word about the UK debut of the Ellis Faas collection since before Christmas, but seeing as the launch wouldn't be until a whole new decade, it seemed kind of mean to have sit and wait.  Liberty is the first store in the UK to stock the collection, which is already across Europe and Australia.
Dutch make-up artist Ellis Faas has a pretty stellar reputation in the fashion and beauty, with her talent championed by the holy fashion trinity of Mario Testino, Emmanuelle Alt and Karl Lagerfeld, who bagged her for his Chanel and Fendi shows.
Ellis has worked for leading brands like Clinique, Lancôme and MAC Cosmetics, but it was after creating a make-up range for Biotherm that she took all her insider knowledge and developed her own revolutionary concept and collection.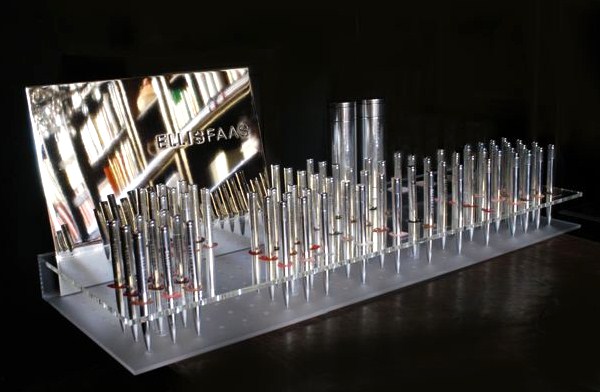 Ellis' make-up philosophy is so unique because of her use of Human Colours, those found naturally in every human body.  Her experience of working on film sets, creating special effects gave her an insight into the colours that occur through bruising and those that are lying under the skin.
Her signature Ellis Red lipstick is the actual colour of blood and like all of the universal colours in the range, is guaranteed to suit all skin tones.
All products are fluid, even the eye colours, and have a balm-like consistency that glides across the skin and miraculously stays in place.  They come in sleek, 'bullet' pens that all fit into a holder that looks like a cross between a gun barrel and a really cool Thermos flask.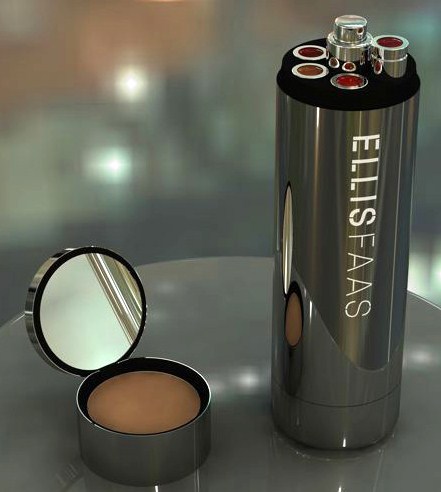 Having used YSL Perfect Touch foundation and Top Secrets chunky pens and finding them an utter pain to clean, I was at first sceptical about the Ellis Faas packaging.  I was won over though, when I found out just how slim and sleek the pens are, giving a good precision effect and less product wastage.

There are two collections of eye colours – creamy eyes, bold shades used for shaping and contouring and the more translucent milky eyes, to be swept over the eyelids.  The quick-drying balm sinks into the skin more effectively than powder and turns into a velvet sheen.
Many of the colours have a richer, warmer tint than I would usually chose to wear (I'm always drawn to mink and ash shades), but there are more subtle shades with an almost two-tone, iridescent sheen that give depth to the eyes.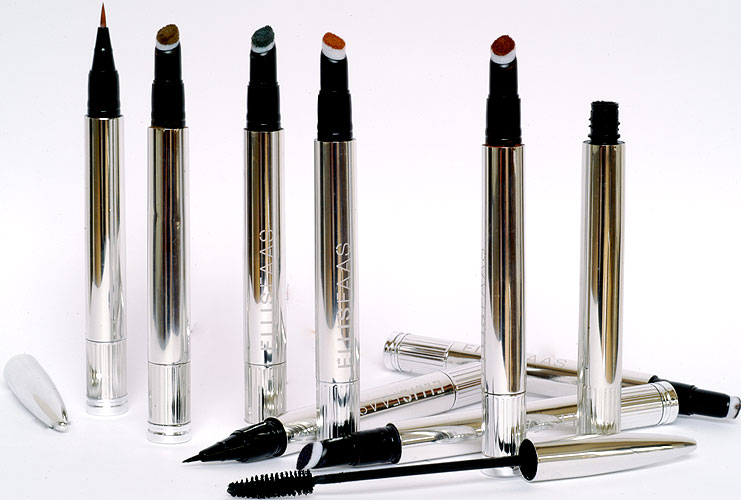 Mascara comes in either black or mid brown and the creamy texture makes it easy to apply, without any clumps or build-up.  For a more dramatic look, you can apply a couple of coats and volumise the lashes.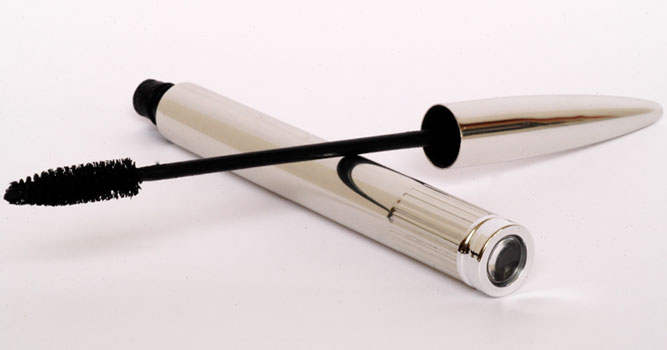 Lip colours come in creamy, milky and glazed, with nine colours in each range. There are natural colours that tick every possible trend box, from red, orange, coral and this season's berry tint. The lip colours are nourishing and easily absorbed and contain plant seed oil, antioxidants, vitamin C and Omega 3 and 6.  They also contain vitamin E and are paraben free, with a non-sticky texture.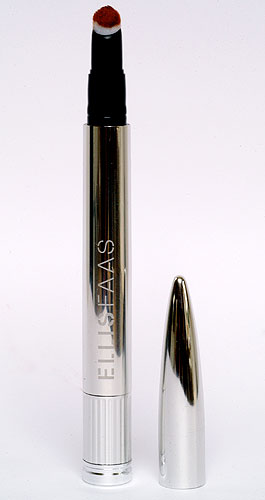 Foundation wise, Ellis Faas Skin Veil is a light, moisturising base that illuminates the skin with light-diffusing minerals. They come in 8 colours that lightly cover the skin rather than masking it and contain SPF 15.  Each Skin Veil has its own concealer, which is a godsend, as many cosmetics brands think we can be divided into just light, medium or dark.
Ellis has also formulated a range of four liquid blushers that essential oil, rosewater and vitamins C and E.  They have a cooling, toning effect and have light reflecting particles that highlight the cheekbones and give the skin radiance.  While all of the products are cream or liquid based, you don't have to go shiny, as there is also a range of three Ellis Faas translucent, naturally mattifying powders, containing seaweed extract and SPF 15.
The high-end quality of the products is reflected in the price (around from £19 to £34), but it's worth investing in the Skin Veil or the eye and lip colours to get a more natural look.
Ellis Faas collection is available at
from 1 February or if you can't wait until then, you can buy online.