After my tremendous art book bargain hunt at Taschen and Phaidon in Chelsea, all the excitement left me starving and a simple sandwich in a plain old caff just wouldn't cut it.  I just wanted to sit down and revel in the glory of the beautiful new books in an equally gorgeous setting, so Steven and I hopped on a bus to the Royal Academy of Arts to check out the Sketch pop-up cafe, in its final week.
Sketch set up shop in the Royal Academy foyer and created an eco-friendly, literary wonderland, designed by artistic director Mark Lawson Bell, to run in conjunction with the GSK Contemporary: Earth exhibition.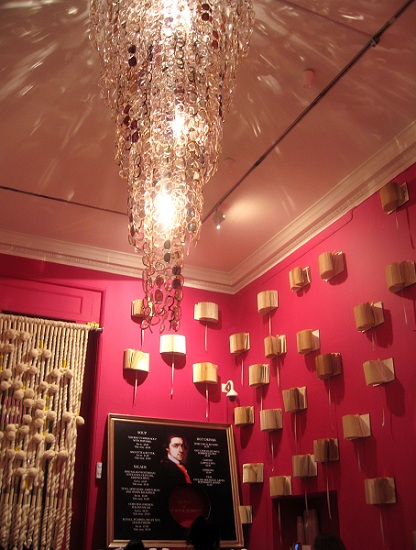 The cafe feels like a room from a very unusual dolls house with Persian rugs and antique cabinets, knotted rope and 1000 books covering the mulberry walls.  Two noble-looking dogs made from old toys by Robert Bradford stand guard at the entrance and the chairs and tables are made from folded, heavy-duty cardboard and wooden boards.
It's like a mini adaptation of The Parlour at Sketch on Conduit Street, the front room salon Sketch is like entering a Mayfair townhouse and falling down the rabbit hole, with a surreal dining experience in each room and London's most talked about toilets – I won't spoil the surprise but think Lady Gaga's Bad Romance video meets a futuristic hatching centre.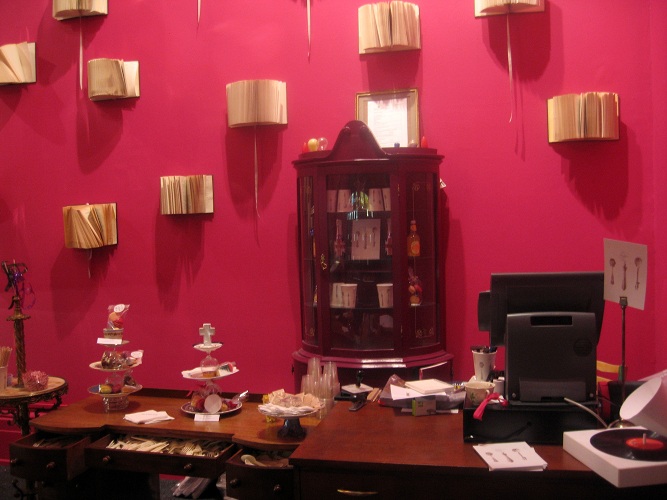 At Sketch, the food sounds like it has been invented by Willy Wonka, not three Michelin star chef Pierre Gagnaire, with classic dishes being turned on their heads, but the menu has been simplified for the Royal Academy.  Everything is priced, even by normal cafe standards, and there is a good selection of gourmet filled baguettes, home-made quiches, crêpes, power salads, soups and even generous chunks wedges of Camembert.
In the middle of the cafe are sugary towers of mini French pâtisserie, pastries and petite scones with clotted cream and raspberry jam.  Perfect for a tiny, guilt-free tea accompaniment or for customising your own afternoon tea.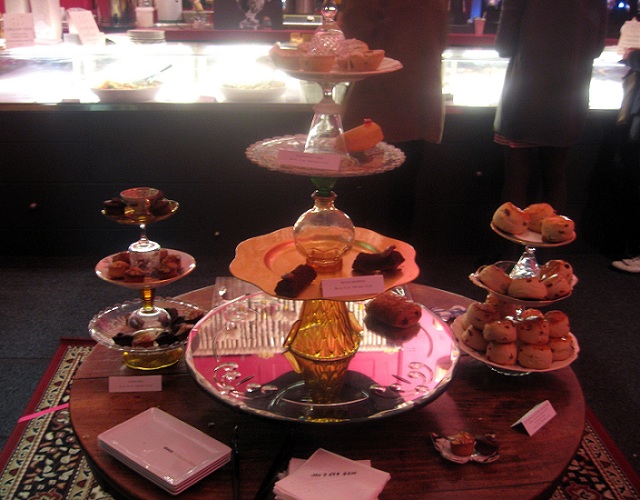 I was feeling pretty shaky by this point and wanted to munch down the whole counter (tip: don't visit when you're ravenous), but I had a soup craving, so I ordered the pumpkin soup with popcorn (£3) and a baguette with butter (£1).  It was smooth with a slow-roasted flavour and was well seasoned, although it was a tiny bit oily for my taste.  The popcorn worked well and was a welcome change to croutons or torn parsley leaves, which I hate.  The baguette was as authentic as they come and I'm pretty sure they provided French butter too.
Steven chose the salad and any cake offer for £9.50, which turned out to be a huge bargain.  He had a massive box full of fresh and crisp tuna, artichoke and green bean salad (it was so big that he could only eat half) and followed with a Manjari chocolate ganache tart.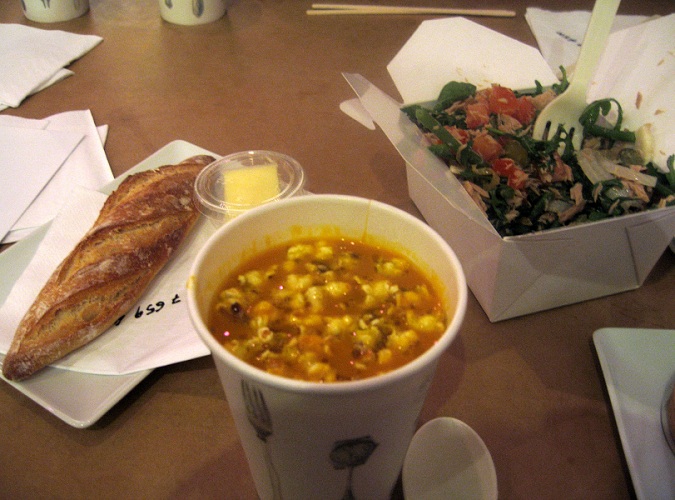 The chocolate filling was velvety soft with a thick, rich consistency and the pastry was nicely gritty and sweet. The bitter sweet, wafer-thin chocolate discs and sprinkling of gold leaf give it extra style points.
I couldn't resist ordering one of those fruit scones that was in between a full-sized and miniature scone and came with a pot of clotted cream and raspberry jam.  If I can squeeze in another visit before it closes at the end of the month, I'll order the cream tea (£7), which consists of four scones with all the accompaniments and any Twinings tea.  Four scones would be more than enough to share, so really you could just order another tea or coffee.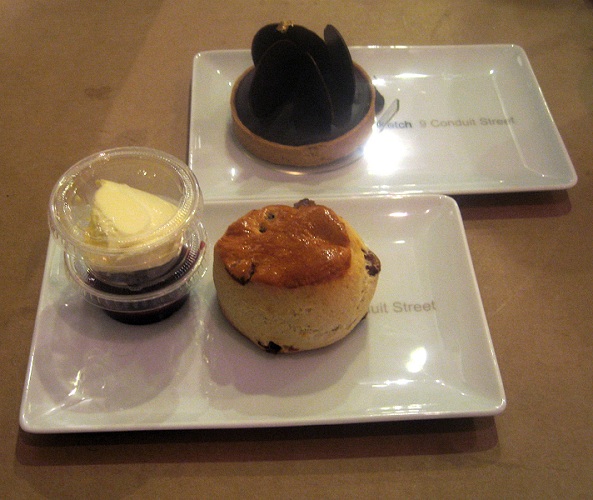 The Sketch cafe gets busier in waves when people come out of the exhibition, but it's not too difficult to get a table in the foyer.  If you're tough as nails, you can sit on the portico with champagne and oysters, snuggled up with handmade blankets and hot water bottles.
The pop-up cafe is a great way to experience the delights of Sketch at a snip of the price and without having to book a table.  The food may not be as wacky as in the original restaurant, but the quality and concept are on point, as usual.  I just hope that owner Mourad Mazouz (he of Momo fame) will consider it a sign and open a more permanent, low-key fixture sometime soon, because I'm going to miss this one!