The last Sunday Lunch I had at The Old Ship in Hackney left a lot of room for improvement, but I reckon I've found the answer to London's Best Roast at the Belle Vue in Clapham.
I'm slightly embarrassed to say that I'd never been to Clapham before today and seeing as almost everyone I've met recently lives there, I wanted to find out what all the fuss is about.  It had much more of a village atmosphere than I expected, and obviously a very sporty village, given the flurry of different sports teams wolfing down their roasts.
Spotting Belle Vue across the road at Clapham Common, I thought I'd seen it ranked number one Urban Spoon's top ten most popular restaurants and my eyes lit up.  Turns out I was thinking about Bellevue Rendez-vous in Tooting, but that god for the mistake!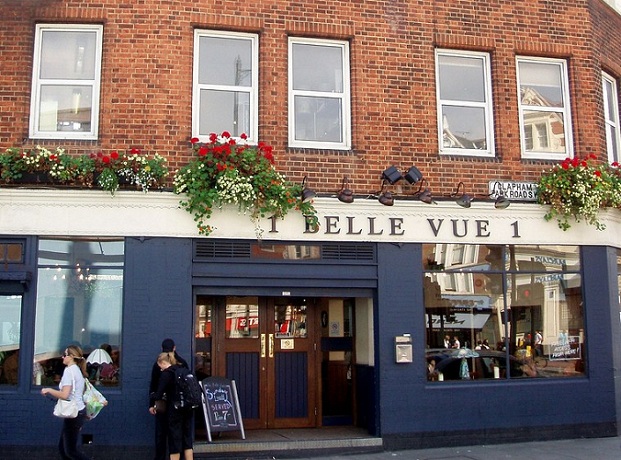 Belle Vue has a 'lazy Sunday' feel and is decorated kind of like an urban lodge with an open fire place and long oak tables.  The music is a bit too middle-of-the-road with Stereophonics, Oasis and other drab guitar-based soft rock (which is odd, given the barman was wearing a Tool t-shirt), but at least it at a minimal volume.
Food wise, Belle Vue stick to a classic gastro pub menu with foodie touches and a few international dishes.  Everything sounded homely and warming  and was pretty reasonable, with most main courses priced between £7.50 and £10.  Steven and I both ordered roast dinners (£10) – I went for roast chicken with stuffing and bread sauce while Steven ordered the pork belly with savoy cabbage.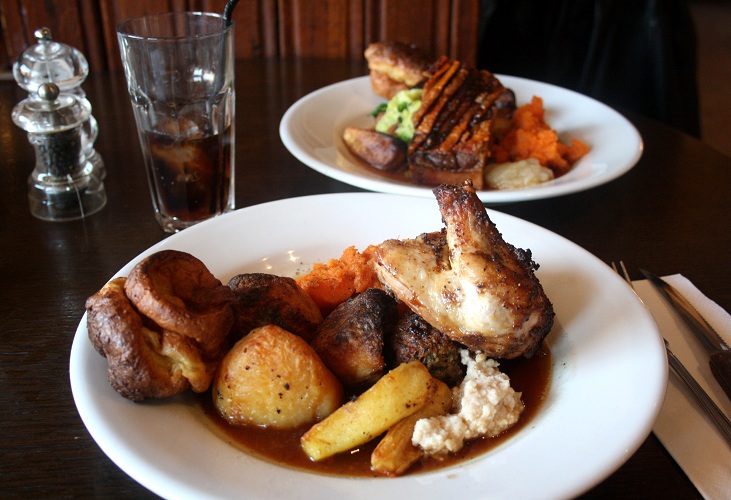 We only had to wait just over 20 minutes for our dinners and when the roasts came, they were piping hot and well presented.  The generously sized roast chicken portion was tender and well-seasoned and was accompanied by a homemade yorkshire pudding, three mountainous, crispy roast potatoes, golden parsnips and a herby, vegetarian stuffing ball.  The carrot crush was a bit bland and seemed to lack any kind of seasoning and I'm not sure if the bread sauce was a success or not, as I've never tried it before and it didn't leave a lasting impression.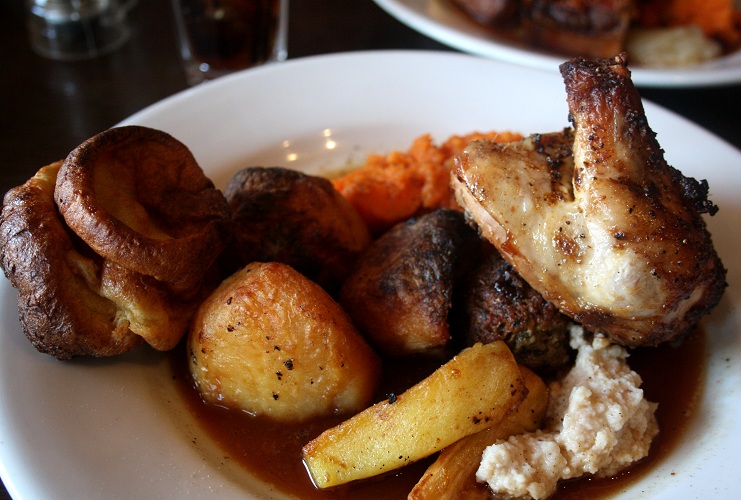 Steven's pork belly had a good layer of crunchy crackling and the meat was succulent and soft.  All of the flavours worked well together and the roast potatoes were the best I've had in a long time.  We struggled to get through the dinner and the quality and portion sized were excellent for the price – there aren't many decent Sunday Lunches in London under £10!
Belle Vue is well located next to Clapham Common, should you need to walk off your dinner, and looking at all the buff and toned fellow sporty diners, you may well want to!