I've never been so excited about the opening of a cafe before, but when the barista in question is Marc Jacobs (sadly Marc won't be pouring the shots himself), then it is more than a little bit special.
Adding to the Marc by Marc Jacobs lifestyle concept, the designer is launching his first caffe at Piazza del Carmine 6 in Milan's historical, arty Brera district in April.  Designed by architect Stephan Jaklitsch (the man behind all of the Marc Jacobs stores), the in-store cafe-bar is neatly tucked behind a blue glass sliding door.  Hard-working Milanese, will be able to grab an early morning Marc blend from 7.30am or late-night drinks until 2am.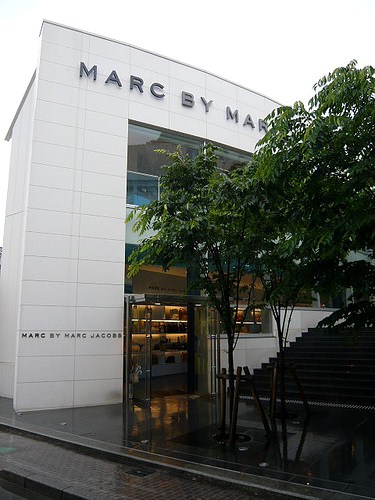 He's a bright spark, that Marc.  Not only is he the first designer to design a line of cheap as chips accessories that have done no harm to the rep of the mainline, but now he's identified that the credit cards are more likely to be flashed after a sit down, gossip and caffeine fix. As daft as it sounds, shopping can be tiring and with such a huge range of Marc by Marc goodies to sift through, you need to stop and refuel to avoid those impulse purchases, often chosen on low blood sugar levels.
Concept stores like Colette, Dover Street Market and Milan's own Corso Como have all kept shoppers staying longer with their ever-so-chic cafes.  I wonder,  will Marc have his own signature beans?  Will the Milan cafe be inspired by authentic Italian cafe culture, or will we see a blueprint for his worldwide coffee domination.  Hopefully it will be a roaring success and there'll be a cappuccino in every Marc by Marc Jacobs store!