I must admit, I have a bit of a girl crush on Daisy Lowe.  More than being impossibly gorgeous, with those smoky feline eyes and raven locks, she's very aware of her own sense of style and seems to have this enchanting, carefree attitude.
So, for Spring/Summer 10, Daisy was invited to bring her ideas and design skills to create a limited edition, three-piece collection for Swarovski Crystallized.   The rather mystical pieces incorporate star and moon charms in jet black, midnight blue and emerald shades.
Daisy took inspired from the elements and the result is a collection of seductive and pretty pieces that can be worn day or night.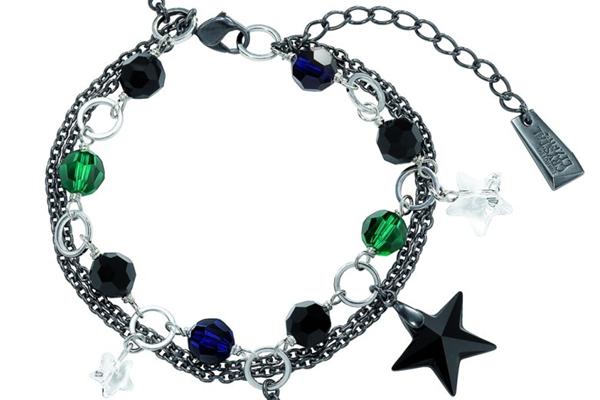 Last night, Daisy celebrated the collection at her launch party at Swarovski Crystallized on Great Marlborough Street, in partnership with Ponystep.  Toasting the collection were fellow model friends Tolula Adeyemi and Ben Grimes, the Weller kids and lots of fashion folk.
Prices range from £52 to £90 and very appropriately, 20% of the proceeds will go to Climate Concern.  The collection is so hotly anticipated that there's actually a waiting list!  Hopefully it will be a bit easier to get your hands on than Daisy's mate Alexa Chung's metal skull necklace for MADE that sold out quicker than a flash…it's still a sore point for me!
Daisy Lowe for Swarovski Crystallized is available in stores from 19 January.