So, for the festive period, I escaped the craziness of London and headed back to my family home in Newcastle, well, Northumberland to be precise. I grew up here and went to school just outside the city centre in the leafy suburb, Gosforth and if there was a place to be, I knew about it!
Having been in London for so long, I arrived in 'the toon' a little out-of-touch, but after asking around friends and cramming in visits, I'm back on track and loving the new, improved North East.
Every time I come up to Newcastle everything keeps changing. You would barely believe that Fenwick department store is outside of London, it now has so many amazing, hard-to-find brands, and the only giveaway is the lack of crowds and chatty staff.  There's a lot more to Newcastle than stag and hen parties and £3 vodka trebles (although they're always a bonus), so here is my guide to the having the best time ever in Geordieland…
SHOP:
Electrik Sheep, 20-22 Pink Lane, Newcastle-Upon-Tyne, NE1 5DW
Newcastle's original concept store on former alley of disrepute (now home to more sober digital media agencies) Pink Lane.  Electrik Sheep specialises in streetwear and cool lifestyle stuff and has its own street art gallery next door.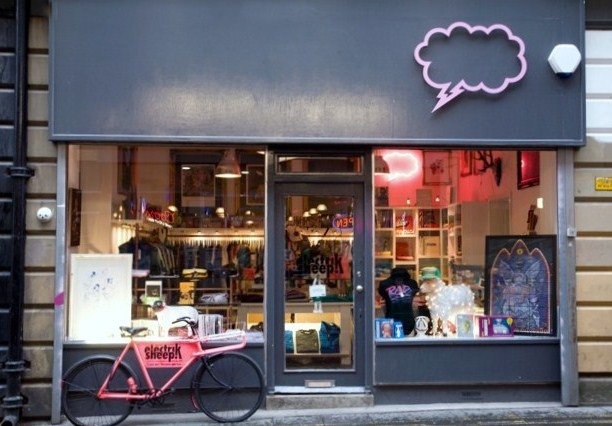 You can pick up an illustrated tee by R.HERO, PAM jewellery and one-off pieces by D*FACE and Jamie Hewlett.  It even has its own super cool pink bicycle!
Skirt Boutique, 19 Highbridge, Newcastle-Upon-Tyne, NE1 1EW
Tucked away on Highbridge, a cobbled street playing home to independent boutiques, galleries and record shops. Skirt stocks handpicked pieces from affordable, cult designers like April 77, Frock, b store, Bruuns Bazaar, Won Hundred and Paul & Joe Sister.  Look out for accessories by North East labels FROCK and Stella May.
Attica, 2 Old George Yard, just off High Bridge, Newcastle-Upon-Tyne, NE1 1EZ
Newcastle girls love their vintage and Attica is at the front of their address books for hunting out unique party dresses and jewels. Attica is a rickety old bazaar packed full of lace nightdresses, sequin capes, flapper dresses, beat-up biker jackets and antique accessories, dating as far back as circa 1880.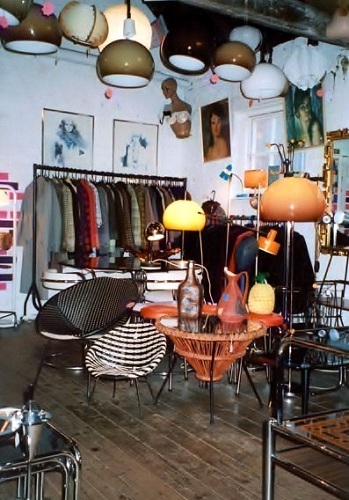 The owners are eccentric and friendly and have been in business since 1983, so I reckon they must be experts by now.
MUNCH:
Cafe Royal, 8 Nelson Street, Newcastle, NE1 5AW  ££/£££
A bit of a yummy mummy institution, Cafe Royal is well-placed for taking a break around the posh shopping area, just off Grey Street. It serves up delicious home-made quiches, super-salads and afternoon tea, and made-to-order, seasonal dishes at the first floor brasserie.  Cafe Royal also boasts its own in-house bakery and a deli, keeping Newcastle stocked up with sourdough, artisan cheeses, fresh olives and Rococo Chocolate.
Cafe 21, Trinity Gardens, Newcastle-Upon-Tyne, NE1 2HJ / Fenwick, Northumberland Street, Newcastle, NE1 7DE  ££/£££
Everything about Terry Laybourne's restaurants is absolutely scrumptious and I always manage to squeeze in a lunch at the informal but very stylish Cafe 21 at Fenwick.  The seasonal menu is mostly Anglo-French and many of the ingredients are locally sourced from Northumberland farms.
The staff are lovely and welcoming and every time I've visited, the service has been impeccable. The Eggs Benedict (£5.50) are the best I've ever had and my next stop is their two-course Sunday Lunch (£17).
El Torrero, Milburn House, Side, Quayside, Newcastle, NE1 1PF  £££
I've spent memorable birthdays and early dates with the boyfriend at El Torrero and I still haven't found tapas as authentic and satisfying theirs – not even in Spain.  The menu features the expected seafood, meat, tortilla, paella and patatas, but there are a number of variations on each dish and a few surprises like dates with an almond centre wrapped in streaky bacon and octopus tentacle medallions.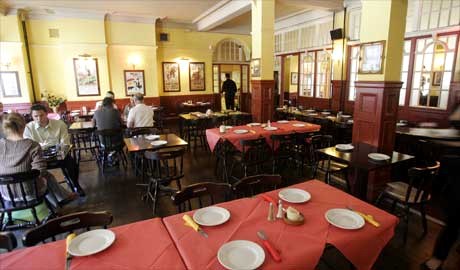 El Torrero seems to be the most popular Spanish restaurant in Newcastle, so be sure to book a table, otherwise it's a long wait at the bar.  The portion sizes are massive and the lively atmosphere and good service make it a real treasure.
DRINK:
Crown Posada, 31 The Side, Newcastle, NE1 3JE  £
The Crown Posada is the second oldest pub in Newcastle and is full of character, with a clientele of hacks from the Evening Chronicle, jolly 'old lassies' and anyone who prefers an award-winning pint of ale to a mojito at Pitcher & Piano.  It's housed in a grade-two listed building with a Victorian exterior and is one of the last relics of the 'old Quayside'.  Definitely worth a drink or two!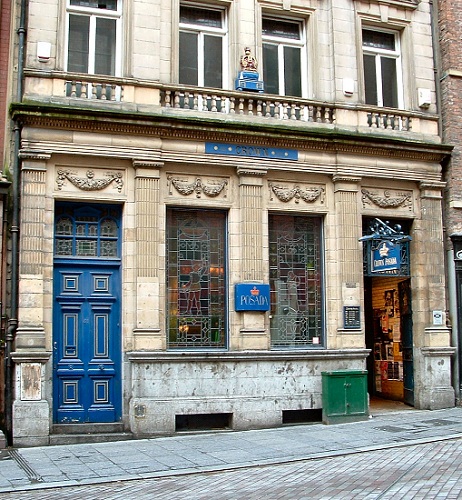 Star and Shadow Cinema, Stepney Bank, Newcastle, NE1 2NP  £
Just off Byker Bridge in an old warehouse, the Star and Shadow is like a beatnik meeting place for Geordies who likes things that are a little bit odd.  It has been built and run by an amazing collective of volunteers, who decide the programme featuring world cinema, cult films, underground bands from Brooklyn and specialist music festivals.
Some of the past events I've been to have included gigs from Ipso Facto, Theoretical Girl and Mit, a major street art exhibition and concerts  by various free-jazz, noise nutcases.
The Cluny, 36 Lime Street, Newcastle, NE1 2PN  ££
The Ouseburn, in between the Quayside and Byker, is the most up-and-coming area of Newcastle with its artist studios and new restaurants and The Cluny was the pub to start off the trend.  It's owned by Head of Steam group and is the place to see alt.indie bands, have a lazy Sunday Lunch, shop at a vintage market or see local art exhibitions in the gallery.
Tokyo, 17 Westgate Road, Newcastle, NE1 1SE  £££
Give the Bigg Market a miss…really, it's not worth it!  Central Station is the place to be at night and while many of the posh bars on the so-called 'diamond strip' keep changing hands, Tokyo has been quietly serving classic cocktails in its burnt gold-covered lounge.  My favourite area is the rather zen rooftop garden, which could be a million miles away from the grime of Central Station.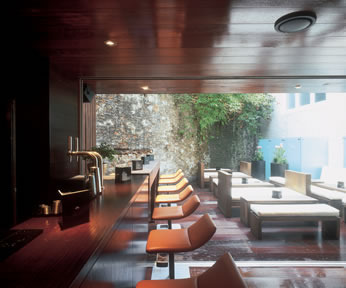 Tokyo's Quayside sister bar, Stereo, is also worth a visit for gig after-parties and the Stone Love indie BBQs on Bank Holidays.
CULTURE:
BALTIC Centre for Contemporary Art, Gateshead Quays, South Shore Road, Gateshead, NE8 3BA
BALTIC has put Newcastle Gateshead on the art map and every season it has featured up to five exhibitions from leading contemporary artists like Sam Taylor-Wood, Anthony Gormley, Mark Titchner and Vik Muniz.  BALTIC have courted controversy with the public up in arms over works by Nan Goldin and Kendell Geers, but they have also supported emerging local artists like Ant Macari and Jane and Louise Wilson.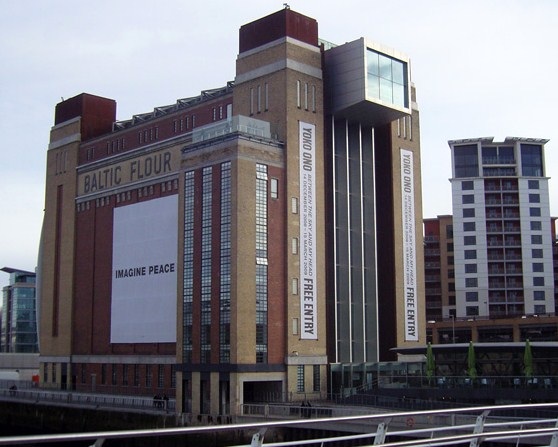 The cafe bar and concept shop are reason enough for visiting and then there's the airy rooftop restaurant, Six, with panoramic views over the Quayside and a seasonal, North East-inspired menu.  Best of all, BALTIC is free entry, so you can pop in on a lazy Sunday or go back and see the exhibitions you've missed.
Sage Gateshead, St Mary's Square, Gateshead Quays, Gateshead, NE8 2JR
The silver armadillo, caterpillar, mini Guggenheim…whatever you want to call it, The Sage Gateshead has a hugely diverse programme, from regular recitals by Northern Sinfonia, Japanese noise festivals and Northumbrian folk music.  Now, Newcastle can compete with Glasgow and Manchester for really great music and The Sage has helped enormously by hosting the likes of Joanna Newsom, Martha Wainwright, Laura Veirs, Spiritualized, Bon Iver and Efterklang.
Tyneside Cinema, 10 Pilgrim Street, Newcastle, NE1 6QG
When the Tyneside Cinema close for over a year for a major refurb, I felt a little bit lost, just like the closure of Borders. Now, the Tyneside is back and slicker than ever with three screens, a brand new cafe and the much-loved Intermezzo cafe/cocktail bar.  The Tyneside is one of the only places to see independent and world cinema, and they put regular film festivals and double bills.
STAY:
When I'm in Newcastle, I always stay at my family home, but from what I've seen and heard, these hotels seem to be the most interesting and comfortable places to stay.
Grey Street Hotel, 2-12 Grey Street, Newcastle, NE1 6EE  ££
A cosy, minimalist but classic boutique hotel on Newcastle's grandest street.  The rooms are decorated in grey, cream and mauve and have luxury touches like plasma screen TVs, cafetiere coffee, waffle bathrobes and award-winning hypnos beds.  The hotel is adjoined to the living room restaurant and bar and hotel guests have immediate access by showing their key card. From £60 per room.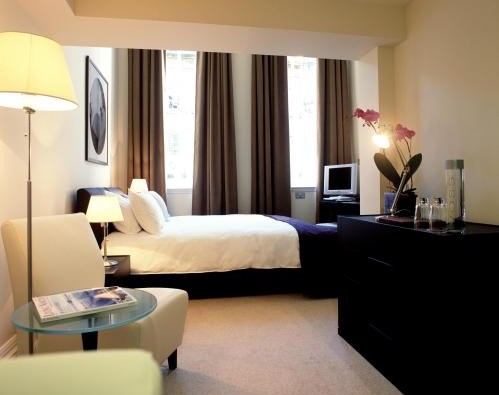 Kensington House Aparthotel, 5 Osbourne Road, Jesmond, Newcastle, NE2 2AA  ££
23 serviced luxury apartments in between leafy suburb Jesmond and the city centre.  Each apartment has two bedrooms and you can choose between the Drayton, Pelham and Cranley types, styled in either monochrome stripes, bold black florals or light oatmeal shades.  The apartments are good value especially for families or groups and Kensington House make stays even more homely with Sky TV, Egyptian cotton sheets and fluffy bathrobes.
From £82 per room per night.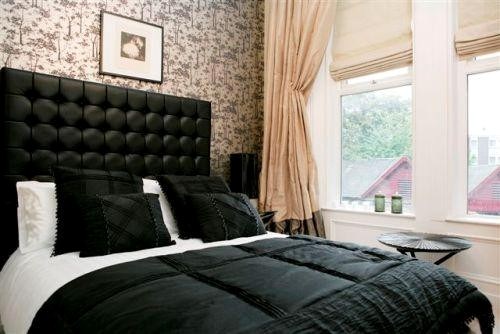 Jesmond Dene House, £££
A country retreat just outside of Newcastle, Jesmond Dene House is the place for an indulgent, bolthole stay.  The historic Georgian house is located next to Jesmond Dene –  a wild park designed by Lord Armstrong, full of native and exotic trees, waterfall, wooden bridges and an adorable petting zoo, which I loved to visit as a kid.  It has 40 individually-designed bedrooms and suites, mostly designed in muted colours with statement wallpaper and velvet and silk furnishings.
The 3 AA Rosette restaurant serves modern classic dishes and more traditional afternoon tea and a three-course Sunday Lunch. Have drinks around the open fireplace in the cocktail bar or relax on the sofas in the Billiard Room.
From £115 per room per night.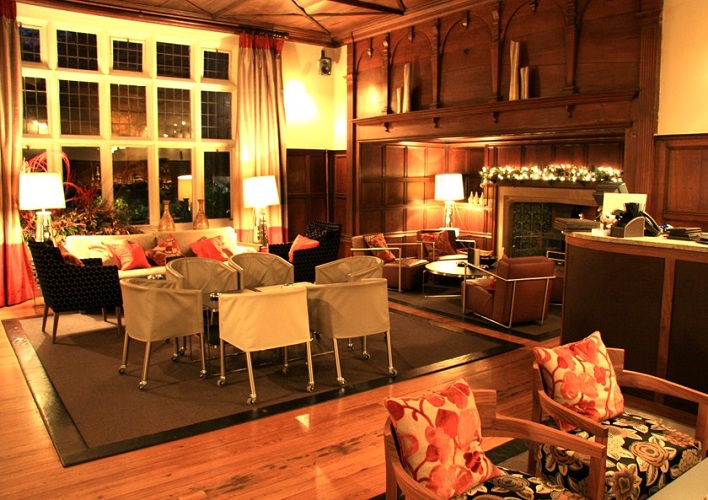 OUT OF TOWN:
Matfen Hall Hotel, Golf and Spa, Matfen, Newcastle, NE20 0RH  £££/££££
It's worth going a little out of town to stay at Matfen Hall, a former stately home with acres of leafy grounds and a 27-hole golf course. I was lucky enough to review the hotel for a glossy mag's spa guide and was given a beautiful floral Premier Room. The 2 AA rosette Library and Print Room restaurant is traditional and enchanting with dark oak, dim candlelight and old bookshelves.  I took my mum along and we ate a three-course menu of innovative country-inspired dishes and also sampled the Afternoon Tea and abundant breakfast.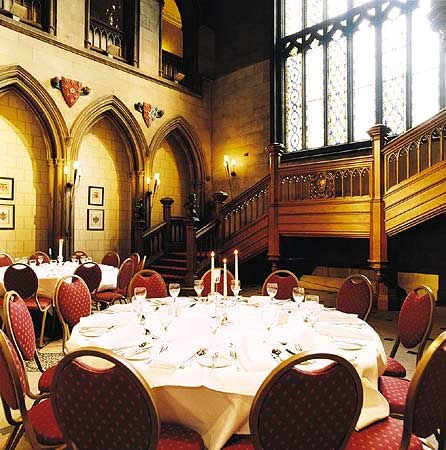 The spa offers all the relaxing treatments you could want and uses [comfort zone], Jessica and MAC products.  There is also a 16 metre swimming pool, herbal sauna, crystal steam room, salt grotto, tropial massage shower and ice fountain.
From £100 per room per night.