Over the past week, I've overheard so many people saying how much they hate New Year.  Christmas is easy, you spend it with your family or close friends and don't have to try so hard, but for New Year there seems to be this feeling of imposed merriment.
The last New Year that I spent at Glasgow School of Art seemed to be cursed. I spent it with some of my best friends, but the massive queues for the bar, hefty ticket price and both me and my friend catching a stomach bug made it a less than joyful start to the new year.
So, this year I decided to have a decadent, boozy dinner with the boyfriend.  Most London restaurants capitalise on New Year and offer these special menus that cost upwards of £50 each and what's worse is that you don't even have the choice of the full menu and end up enduring faux-posh offal concoctions like pan-fried chicken livers with a foie gras sauce…bleugh!
La Vie en Rose in Hackney was my first choice, as it's about 15 minutes walking distance from my flat, there are plenty of good pubs on Broadway Market and it wasn't bothering with any daft New Year's Eve menus.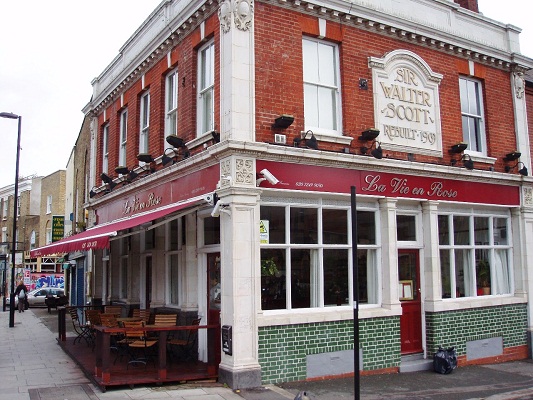 When we arrived, the restaurant was about half full and we got a good table next to the window, overlooking the cobbled street.  We ordered from the two course set menu (£14.95) and as usual, we both chose the same dishes.
We started with a generous portion of home-made vegetable croquettes with aioli and sweet chilli sauce.  My only vegetable nemesis is courgettes, which I feel should be sent to room 101 indefinitely, so you can guess what the main filling of the croquettes was!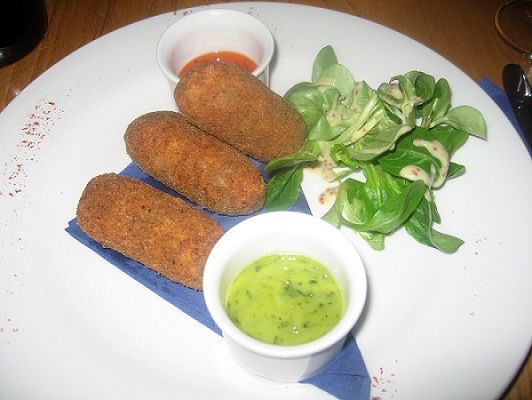 Steven enjoyed his very much and once I scraped out the offenders, the rest of the filling had a creamy, garlic taste and the breadcrumbs were crispy and light.  This disappointment did strengthen my case for ordering a dessert though, so all was not lost.
Next up was Rump Steak with home-made frites and a peppercorn sauce – you can't go too far wrong with that!  We ordered the steak medium and it was absolutely perfect – tender, pink in the middle with a slither of red juice oozing out.  The chips were just in between frites and fat chips, and were definitely home-made, as they were just like my grandma used to make them.  Even the peppercorn sauce was full-bodied and seemed to have been made with the juices of the meat.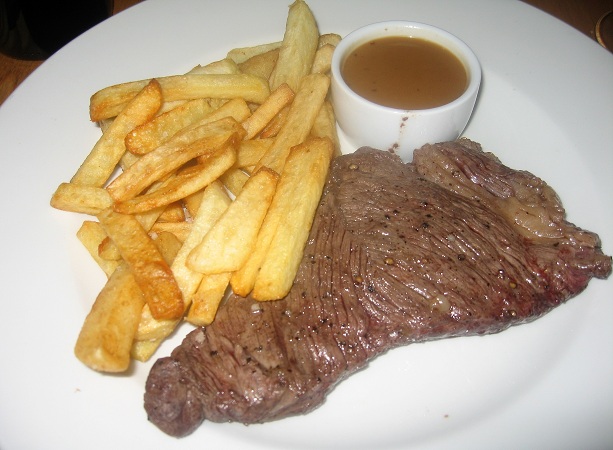 This was perhaps one of the best steak frites we've ever had, even in France, as it was cooked to perfection, came with delicious accompaniments and was a large cut with only a thin layer of fat.  We ordered a bottle of Les Routiers 2005 (£14.95) – a rich Cabernet Sauvignon from Gasgognes that is really good with meat and very easy to drink.
As it was New Year's Eve, we finished off the night of indulgence with Flourless Chocolate Cake with Ice Cream (£5.50) each. Something tells me that the chef likes to show off with his desserts, as it went beyond a humble slice of cake and was a culinary work of art!  There was a half passionfruit, surrounded by a carefully placed strawberry and blueberry, a trail of crushed almonds and the most amazing dark chocolate and vanilla marbled ice cream, all topped off with a drizzle of raspberry coulis and a vanilla pod….incredible!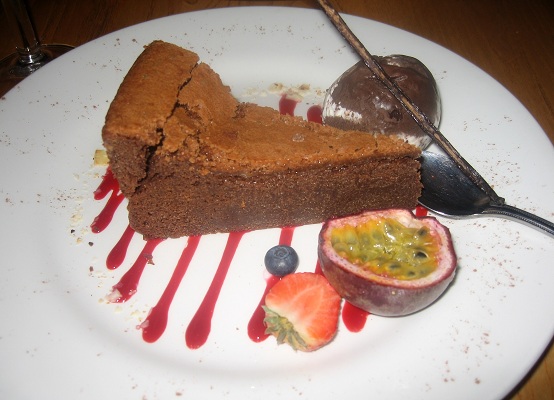 Flourless chocolate cake can often be dense and rich but this one was a lot lighter and more chewy that expected and it worked really well with the cocoa ice cream. The fruit extras were delightful and lifted the flavour so much that we polished off the whole plate!
La Vie en Rose seems to have had mixed reviews on some foodie sites and the biggest gripe seems to be the relaxed and very French service.  Don't expect staff to give you an Auvergne-style, 'welcome to the family' welcome (it's not that kind , but our food arrived at a good speed – we weren't waiting for anything and didn't feel rushed along.  The restaurant is usually busier in the summer and during the market hours on the weekend, but as last night was pretty quiet, everything went without a glitch.
Our total bill came to around £55, for a three course dinner with a bottle of wine, which is very reasonable for the quality and presentation of the food and the location.  Now, if they can get the Croque Madame right, then I've found my new favourite French restaurant – on this side of the channel!