My last Paris trip was spent discovering the up-and-coming, artistic corners of eastern Paris from my industrial-chic base at Mama Shelter, but this time, I was ready to get back to the literary, jazz-filled boulevards of the Left Bank.
As much as I love design hotels, many can lack the warmth, legacy and excellent service of more established, historical hotels, so this new thinking lead me to Hotel Lutetia, a monumental art deco residence in the heart of Saint-Germain.
The Hotel Lutetia has hosted iconic guests like Pablo Picasso, Josephine Baker, Dita Von Teese, Pierre Bergé and Charles de Gaulle since 1910.  The bar has even been immortalised in Serge Gainsbourg's song, Au Bar de Lutetia and the bedrooms have been featured in fashion shoots and photography by Nan Goldin.
If that isn't reason enough to book a room, Hotel Lutetia is celebrating its centenary with a full schedule of cultural events, gastronomic experiences and special packages.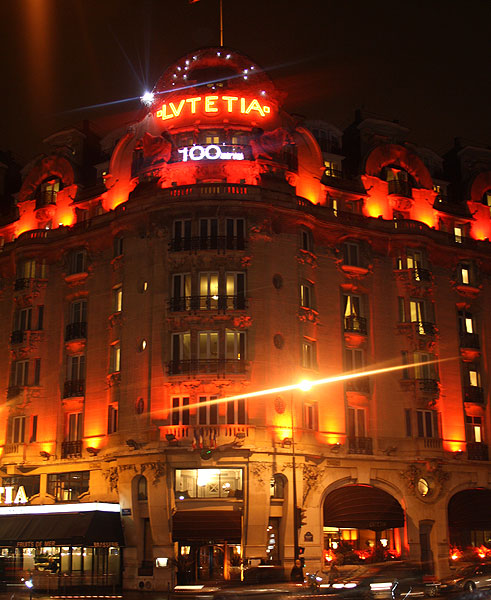 Steven and I began our trip with a painfully early Eurostar train journey, only to be sitting next to the formidable Suzy Menkes, Fashion Editor of the International Herald Tribune (recognisable by her distinguished, pre-Jedward pompadour quiff) .  I desperately wanted to speak to her, but my efforts to conjure up something worthy of her attention sent me into a deep slumber – well, I had been up since 4.30am, after all!
On arriving at Gare du Nord, we took the RER train to Luxembourg and woke ourselves up with a 15 minute walk past the Jardin de Luxembourg to get to the hotel on the Boulevard Raspail.  Metro stop Sèvres–Babylone is just a few steps from the Lutetia, and crosses two lines, so you can get around easily.
The doormen took our bags immediately and we looked around the gallery, which showcased products by Sonia Rykiel, Lancel, Taittinger, Philippe Ferrandis and Annick Goutal, housed in glass cabinets.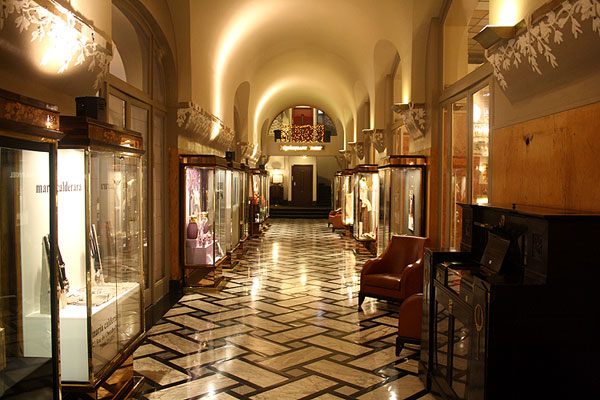 We had arranged to stay in a deluxe room but at check-in we were offered an Executive Junior Suite on the 6th floor with an amazing views of the Eiffel Tower and Le Bon Marché department store.
Our room was absolutely huge and featured a bedroom with a king-size bed, large marble bathroom and a separate seating area, decorated in chocolate brown, pale gold and cream with antique furniture.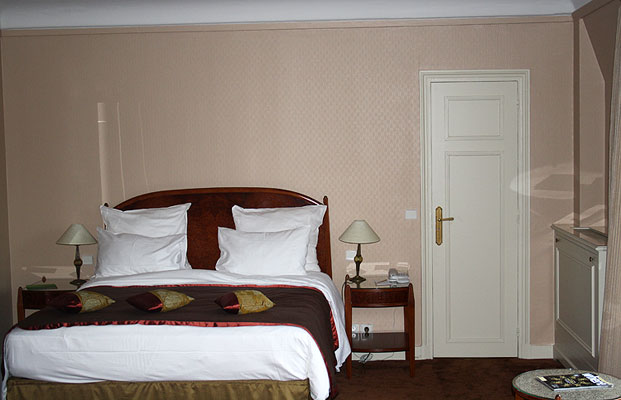 There were also added luxuries like two TVs, a walk-in wardrobe, two separate toilets, Annick Goutal toiletries, complimentary bottles of Evian and a tiered box of patisserie and silver-leaf truffles, created by the Hotel Lutetia dessert chefs.
On the first night, my Parisian friend Coralie came over and we drank champagne and sampled our box of treats, watching the lights change on the Eiffel Tower – it doesn't get much more decadent than that!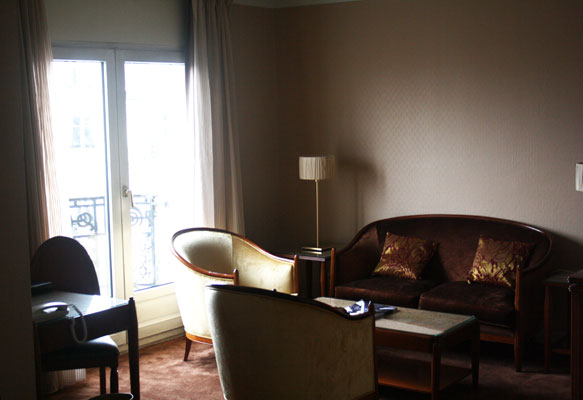 Not only did our room have spectacular views over the Left Bank, but we had three separate balconies to enjoy it from.
Most of the suites were on the 6th floor and included the Literary Suite, the Eiffel Suite and La Parisienne (the long-time apartment of Yves Saint Laurent's partner Pierre Bergé).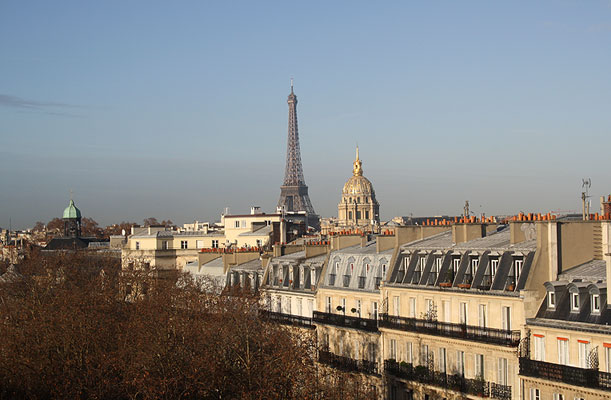 The hotel is well-equipped with a business centre, a fitness centre and a spa with expensive but presumably effective massages by Monmasseur.  The cosy spa has a Thai retreat feel to it and you can have a range of treatments including a massage for two or the Lutetia Reborn complete body over-haul for an eye-watering 380 Euros.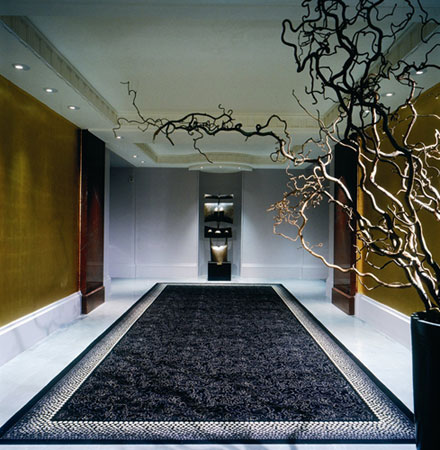 The breakfast buffet, served in the elegant Salon Borghese was the best that I've ever had at a hotel and there's nothing more I could have hoped for.  There is a cooked breakfast with eggs freshly made, a wide selection of bread, cold meat and cheese, yogurts, pastries and fruit.  I filled up on a selection of financiers, madeleines and couldn't resist eating macaroons for breakfast!
The Brasserie Lutetia serves traditional French food made from locally sourced ingredients and was designed by Slavik and Sonia Rykiel.  I've been told that the head chef has been at the Lutetia for 48 years and has cooked for the hotel's most famous guests.
The Brasserie has a lively, busy atmosphere at lunchtime, as locals pop in for a business lunch or catch-up with friends over a Bavarian steak, lobster salad or Sonia Rykiel's famous Chocolate Dessert
They offer A Table For Friends set menu for four (€45), a lunch formule (from €38) and in January, there will be a Centenial menu (€100 for 2) incuding an aperitif, 3 courses, coffee and 'chouquettes', a Centenial gift, a glass of wine and water.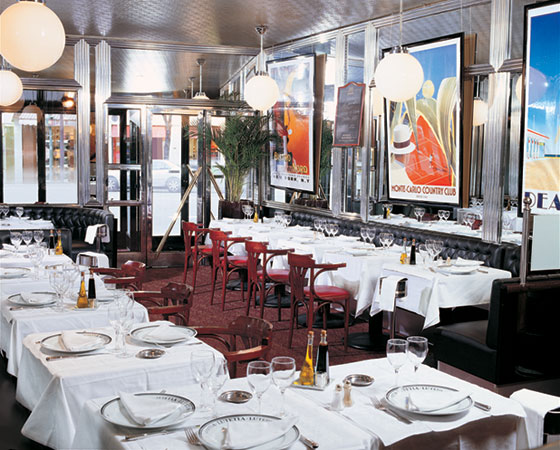 The Paris Restaurant, also designed by the inimitable Sonia Rykiel, has a more private, bespoke atmosphere and is apparently the favourite spot of fashion designers, editors, journalists and politicians.  The Baccarat room on the lower level is perfect for intimate dinners and I have my eye on it for my future wedding dinner, should the notorious French bureaucracy allow me to get married in Paris, and the groom says, 'oui'.
The Centenary Menu (€100 per person) consists of five gastronomic courses, a glass of Taittinger Centennial Champagne with Aldudes Basque Ham, coffee and sweets, a Centennial Gift, wine and water.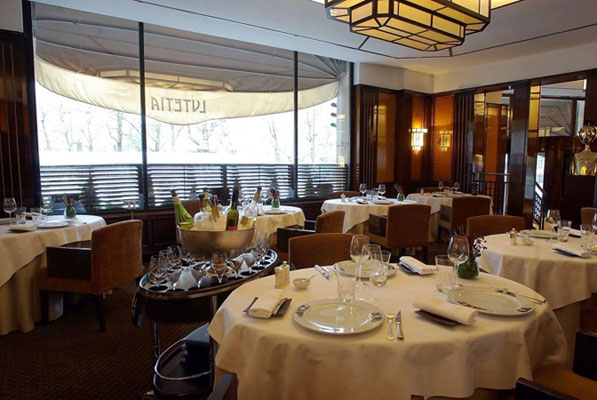 Hotel Lutetia's stellar reputation is well deserved, as they have created a warm but sparkling atmosphere for guests, while paying close attention to the smallest details.  It has an old-world sophistication and like the Left Bank, it is chic but unpretentious and a little rebellious.
The Lutetia is in a perfect position for exploring the art galleries, boutiques and restaurants of the Left Bank.  You really must stop for a silver jug of thick hot chocolate at the Café de Flore, visit Sonia Rykiel's Boulevard Saint-Germain boutique and the Left Bank's many bookshops, from dusty old independent sellers to the Gibert Jeune literary megastore at the Place Saint-Michel.
Centenniary Offer: Stay three consecutive nights until 31 December 2010 and receive a €100 gift voucher to spend at the Lutetia Bar, Lutetia Brasserie, Paris Restaurant and the mini-bar.
Lutetia Secrets: Short-break or weekend guests will receive a copy of Lutetia Secrets, an insiders guide to Saint-Germain's history and best addresses.
Hotel Lutetia, 45 Boulevard Raspail, 75006 Paris
Métro: Sèvres–Babylone (lines 10 and 12)  RER: Luxembourg
* I was offered press rates for this hotel and the hotel team were aware of my review.  For guidelines, see my Blog Ethics page.