After reading Time Out's recent rehashed guide to the London's best Sunday Lunches, I was dismayed to read that the average asking price at the places their recommended was around £50-£60 for two dinners, drinks and service.  It seems pretty steep to when you can get two-course meals at restaurants like Asia de Cuba, Theo Randall and The Grill at The Dorchester on Toptable for around the same price.
Since moving to London, I still haven't found a really great Sunday Lunch at a reasonable price and the search continues.  I tried out the Roast and Reggae (£10-£12) at East Village in Shoreditch and while the beef was nice and tender, the Yorkshire Pudding was like a giant ball of lard – dumpy and heavy as lead.  I also treated my old flatmate to Sunday Lunch at The Winchester in Islington (£12.95) where it was 2 for 1 and you could have a choice of various 'roasted',  'aged'  and 'rolled' meats.  The dinner was tasty, generous and a pretty good deal, but personally, I'm not so fussed on parsnips and mange tout, so it's not the holy grail of Sunday Lunches for me.
Yesterday, it was the boyfriend's birthday and he was stuck typing away on a uni essay, so we stayed local and went to The Old Ship in Hackney to try out their Sunday Lunch, mostly because it sounded scrumptious, and is literally across the road.  The Old Ship is one of Mare Street's only gastropubs and it's hidden away from the madness of the main street and accessed through a long hallway or a residential back entrance.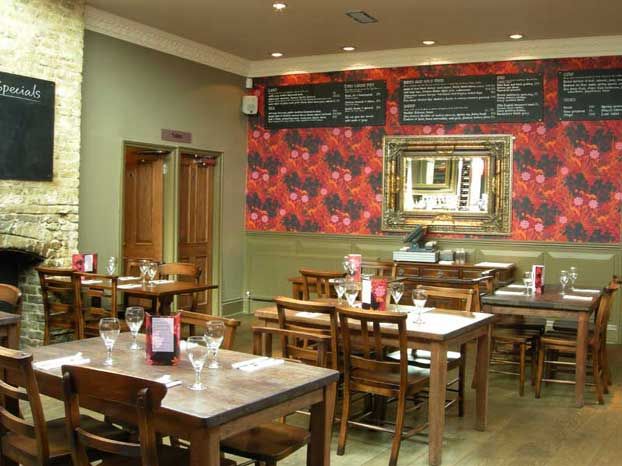 The Old Ship is open plan with sectioned off dining and lounging areas and  has a homely, welcoming atmosphere, with urban-rustic wallpaper, gilt mirrors and plush leather sofas.  The menu is divided into land, sea, birds and wild food, pig, etc. and is full of carnivorous delights like belly pork, wild hare and quail terrine and pan-fried chicken livers – a bit of the countryside in Hackney Central!
We went for the Roast Galloway Beef (£9.50) served with traditional seasonal trimmings.  As the plates trickled out of the kitchen, we knew we were in for a long wait….and we were!  The waitresses were lovely an apologetic, but there must have been some staffing issues in the kitchen.  After waiting for what felt like eternity, on an empty stomach, the meal arrived looking splendid, but tepid at best.  I asked for mine to be reheated and then tucked in.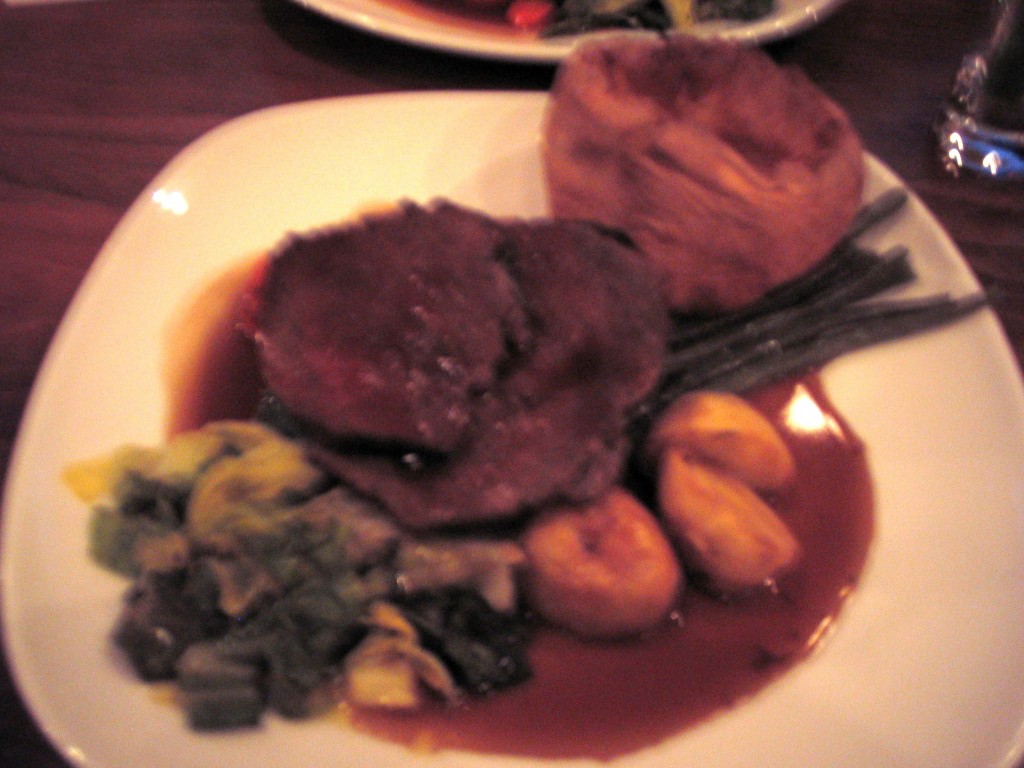 The beef (cooked medium) was delicious and like the roast potatoes, had a hint of rosemary.  I enjoyed the buttered savoy cabbage, but the steamed carrots and green beans could have done with some more seasoning.  The nicely-sized Yorkshire Pudding was nice and crispy on the outside, but was like a well of oil in the middle.  Everything was tasty enough and the presentation was excellent, but apart from the beef, there were no particularly interesting flavours.
The Old Ship is a lovely place to come and have a drink on a Sunday and maybe some bar snack  – they do a selection of British tapas dishes.  The menu is adventurous and the quality of the produce was excellent, so I reckon it was just a bad day in the kitchen.  I'll give them a second chance at some point, but I've been hearing rumblings about excellent roasts in Victoria Park village.  I will report back soon!