Desserts and cakes are my major downfall and I would happily munch on a plate of steamed vegetables so I could finish with a small but perfectly formed piece of sugary goodness.  Well, 'tis the season to be jolly and what not, and I've spotted some incredible, artisan treats that look as amazing as they taste.
Macaroons already have a pretty stellar reputation, but they just got even more chic, as Consuelo Castiglioni has collaborated with Paris luxury pâtisserie, Ladurée, on a limited edition box of gold leaf Marni macaroons.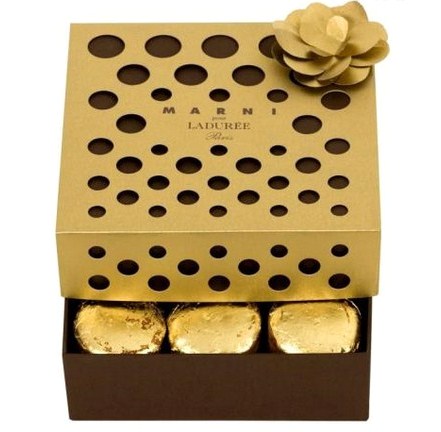 Consuelo applied Marni's signature polka dots and flower motif to the gold and chocolate brown box, maintaining the label's gauche appeal while reflecting the seasonal grandeur of Ladurée.
The Marni macaroons come in boxes of 8 and 18 and are available at Ladurée stores from 1 December, including London's Burlington Arcade and Harrods.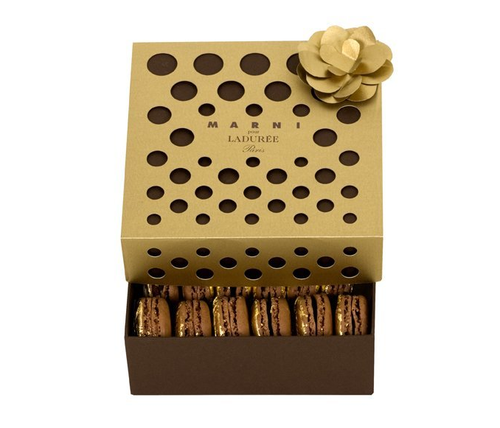 Paris gourmet store Fauchon are also taking the trend for arty desserts even further with their sweet and sexy tribute to Brigitte Bardot.
Accompanying the Brigitte Bardot exhibition in Boulogne Billancourt, Fauchon have created 'the BB éclair' – choux pastry filled with almond and rose cream and a chocolate Brigitte lying on top.
Fauchon have perfected their new chocolate printing technique and their former edible muse was the Mona Lisa.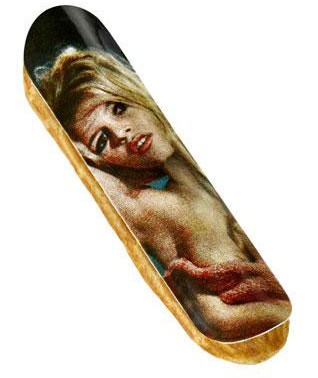 Fauchon have serious competition from star baker Pierre Hermé, whose Paris stores always have queues out of the door, but has Hermé ever attempted a hot dog éclair?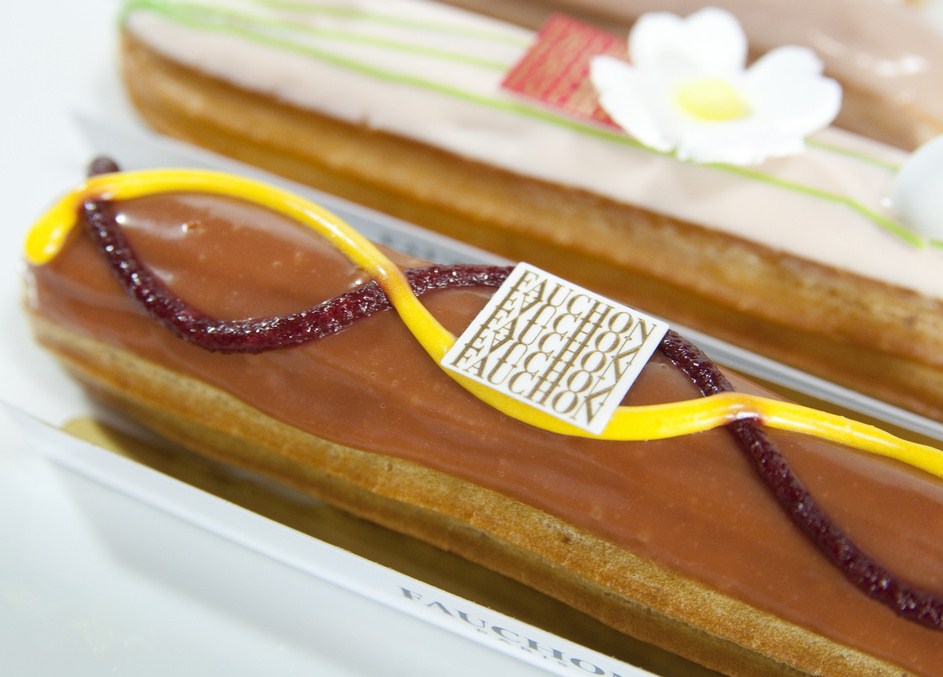 I don't think I've ever seen a hot dog on any menu or street corner in France, so I can imagine it would be hilarious to see well-heeled Parisians wolfing down these caramel and raspberry 'dogs.
There aren't any Fauchon outlets in the UK, so you'll have to cross the channel for your Bardot fix, but I bet she will be worth it!